Are you dreaming of a fun Halloween activity that doesn't involve candy or sugar? This DIY Halloween playdough kit and mat activity is just what you need!
Halloween is just around the corner, which means it is time for dressing up and eating TONS of candy and treats. There's plenty of sugar overload to go around.
But, what if you want to introduce just a little bit of moderation to the holiday that seems to revolve around hyped-up kids and sugary treats? Even though I'm a big fan of healthy Halloween treats, it's hard to find something they love more than artificial dye and sugar. 😉
Here's an important mom tip: swap sweets for activities! Activities like this Halloween playdough mat one accomplish a couple of things: it acts as a distraction to keep kids busy and shows them that things other than candy can be fun on Halloween too!
This DIY Halloween playdough kit is the perfect alternative to candy treats. It also makes the perfect Halloween party favor too.
Creative Halloween Playdough Idea
Your kids will love helping you make the homemade playdough along with you. There will be all sorts of creative fun to be had this Halloween season!
I made this recipe as a variation on my classic DIY homemade playdough recipe. It was a no-brainer because that recipe is a hit with kids of all ages. It's no wonder why since it makes a dough that is long-lasting, smooth, and perfect for smooshing, playing with, and endless building.
Supplies Needed To Make A Halloween Playdough Kit
You need to gather just a few simple ingredients to make playdough for Halloween. While most of them are everyday ingredients you probably already have, a few are Halloween-specific.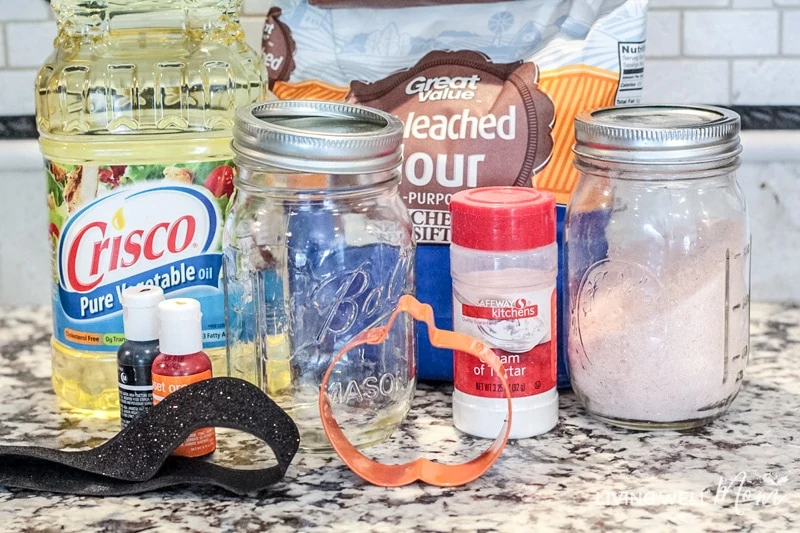 How To Make A Halloween Playdough Kit
The process for making playdough for Halloween is really very simple. Just follow these instructions.
Step 1
Mix 1 cup of flour, 1/3 cup of salt, 2 teaspoons of cream of tartar, 1 cup of water, and 1 tablespoon of vegetable oil in a small saucepan.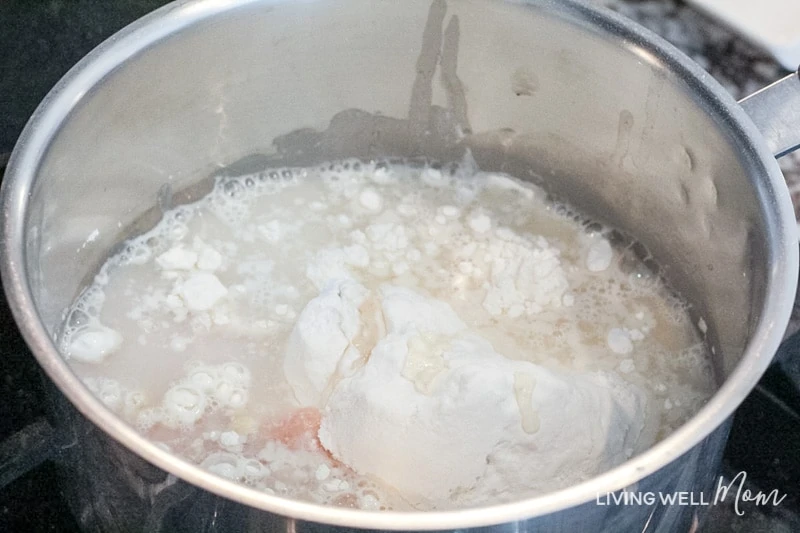 Step 2
Heat the mixture on low heat until it starts to come together. Then add orange and black food coloring (in separate pots).
If you need more detailed instructions, I have tons of tips in my playdough FAQ post to help guide you.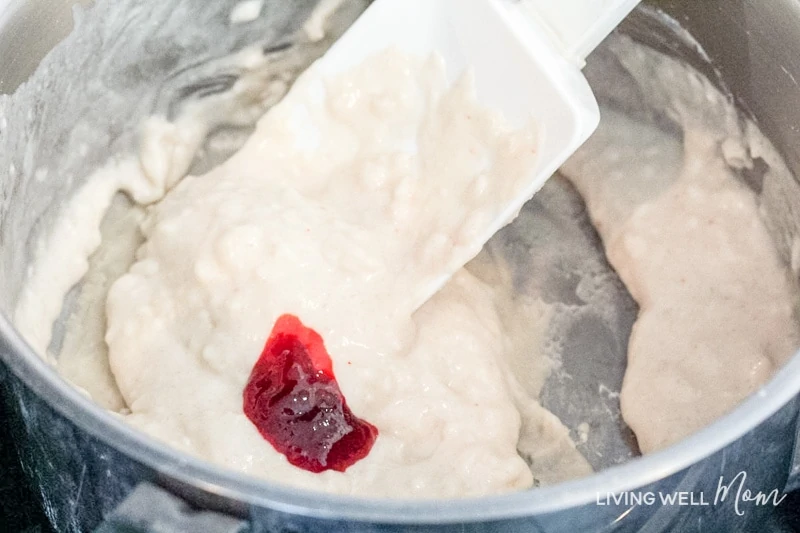 Step 3
Once the mixture starts to firm up, keep it moving, so the bottom of the play dough doesn't burn. When it pulls away from the side of the pot, remove it from the heat.
Once the dough cools a little, knead it for a few minutes to finish mixing everything together thoroughly and spreading the color evenly.
Then allow it to cool completely.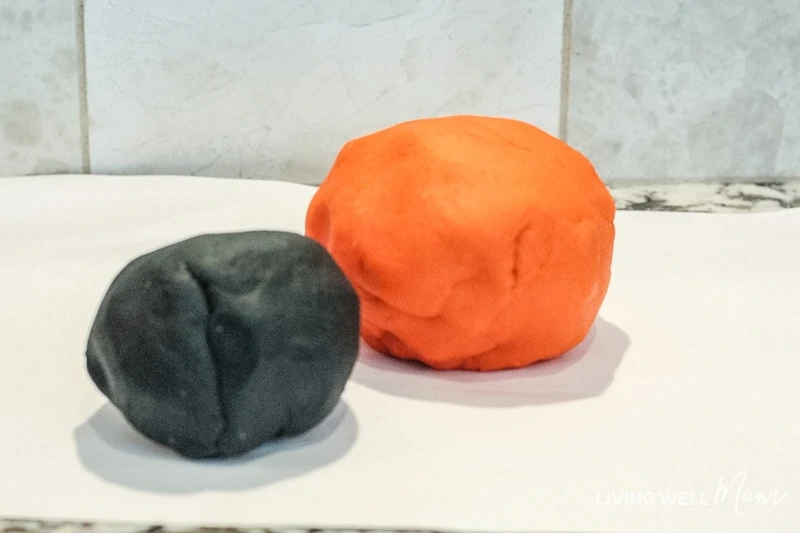 Step 4
Now that your playdough is made, let's start putting together your Halloween playdough kit.
Pinch off a small amount of both the orange and black doughs and add them to your container.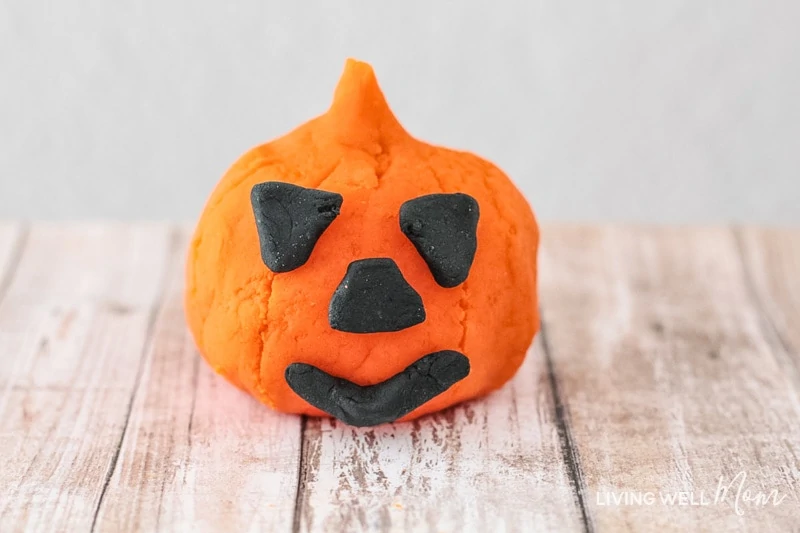 Step 5
Use the ribbon to tie a Halloween bow around the lid of your container and include a pumpkin cookie cutter in the ribbon.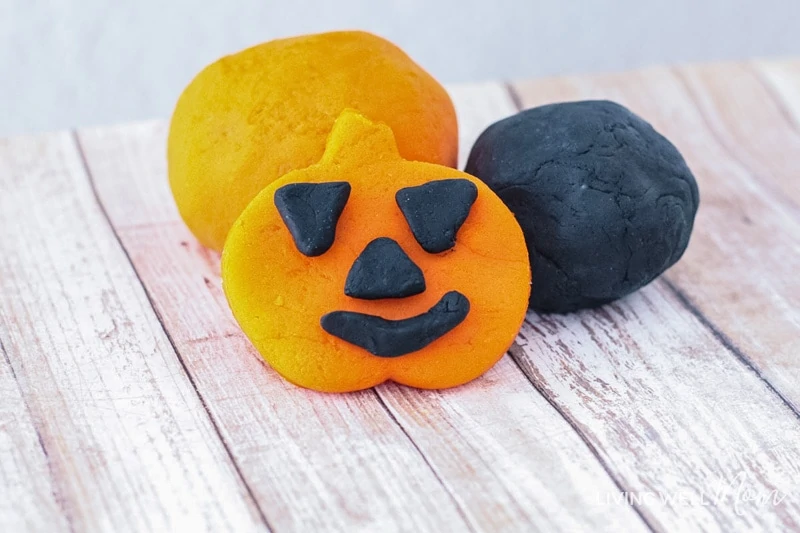 Your fun DIY Halloween playdough kit for kids is ready to go! Well, now, that was easy, wasn't it?
How to Enjoy the Play Dough with Halloween Mats
Want to take it a step further and reach supermom status? Order these adorable Halloween playdough mats!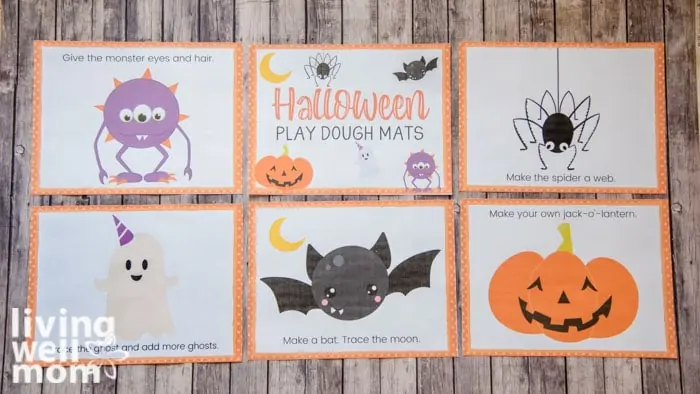 What Are Playdough Mats?
Playdough mats are printables that encourage your child to get tactical with their playdough. It's a great way to keep your child engaged and playing while also building skills such as hand-eye coordination and critical thinking.
How To Use The Playdough Mats
These are SO easy to use. They are available for purchase in my shop, and once you buy them, all you need to do is download, print, and play.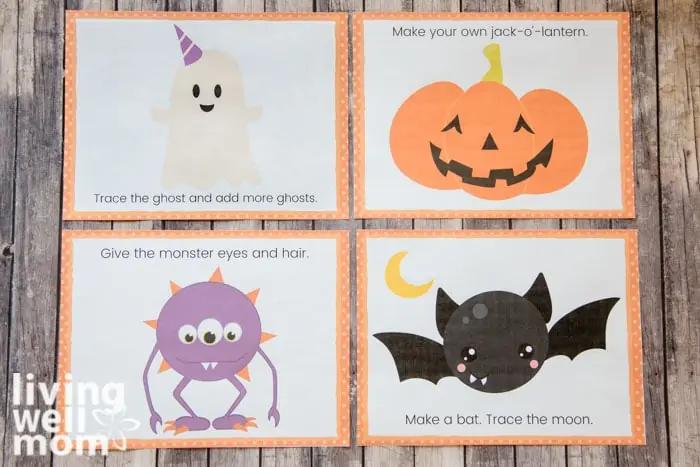 If you want to reuse the same mat over and over, you can laminate it. However, I typically get 3-4 play sessions out of one with no lamination required.
What ages are these Halloween playdough mats for?
If your child enjoys playing with playdough, they are the perfect age for these mats! Younger children will enjoy activities such as tracing outlines.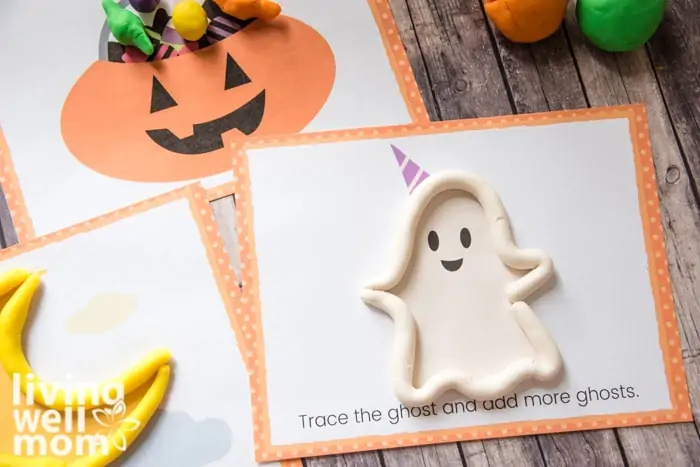 Older children will be able to enjoy the added challenges of tasks such as creating a spider web.
And activities like creating candy and adding hair to a monster can be enjoyed by all age groups!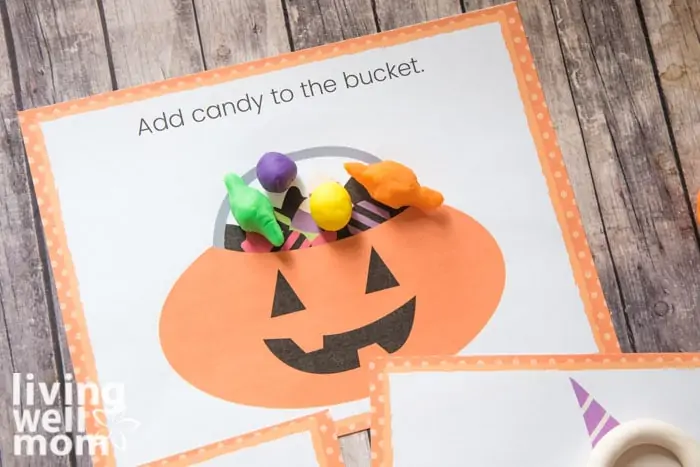 If your kids are anything like mine, Halloween is one of their favorite holidays. It's just so much fun. I hope they love this Halloween playdough activity as much as my kids (and their friends) do!
These mats will bring you hours of fun…with no sugar crash! 🙂 Mom win for sure!
Don't forget to check out these other Halloween arts and crafts ideas too.
More Halloween Family Fun
Just pin the image below to save the playdough kit for later.