These sensory-friendly autism Halloween costumes will allow your child to celebrate the holiday and enjoy taking part in the festivities of dressing up.
Halloween can be a challenge when you have a child who has autism and sensory-challenges; many of the typical Halloween costumes involve scratchy velcro and uncomfortable masks that simply won't work.
Luckily, there are some great comfortable Halloween costumes perfect for kids with autism. And there's a wide variety too! Whether you're a crafty mom looking for a simple homemade idea or prefer an inexpensive no-DIY-required idea, I've got you covered with these autism Halloween costumes!
Autism Halloween Costume Ideas
First things first, what does your child want to wear? Does he or she have a favorite character or item they want to dress up to be? They'll likely be more willing to wear sensory-friendly Halloween costumes if it matches their idea. Of course, sometimes kids may be VERY specific and it can be tough to meet expectations.
Here are a few ideas that may work well.
Character Hoodies
There are many different hoodie options available now from favorite characters (think Spiderman, Ninja Turtles, or Trolls) to career-type hoodies, like a firefighter. Your child can wear the hoodie with or without the hood on.
Plus, if you live in a colder climate, hoodies are great for layering. I think character hoodies are a perfect Halloween costume for autistic toddlers.
Hoodies are easy to find (from Target to Amazon) and usually inexpensive. And as a bonus, your child can enjoy wearing their hoodie over and over even after Halloween is past.
Here are a few favorite hoodie finds:

Regular Clothes with a Theme
Go for regular clothes with a theme as a perfect costume for kids with autism. Let your child choose a shirt, socks, hat, etc. with the same or similar theme. Easy peasy! And like a hoodie, it can be worn again and again to get more bang for your buck.
Autism mom, Danelle, used regular clothes to create a fun "Where's Waldo" costume for her son.
Danelle says: "Target had the socks, a resale shop had the shirt and cane, dollar tree had sunglasses (and I popped the lenses out), and Amazon had the hat."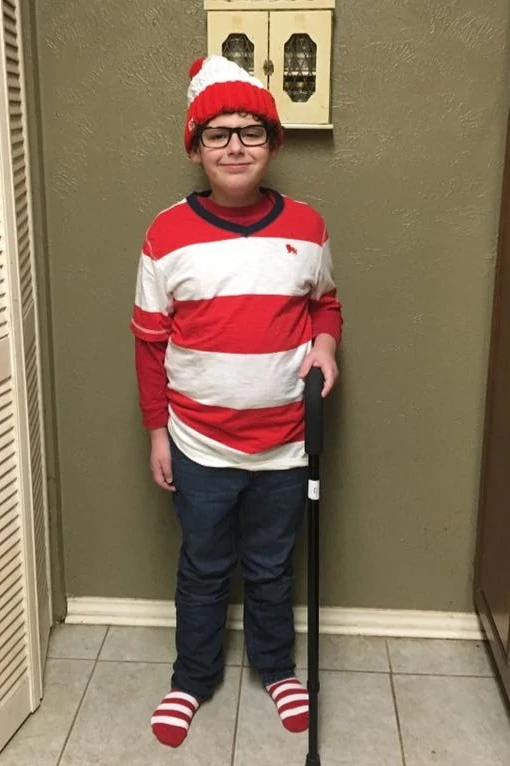 LeAnn's daughter went trick-or-treating as an 80s aerobic instructor. She wore pretty much normal clothes, yet is still super cute and clearly 'in costume' for Halloween!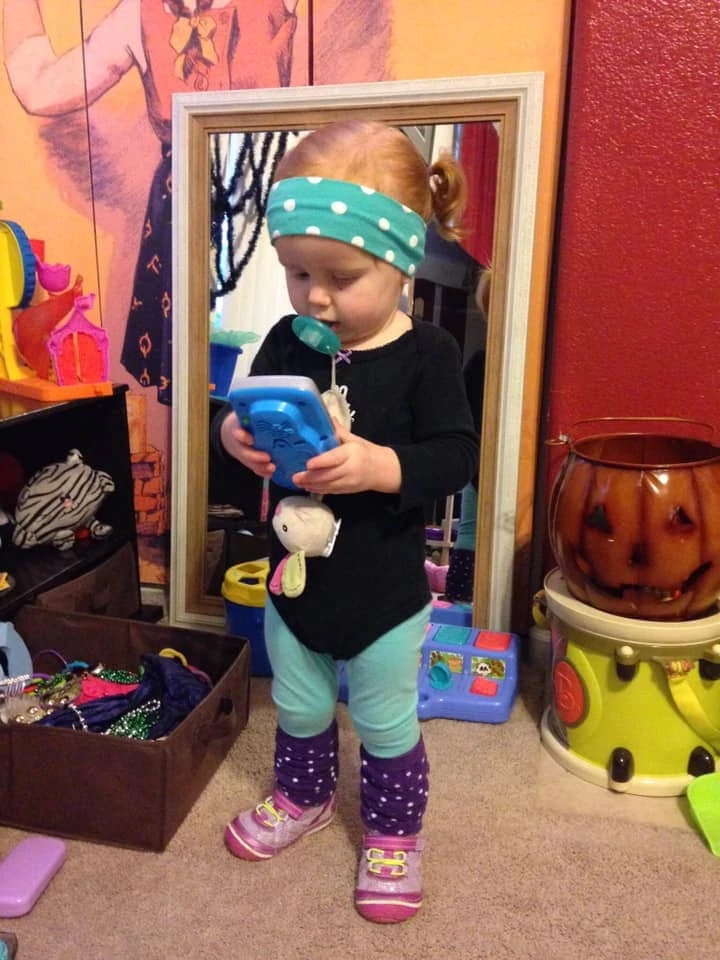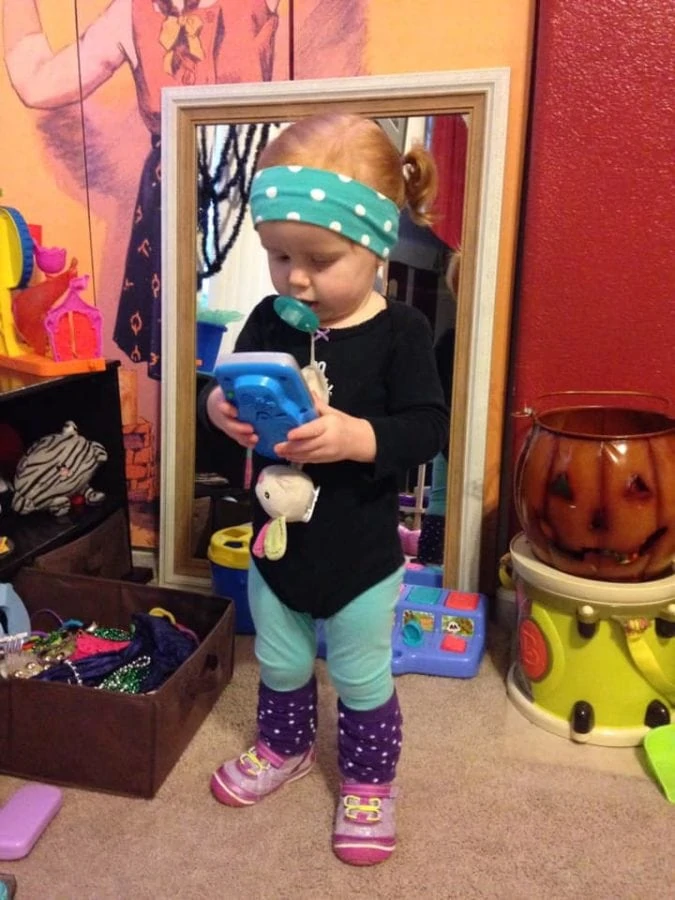 Include layers
If the costume has scratchy velcro or seams that aren't comfortable for your child, but it's otherwise perfect, have them wear leggings &/or soft clothes underneath as a buffer. Plus, this helps with warmth if you are in a cold climate.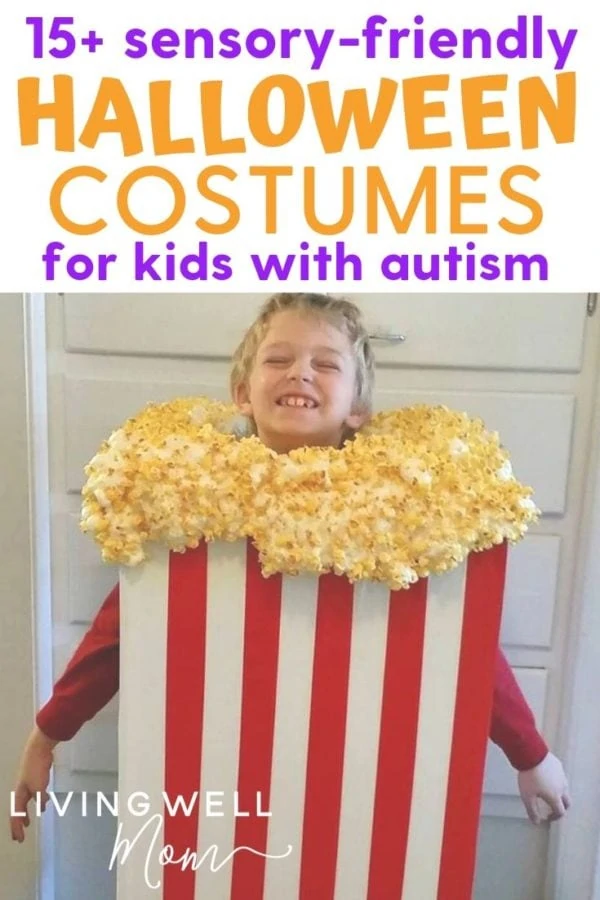 Looking for sensory-friendly activities this Halloween? Try out this DIY silly putty.
Easy DIY Sensory-Friendly Costumes
There are many easy DIY sensory-friendly Halloween costumes. Just check out these brilliant creations from autistic moms! They range in DIY-ability but most are very simple and easy to make.
Popcorn Costume
Autism mom, Jasmine, went with one of her son's favorite things – Popcorn
! (Look at that smile! Awesome job, Mom!)
Here is how she made it: "It was a lot easier to make than it looks. Lol. Box, red and white duct tape, expanding foam, and a big cheap bag of pre-popped popcorn from the dollar store! I paid a whopping $12 total to make it."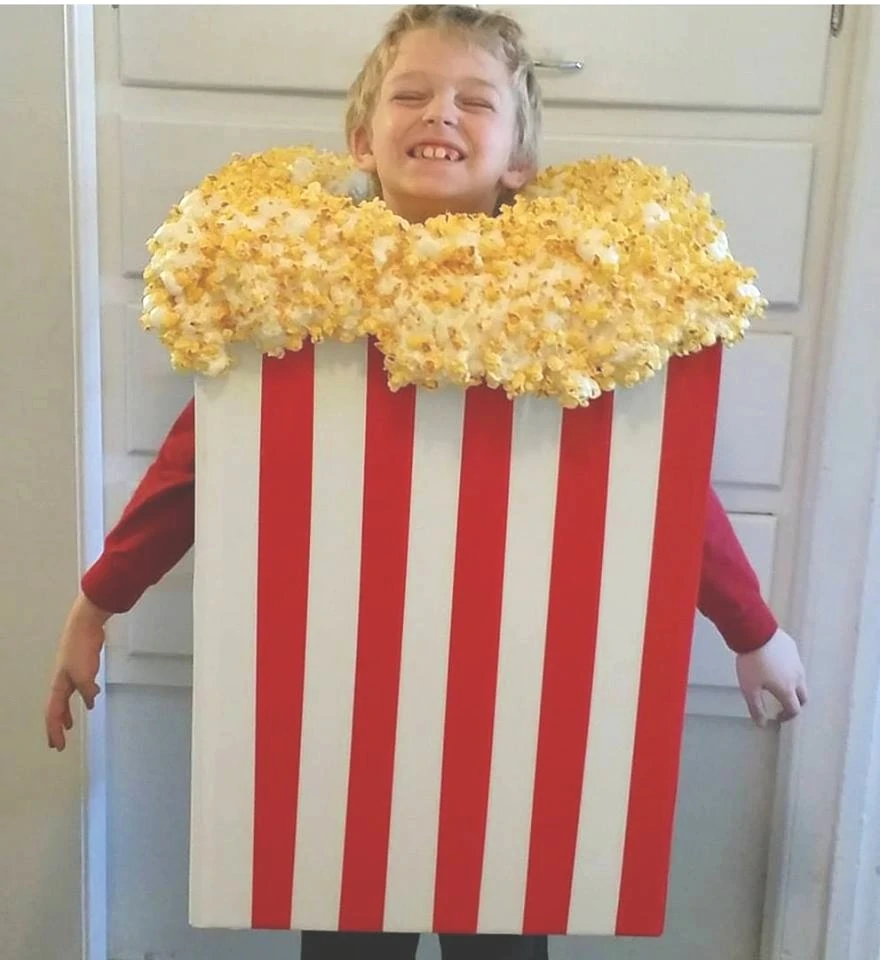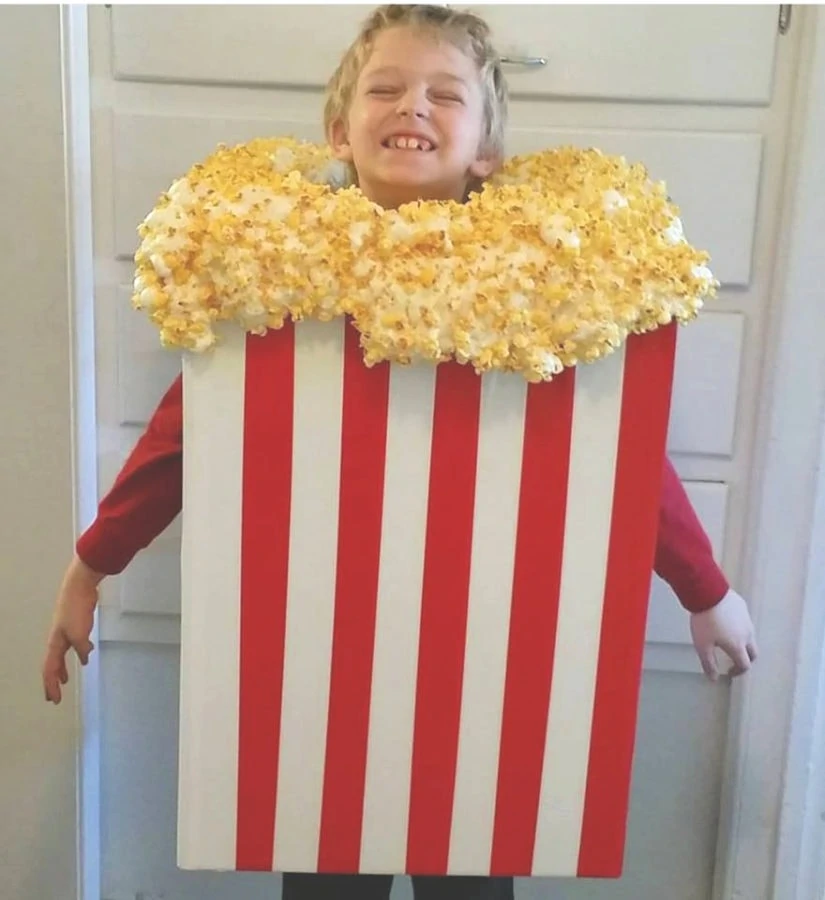 DIY Zelda Costume
Christine had a brilliant idea too. Her son loves Zelda
and she put together a simple DIY costume for him.
"This is the most recent Zelda. A blue t-shirt modified to make the champions tunic, tan pants, a belt, and accessories from the costume store."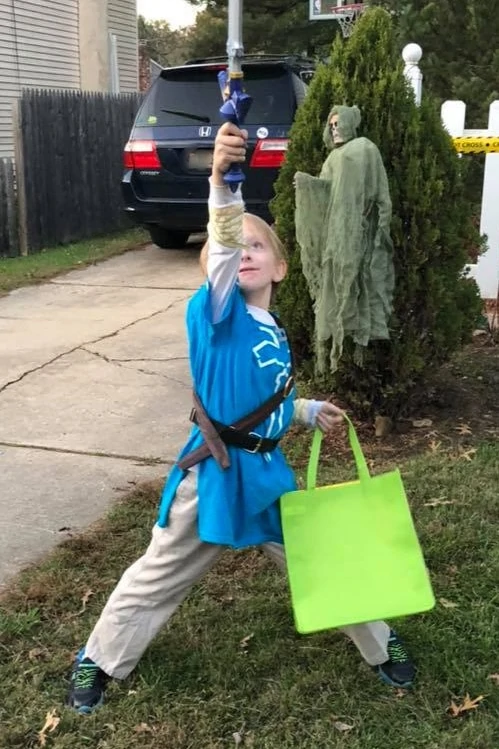 Crazy Cat Person
Casey sewed stuffed cats to a bathrobe so her son could be a "Crazy Cat Person." (I love it, don't you?)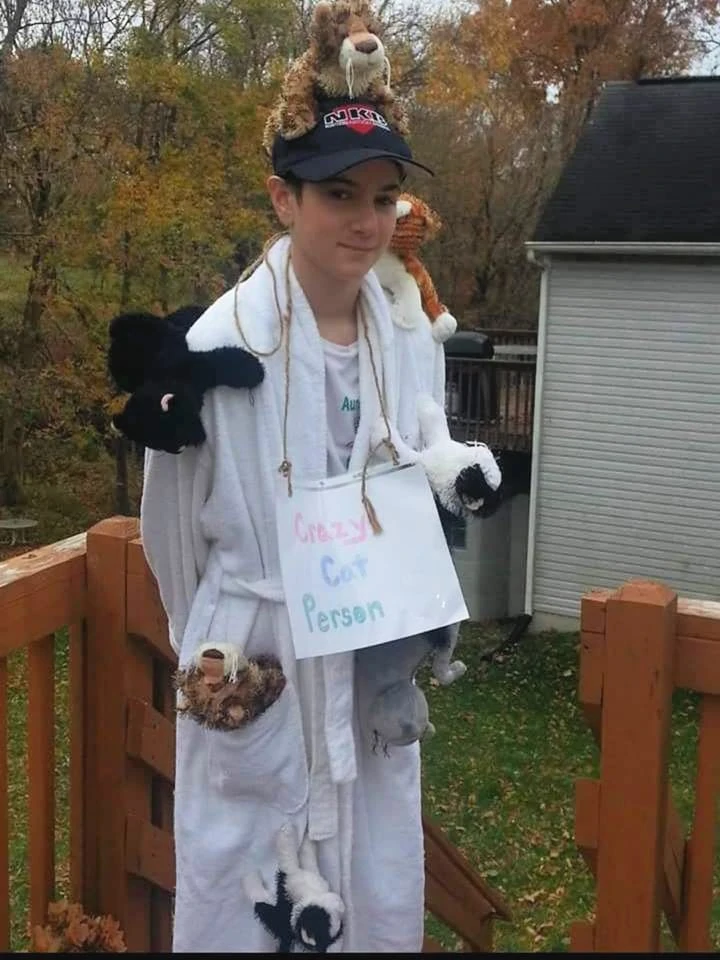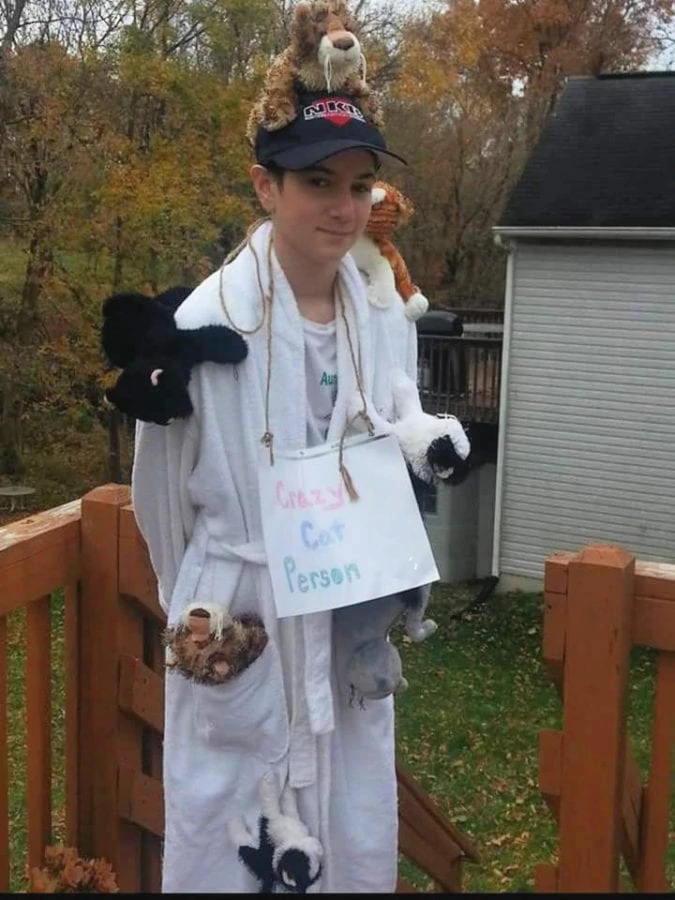 Mr. Potato Head
Kiley made this fun "Mr. Potato Head" costume look professional with her easy DIY idea. (She even made a matching costume for herself!)
"I bought fabric from Walmart and pillow stuffing. Then, I cut the shape and sewed it together leaving an inside pocket for stuffing, and bought the potato head face kits online. I was Mrs. Potato's head and he loved that. I used Velcro so he could change out the pieces for different noses, eyes, and mouths later on because I knew it would turn into a fav after Halloween."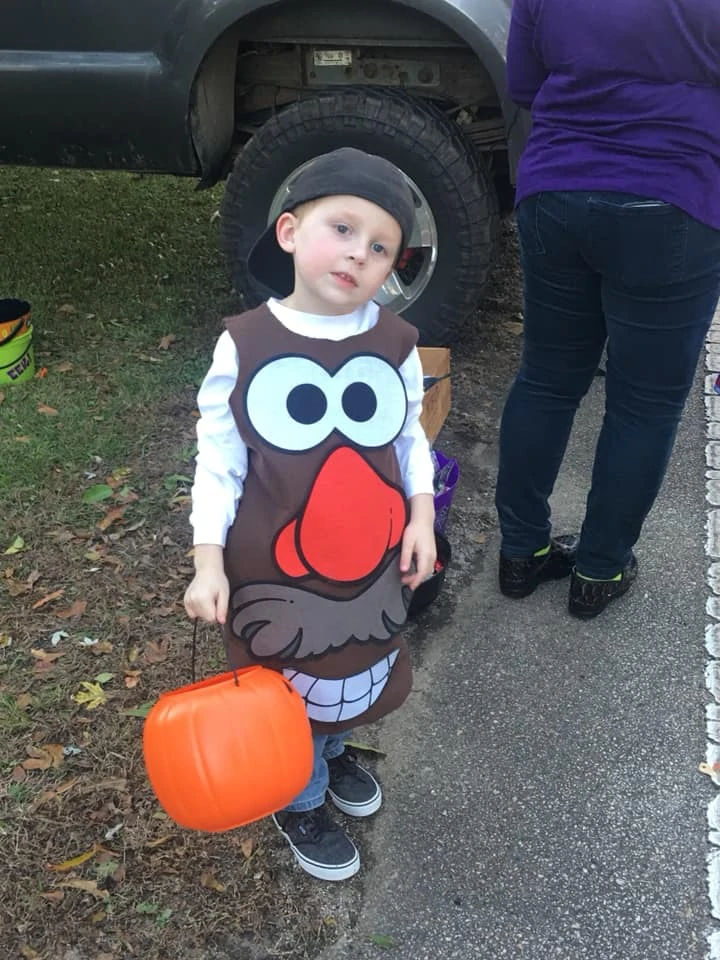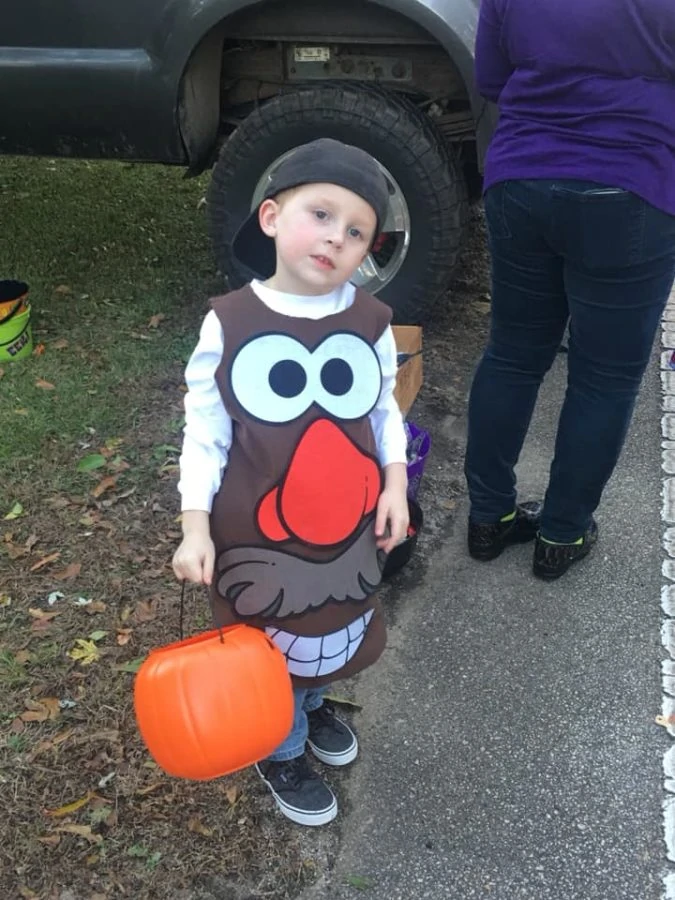 Jellyfish Costume
Shellee says this adorable jellyfish
costume her daughter is wearing is: "just a straw hat from a craft store with fabric hot glued to it. The rest was just her clothes that she liked wearing."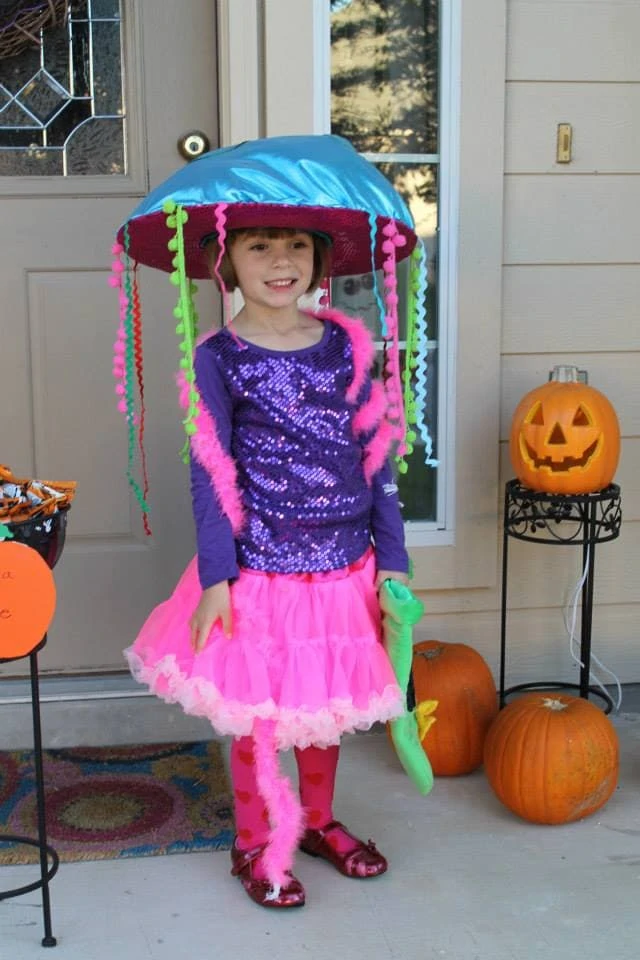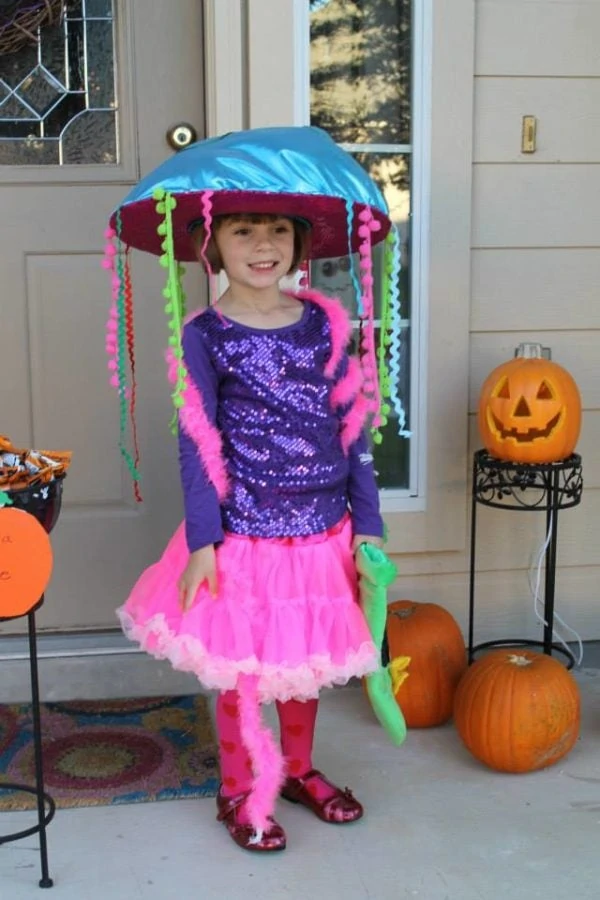 Family Autism Halloween Costumes
LeAnn's family dresses up together every year. Here's what she says:
"The store-bought (costumes) are always too scratchy, so we've made making our own a part of the family tradition for October. Her first Halloween (when she was 2) she did both an 80s aerobic instructor and a Pirate, her second we did a family costume of characters from the Ladybug Girl book series
(she was Ladybug Girl, I was Butterfly Girl, and Dad was Bumblebee Boy), and last year we did another family costume where she was a zookeeper
and we were her animals (I was a zebra, dad was a lion, and her uncle was a wolf)."
I love her creative ideas and it's so special to make Halloween a family tradition.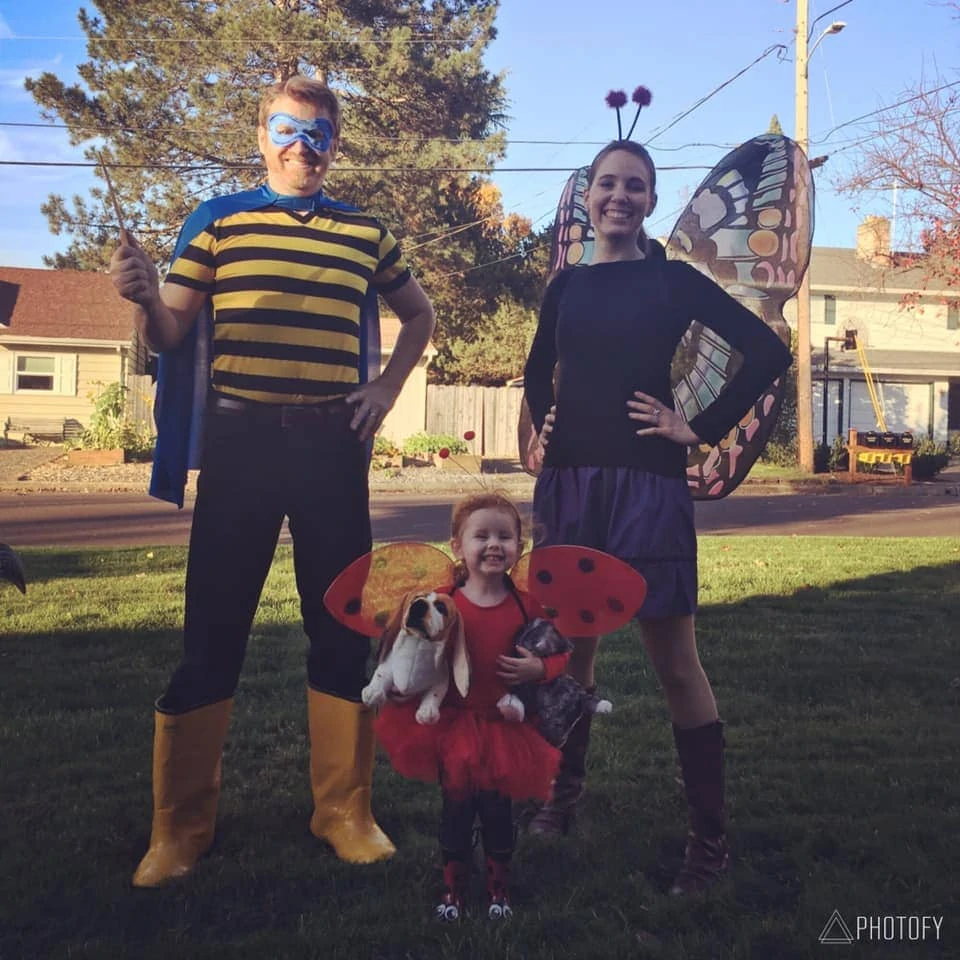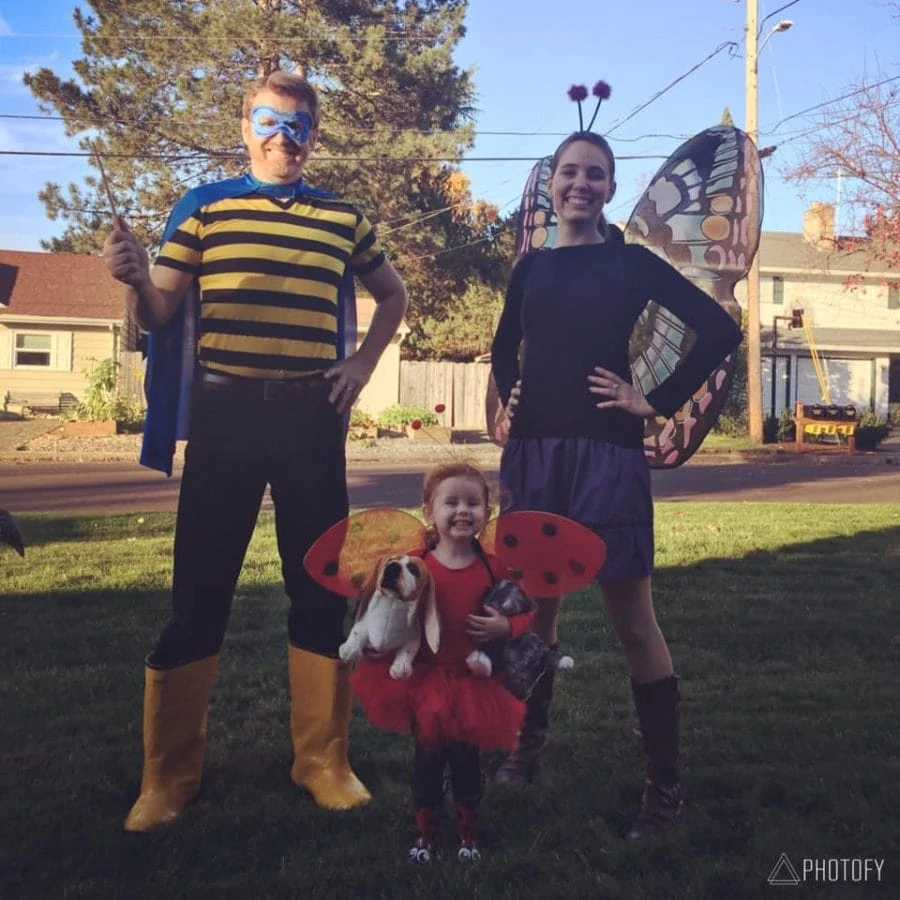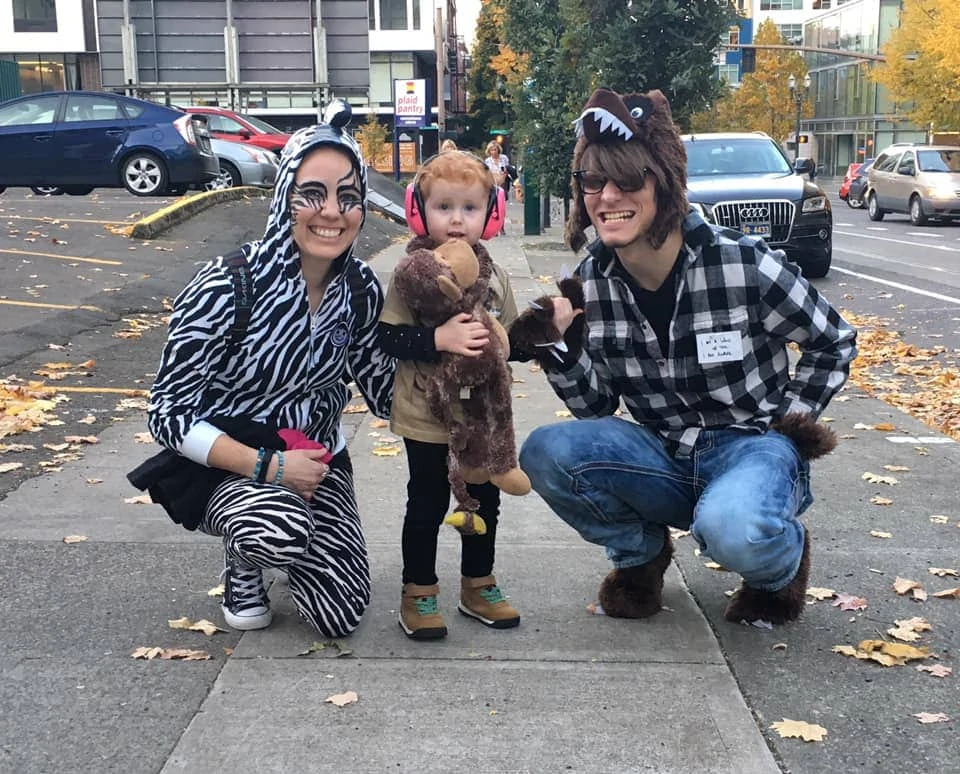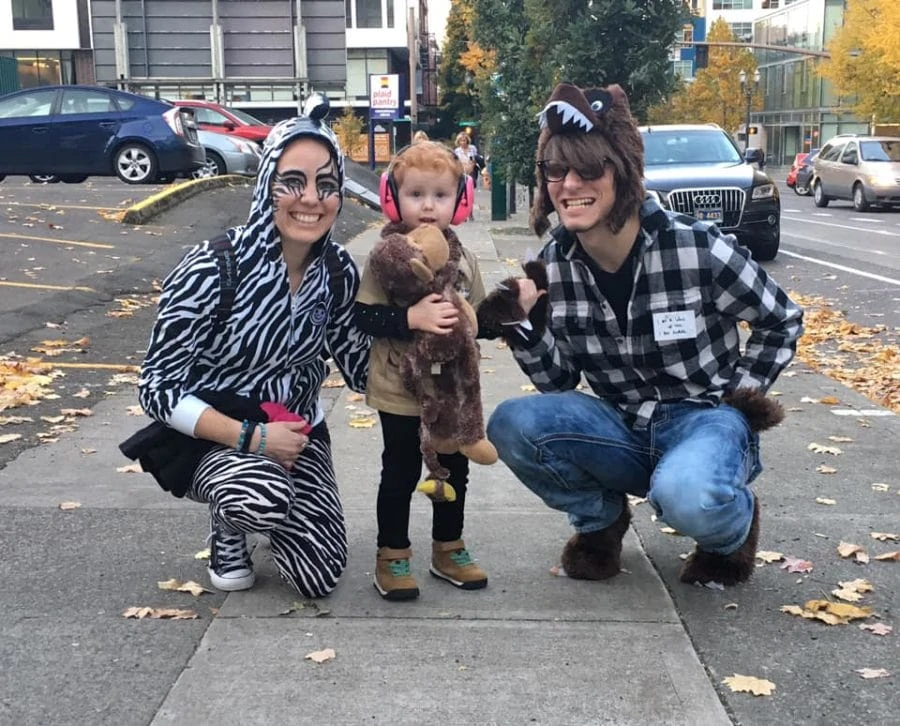 Other Autism Halloween Costumes to Try
Try a Regular Halloween Costume Without the Mask
When looking for a comfortable Halloween costume, try ditching the mask.
Who says a mask is required? Those masks can be awkward and uncomfortable to wear even without sensory issues. Let your child pick out their favorite costume and forget the mask. Or substitute a fun hat (if they like it).
Plus many costumes can be found that don't need a mask to begin with. Here are just a few ideas:
Pajamas
Pajamas are another regular sensory-friendly clothing idea that often comes in fun characters and themes. Let your child pick their favorite PJs and keep it simple!
Glow-in-the-Dark PJs
There are a few fun glow-in-the-dark PJs that would be quite fun and comfortable to wear during trick-or-treating!
Check out this bones Pjs set:
Use Accessories
Try using a couple simple Halloween accessories to spruce up whatever normal clothes your child wants to wear. From a Halloween hat to a sweatshirt to even something as simple as a Halloween necklace, there are some very easy ideas you can try.
Tagless Clothes
Primary.com is a site that offers tagless clothing. While I have not shopped there myself (and am not affiliated with them), they were highly recommended to me by a fellow autism mom.
I hope these simple ideas have inspired you in finding a sensory-friendly Halloween costume for your child who has autism. There are MANY options available to you.
Most of all, have fun with your child and enjoy making your own special Halloween memories with him or her! If you need help winding down after the Halloween festivities, give this DIY pillow spray a try. Our entire family loves it!
Just pin it below to find these sensory-friendly Halloween costume ideas later!