DIY silly putty is fun to make and provides endless hours of play and enjoyment! Learn how to make putty using just two simple household ingredients (neither of which is glue).
Do your kids (or you!) love playing with stretchy, gooey silly putty? If so, I'm going to show you how to make it…with just TWO ingredients!
There is something so satisfying about playing with silly putty. When I was young, I remember spending hours squishing, molding, and stretching it (which helps develop fine motor skills in little fingers, by the way!).
Any time I had a spare dollar, I always spent it on new silly putty because it was so much fun to make a worm, balls, and many other shapes (an "s" that I could turn into a snake was a personal favorite!).
My kids share a similar obsession with all things stretchy and gooey, so it's only natural that we make our own DIY version. I've stumbled across dozens of recipes, and we've been slowly making them all to try them out. This is the winner, hands down!
If you and your kids love putty and slime, be sure to also check out our glitter slime and fluffy slime recipes.
The beauty of homemade silly putty is it's super easy to make and much cheaper than buying it pre-made from the store!
Is DIY silly putty like the one from the store?
Sort of. The store-bought kind has a different set of chemicals, many of which would be quite challenging to reproduce as you learn how to make your own putty.
I wanted to keep this DIY as simple as possible so you could quickly make it at home. Because of this, the texture is slightly different.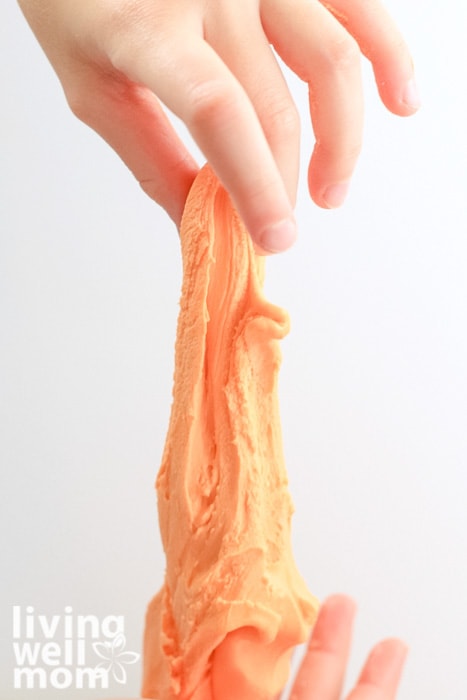 Due to the ingredients, the final texture of this silly putty will be similar to an oobleck rather than the traditional kind. The cornstarch keeps the putty from sticking to your fingers, but the texture will be a bit doughy rather than rubbery.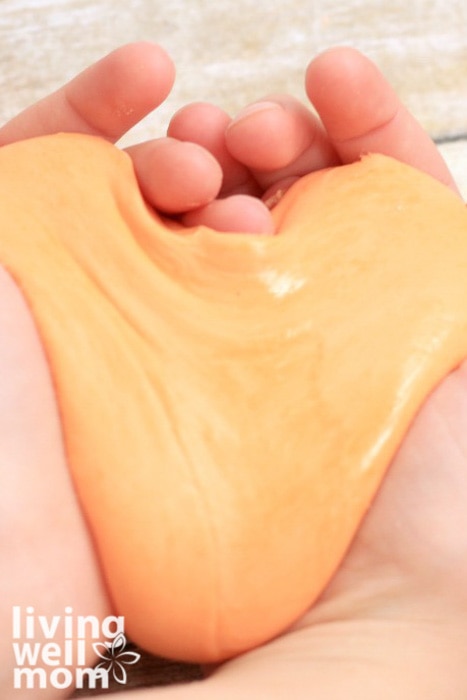 How to make silly putty
This DIY putty recipe is even easier than most. It's borax-free and doesn't contain any white glue. Plus, it only has two ingredients (three if you want to color your silly putty).
In less than a minute, you will have satisfying DIY silly putty that will keep your kids happily entertained for quite a while.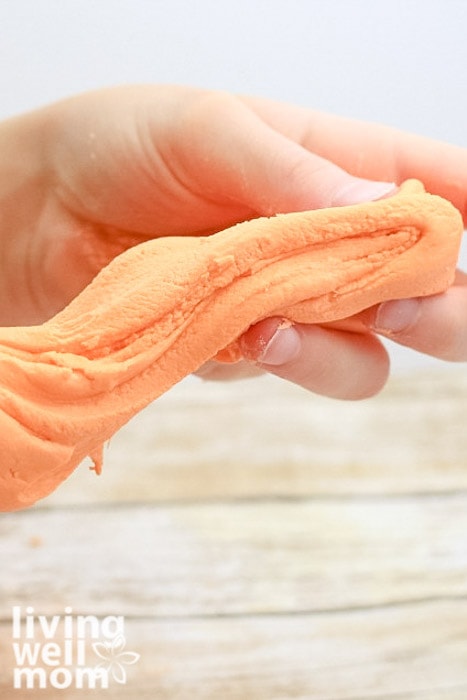 Ingredients
Here's what you​​​​'ll need for this easy kid's activity:
NOTE: Certain types of liquid soap will NOT work for this homemade silly putty recipe. Clear, gel-like soaps or soaps that have the consistency of hair gel or conditioner will work the best.
We used Method Gel Hand Soap for the silly putty in these photos, and I've also used Target brand strawberry shampoo with good results.
We also used gel food coloring and had no issues with dye sticking to our hands when the project was over.
Directions
Let's get started – with only two ingredients, you know this is an easy kid's craft.
Step 1
Dump your cornstarch and soap into your bowl and stir to mix it up.
Note: You may need to adjust the amount of soap used depending on the humidity of your room. It was dry in our house, so we used almost a full cup of soap. If you make it during the hot summer months, you may not need as much soap.
Step 2
If you want, add a couple of drops of food coloring.
Note: I recommend that you start out with a smaller amount and add a little more until you get the color you (or, more likely) your children want. Don't add a ton of food color at first, or you may end up with stained hands.
You really only need a little bit of color to dye your DIY silly putty. The more coloring you add, the deeper your color will be and the greater the likelihood that it will stain hands.
Step 3
Mix the ingredients together with the spoon until it is too hard to mix, then use your fingers.
We found that we could mix using a spoon until our mixture turned into crumbles, and after that, we had to mix using our hands.
You'll know your homemade putty is ready to go when it's moldable and still a bit slimy, but it no longer sticks to your fingers!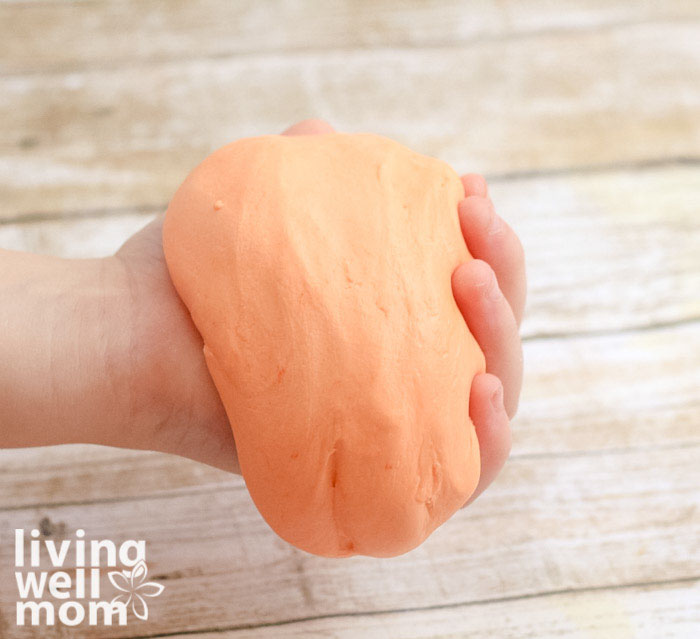 Tips for making DIY silly putty
Clear, gel-like soaps do best. Certain types of soap are not suited to this activity; you'll have the best results with soap that has the consistency of hair gel.
Humidity and the brand of your individual ingredients can alter how much of each ingredient you need.
This putty will dry out as your children play with it. Add another pump of soap to get it back to a playable consistency.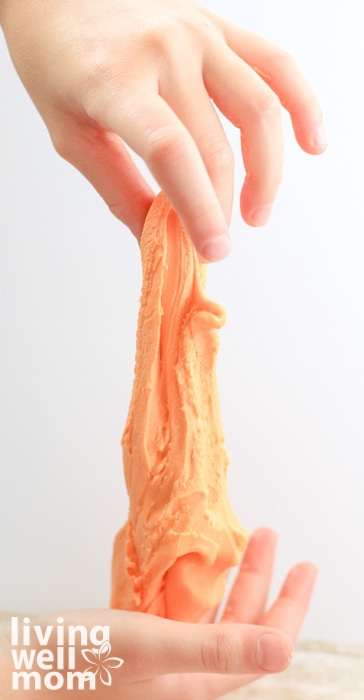 How to use homemade silly putty
My girls were very excited about playing with it, and they fought over who got to play with it first. Eventually, I broke the silly putty into two pieces and let each of them have one!
The girls were fascinated by how it kept its shape like playdough, but only for a little while. Within a few seconds, it would lose its shape and become a single blob.
Ours did start to dry out quickly. As it dried, it would become flaky. Adding another pump of soap to the putty moistened it up again and made it playable. You can keep adding soap until you are done playing for the day!
This DIY silly putty project is simple enough for older kids to make and quick enough to please little kids, too!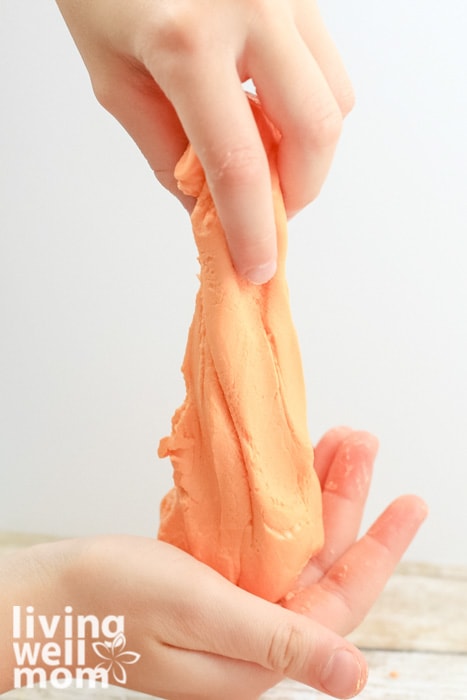 Troubleshooting your silly putty
If it's too runny: Keep adding cornstarch one tablespoon at a time until your mixture stiffens.
If it's too crumbly: Add a bit more soap until the putty can stretch again.
IMAGINATIVE FUN ↓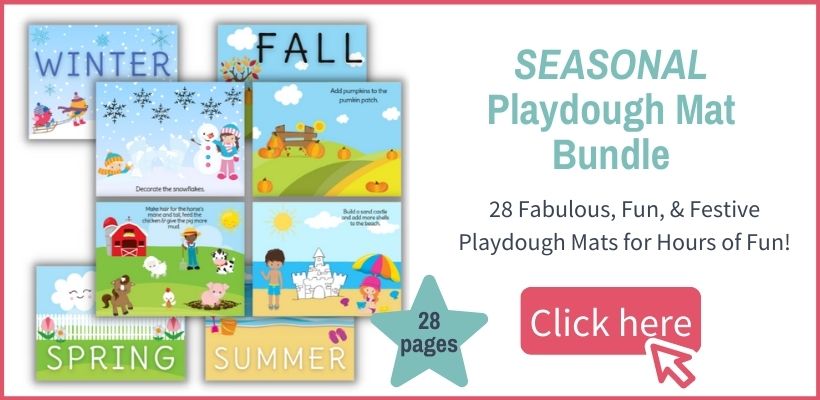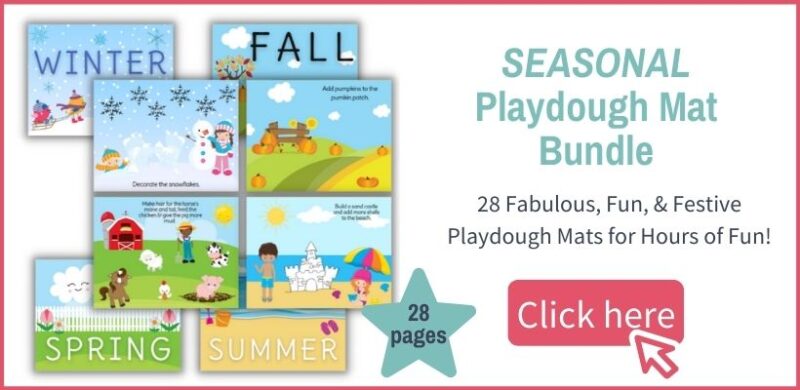 FAQs
Here are a few questions I often see readers ask about making their own DIY version.
What are the benefits of silly putty?
There are so many benefits to playing with this easy kid's craft! First, it's relatively mess-free, so you can let your kids spread it out, ball it up, stretch it out, and more without concern about ruining the carpet or the furniture.
It's also portable and inexpensive, so you can take it anywhere (even on road trips)!
Further, the sensory input and motion of playing with putty can act as a stress reliever for kids who have anxiety. We call it stress putty in our house when we need to use it for stress relief.
It also makes a terrific kid's craft that acts as a great rainy-day activity when needed!
How do you store DIY silly putty?
When you buy it, it comes in a container that you can use to store it, but when you make your own, you have to come up with a way to store it. The good news is that all you need is an airtight container or plastic bag to store your DIY silly putty. It doesn't store long term super well, but can last a few days.
Are silly putty and therapy putty the same thing?
Essentially, yes. The main difference is the name and how you use it. If your kids use it mostly for entertainment and relaxation, it's silly putty.
On the other hand, if they use it for various kinds of stress relief, strengthening, or anything else that's similar, then it could reasonably be called therapy putty!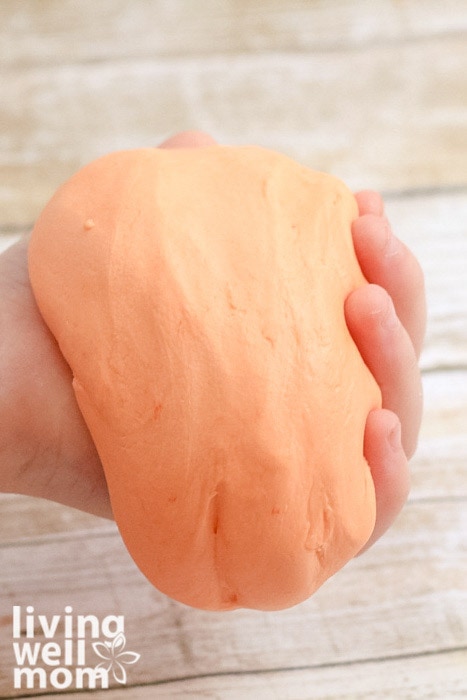 More Fun DIYs for Kids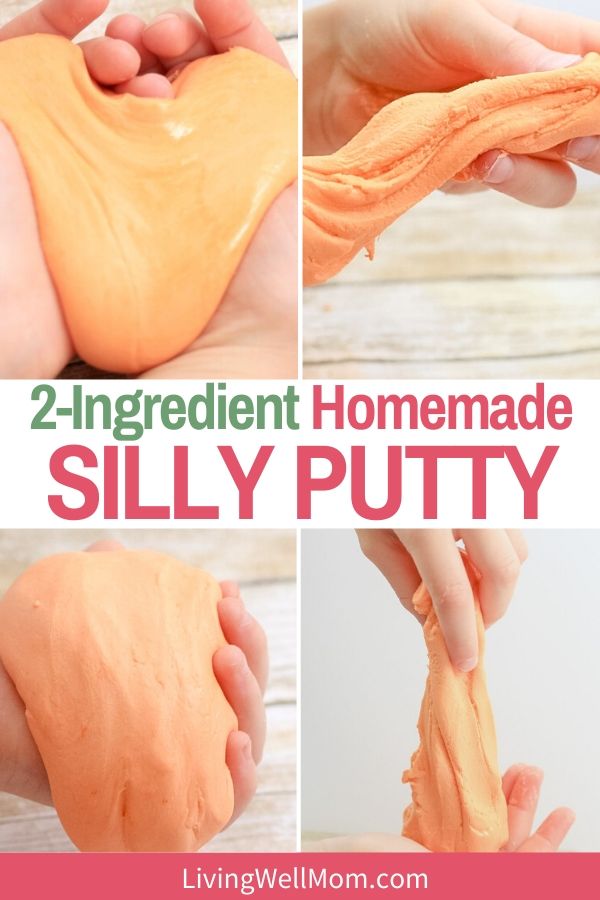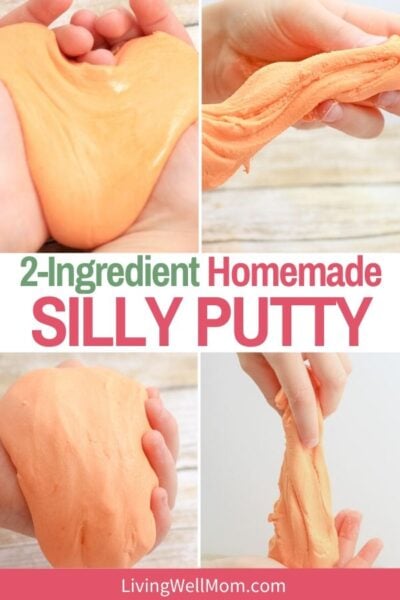 Print
DIY Silly Putty
1 cup of cornstarch

1/2–1 cup clear liquid soap or conditioner – (Method hand soap works well
*
Food coloring or gel colors

A small bowl and spoon for mixing
Instructions
Add the cornstarch and 1/2 cup liquid soap (use the lesser amount to start with) into a medium-sized bowl and mix.
Add a couple drops of food coloring and mix. Add a little more color if desired (you shouldn't need a lot.)
Mix the ingredients together with the spoon until it is too hard to mix, then use your fingers.
Add more soap if it's dry. Low humidity in the air will cause you to need more soap.
When your silly putty is moldable and a bit slimy, but no longer sticks to your fingers, it's ready!
Notes
Clear, gel-like soaps or soaps that have the consistency of hair gel or conditioner will work the best. We have used Method Gel Hand Soap and Target brand strawberry shampoo with good results.
This putty will dry out as your children play with it. Add another pump or more of soap to it to bring it to the desired consistency.
This silly putty doesn't store well, but we've had some luck storing it for a couple of days in a sealed ziploc bag. Your results may vary, particularly depending upon the air humidity.