Fingerpainting with children is a fun (and messy!) activity. Keep your little one safe by using edible paint that's completely non-toxic. Whether you are fingerprinting with toddlers or older children, kids of all ages will appreciate this fun activity!
With younger children, it's hard to find a fun and safe craft to do with them. Anything you hand to a toddler is guaranteed to go straight into his or her mouth—including art supplies!
One of my children's earliest favorite activities is finger painting. However, I've never been comfortable with store-made fingerpaints, even if they are labeled as non-toxic. I mean, take a look at the long ingredient list for any of these and you'll see what I mean!
Edible Paint – Truly Non-Toxic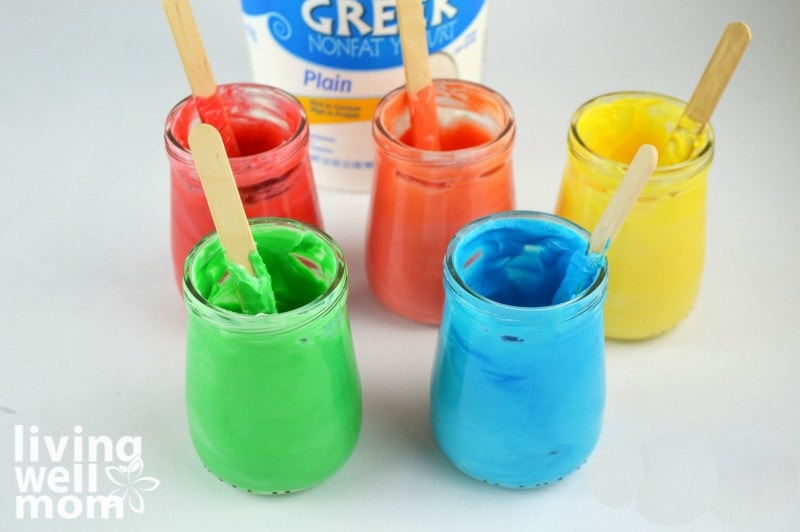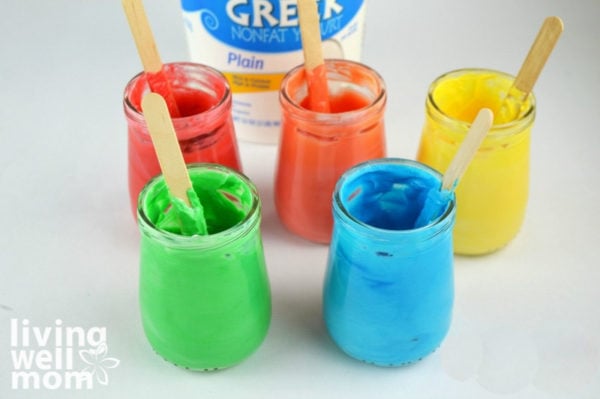 Rather than worry as to what chemicals my children may be sticking in their mouths, I decided I was going to make my own fingerpaint.
I wanted it to something that was truly non-toxic and 100% ingestible. As a very happy bonus, I was able to do it with just two basic household ingredients!
This edible paint activity is everything your kids love about traditional fingerprint: it's colorful, fun, and works great on paper.
The best part is, it's completely edible which means it's safe for your little ones. You can put your kids in their highchairs with this paint and let their imaginations be the only limit to what they can create.
It's a win for everyone!
How to Make Edible Paint
Making this edible finger paint is oh-so-simple! All you need is two basic household items and a couple of empty containers.
Ingredients for Edible Paint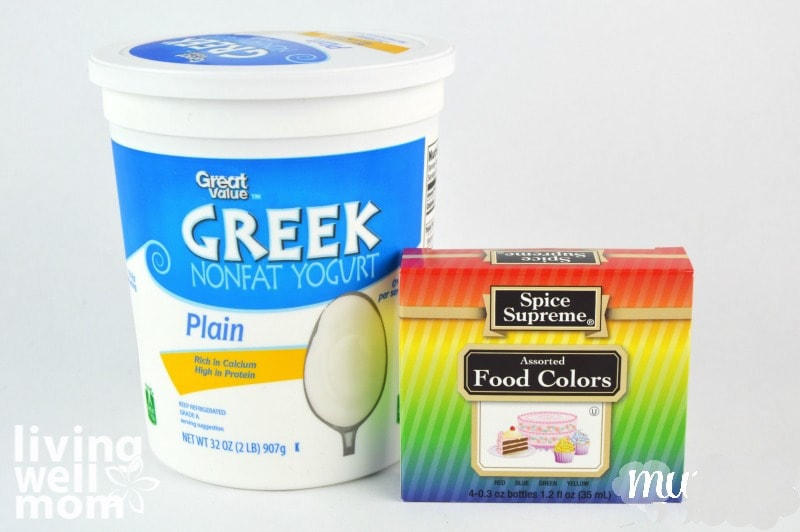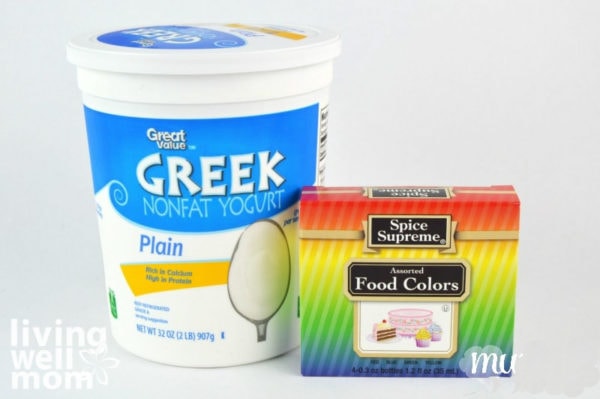 Yogurt – I used full-fat Greek yogurt to keep things a bit healthier and sneak some extra protein in. 😉
Other Supplies Needed
Small containers for the paint – I used baby food jars. It's a great way to recycle them!
Popsicle sticks or a spoon for stirring the edible paint and getting an even color.
How to Make Edible Finger Paint Step by Step
Place about 4 tablespoons of yogurt into each container.

Place 5-10 drops of food coloring in your first container filled with yogurt. You can add more or less depending on the shade of color you wish to achieve.

Stir well until all the food coloring is blended into the yogurt. Tip: use the side of your popsicle stick to scrape the sides of the jar so you can evenly color the yogurt.
Repeat step 2 and 3 for each additional color. I made 5 different colors including; red, orange, yellow, green, and blue.

Once all the paints are made you can give them to your child along with some paper and let them have some fun with their edible finger paint!
The Benefits of Fingerpainting for Toddlers
Besides just being a fun activity and a way to get some cute artwork up on the fridge, there are quite a few benefits of finger painting for toddlers specifically.
Improves Hand-Eye Coordination
There are few ways that can help your toddler improve their hand-eye coordination like finger painting can! Let your little one practice dipping their finger into the jars of paint, and smearing it around the paper. They'll be having a blast as they learn!
Fun Way to Practice Colors
Yes, your child is likely learning colors when you read them certain storybooks at night. But it's hard to beat a hands-on demonstration like finger painting for toddlers will give them!
Introduces Toddlers to Color Theory
Is your toddler a budding Picasso? Perhaps! Show him or her how to mix colors together. They'll be amazed (or at least amused) to see blue and yellow turn into green before their eyes.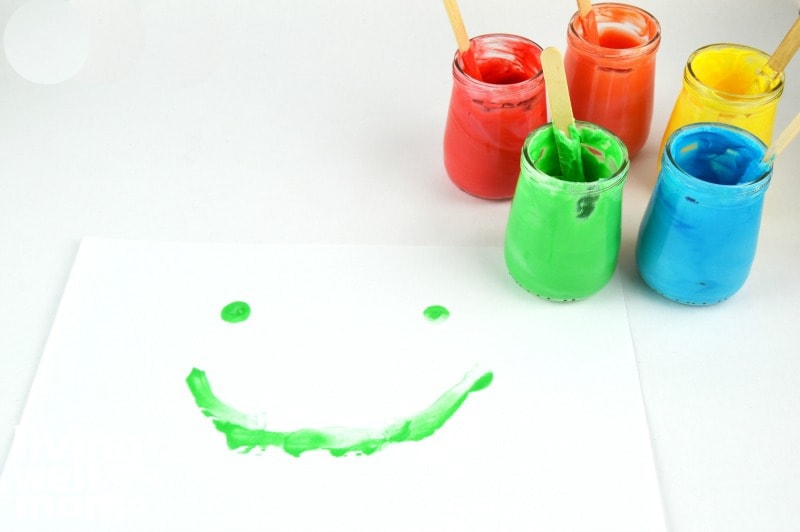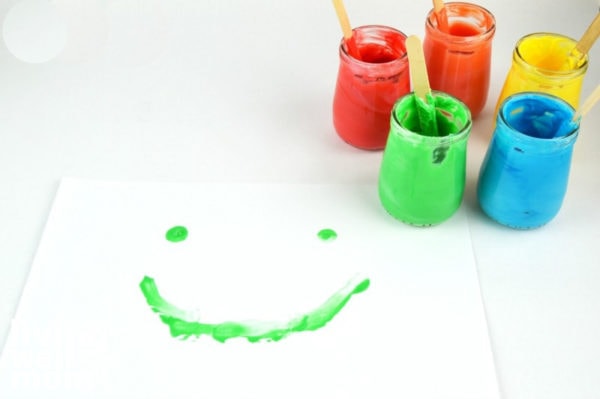 More Fun Painting Activities for Children
Mess-Free Fingerpainting: One of my favorite indoor activities for little ones! This keeps them busy "painting" with no mess in sight.
Easy Sponge Painting Rainbow: This is a good project for older toddlers when they have a bit more hand-eye coordination.
Puffy Paint: This one is another easy paint that you can whip up with ingredients you likely have in your pantry right now. Who doesn't love puffy paint? 🙂
Sidewalk Chalk Paint: On nicer days, the whole family will love using this chalk paint outdoors! I like to keep mine in squeeze bottles so it's easy to make patterns.
When all is said and done, there are so many fun ways to let your kids express their artistic sides. My kids had a ton of fun with this edible finger paint and I am sure yours will too!
Want to save this for later. Just pin it below to find the instructions later!