With younger children, it's hard to find a fun and safe craft to do with them. It is such a worry as to what they are going to put into their mouths that we sort of panic and think crafts are impossible until they are older. If this sounds like your life at all, then this Two Ingredient Edible Finger Paint is the perfect craft to do with your child!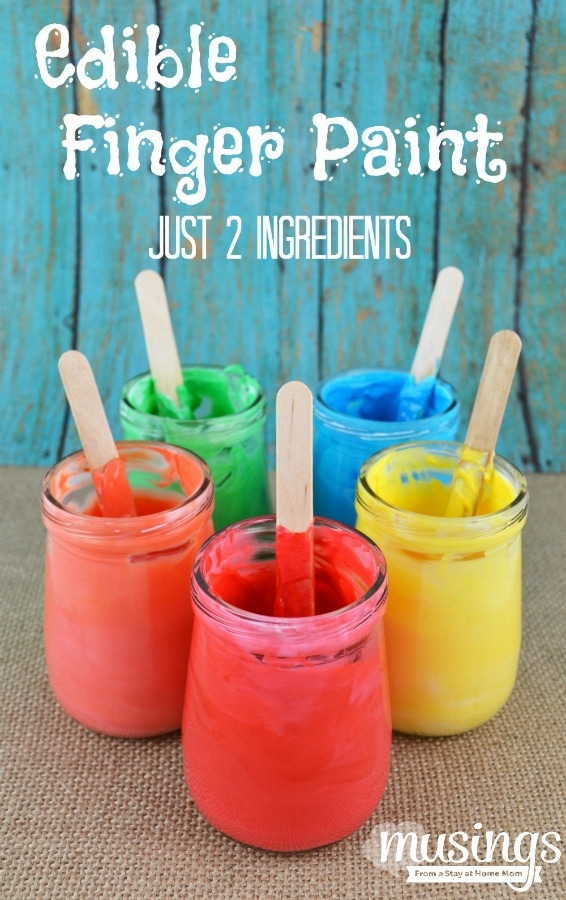 This edible finger paint activity is colorful, fun, and only requires 2 ingredients that you most likely already have on hand. The best part is, it's completely edible which means it's safe for your little ones. You can put them in their highchairs with this paint and let their imaginations be the only limit to what they can create.
Edible Finger Paint
Ingredients:
Yogurt (I used greek yogurt to keep things a bit healthier)
Food coloring
Other supplies needed:
Small containers for the paint (I used baby food jars- a great way to recycle them!)
Popsicle sticks or a spoon for stirring
Directions:
Place 5-10 drops of food coloring in your first container filled with yogurt. You can add more or less depending on the shade of color you wish to achieve.
Stir well until all the food coloring is blended into the yogurt. Tip: use the side of your popsicle stick to scrape the sides of the jar so you can evenly color the yogurt.
Repeat step 2 and 3 for each additional color. I made 5 different colors including; red, orange, yellow, green, and blue.
Once all the paints are made you can give them to your child along with some paper and let them have some fun with their edible finger paint!
When all is said and done, eating it might just be the funnest part! My kids had a ton of fun with this edible finger paint and I am sure yours will too!