It's a fact of life: every toddler loves to finger paint. And, to the dismay of parents everywhere, they seem to like it messier the better, right? Well, what if I told you you could make a mess-free finger paint that could satisfy that creative itch…minus the cringe-worthy mess?
Well…you can! Today I'm going to show you how to make a finger paint for toddlers that lets them be creative without driving you crazy. Win-win!
Mess-Free Finger Paint for Toddlers
With three toddlers at home (and an extra toddler with us several days a week), I'm always looking for fun projects to engage them. I love to do crafts and arts with the boys but sometimes it can get REALLY messy! So I love when I find mess-free activities to do with my toddlers.
Believe me, I've experimented with dozens of activities, and this mess-free finger paint activity is one of our favorites! We've still had many cold days recently and lots of rain, so having fun indoor activities like this makes the days so much easier.
I'll admit, it's not as vibrant or "paint-y" as the real thing, but I like that my toddlers can be creative without messing up our house. This style of finger painting lets your children still experience a lot of the benefits of finger painting without the smears of paint all down your walls.
Want more ideas that won't leave your house in shambles? Check out this post filled with dozens of mess-free toddler activities!
The Benefits of Fingerpainting
There are several reasons why I encourage my children to finger paint (mess-free or not). Here are a few of the benefits of painting for kids:
It doesn't require any special tools. All you need are your fingers!
Painting is one of the best ways to work on hand-eye coordination and strengthen fine motor skills. This is a necessary skill to develop for toddlers!
It's a great way to explore creativity, color mixing, and texture.
This is the perfect way to introduce color theory and teach your child about how to mix primary colors to develop secondary ones.
It's a lot of fun for kids and parents alike!
Now that you know why you need to be doing this craft, let me show you just how easy it is to put together!
Mess-Free Finger Paint Supplies
You only need a few supplies to make mess-free finger paint, and the good news is that most of them are probably already in your house.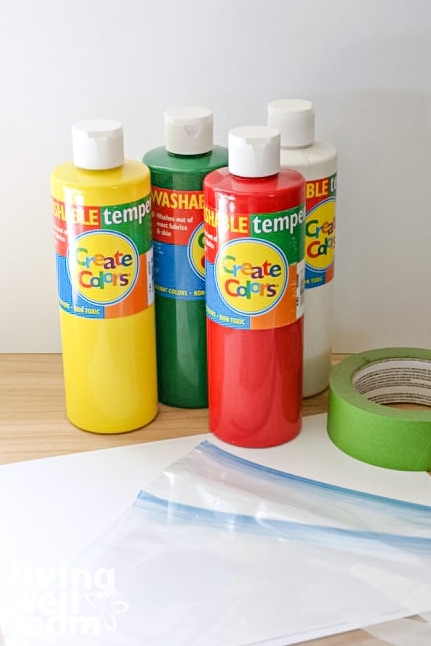 Step by Step Directions
Putting together this craft couldn't be easier! Star by squirting several colors of finger paint into a large plastic zip closure storage bag.
I kept the colors separated so the kids could mix them together and explore—after all, that's the fun of finger painting! Zip the storage bag shut, removing most of the air from the bag.
Next, tape a sheet of white paper to the table or work surface using painters tape.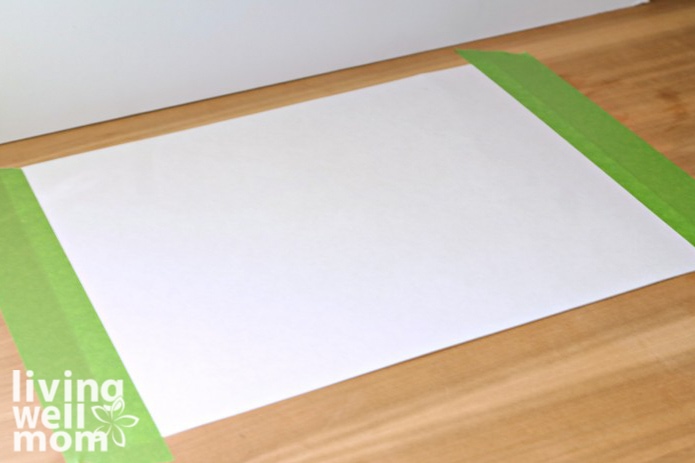 Then, tape the storage bag over the top of the paper. You'll want to make sure the bag is taped down well to prevent it from slipping. It will also keep the paint from getting on the table if the bag comes open.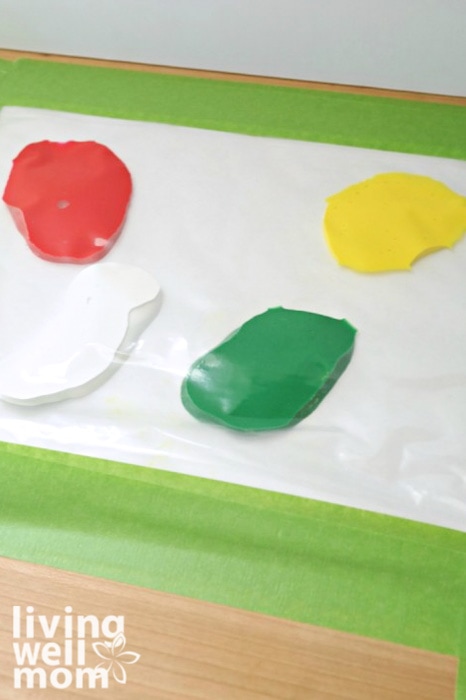 That's it! Now onto the fun part. Let your children play, explore, and get creative with this mess-free finger paint! They can experiment with mixing the colors and drawing in the paint without the mess of traditional finger painting!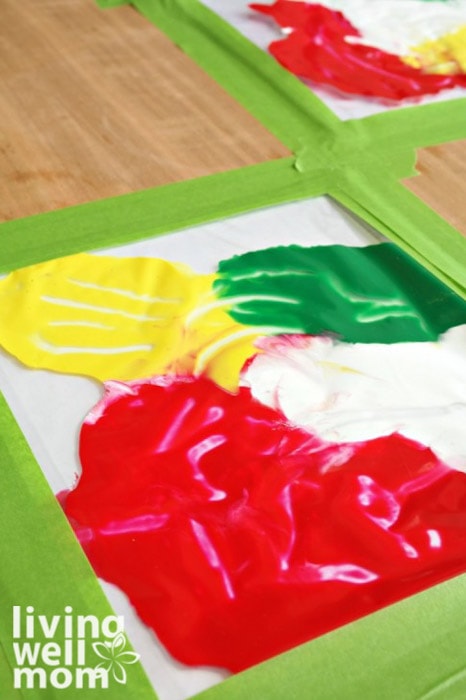 Another option is to do this same method but rather than tape the bag onto paper, tape it up to a window or glass door. The outdoors and nature become the backdrop for your little artist's work.
My kids had just as much fun with this mess-free finger paint activity as regular finger painting. And I enjoyed the "clean up" much more too!
Looking for a painting activity for older kids? They'll love this homemade puffy paint – it's so much fun!
Pin the image below to save the post for later!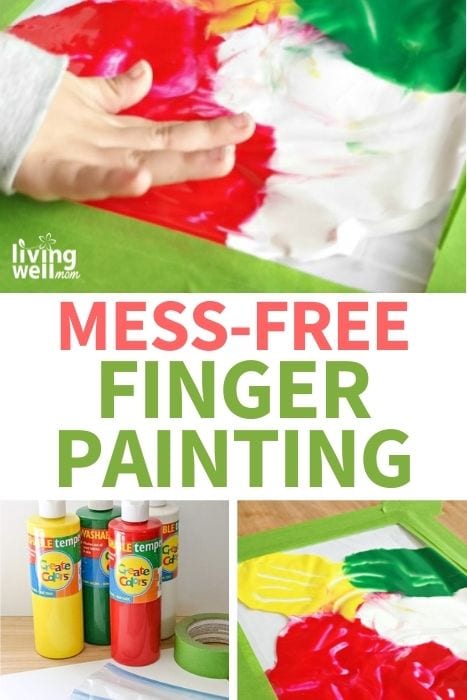 More Activities for Kids: