Art is already a sensory activity, but puffy paint takes a flat, runny medium and makes it thick and fluffy! Using this more dimensional paint is a nice, welcome change from the typical variation. Even better? You can easily whip up a batch of puffy paint right at home with your kids!
Making and doing arts and crafts is fun for kids of all ages. If doing projects with your kiddos seems like too much work or mess, I totally get it! That's why I created this recipe – I'm all about making easy activities for kids.
This is one of the best homemade puffy paint recipes you'll ever find! It only requires a few easy-to-find ingredients that I almost guarantee you already have in your pantry. You can whip up a fun batch (or two or three), and your kids will have an absolutely amazing time creating puffy artwork.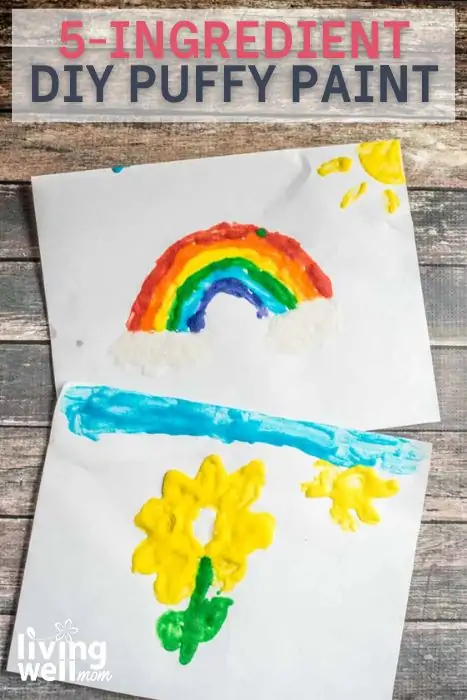 Puffy paint without shaving cream
A couple of months ago, I was sorting through a box with old recipes and came across a handwritten card for "puffy paint." I was intrigued because it looked so easy and didn't require shaving cream or white glue as many recipes do.
I made a batch for my kids, and it was just as easy as I had hoped. Mix it all together, add a little dye (food coloring) and hand it off to the kids. It wasn't messy, either!
After my kids had each painted a couple of pictures, one of them announced: "Mom, you need to put this on your blog! It's so fun, other kids will want to try it too!"
So here you go – easy puffy paint!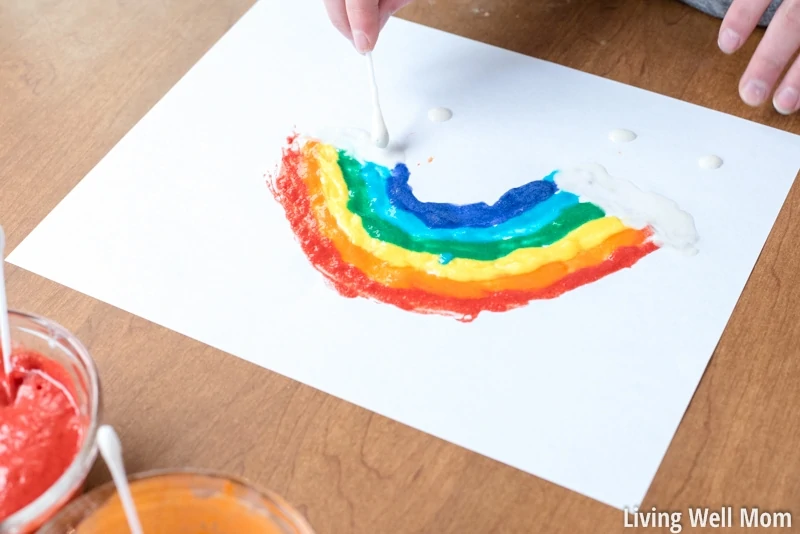 Looking for another fun kids' activity? Your children will love these free printable playdough mats! They'll keep them entertained for hours.
Download for free here:

Ingredients needed
Here is everything you'll need to make this super easy recipe:
Optional supplies
These supplies aren't required to make this sensory-rich art experience, but they make the entire process much easier!
Ice cream cone (to fill with puffy paint or use to paint around)
Fabrics (like shirts to paint on)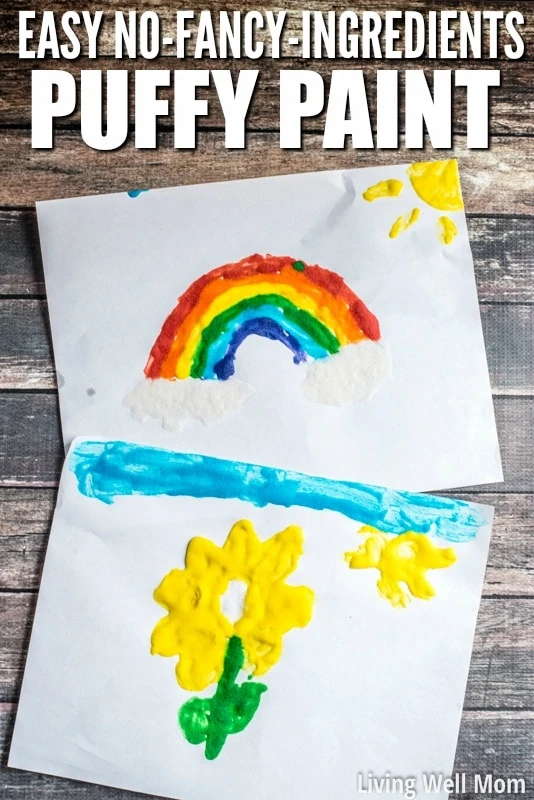 How to make puff paint
Just follow these easy instructions along with the step-by-step pictures!
1. Mix the ingredients together
Stir everything together until it's smooth. You can add a tiny bit more water if it's too thick.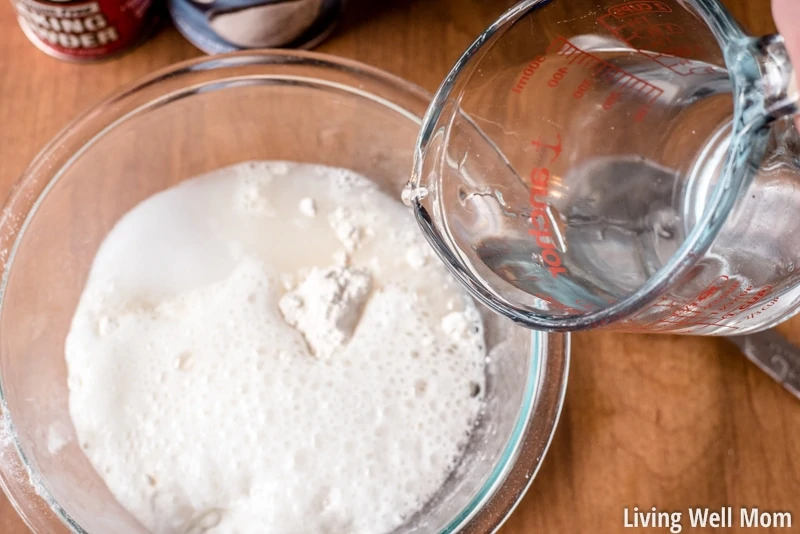 2. Divide the paint into the bowls by color
My kids love to have many colors available, so I often triple or quadruple the batch, then divide it into small bowls and mix in colors.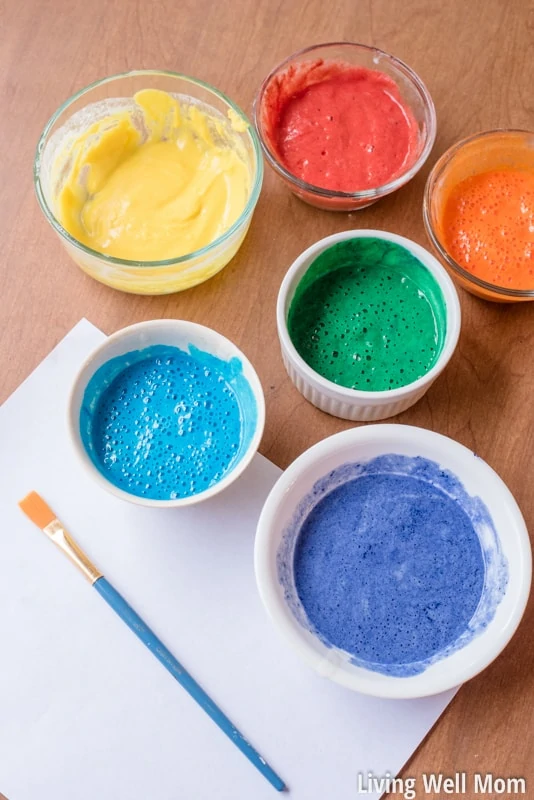 3. Paint
Now you're ready to make art with your homemade paint! It won't be puffy yet – that comes later after you heat it up a bit.
We discovered that using q-tips was easier than a paintbrush (and less work for us moms!)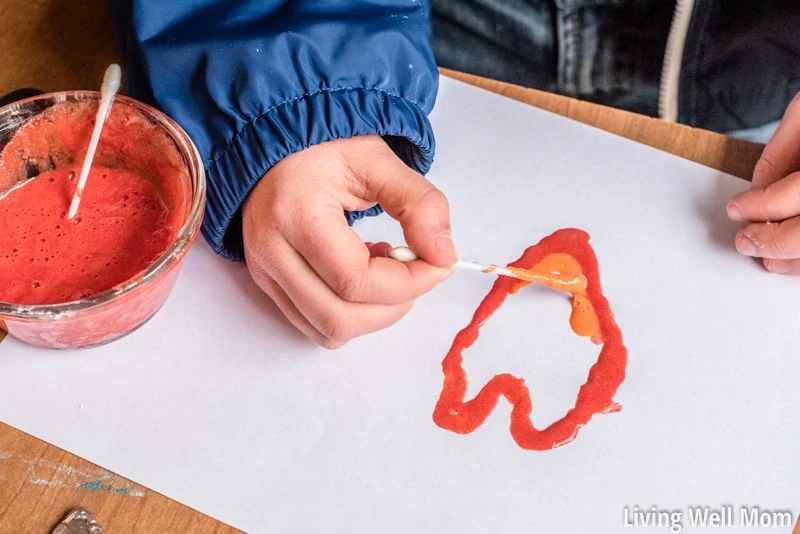 Let your kids' imaginations go wild and make beautiful pieces of artwork.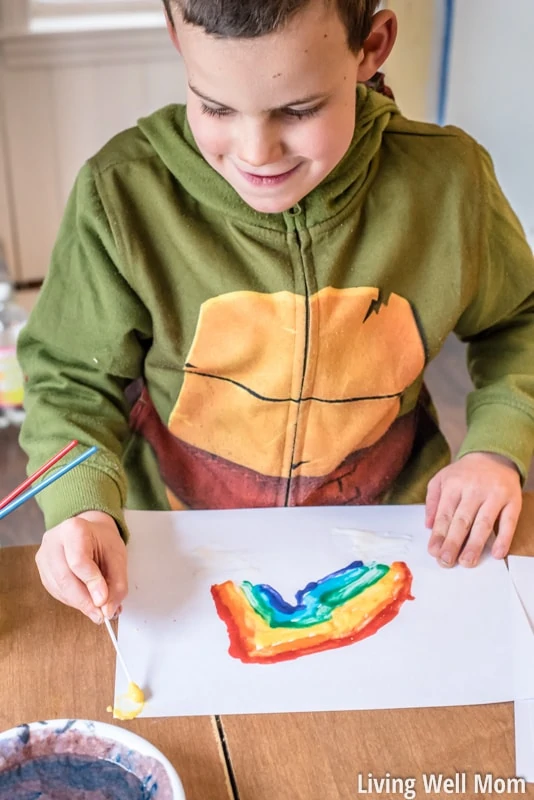 4. Use thick amounts of paint
We discovered that thin layers of puffy paint don't puff as much; a thicker amount will result in a much puffier picture.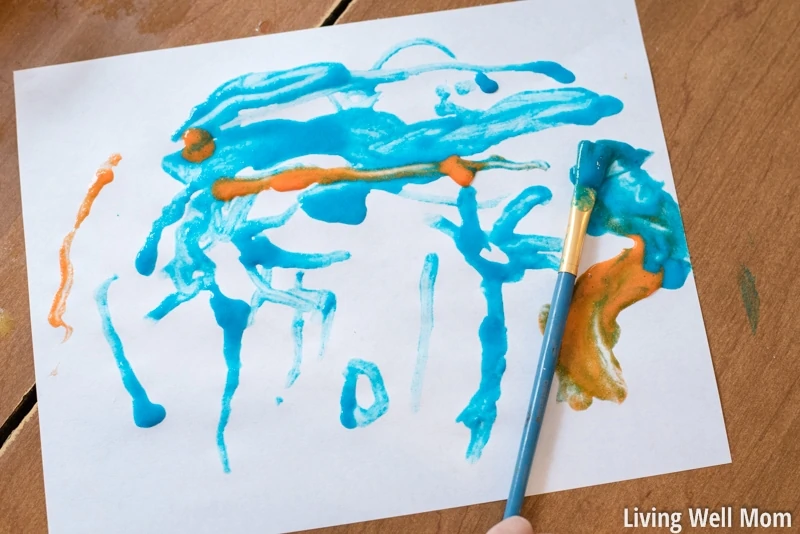 5. Heat up the artwork
This is where the puff paint comes alive!
This is definitely a step for mom or dad to be in charge of.
If you have a microwave, put each piece of artwork in the microwave for 15-20 seconds or until the paint is dry and puffed. Be careful not to overcook it because that would be a fire hazard!
The paintings will also puff up in the oven if you don't have a microwave (like us). You can cook it anywhere from 350-450 degrees for 2-4 minutes. Watch it closely because if it's overcooked, the paint will brown and be ruined! (Yep, done that too!)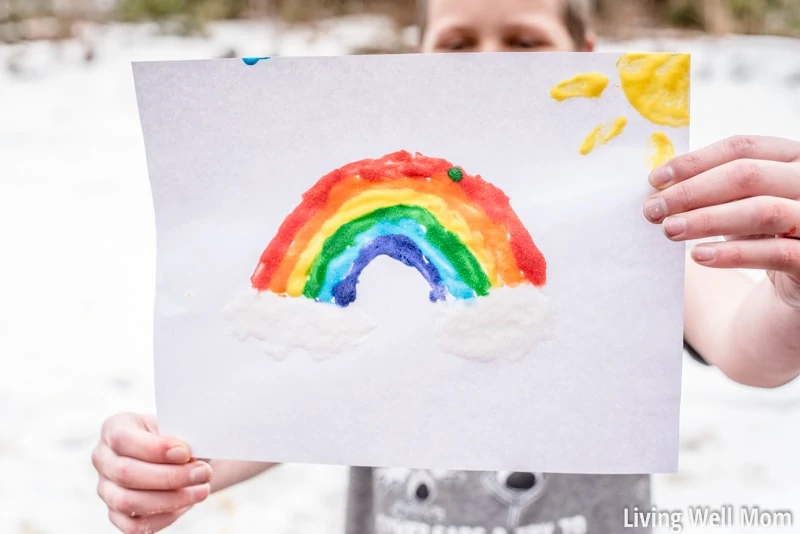 All four of my kids (from my 5-year-old all the way up to my 13-year-old) love using puff paint, and I enjoy the beautiful artwork they create.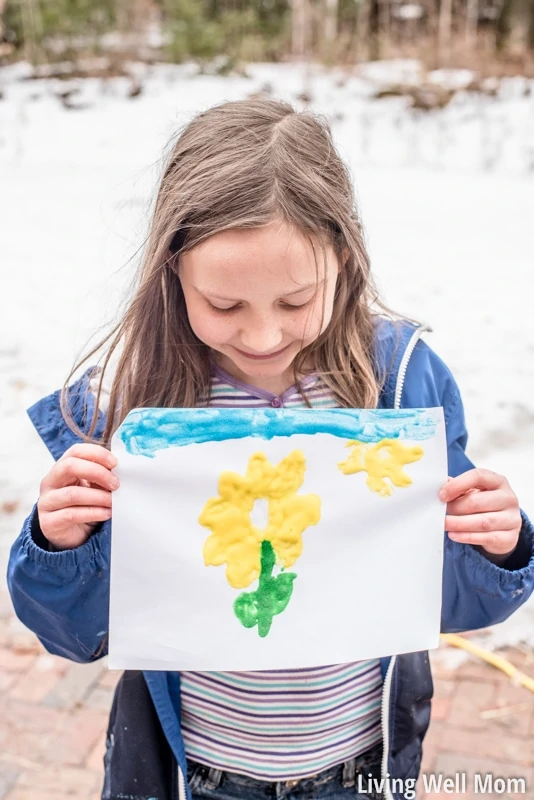 Aside from the occasional overcooked painting (isn't that an odd phrase?), this easy puff paint is a fantastic activity for kids! And easy for us moms too!
Psst…don't forget to grab these free printable playdough mats while you're here!

Simple DIY puff paint FAQs
Here are some questions people often ask about how to make paint with texture.
How long does puffy paint take to dry?
This paint takes about 15 seconds to dry in the microwave or about two minutes in the oven. Since this puff paint recipe has flour in it, you have to heat it up for it to puff up and become three-dimensional.
What is puffy paint?
Puffy paint is used to create artwork that has lots of texture. After you heat it up, the paint puffs out, feeling foamy. It's really neat! Some recipes call for a cup of glue, others use Barbasol, but my recipe uses non-toxic food ingredients.
How long will puffy paint last?
I don't recommend trying to make a bunch of paint and storing it in a container to use later. Just make enough puff paint to use right now and then throw the rest of it away when you are finished with arts and craft time.
It might be fresh the next day, but it doesn't last very long. You can try to store it in an airtight container in the refrigerator, but I haven't tested this method yet.