From cute little mummies to tootsie pop ghosts, here's 35+ Easy-to-Make Halloween Arts and Crafts for kids that are mom-approved too!
My kids love making crafts, but I am not the most crafty person. Luckily, there are tons of super-crafty crafters out there with fabulous ideas. Especially when it comes to fun Halloween crafts for kids.
Easy-to-make crafts are a must for this mom. When we get started on a project, I want to know we can actually finish it, you know? Plus, it's nice knowing our creations have a chance of turning out remotely like the original.
I've gathered up a list of 39 spooky EASY Halloween crafts for kids. So you and I can actually do it!
39 Halloween Arts And Crafts For Kids
Just look at this huge list of creative and easy Halloween arts and crafts. You could even do some of them with your friends during a virtual craft night.
Flying Ghosts
These Flying Ghosts are a great way to teach scissor skills! They can dress up Halloween cupcakes or you can put a bunch of them in a jar and make a bouquet of ghosts. They are easy to make with the free printable.
Halloween Perler Bead Art
These Halloween Perler Bead crafts are so easy and they will keep your kiddos entertained for a long time. This tutorial shows you how to make pumpkins and bats.
Tootsie Pop Ghosts
If you love ghosts, then make these Super Easy Tootsie Pop Ghosts from The Kitchen Is My Playground. This is a fun way to give someone a homemade gift in the fall.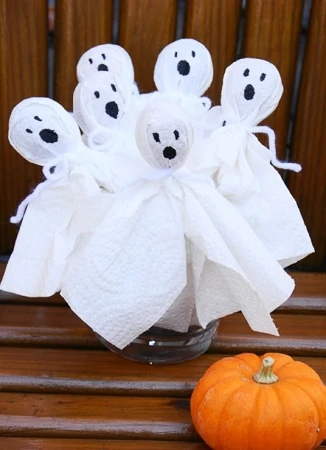 Candy Spiders
Instead of just handing out chocolates, decorate your chocolates as candy spiders. This tutorial shows you how to make funny little spiders out of chocolates and paper.
Halloween Popsicle Stick Characters
All you need for these Halloween Popsicle Stick Icons by Eclectic Momsense are some popsicle craft sticks, paint, and decorations (like string). This craft is perfect for kids and adults of all ages.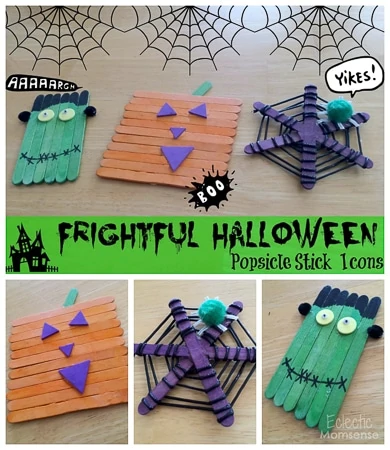 Bubbling Cauldron
What a fun DIY Halloween decoration! This Bubbling Cauldron looks like the black cauldron is spewing green goo. It will fit in perfectly with the rest of your Halloween decor.
Pumpkin Paperweights
If your kiddos love painting rocks, then they will really enjoy making these Pumpkin Paperweights. The fuzzy green pipe cleaners make the perfect pumpkin stems.
Mummy Candy Holder
Pass out candy in style. Make this adorable Mummy Candy Holder Craft by Parents magazine. It's perfectly on-theme without being too scary.
DIY Luminary Halloween Decorations
This Halloween arts and craft can be made with anything around your house. Make these Repurposed Plastic Bottle & Jar Halloween Luminary Decorations from Organized 31 – they are so creative.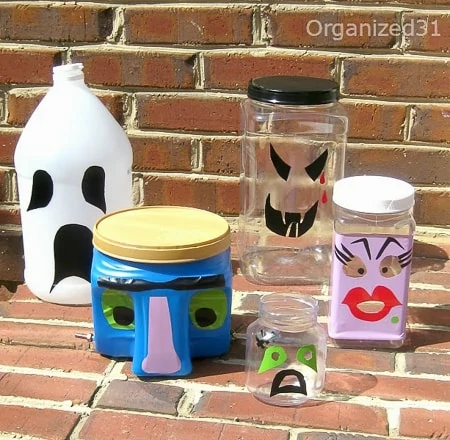 DIY Halloween Treat Bag
Do you need a Halloween treat bag for your kids? Make one out of duct tape! This Halloween Treat Bag from Confessions of an Overworked Mom will stand out and it's so easy to make.
Ghosts In A Tree
This is such a cute Halloween wall decoration. These Ghosts in a Tree take just a few minutes to put together and they turn out cute every single time.
Halloween Candy Bar Wrappers
Another fun way to decorate candy that you hand out is to use these free printable candy bar wrappers. They are cute and have Halloween pictures all over them.
Craft Stick Monsters
Another really simple Halloween craft is these little Craftstick Monsters by Crafts by Amanda. Add any number of colors, eyes, stripes, and designs that you can make. Let your imagination soar.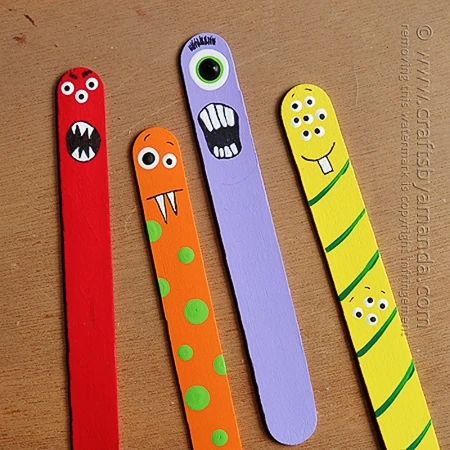 Surprise Pumpkin Treat Bags
This is such a cute way to hand out candy. Wrap the candy in these little Surprise Pumpkin Treat Bags. They will delight all the trick or treaters that stop by.
Skeleton Craft
This Skeleton Craft by Mom vs The Boys is large enough to sit on a chair on your porch! Imagine all the giggles and laughs you'll hear as people see it.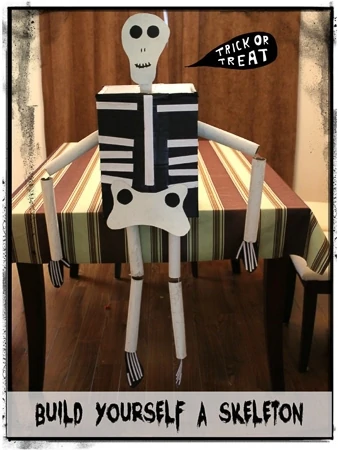 Footprint Ghosts
Your kids will love painting their feet and making the footprint ghosts! Check out this fun tutorial and learn how to Make a Ghost with Footprints it is so fun!
Halloween Mason Jar Toppers
Do you store candy in mason jars? If so, make these Halloween Mason Jar Toppers by The Country Chic Cottage. They are so cute and not at all scary.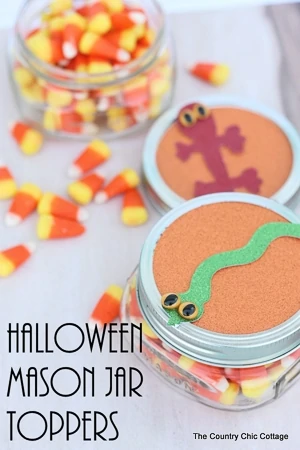 Halloween Wreath For Kids
This Cupcake Liner Wreath by Fun-A-Day is super simple. After kids make it, they can hang it up in their room or on their room's door. Use whatever colors they want to make their own version.
5-Minute Spider Craft
This 5-Minute Spider Craft from The Joys of Boys is so easy that you can make tons of spiders in a very short time. Fill up a bowl of spiders and leave them by the candy jar for kids to see.

Halloween Flower Pots
Decorate your flower pots for the holiday and make these cute Halloween Flower Pots. This tutorial shows you how to make three different designs.
Colorful Skull Luminaries
Light up your driveway with these Colorful Skull Luminaries by Crafts by Amanda. You can design them in any color that you want and they look amazing in the dark.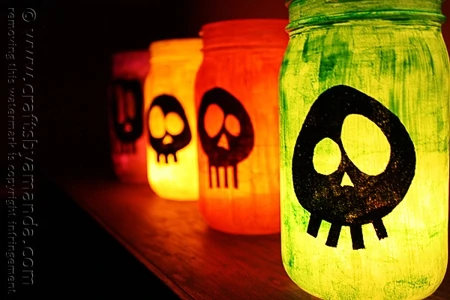 Fingerprint Frankenstein
This adorable Fingerprint Frankenstein by Making of a Mom is a really cute way to memorialize your little one's fingerprint. They are only small this once.
Mummy Pumpkin
Not only is this Mummy Pumpkin by Laura Kelly's Inklings a cute way to decorate the pumpkin on your porch, but her tutorial shows you how to make a patch for your jeans too.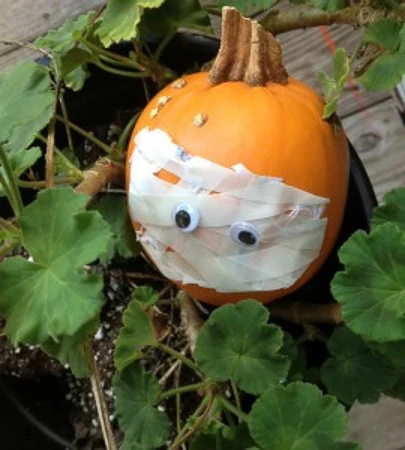 Pipe Cleaner Spiders
Any craft with pipe cleaners is a super easy one and these Pipe Cleaner Yarn Spiders are no exception. You can make them in just a few minutes.
Halloween Bunting or Banner
Anyone at any age can make this Spooky Goodie Bag Bunting Banner by Celeb Baby Laundry. It's made out of Halloween goodie bags – what a great idea!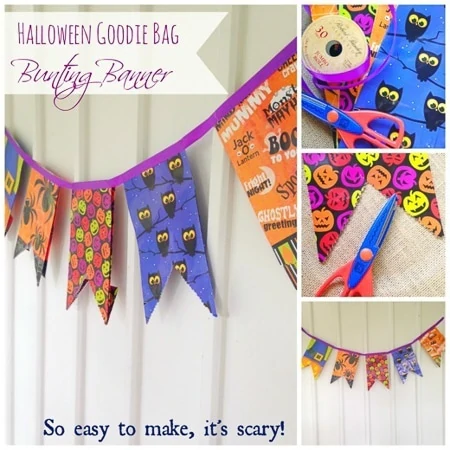 Spooky Eyeball Bracelet
Do you enjoy making jewelry? Make this Spooky Eyeball Bracelet by Crafts by Amanda. Kids will love showing off their creepy side with it.
DIY Door Hanger
Decorate your door with this Jack O' Lantern Halloween Door Hanger. You can use whatever decorations you want inside the circles, it's a great way to use your creativity.
Paper Bag Luminaries
Luminaries are a classic Halloween arts and craft. These Paper Bag Halloween Luminaries by The Taylor House will make your driveway look stunning.
Decoupage Pumpkin Treat Cup
This Decoupage Pumpkin Treat Cup by About Family Crafts turns out perfectly rustic and adorable. It's a cute way to store treats for your kids or candy that you are going to hand out.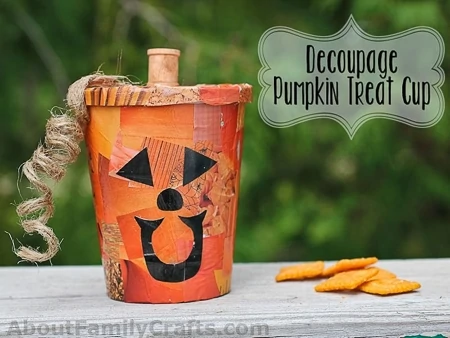 Ghosts In A Jar
This Ghost in a Jar Halloween Craft by Eighteen25 uses art supplies that you probably already have around your house. The result looks like you caught and captured little ghosts.
Paper Plate Spiderweb
Encourage fine motor skills development with this Paper Plate Spiderweb craft by Jinxy Kids. The weaving and sewing actions will strengthen their pincher grip.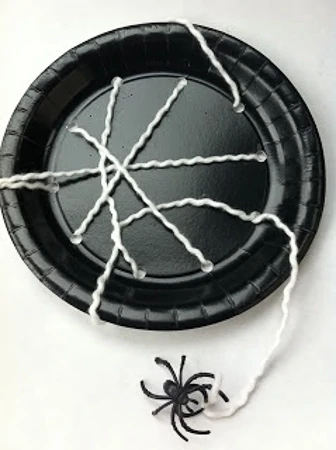 Headband Halloween Craft
Dress up for Halloween with this Headband Halloween Craft for Kids. It's really easy and is a fun addition to any Halloween or fall party.
Cardboard Tube Ghoul Family Craft
Create more fun monsters. This Cardboard Tube Ghoul Family comes out so cute. There are endless ways you can make your own ghoul or monster, just use your imagination.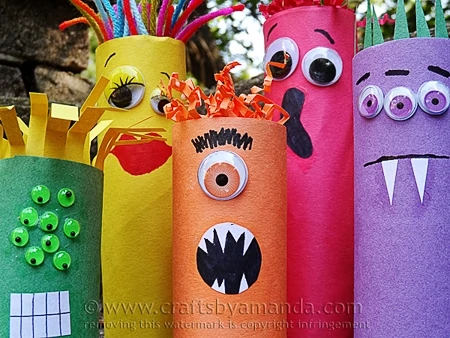 Halloween Tic Tac Toe Game
Play a game of Tic Tac Toe with this Halloween printable. Use candy corn for the pieces and see who can get three in a row first.
Halloween Handprint Ghosts
These Halloween Handprint Ghosts are another fun craft that kids will love to make. They get to paint their hands and turn their handprints into creepy ghosts! How fun!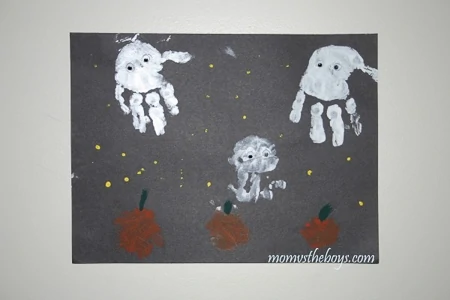 CD Mummy
Turn those unused CDs into a fun Halloween craft. This CD Mummy could not be any easier to make. Don't stop at mummies, you can turn the CD into other monsters too.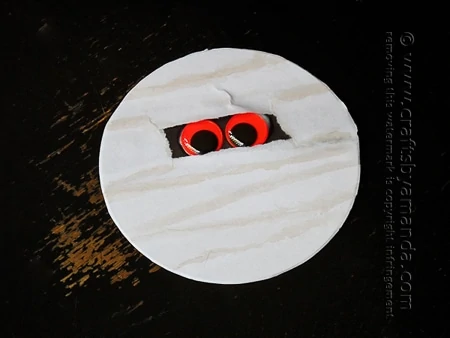 Styrofoam Cup Ghosts
Turn an old egg carton into cute Styrofoam Cup Ghosts. Kids get to design them however they want. Black and white is the easiest, but they can paint monsters and zombie faces on them too.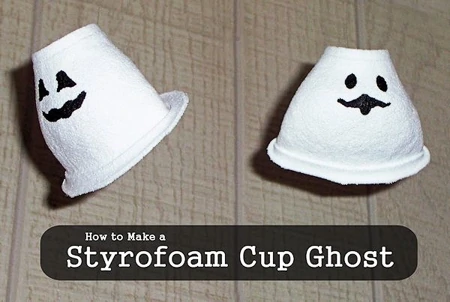 Painting Pumpkins With Toddlers
Even the smallest child can get in on the fun. This tutorial shows you how to Paint Pumpkins with Toddlers. The end result will look a bit abstract but it's lots of fun.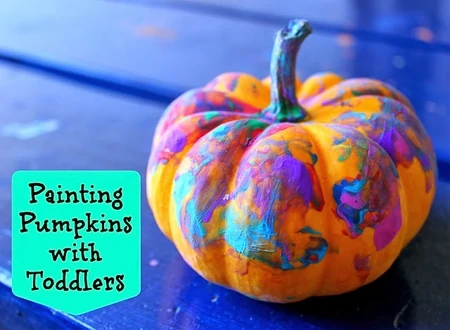 Little Mummy
This Little Mummy may be my absolute favorite! What a fun, spooky craft to do!
Where To Buy Supplies For Halloween Arts and Crafts
Most of the Halloween arts and crafts on this list are made with supplies that you can buy at the Dollar store or repurpose from items you already have around your house. As you look through this list, pick out the crafts that use tools and supplies that you already own.
I always try to shop for arts and craft supplies when the local craft store has sales! Save money when you can.
Pin the image below to save the ideas for later.