Sometimes the scariest part of Halloween for parents isn't the ghosts and zombies; it's all the sugar and processed foods that leave our kids hyper and all sorts of crazy. But you don't have to dread Halloween anymore. There are some fun, creative healthy Halloween treats and snacks your kids will love (and so will you!)
And that doesn't mean no sugar at all, instead, these healthy Halloween snack ideas can be a fun alternative for some of the time. Whether for a Halloween classroom snack or a fun party, your kids will enjoy helping you make these Halloween snacks too.
Here's a list of 52 healthy Halloween snacks and treats that are both kid and mom-approved. Many are gluten-free too!
Healthy Halloween Snacks
Healthy Halloween Candy Corn Popsicles – these creamy coconut-and-fruit based treats are dairy and gluten-free!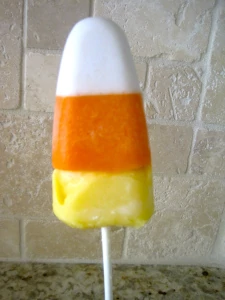 2. Kid DIY Banana Mummies (and "Things") – these "mummies" look almost like marshmallows, but you won't find any yucky high fructose corn syrup here!
3. Fruit Bat Skewer – Isn't it just amazing how you can use fruit to make it look like something spooky?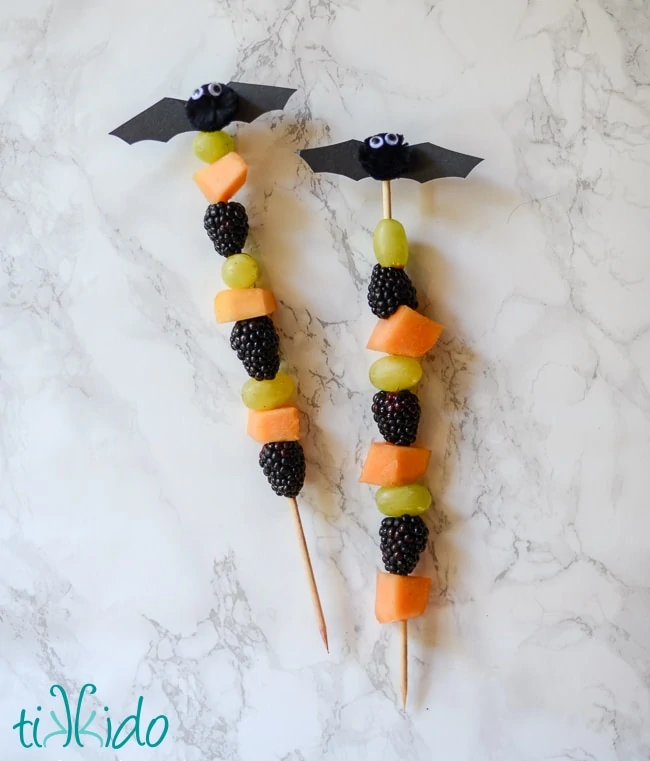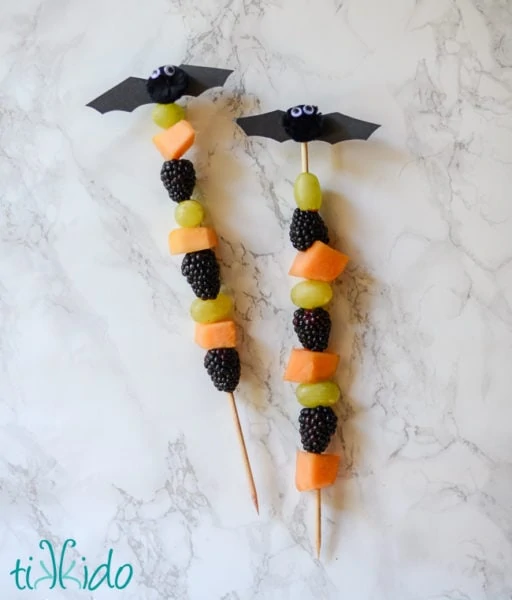 4. Bloodshot Halloween Drink for Kids – everyone needs a little something to wash down all these healthy Halloween treats.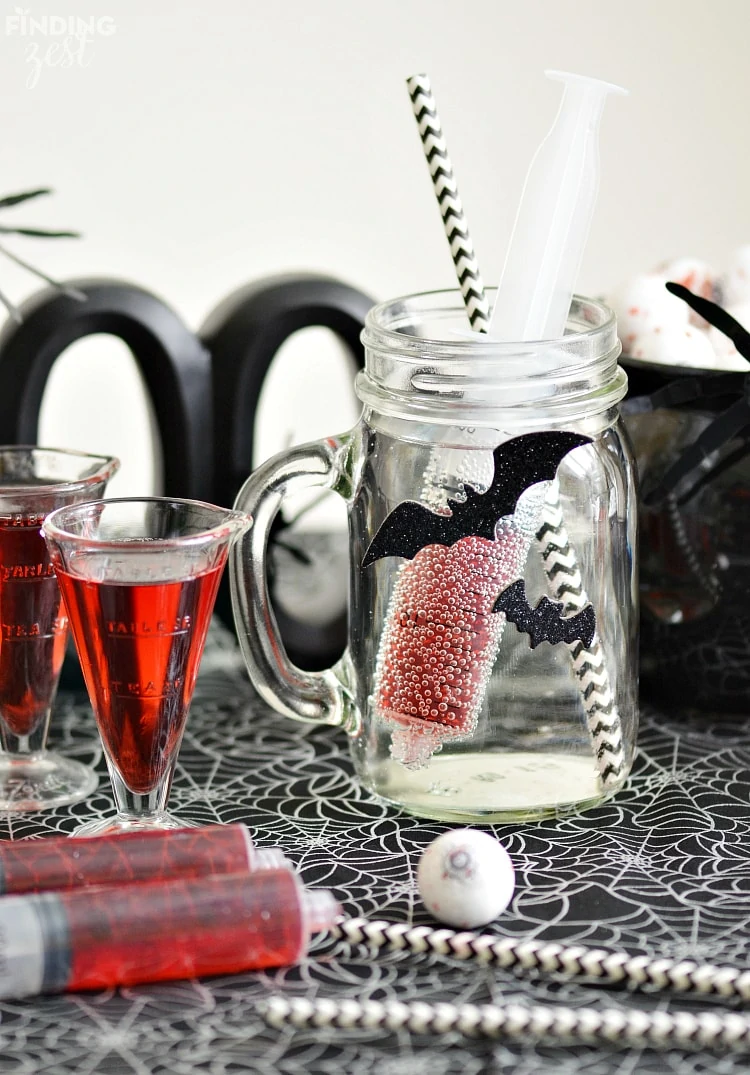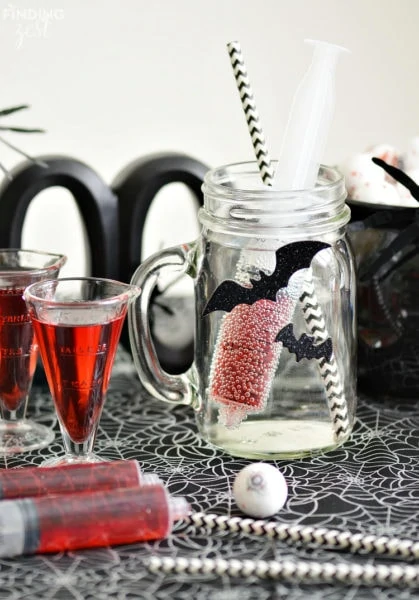 5. Halloween Stuffed Cockroach Snacks – they may look gross (which is why they're perfect for Halloween), but these "cockroaches" taste amazing!
6. Easy Pumpkin Witch Hat Yogurt Bites – These are such a nice little treat to have instead of candy. Sweet and full of flavor.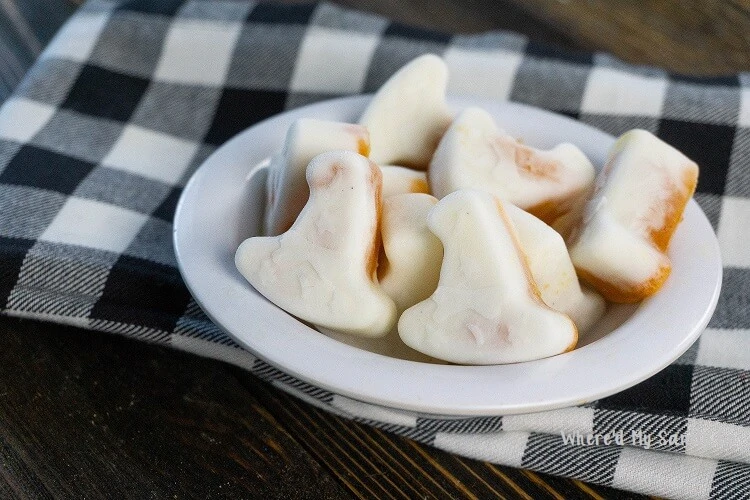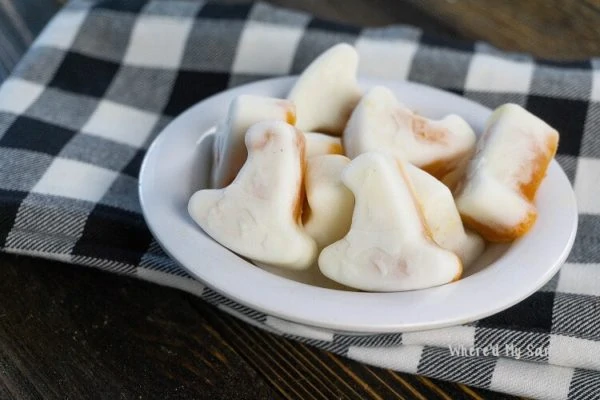 7. Ginger-Coconut-Dark Chocolate Bark – this tasty chocolate bark definitely isn't just for kids!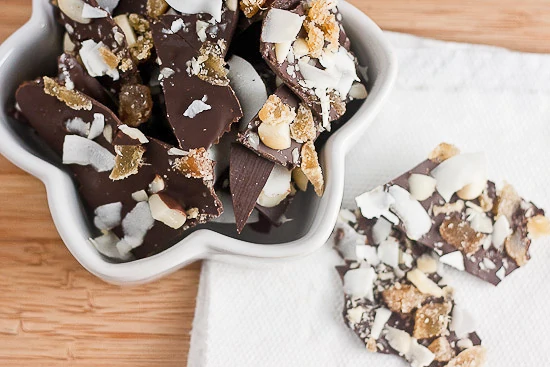 8. Spooky Fruit! – lots of ideas for turning fruit into Halloween decorations and snacks. Plus how to make Tangerine & Celery "Pumpkins"
9. Fruit Spiders recipe – another great spider recipe that is tasty fun!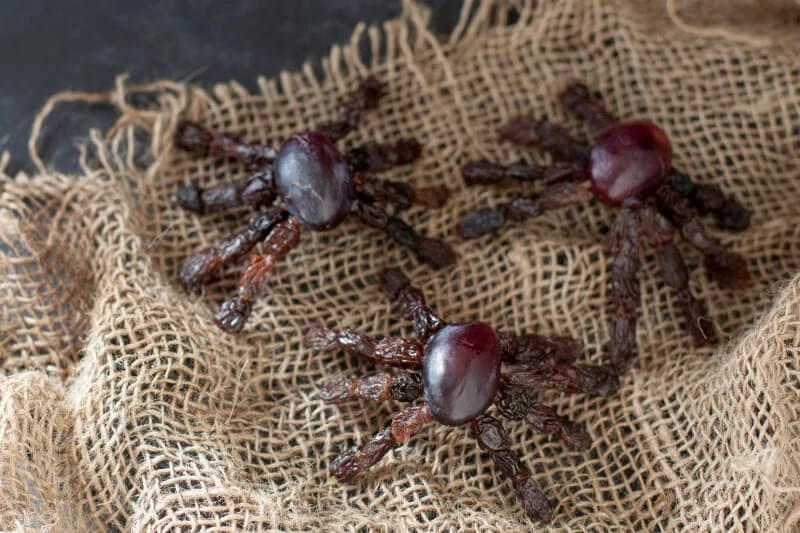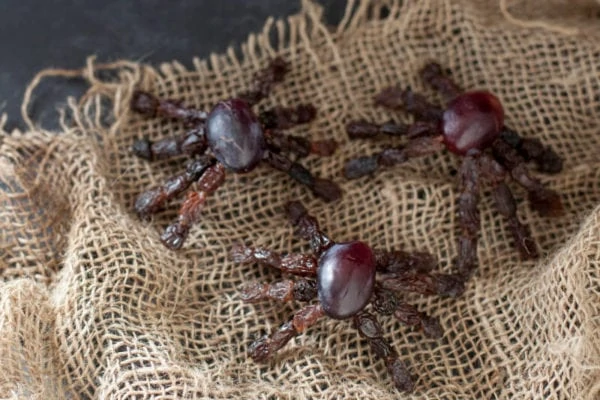 10. Spider Cheeseball – this is such a spooky way to enjoy veggies!
11. Veggie Jack O' Lantern – this pumpkin is almost too neat to eat. Almost!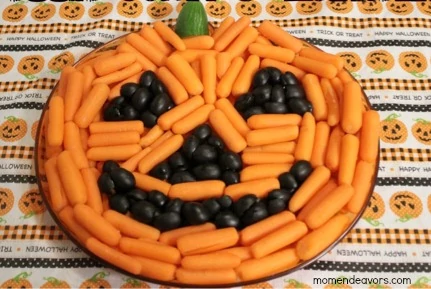 12. Veggie Skeleton – this brilliant skeleton is a great way to get kids to eat veggies!

13. Healthy Halloween Food: Eyes Cubes – a genius way to add something spooky to a beverage.
14. Monster Fruit Cups – Perfect for a Halloween class party as well.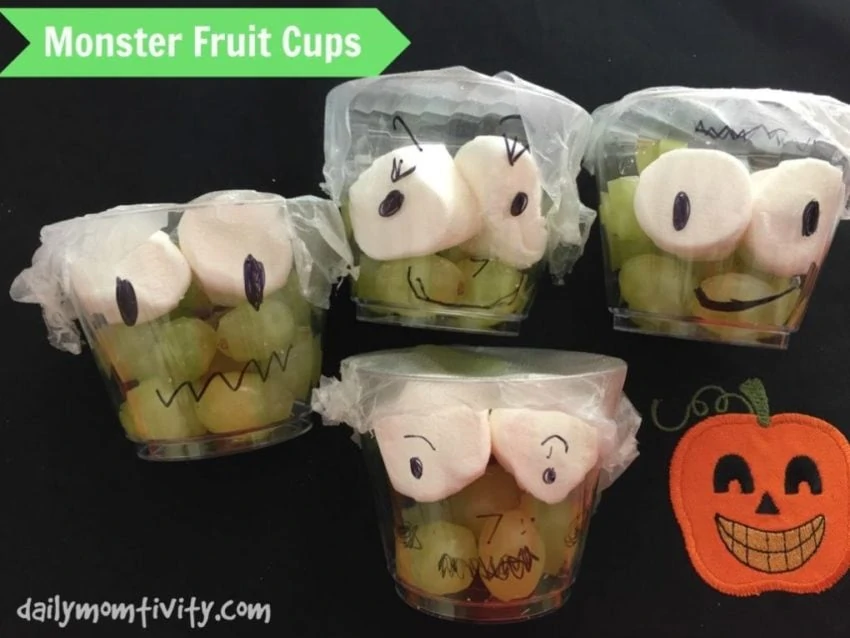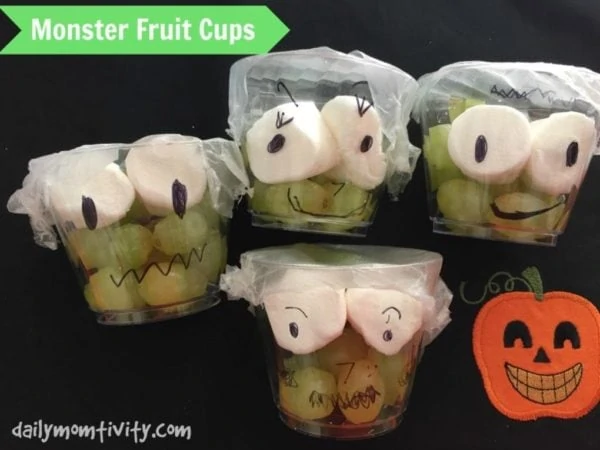 15. Justin's Organic Peanut Butter Cups or Justin's Snack Packs. These delicious treats are gluten-free and so tasty, your kids (and you!) won't even realize you're making a better choice than the usual Halloween junk! Justin's has dark, milk, and white chocolate, plus mini organic peanut butter cups
. (<affiliate link.)
You can also find Justin's Snack Packs – convenient on-the-go options for enjoying Justin's tasty nut butter. Our family loves Justin's and will definitely be enjoying these as a healthier choice this Halloween. (Disclosure: I received a few samples of Justin's products to review.)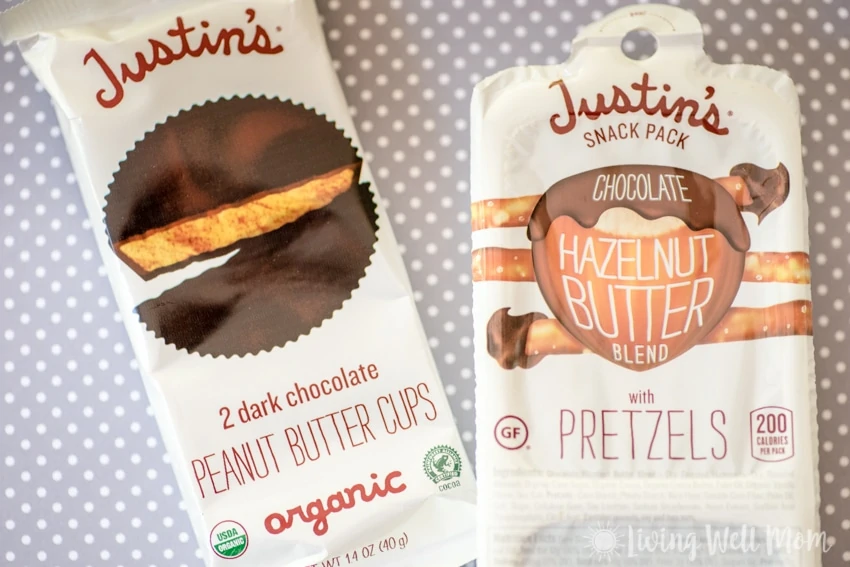 16. Halloween Monster Mouths Recipe – it's a good thing these monster "mouths" are easy to make because kids will love this fun apples & peanut butter treat!
17. Boo-nanas – isn't this clever banana treat one of the cutest you've seen?!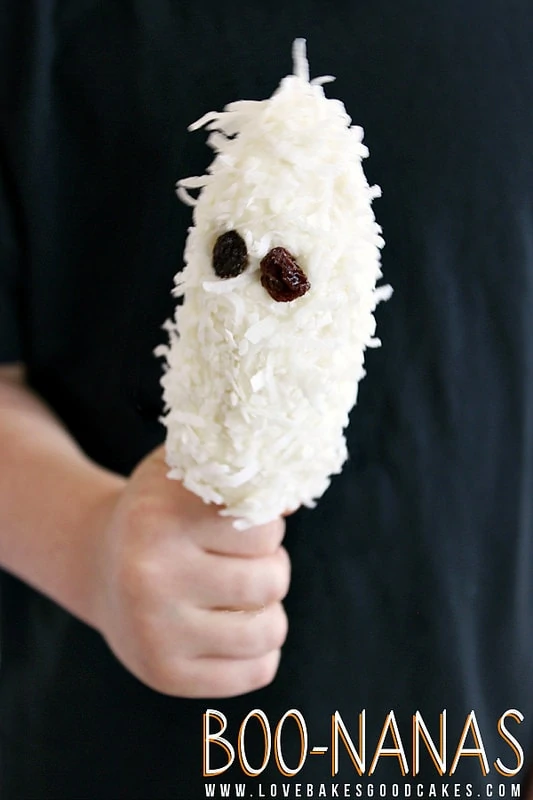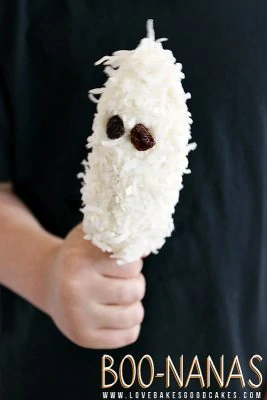 18. Ghostly Pumpkin Pudding – here's a truly homemade pudding recipe that is sure to be a hit with kids of all ages
19. Halloween Apple Monsters for Kids – Imagine the look on your children's face when they see these healthy treats?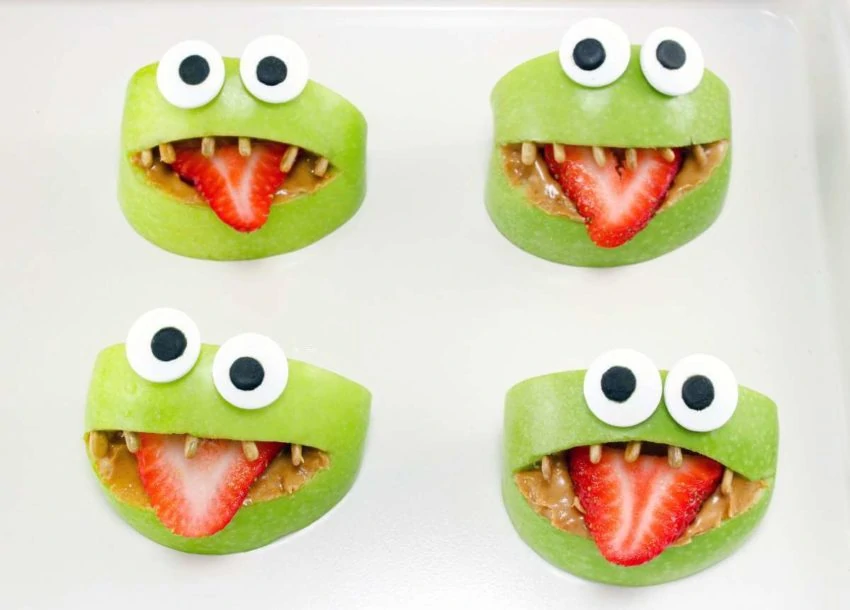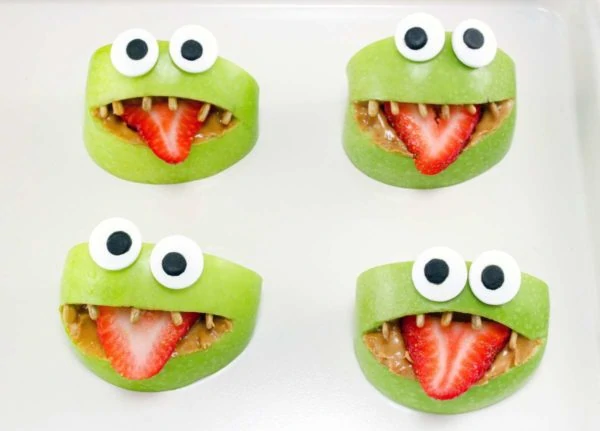 20. Healthy Halloween Treats: Creepy Carrot Fingers – there's no sugar here, but kids will love these creepy fingers just the same!
21. Halloween Smoothie Bowls – You can even start off breakfast on Halloween day with this yummy treat.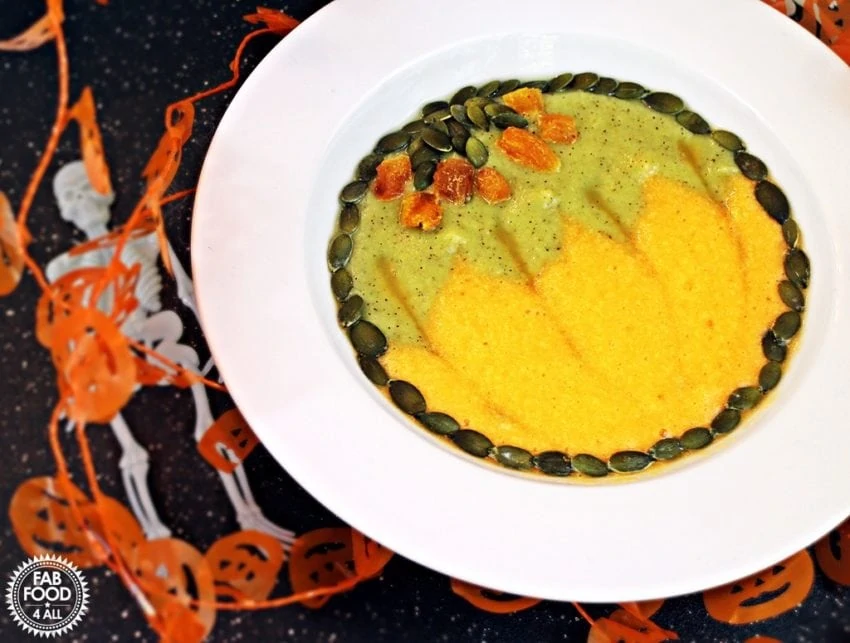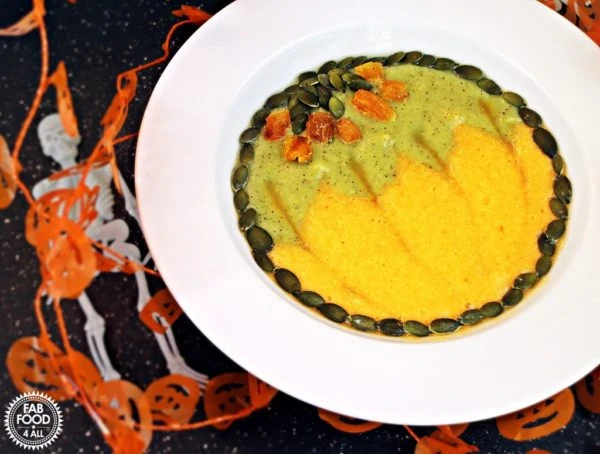 22. RITZ Crackers Spiders – Spiders don't have to be creepy at all. They can be adorable and yummy just like this simple Halloween treat.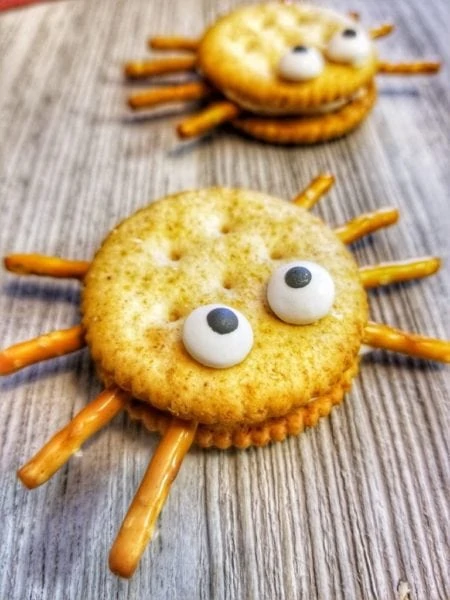 23. Witch's Broom Snacks for Halloween – just use gluten-free pretzels for these "Witch's Broomsticks" and you'll be all set.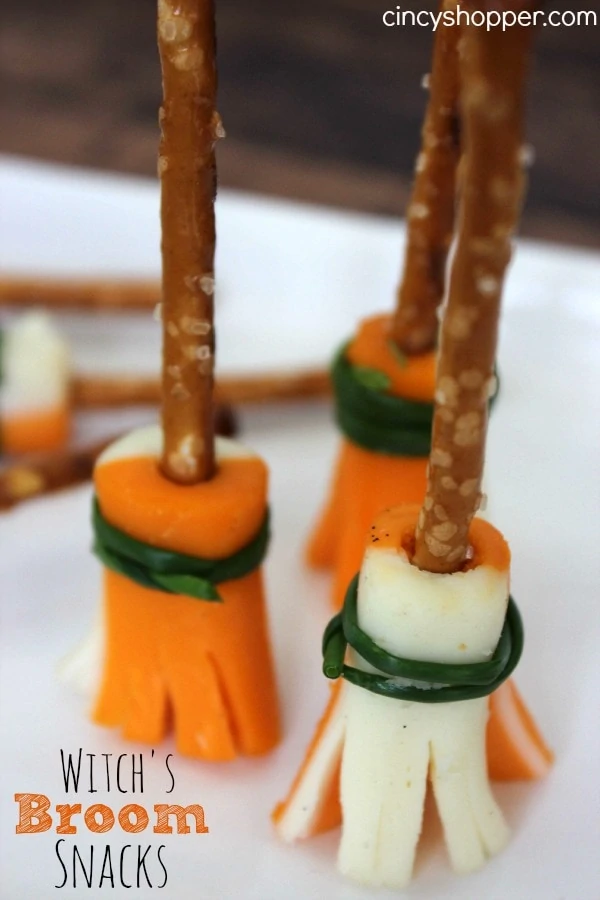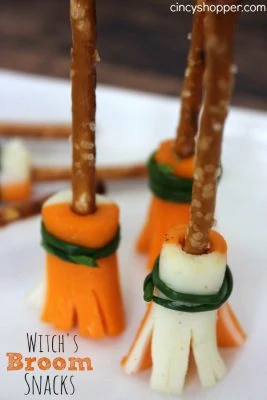 24. Snack-o-Lantern Fruit Cups – turn a regular ol' snack into a fun pumpkin!
25. Halloween Pierogi Mini Pizza Pockets – These little pizza pockets are a great way to grab and go for dinner as you're walking out the door for trick-or-treating.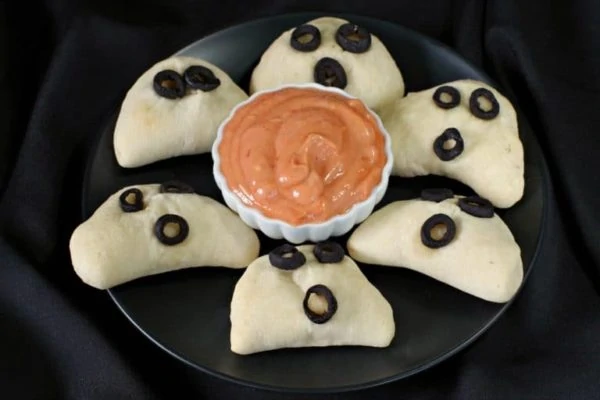 26. A Ghoulish Green Purple Sweet Potato Mug Cake – this gluten-free, dairy-free dessert is brilliant!
27. Pumpkin Hummus – Kids love to dip! And this pumpkin hummus is certain to have them dipping over and over again!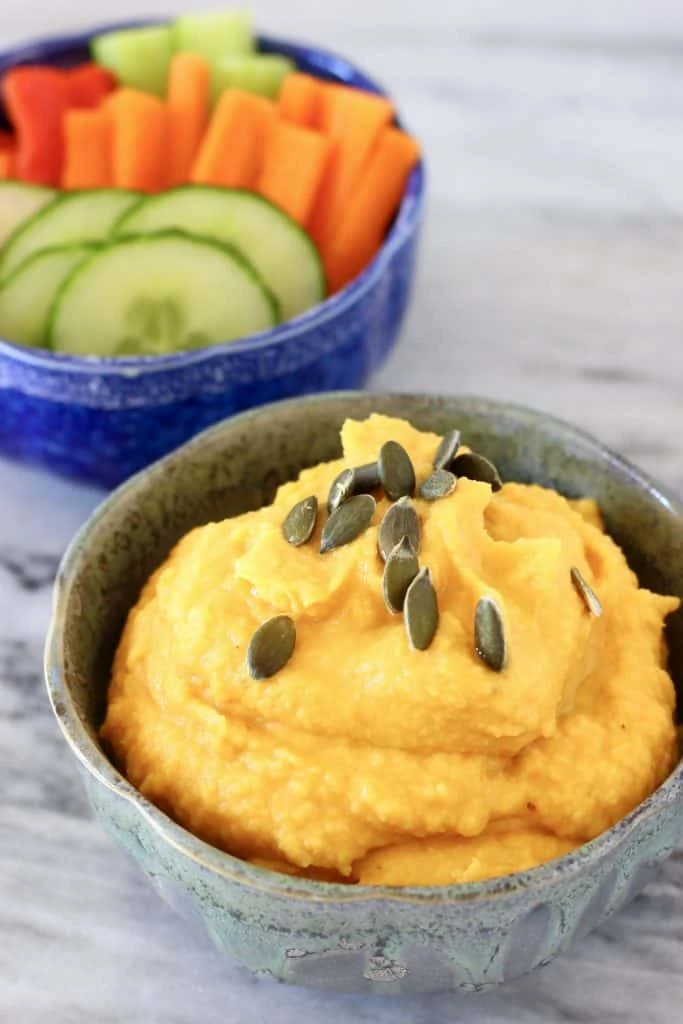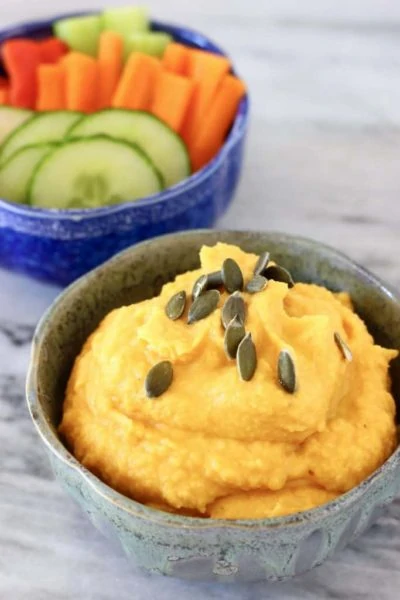 28. Healthy Halloween Food: Swamp Frog Eye Smoothie – kids will go wild over this cool smoothie!
29. Witch's Broomstick Snacks – This healthy snack is just too cute to pass up. They really do look like broomsticks.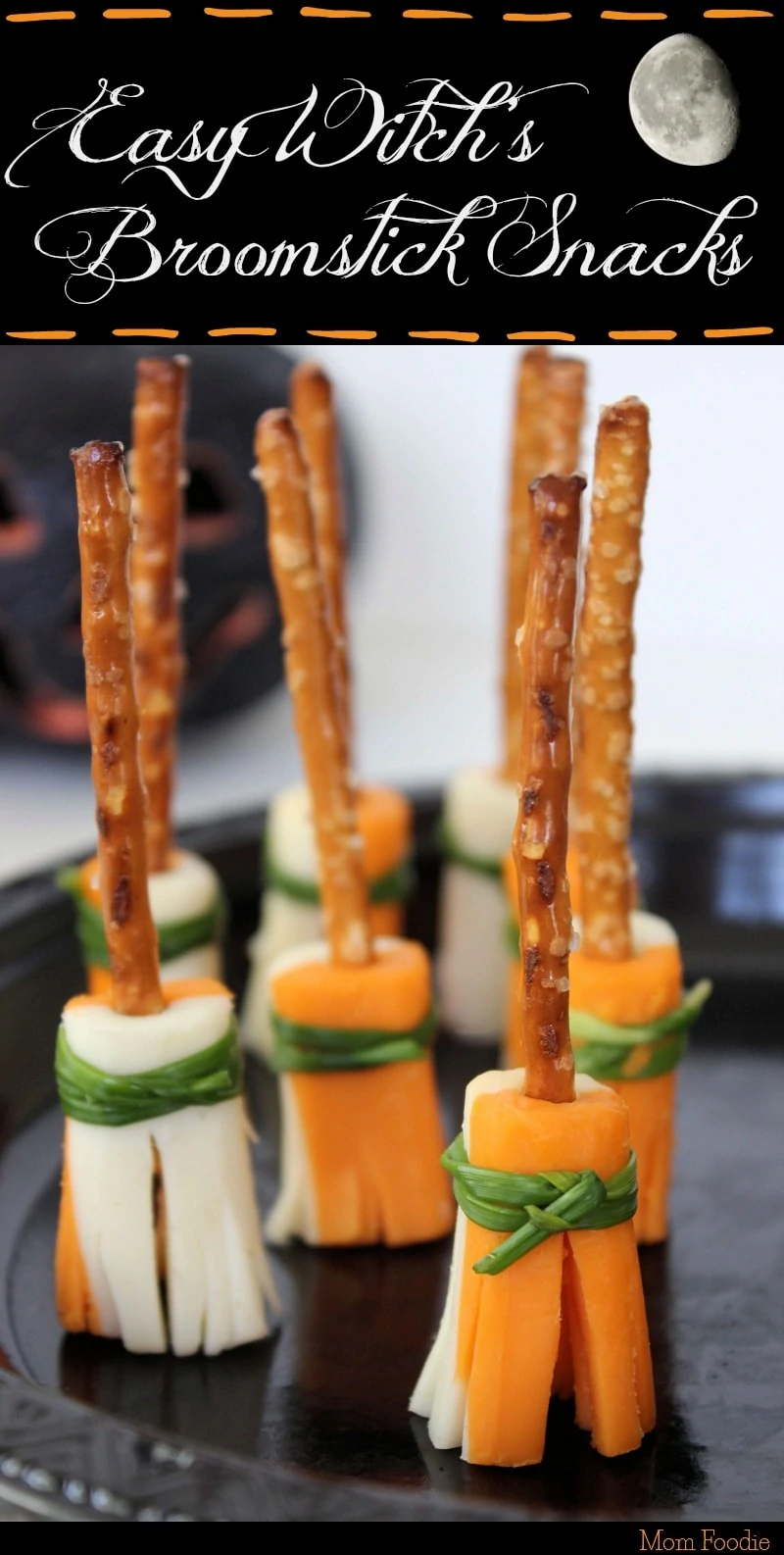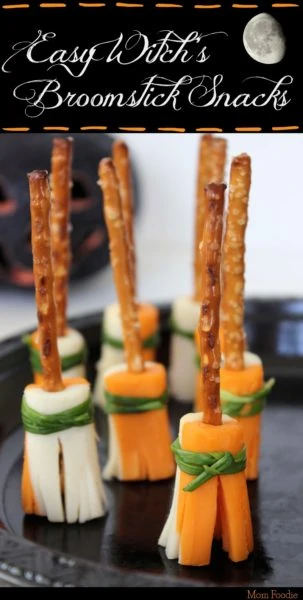 30. Bloody Band Aid and Other Healthy Halloween Treats – there are 6 great ways to turn normal snacks into spooky treats for Halloween. Wouldn't your child love one of these in his or her lunch box?!
31. Mozarella Eyeballs – Maybe a little bit creepy…but a lot of Halloween fun!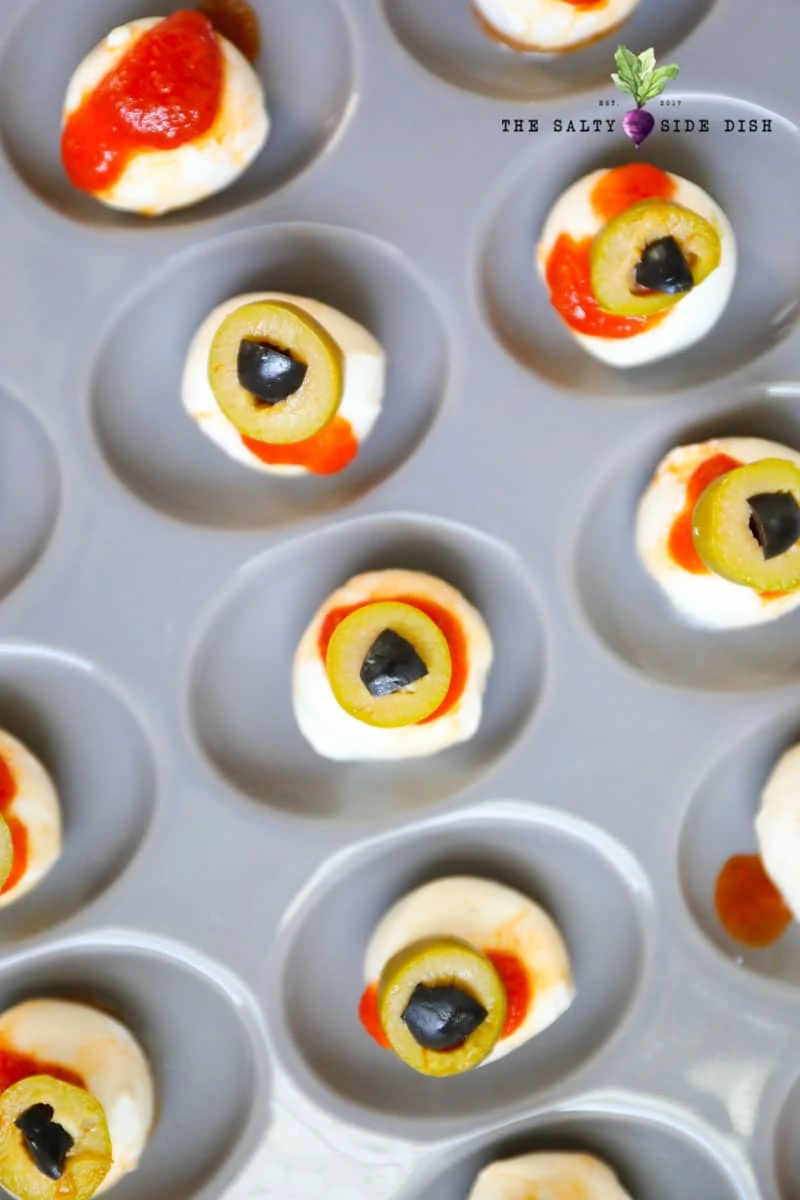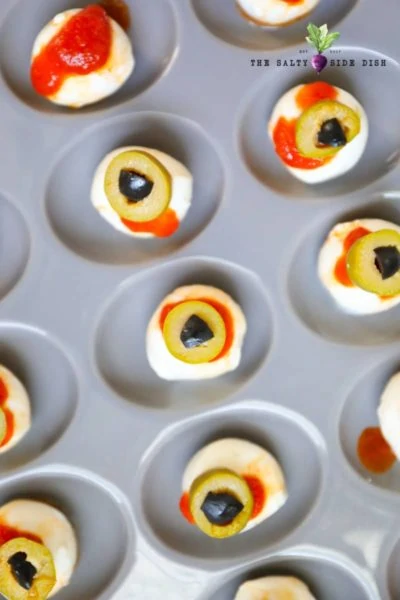 32. Halloween Grape Eyed Monster Pudding Cups – these grape monsters are super cool and if you wanted to go even healthier, skip the chocolate snack pack pudding.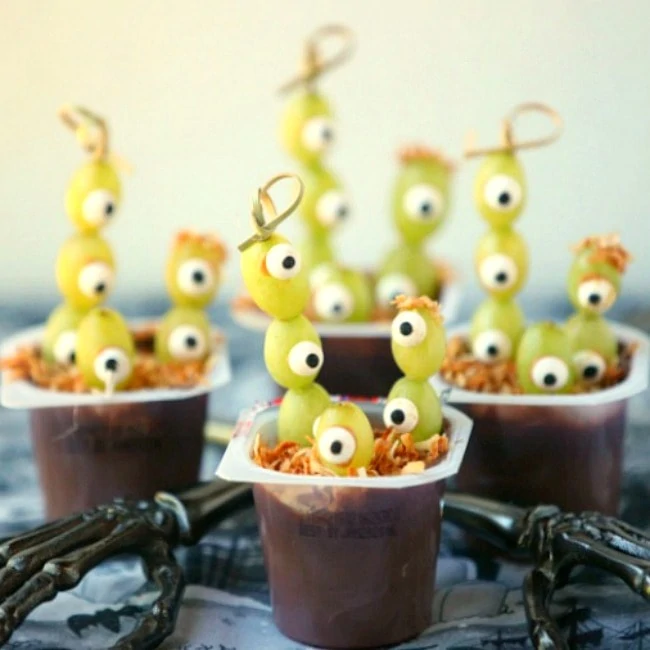 33. Apple Ghosts: Easy and Healthy Halloween Treat – the creativity here is brilliant!
34. Jack-o-Lantern Pasta Pots – Who can deny how cute these are? They are a great way to have a Halloween-themed meal.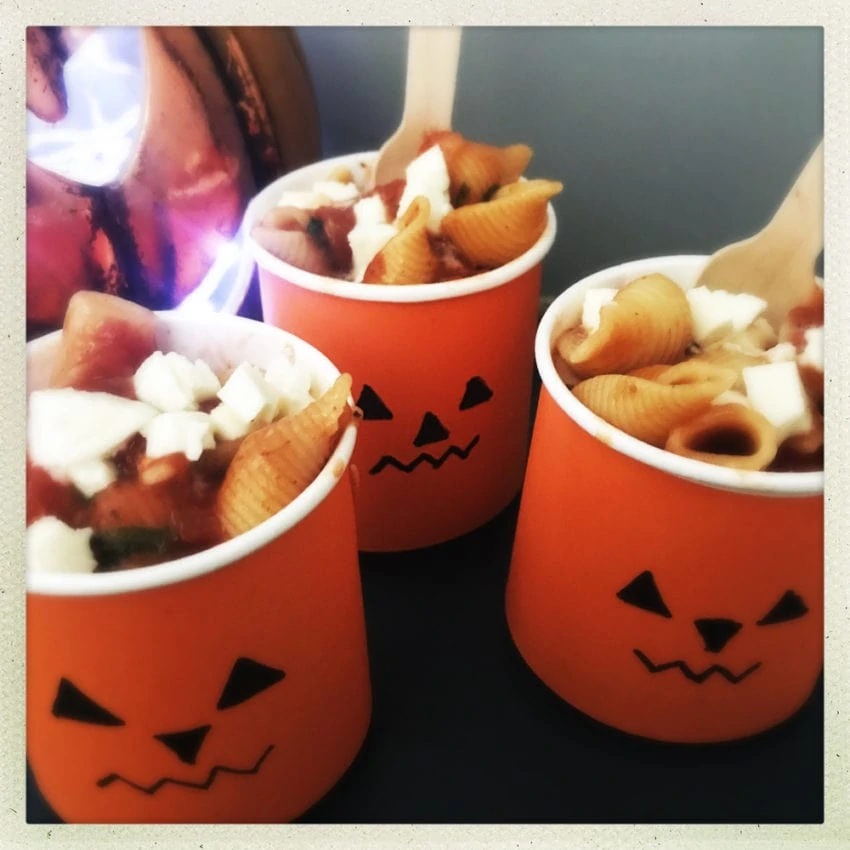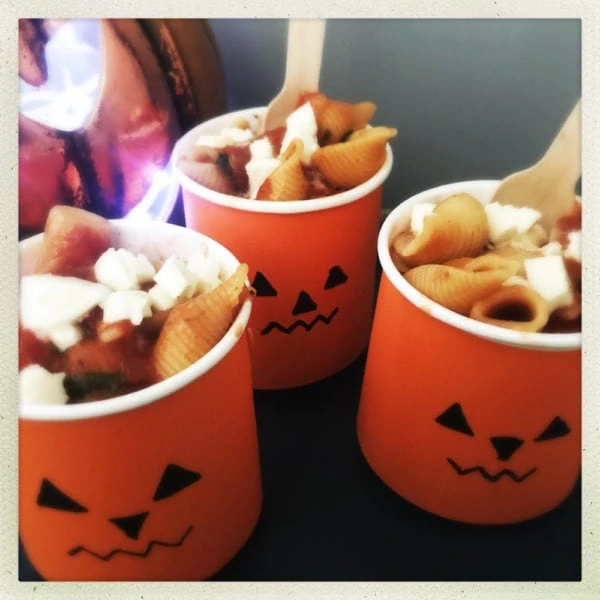 35. Healthy Halloween Snacks – Orange Fruit Pumpkins – kids will love making their own "pumpkins" out of oranges.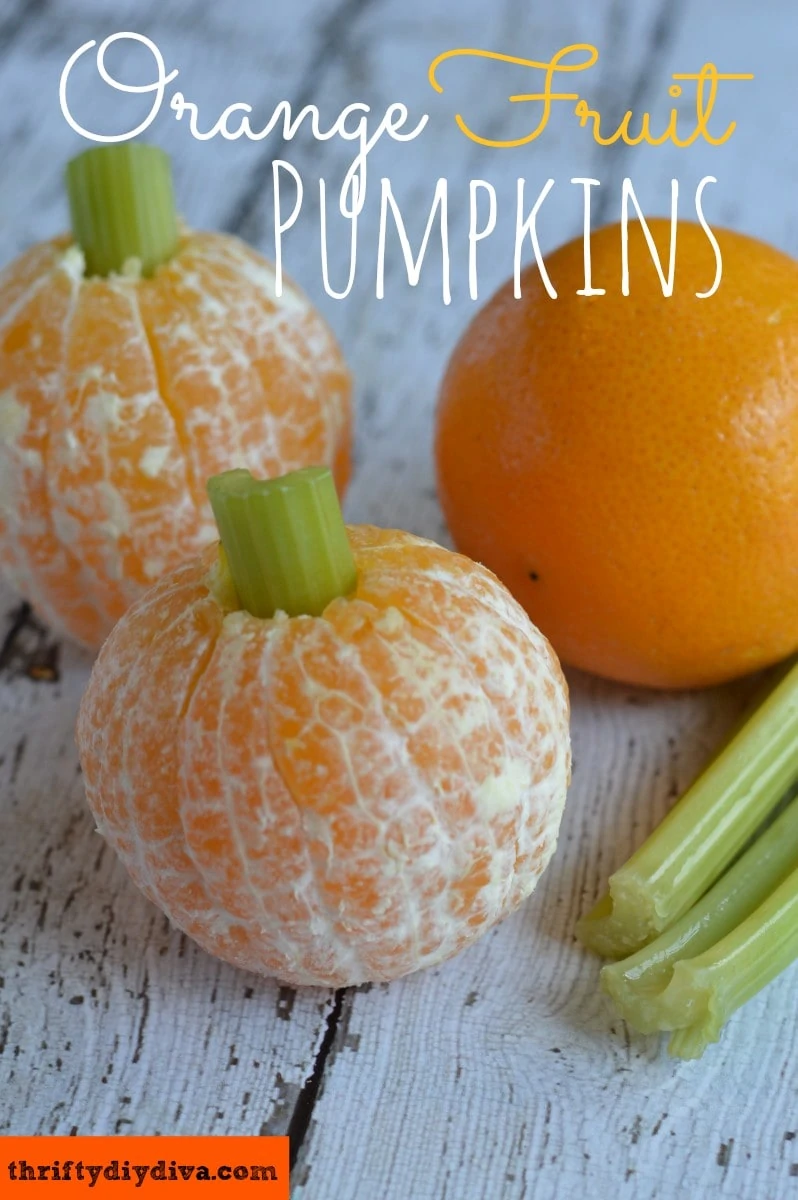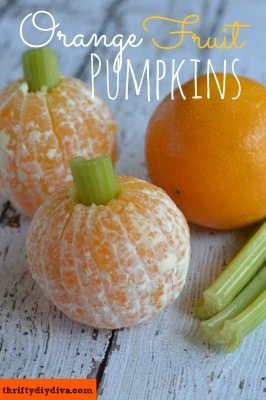 36. Healthy Halloween Snack: Witch Fingers – another fun carrot "finger" idea.
37. Halloween Granola Bar Mummy – These mummy snacks make for a perfect afternoon snack.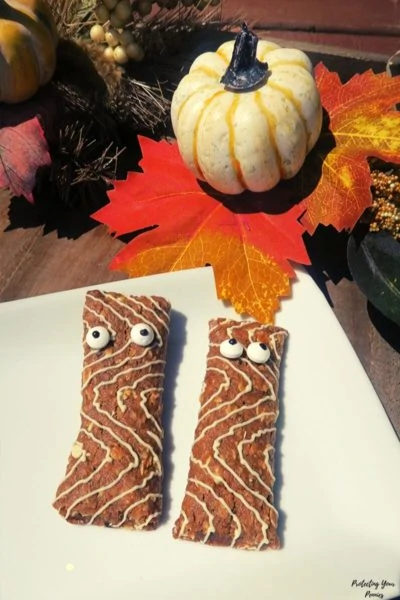 38. Pumpkin Pie Snack Bites – we love snack balls and here's a terrific idea for a pumpkin version!
39. Halloween Banana Mummy – You might not find a Halloween treat more simple than this!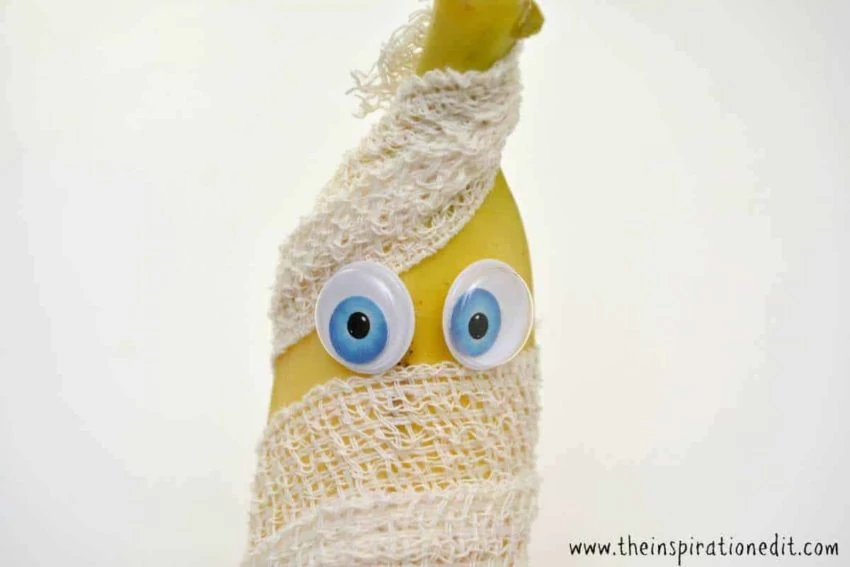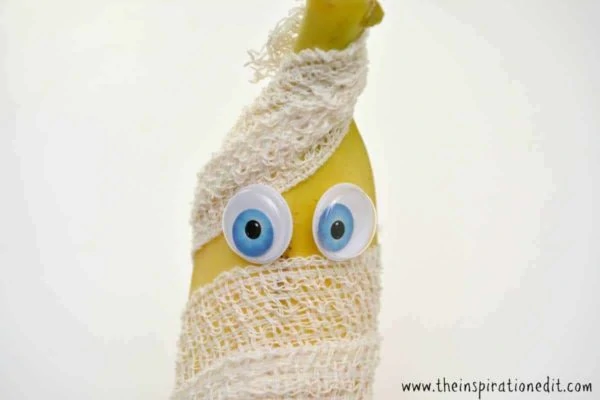 40. B&W Rice Balls – if you want something really unique, try these rice and seaweed balls.
41. Candy Apples – While these do have some sweetness to it, you're also going to get the natural sweetness and benefits of eating the apple as well.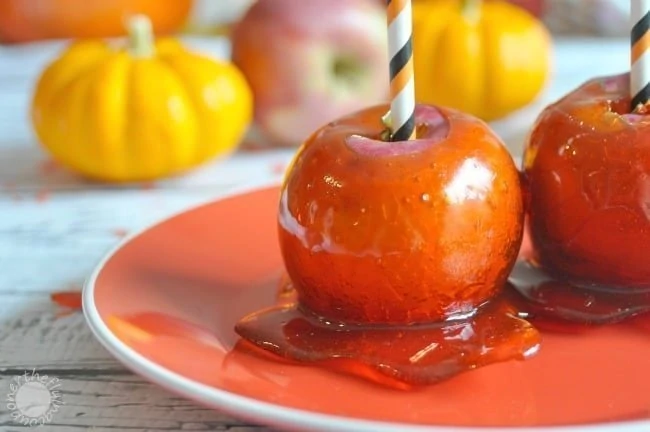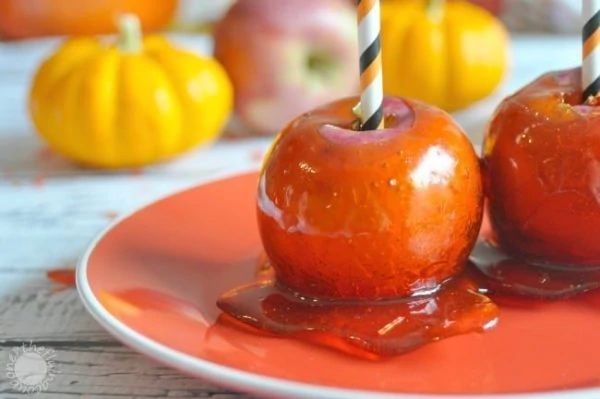 42. Pumpkin Oatmeal Cookies – this family favorite cookie recipe isn't gluten-free, but simply substitute your favorite GF flour and GF oats and you're good to go. Kids can't get enough of these delicious pumpkin cookies!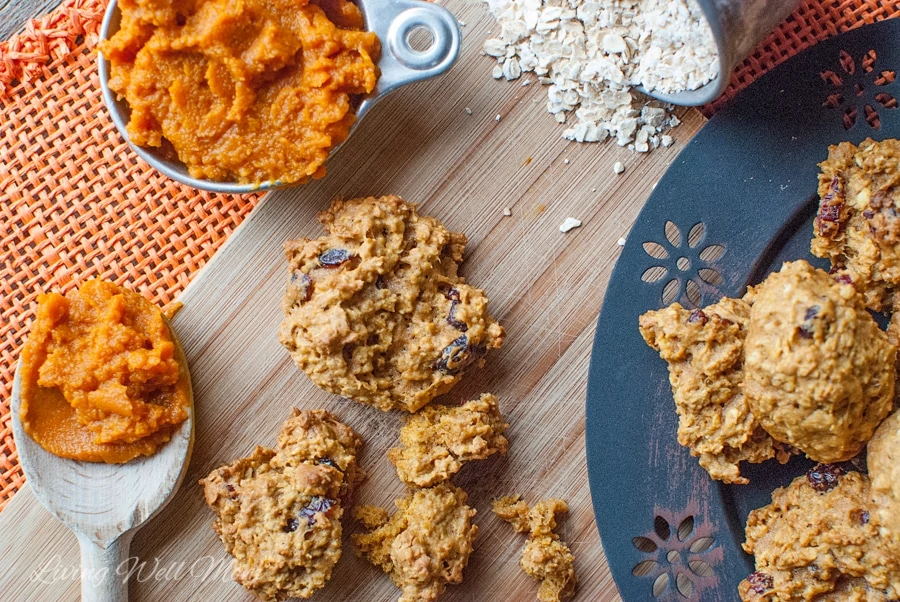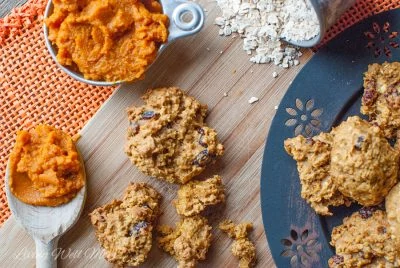 43. Halloween Apple Teeth – These are just the cutest! And such a super simple healthy Halloween snack.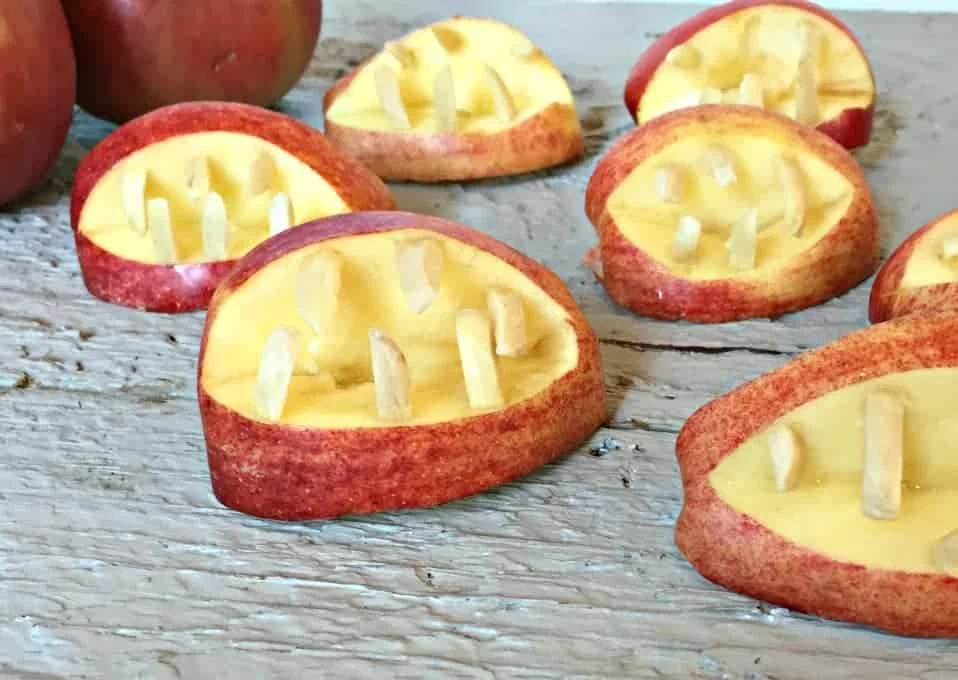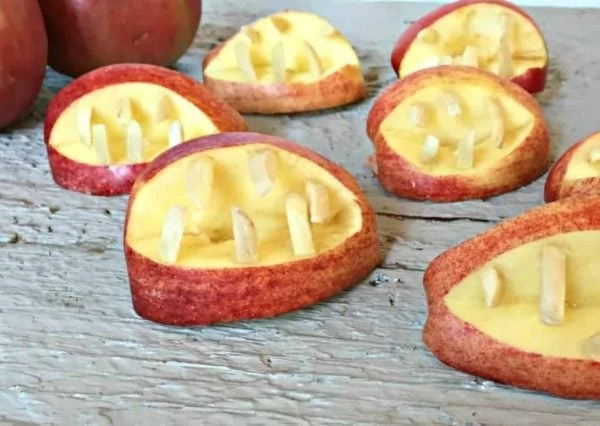 44. Spooky Halloween Quesadilla – These are wonderful to have as a treat before heading out to start going from house to house.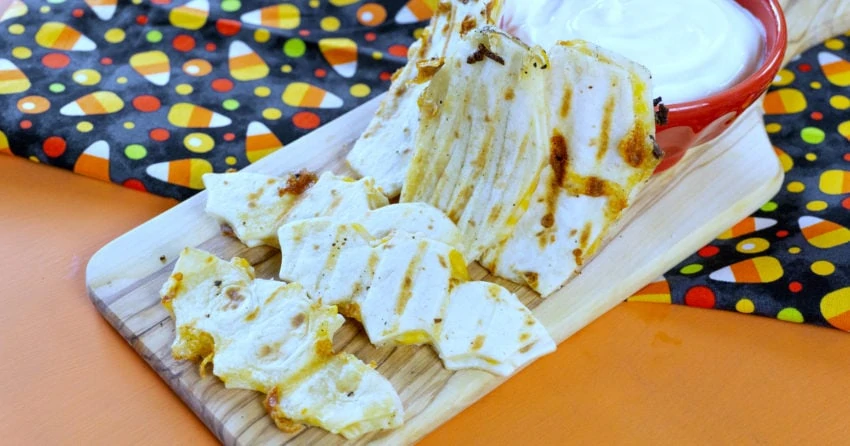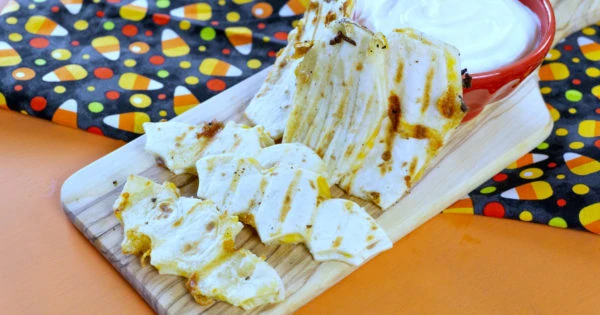 45. Vegan Pumpkin Brownies – These Vegan pumpkin brownies need to be on your radar! So delicious!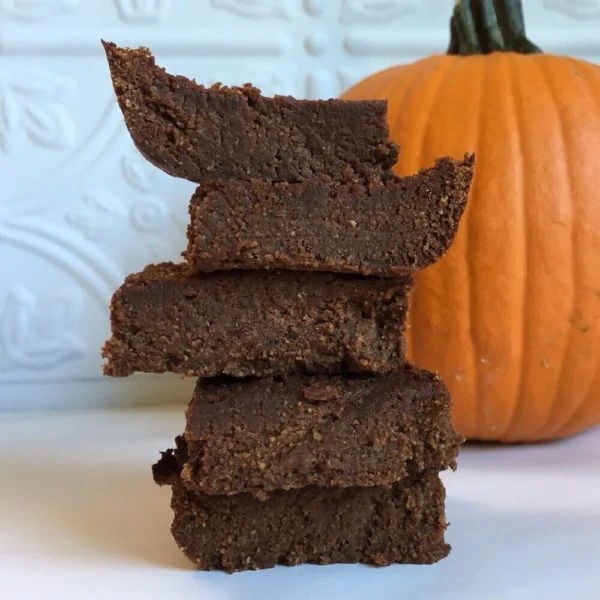 46. Halloween Tortilla – These Halloween tortilla treats are so much fun to make.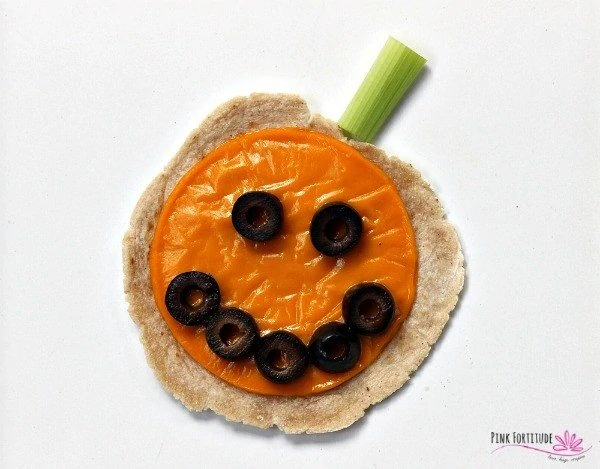 47. Sticky Free Pumpkin Wedges – These wedges are a great side to any meal.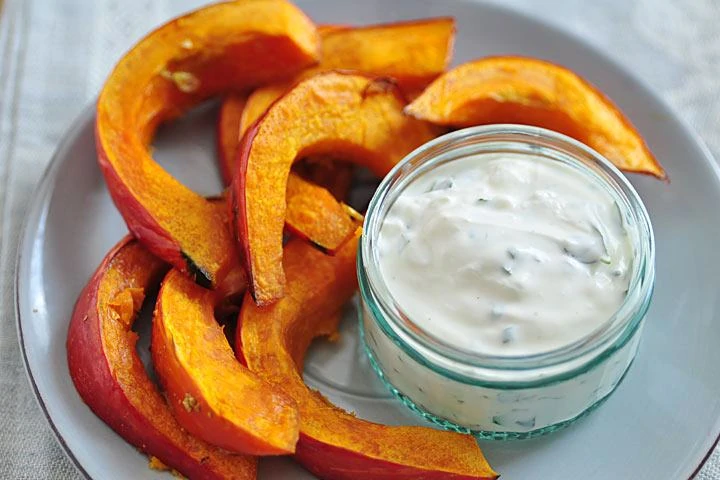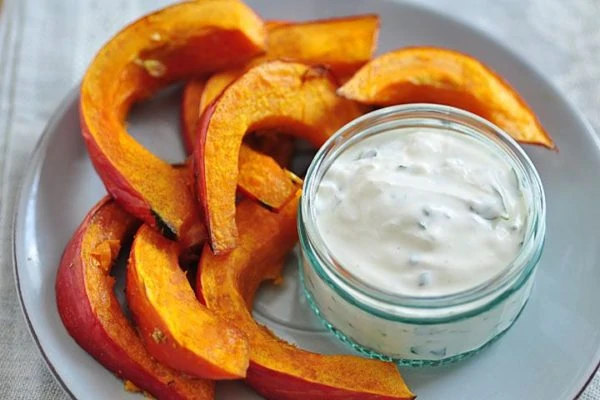 48. Pumpkin French Fries – These Pumpkin French Fries are so good and healthy, too!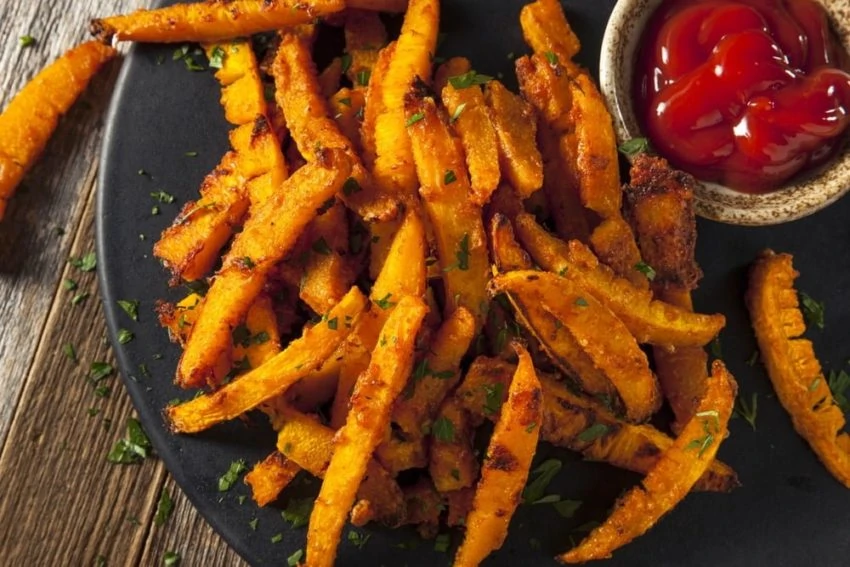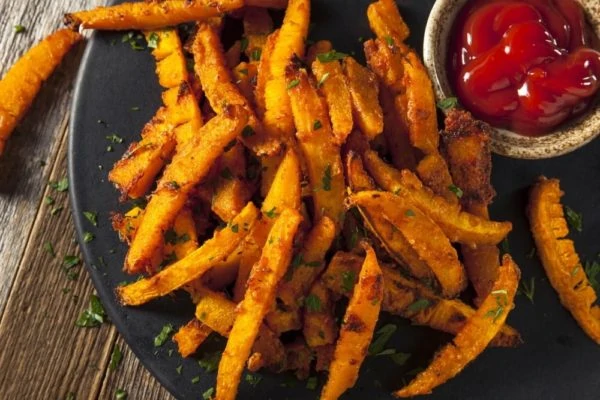 49. Halloween Veggie Tray – This may take just a little bit of work but the outcome is so worth it!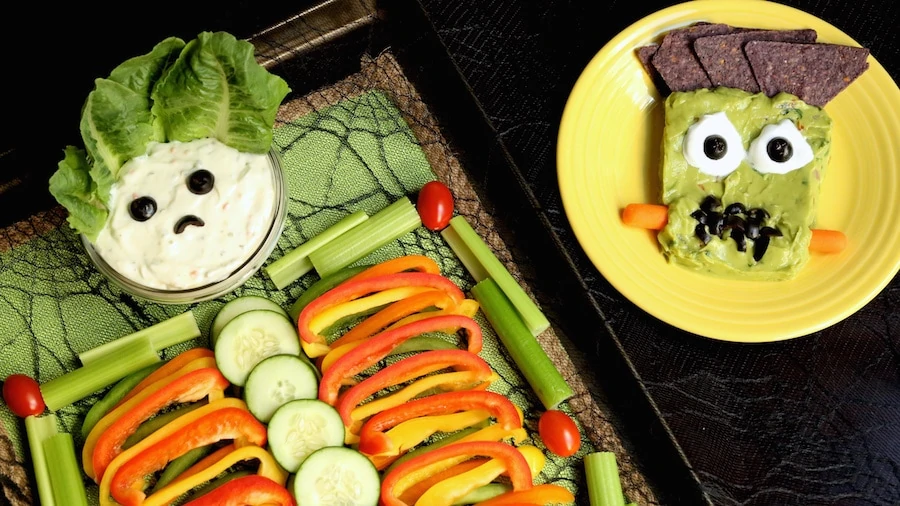 50. Pumpkin Spice Roasted Chickpeas – Leave those chips alone and make this simple snack instead.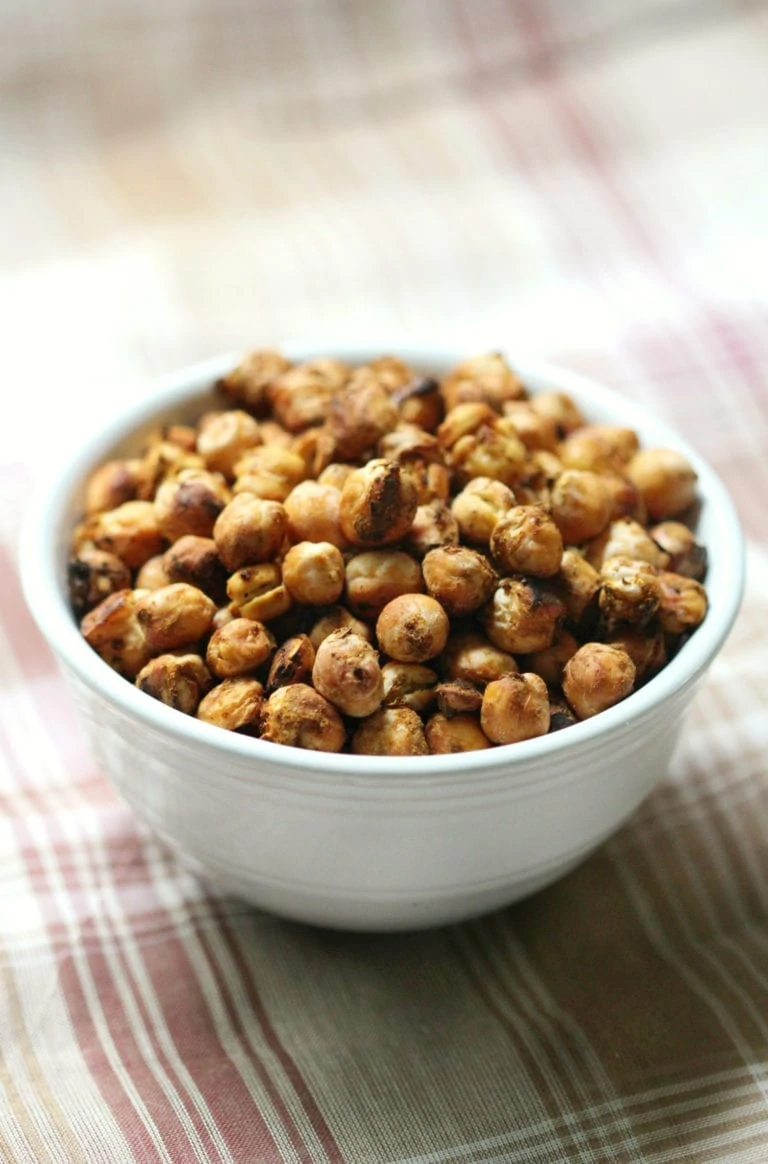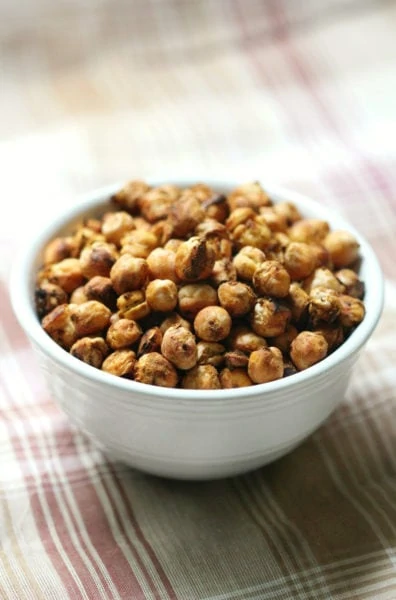 51. Frankenstein Smoothie Bowls – Another "spooky" way to start the day.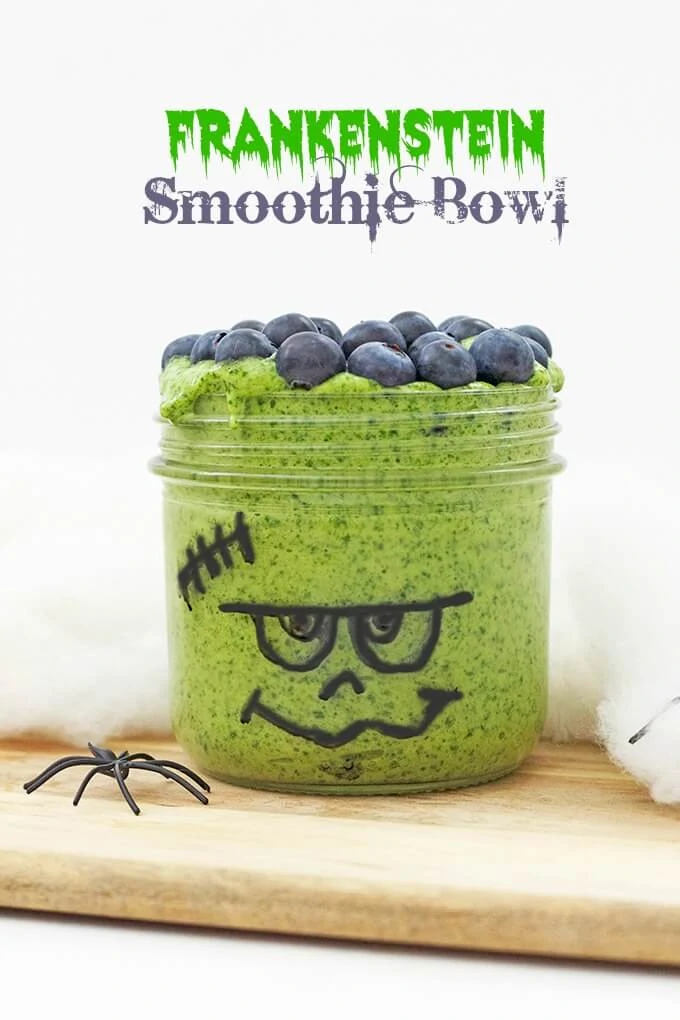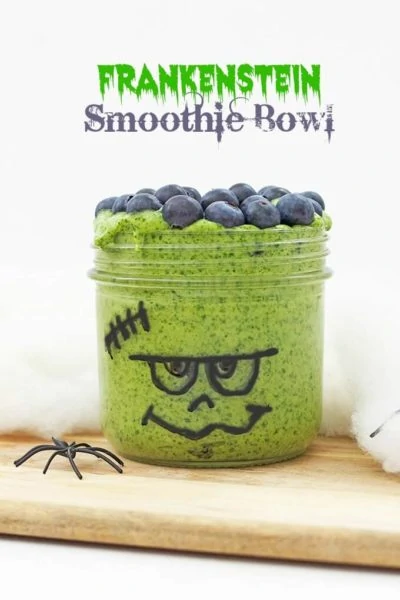 52. Pizza Pepper Jacks – Stuffed peppers take on a whole new meaning with these pizza peppers.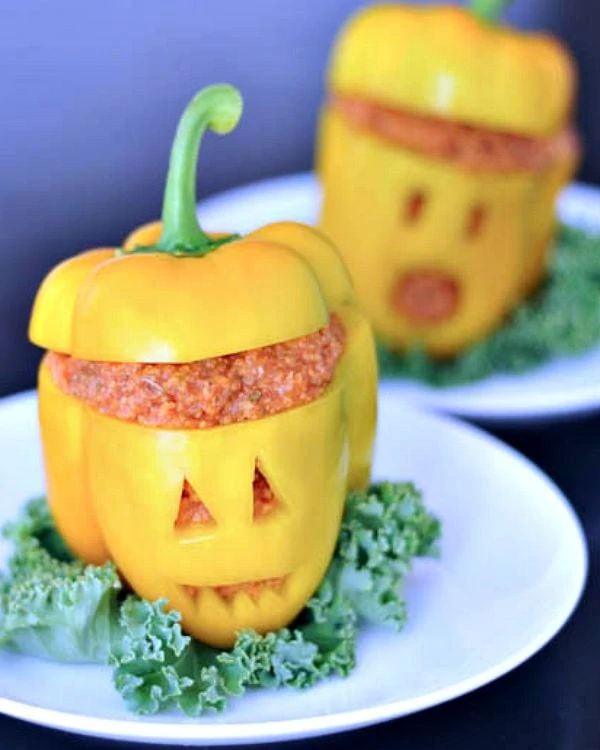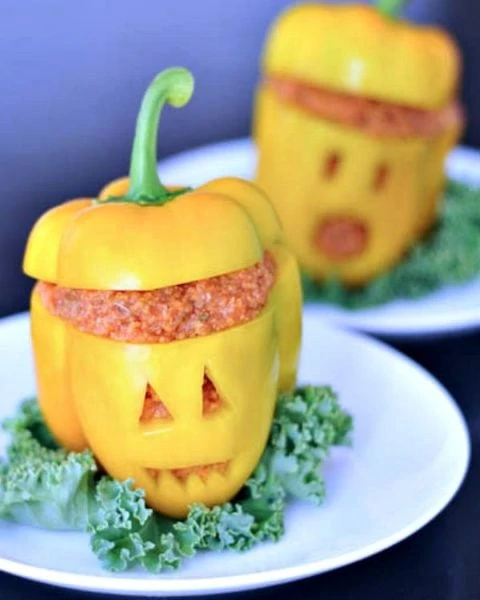 As you can see, there are a ton of healthy Halloween treats that are perfect for kids and families to eat.
Do you have a favorite healthy Halloween treat from the list above?