Do you have kids that are gluten-free or do you just want to make a playdough recipe that is safe for the whole family? If so, this gluten-free playdough is the perfect DIY to tackle!
Plus, I'll even show you how we use this playdough at home in tandem with playdough mats to make learning fun.
If you are anything like me, you are probably tired of buying playdough that is full of chemicals and colors and are looking for a natural solution. Luckily, this is it!
In this blog post I'll be sharing how to make a gluten-free playdough recipe using completely natural ingredients that you likely already have in your pantry.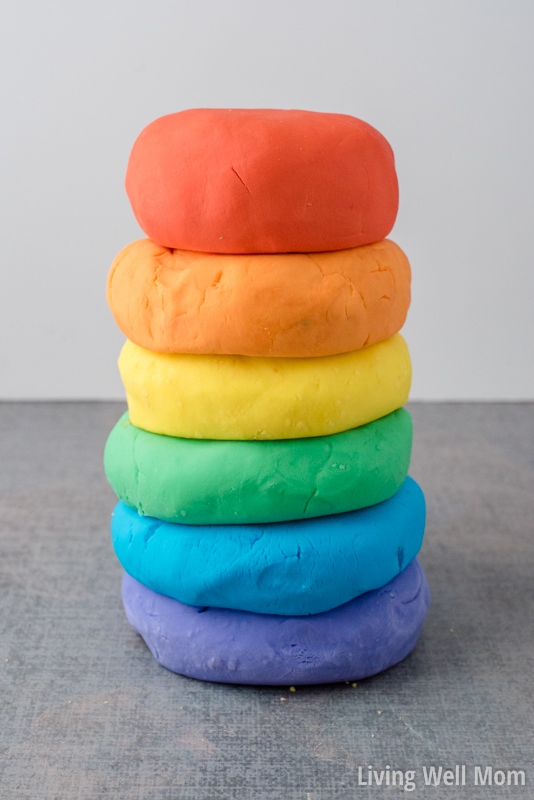 DIY Gluten-Free Playdough
One of my favorite kids' activities is making homemade playdough. And clearly, you all agree because my Easy Homemade Playdough recipe is still the most popular post here at Living Well Mom!
I've been making that recipe for years of fun with my kids and using it in tandem with printable playdough mats. It never gets old!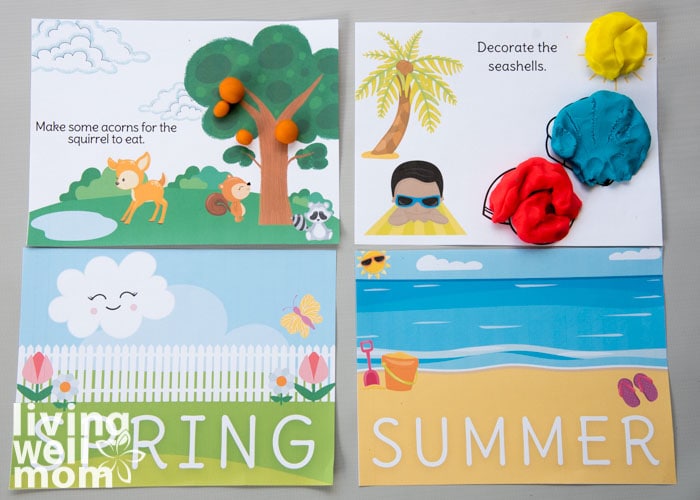 But since our whole family went on a gluten-free diet last summer, I decided to come up with a gluten-free playdough recipe. Even though my kids don't have celiac and I'm not too concerned about them handling a little playdough with regular ol' flour, I just feel funny about keeping all-purpose flour in the house when we don't use it for anything else.
A couple months ago, I started experimenting with making a gluten-free playdough recipe. I tried some variations of my own classic recipe with salt and cream of tartar and then quite a few completely different versions.
I'm not a big fan of the two-ingredient corn starch and conditioner playdough recipe. Since it requires having an extra bottle of conditioner in the house and we use an all-natural conditioner, it's more expensive and not something I'm willing to use on playdough. So that was out.
I finally settled on this simple 4-ingredient version of Gluten-Free Playdough. While I stumbled on this combination myself, when I googled it, I discovered this was actually a pretty common recipe so it's not unique to me.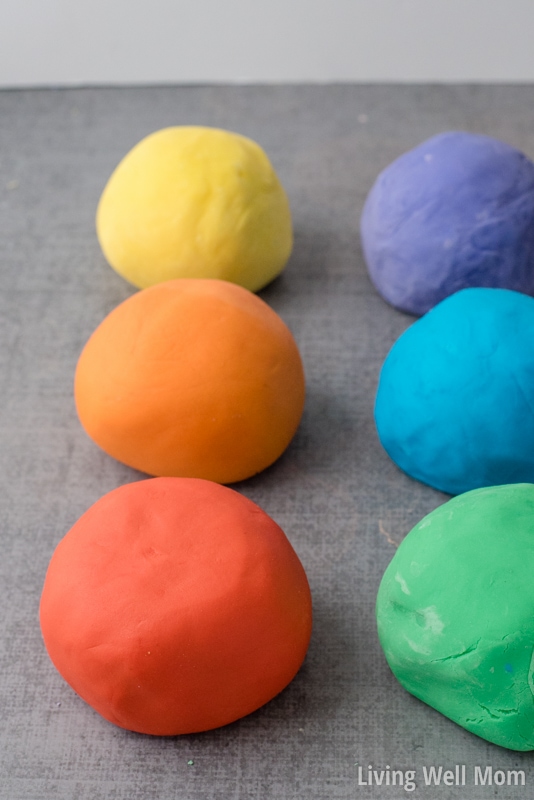 But anyways, this is our favorite gluten-free playdough recipe. I love that it's so simple to make, it takes less than 5 minutes from start to finish (just like the original homemade playdough recipe) and the ingredients are common and inexpensive.
Easy Gluten-Free Playdough Recipe Ingredients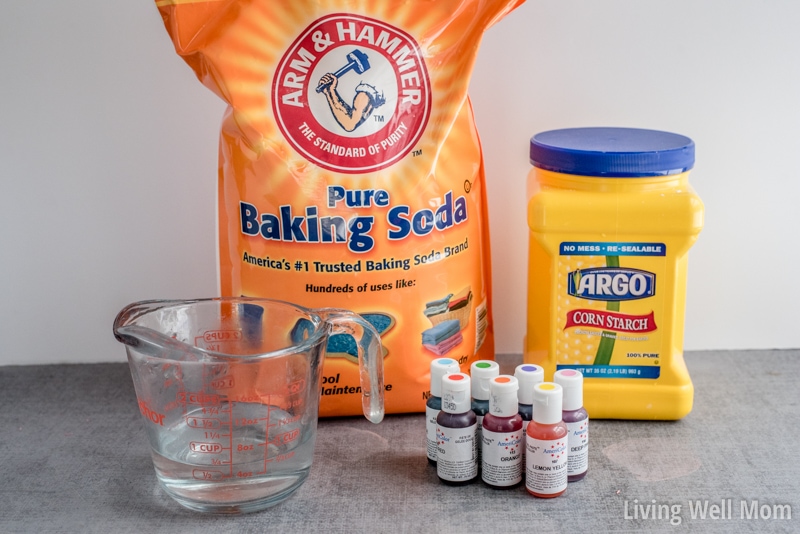 Ingredients:
1 cup baking soda

1/2 cup corn starch

3/4 cup water
foo
d coloring
I highly recommend AmeriColor food color to get the vivid colors you see in these pictures. A few drops of color goes a long way and kids will adore making the colors of the rainbow or their favorite combinations!
Step by Step Directions
Making this GF playdough is so simple! First, add the baking soda and corn starch to a 2-quart saucepan and mix together with a spoon. Kids can help with this part.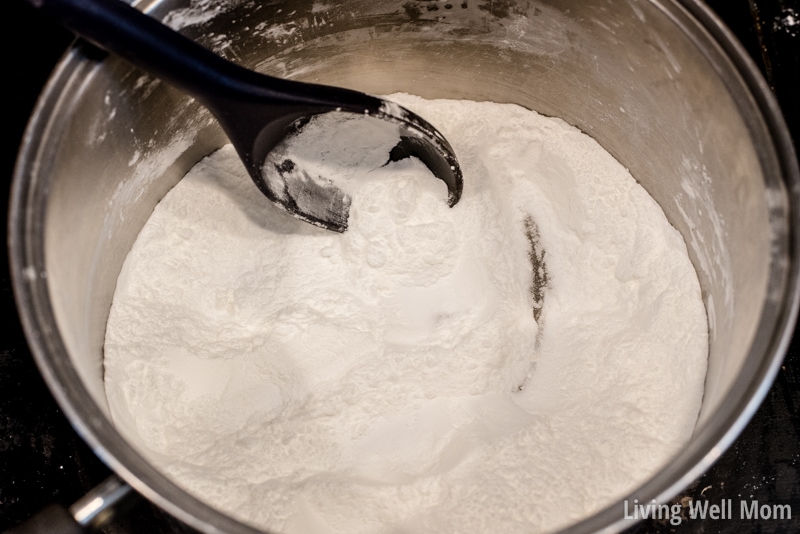 Then, turn the heat to medium, then add the water.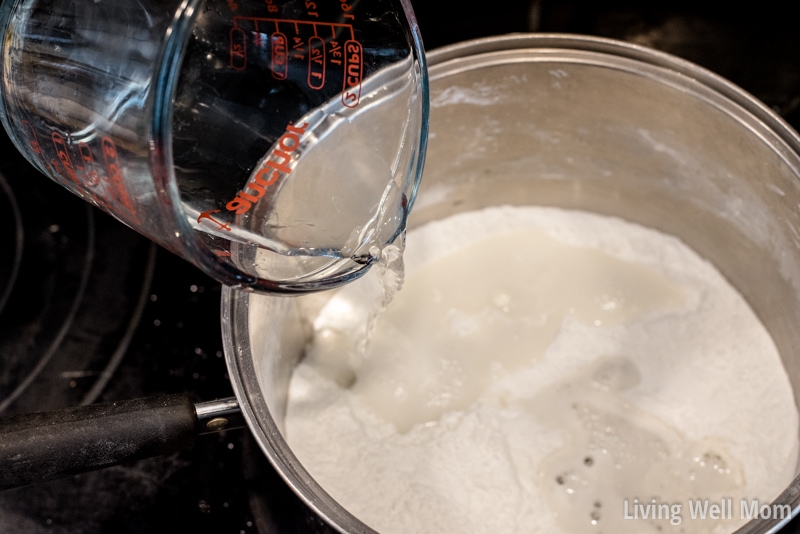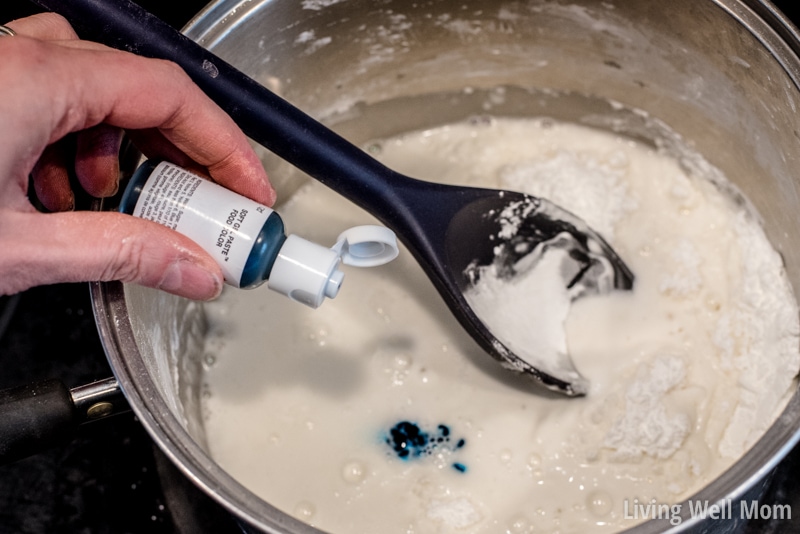 Add a few drops of food color.
Stir well to break up any lumps. Don't worry about it too much though; you'll get it all mixed together eventually.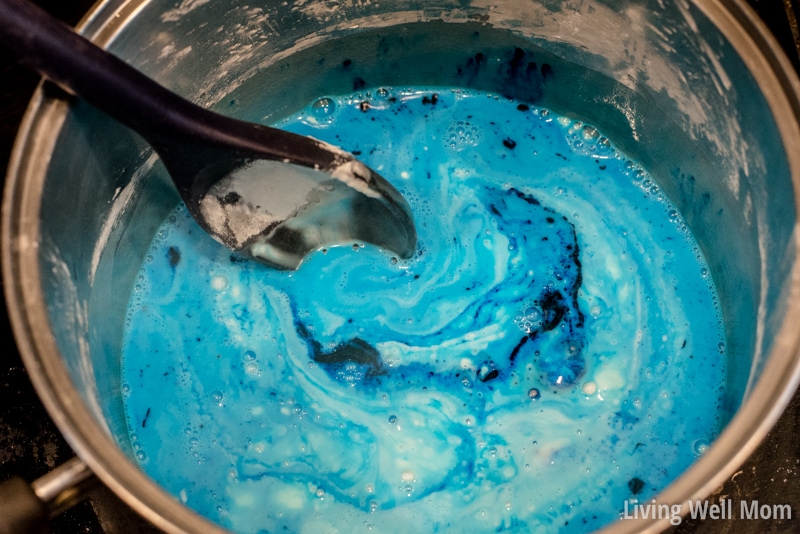 Cook and stir constantly until the playdough starts to become a little more solid. This should take less than 5 minutes.
Usually, subsequent batches come together much quicker because the pan and burner are already warm so just keep an eye on things.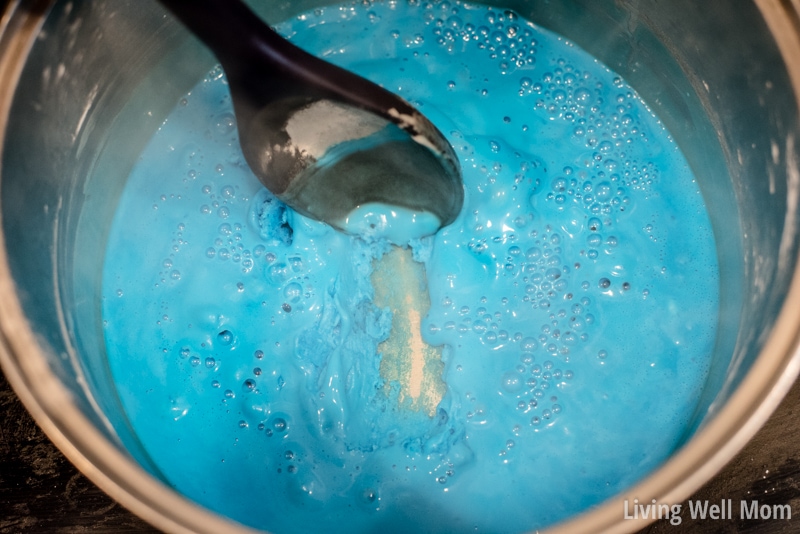 It should come together quickly after that. Continue stirring.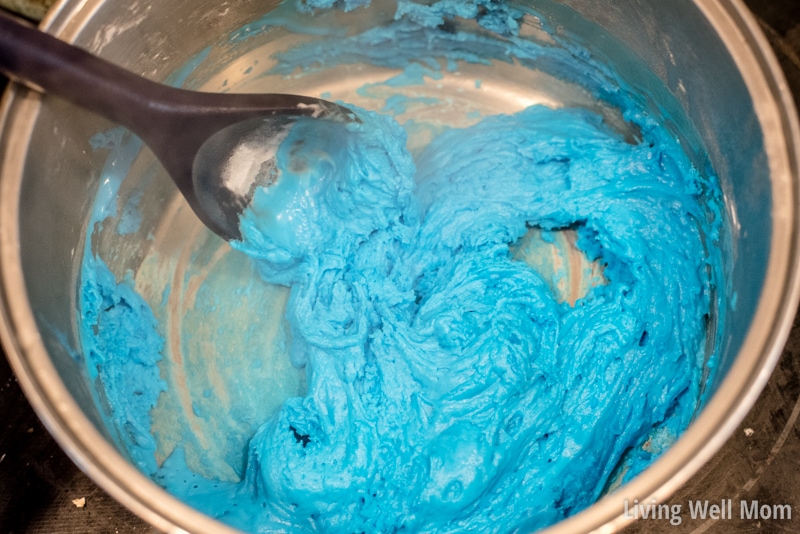 Once the playdough starts to ball around the spoon, remove the saucepan from the heat and stir until it's all pretty much clumped together.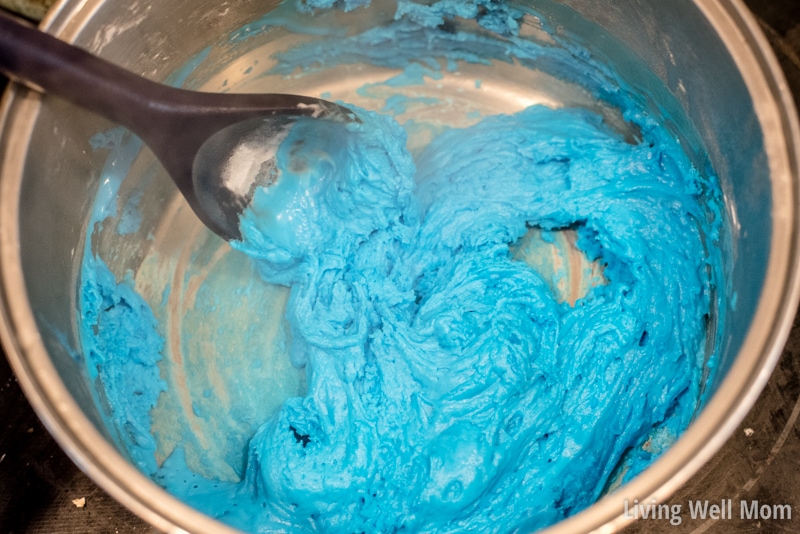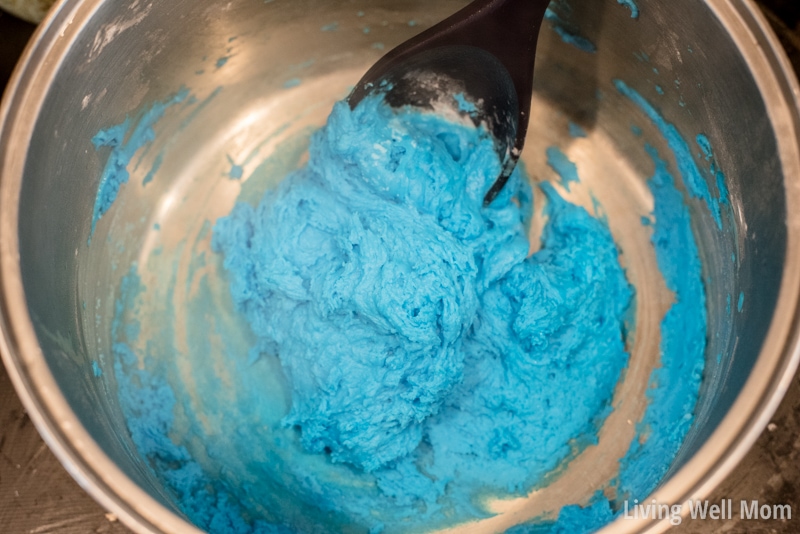 Then remove the gluten-free playdough onto a solid surface. It will still look a little lumpy and unfinished; that's okay.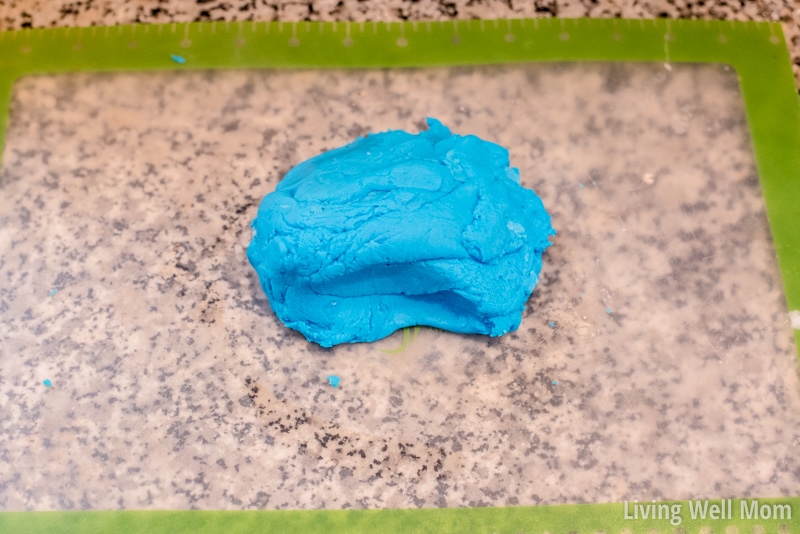 Let it cool for a minute, then knead it together. You'll see the imperfections quickly smooth out.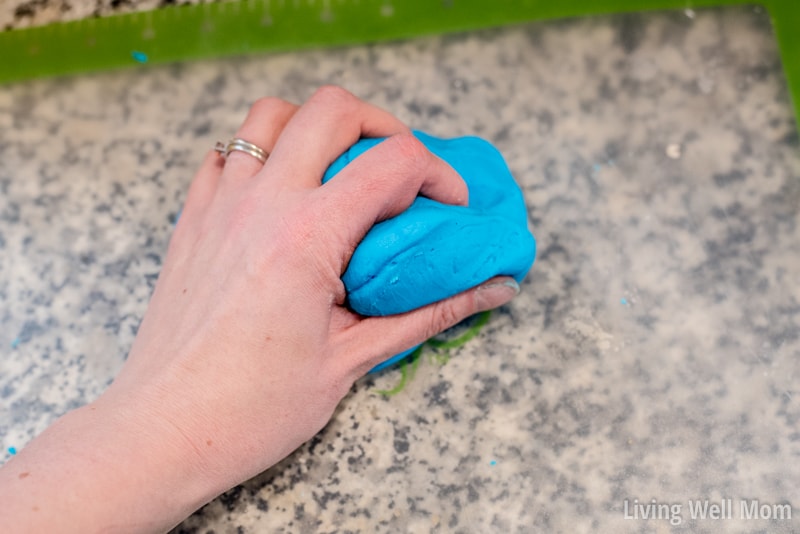 Now, you'll suddenly have a beautiful ball of playdough!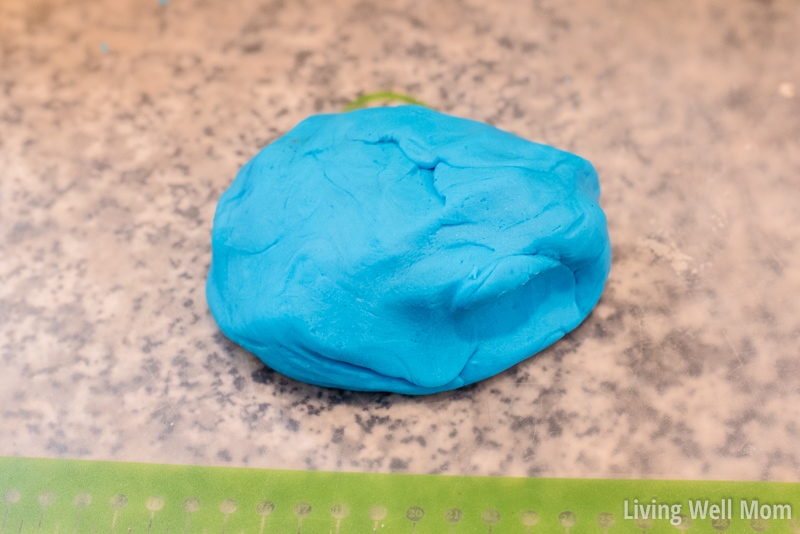 That's all you have to do to make your very own homemade gluten-free playdough!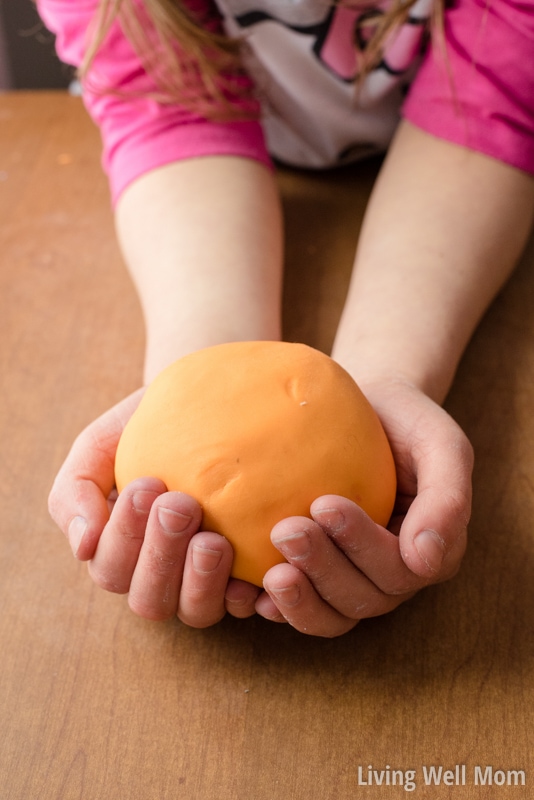 Pair with Playdough Mats
Making the playdough is the easy part. What's more challenging is trying to figure out how the kids can play with it for longer than give minutes! Because let's face it – most of us don't schedule out a playdough day with our kids.
We usually end up searching for an activity to keep them busy and would rather use ingredients we already have on hand, than add one more thing to our busy days by dragging everyone out to the store. Am I right?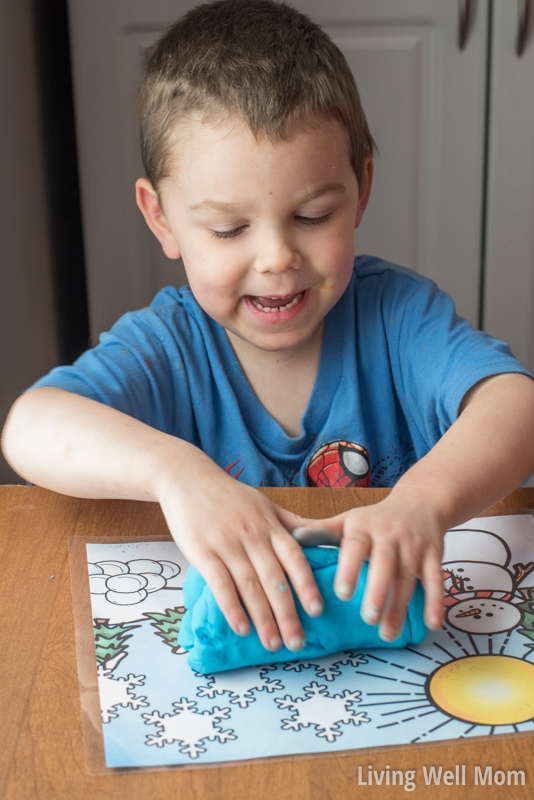 On those days, you'll want to be prepared way ahead of time with a fun way to use your newly formed playdough. My favorite? Playdough mats!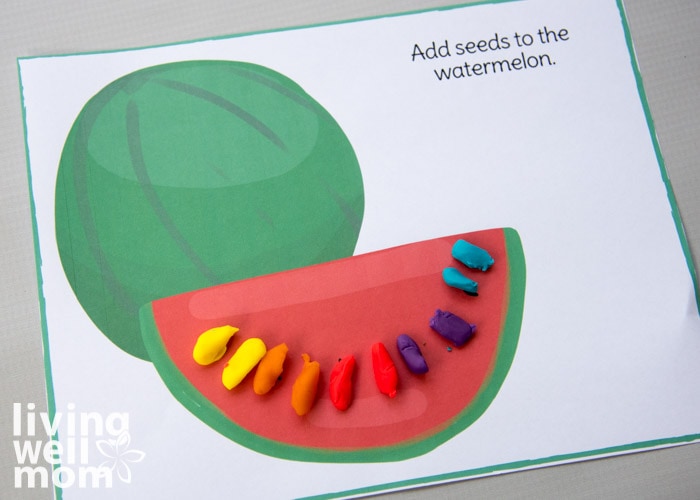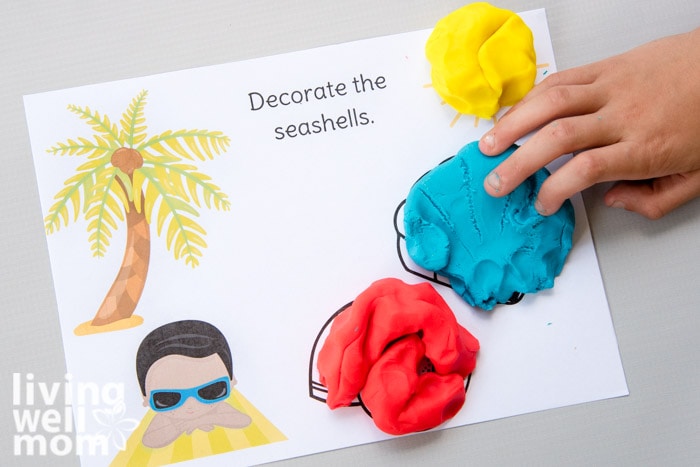 With these mats, you can combine play and learning. Keep those little minds and hands busy by following the activities on these seasonal playdough mats.
There are 28 different mats included in this bundle, so plenty of opportunities for your kids to be entertained!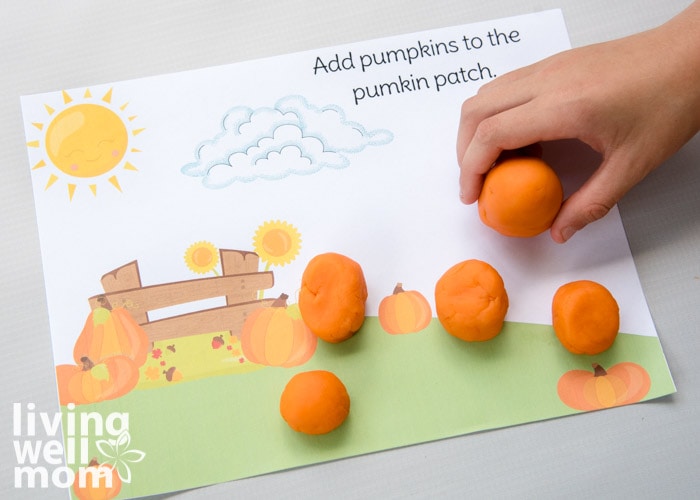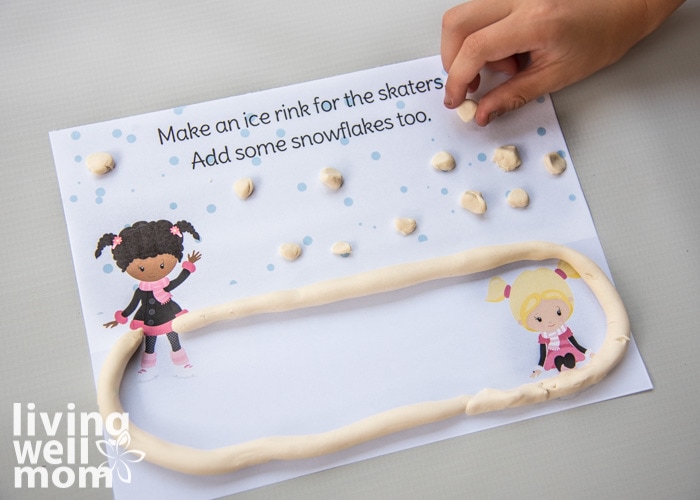 You can simply print them off and give them to your children, or if you want to reuse them over and over you can print and laminate them (my preferred method).
FAQs About This Playdough
Does this feel the same as the store bought playdough?
This gluten-free playdough has a softer, different consistency than regular playdough. My kids said they actually prefer this kind because "it's more fun." (I'm not sure how that's possible, but as long as they're happy with it, I'm good with it too!).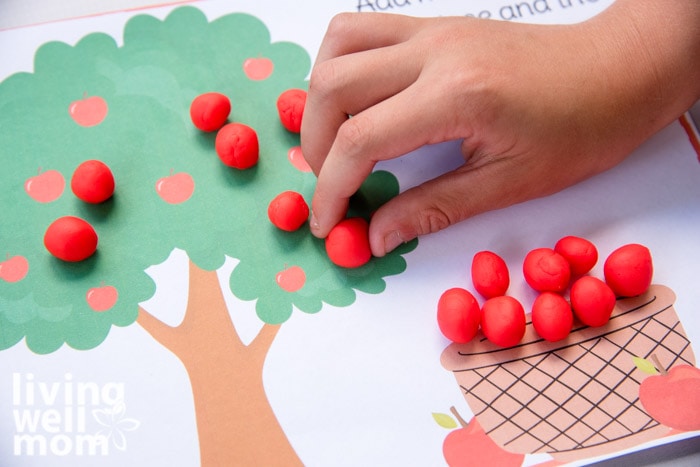 Just like the store brand, this gluten-free playdough is fun to pinch, pull, roll, mash…all the good stuff. See why those playdough mats come in handy? 😉
How much playdough does this recipe make?
One batch makes one ball of color that you see in the photos. It's probably equivalent to 2 containers of store-bought playdough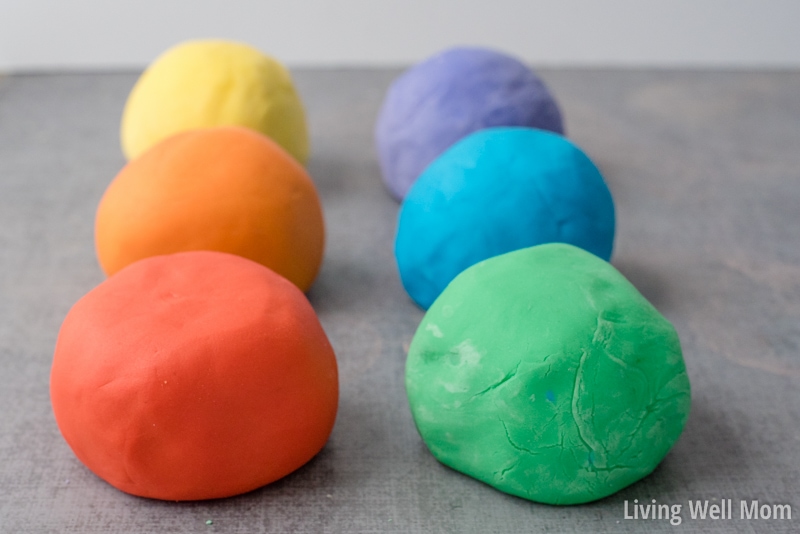 Help! My playdough turned all hard and crumbly.
Don't panic! Gluten-free playdough dries out faster than the regular version. If your kids leave it on the table and run off, it will probably end up crumbling and they'll be worried their playdough is ruined. You can revive dried-out, crumbled playdough by heating it back up over med-low heat and stirring in a tablespoon or so of water. We've saved quite a few batches by doing this.
I've also noticed that the playdough seems to harden in colder temperatures. When I took some of these photos near a chilly window, the playdough really solidified. Again, we revived it with water and a little heat. It must be something to do with the combination of corn starch and baking soda. Any chemists out there have an idea?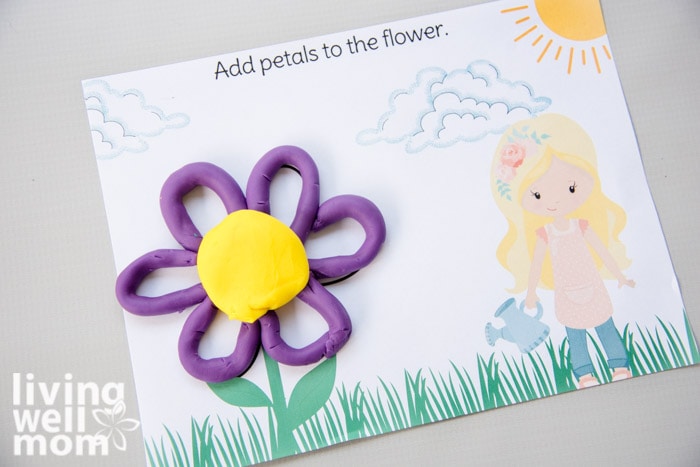 How should I store homemade playdough?
Store in a tightly sealed plastic bag in the refrigerator. (Our original batch turned moldy after two weeks in the pantry.)
All-in-all, I still prefer the regular version of playdough as it's less prone to drying out and hardening, but if your kids are sensitive to gluten or you simply don't have the cream of tartar or some other ingredient the original recipe calls for, this is a fantastic gluten-free playdough recipe, especially when paired with these seasonal playdough mats!
More Kids' Activities:
Just pin it below to find the instructions later!