Spring has arrived and in between flash snow storms and the rain, our flowers are starting to bloom! This free printable spring matching game is a great way to celebrate the spring thaw and also work on the kids' memory skills at the same time!
Materials needed for this Spring Matching Game:
I prefer using scrapbook paper to print card games and matching games on. The pretty prints of the scrapbook paper make it so that the kids can't see through the cards and are much more fun to look at than plain white card stock paper.
I find the best prints in 12×12 paper, so I cut them down to 8.5″x11″ to fit them in the printer. This leaves me with a lot of little scraps that I can hand to my preschooler to keep her busy or give to my tweens for a fun craft rather than wasting the extra paper.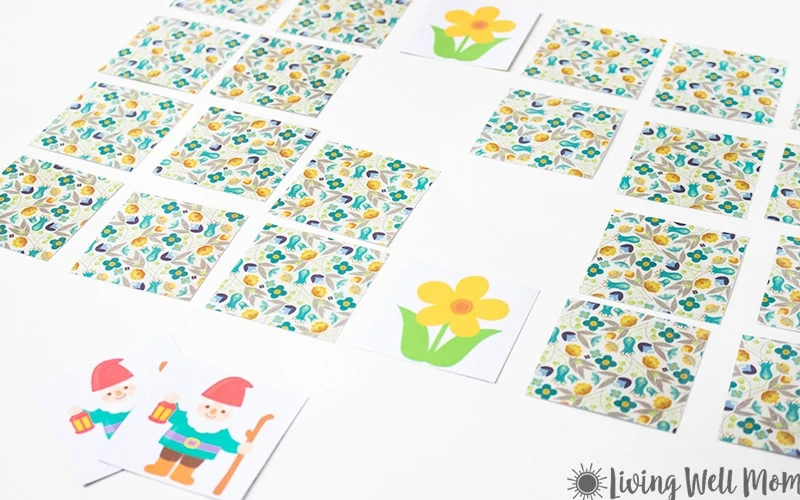 To prepare the activity: Print two copies of the spring matching game found below on the white side of the scrapbook paper. Laminate and cut apart the cards. That's all you need to do to prepare this fun spring matching game for your children!
To play the game: In case you haven't played a memory matching game before, you turn over two cards at the same time. If they match, you get to keep them and turn over another set of garden pictures to try again.
If the cards don't match you turn them back over and it becomes the next person's turn. Play continues until the cards have all been matched.

For something extra, you could print out extra copies of the spring matching game picture cards and practice making patterns. We did that with our nocturnal animal cards and it was such a fun way to learn!
How do you celebrate spring with your kids?
By downloading this free product, you agree to the terms and conditions listed here. This free product is for single classroom/home use only, by one teacher/family. If you intend to use this for more than one classroom/home, please return to Living Well Mom and download an additional copy each time.