These free printable pumpkin playdough scenes are sure to be a hit with your kids this fall! Download three Pumpkin Scene Fall Playdough Mats.
These mats can provide hours of entertainment, as well as some excellent sensory play and learning for your family. I use these every year with my own children—it never gets old.
The Fun of Playdough Mats
I am definitely no stranger to playdough mats. In fact, we loved our apple playdough mats so much that we decided to create a playdough mat set perfect for pumpkin season.
We love playdough mats. We use them whenever we let the kiddos play with their playdough. Not only does it protect our table (bonus!) but it gives our kids a fun background to play on too.
You can use them as placemats during lunchtime too if you want. Kids find it much more fun to eat their veggies if it has a cute background (it's worth a try at least)!
Fall Playdough Mats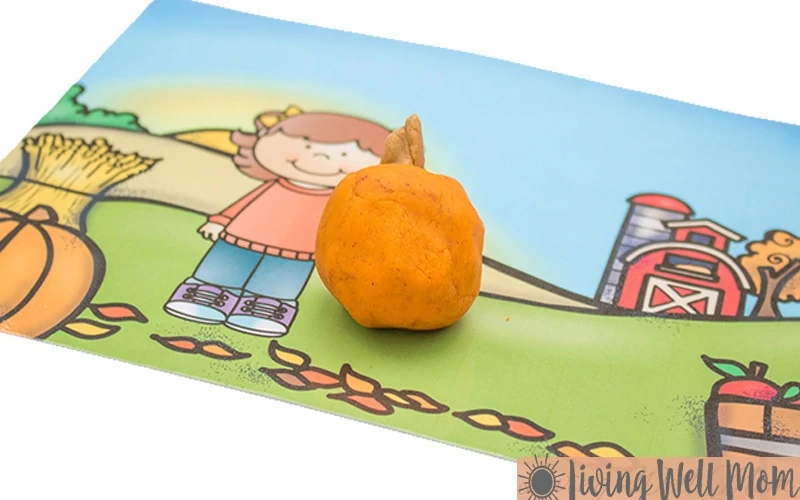 This playdough mat perfectly sums up the joy and bliss of the fall season.
You know, that season between the kids' first day of school and the first December freeze…some people call it "fall."
For me, it is the season where pumpkin overrides every other flavor. And pumpkin spice overrides every other scent. These printable pumpkin playdough scenes are perfect with some orange homemade playdough (bonus points if you add a pumpkin spice scent!).
Get yours here:

How To Use Free Printable Fall Playdough Mats
All you need to do to use the pumpkin scene playdough mats is print them out on regular printer paper then laminate
. You will need a laminator and laminating sheets.
There's also self-adhesive laminating sheets if you don't have a laminator.
You can also slip the scenes pages into page protectors if you don't want to laminate, though they may get more bent up that way.
Another options is to use clear packing tape.
How To Make Orange Play Dough
Make a batch of our favorite play dough recipe in a perfect orange color. I used a knife tip of orange gel food coloring and just a tiny bit of brown.
Create Pumpkin Spice Play Dough
I also added 1/2 tsp of pumpkin pie spice to make it a little more interesting. This encourages sensory play since it uses their sense of smell in addition to their kinetic experience.
This playdough takes less than 10 minutes to make, so it's a perfect project to make with the kids or sneak in while they are having a quiet moment.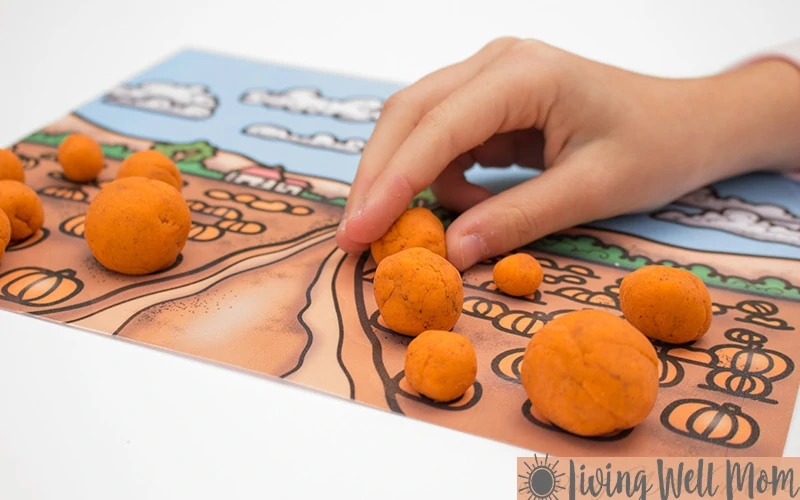 Fall Pumpkin Playdough Activities
These printable playdough mats make the perfect backdrop for a huge variety of playdough activities. I'll share some of my favorite ideas with you below.
Make Playdough Pumpkins
I always like to let the kids explore our playdough activities independently first. They decided it would be fun to create some stems for the pumpkins, so we added in a tiny bit of light brown play dough that we had for another project.
Imaginative Play
Use other toys from around your house and let your kiddos' imaginations run wild. Maybe small toy figures can go pumpkin picking, or perhaps some animals would like to join the scene.
Build Scarecrows
Since this play dough mat is set on a farm, your child can build their own scarecrow. Use objects like sticks and pipe cleaners to add leg, arms, and a hat to the scarecrow.
Jack-O-Lantern
For older children, encourage them to roll the playdough into a larger ball and design their own pumpkin carving out of it. This could take a lot more time and require some problem-solving skills.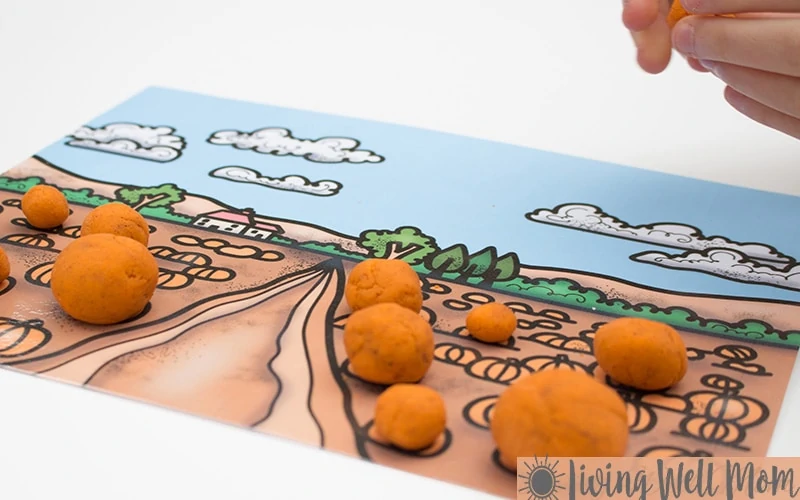 Educational Benefits of Play Dough Activities
Not only does it give them sensory play, but playdough actually encourages brain development in your kids. It strengthens fine motor skills and is fantastic for early math skills too.
Just look at all the different things your child could learn just by playing with this orange fall-themed play dough.
Develops Fine Motor Skills
Rolling the balls to create the pumpkins is great for fine-motor skills and kids won't even realize they're practicing skills.
Ask your child to make really tiny pumpkins. As they work to pick up the baby pumpkins with their index finger and thumb, they are exercising their "pincher grasp." These muscles are what they will use when they write, so it's important to help them develop it.
Sort From Biggest To Smallest
To extend the activity into a little bit more learning, you can have your child put their pumpkins in order from biggest to smallest.
This teaches your child organized thinking skills. It's also one of the first mathematical skills they need to learn how numbers work.
Color Mixing
Color mixing is both an artistic skill and a scientific one. It's fun to watch your child's eyes light up as they see the play dough change colors.
One way to teach color mixing is by making different colors of play dough with them.
Add in alternative colors for a greater variety of pumpkins and then discuss that pumpkins can be several different colors, like blue, white, or yellow! Then have them sort their pumpkins by the color.
Vocabulary Development
Even though play dough is perfect for independent playtime, if you spend time working them you can teach them math and language development.
As they play with it, introduce some new words, such as: squash, harvest, field, vine, and seeds.
Teach Pumpkin Life Cyle
Playdough is the perfect way to introduce the science behind how plants grow. Use the dough to create the pumpkin life cycle.
Mold your own pumpkin seeds. Then, create pumpkins and vines and teach them how the sunshine and water helps the plants grow.
Addition and Subtraction
You can also teach your child beginning addition and subtraction with their play dough pumpkins.
The two sides of the road on my printable play dough mat make this really easy.
Place all their pumpkins on one side of the road. Then, ask them to count all their pumpkins. Place 3 pumpkins on the other side. Now ask them how many are left.
If your child is ready, you can also teach them how to count their mini pumpkins by 2's, 3's, and 5's.
Just pin it below to find the instructions later!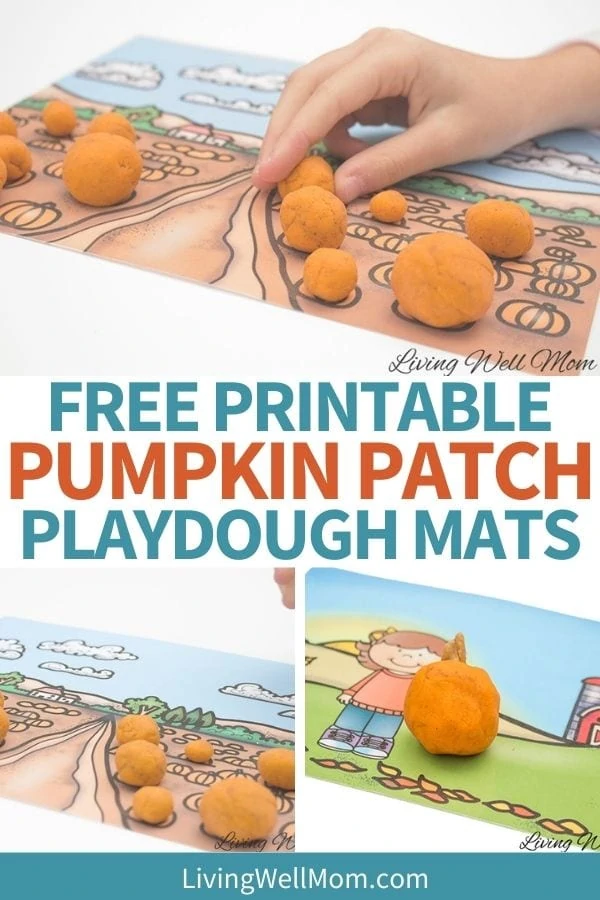 No matter what you and your kids choose to do, these printable pumpkin playdough mats are sure to be a kid-pleaser!
My kids were fighting over them! But luckily, you could just print out two or three or more copies and they can each have their own playdough mats.

Also check out our other great playdough activities for kids: