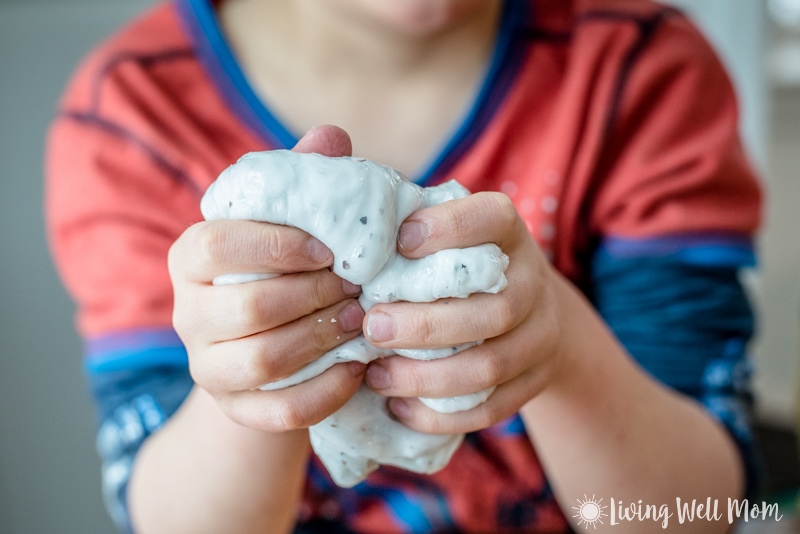 My kids love making homemade slime, otherwise called homemade Gak. It's a simple recipe that provides hours of fun. Recently my kids wanted to try something different, so we tried glitter slime. The kids loved it so much, they decided to call it Snowflake Glitter Slime because it's white and sparkly like snow.
Homemade glitter slime is super cool because it's not like playdough or other common things around the house. While kids can mold it into a ball, it won't stay that way; it will slowly spread out into a slime "puddle." It's the weirdest thing and completely fascinates my kids. Every time.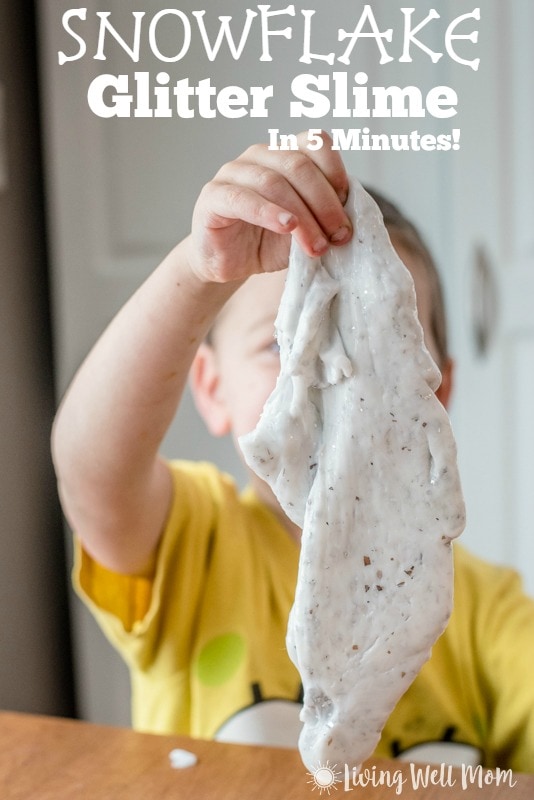 Not only is snowflake glitter slime super fun, but you can make a batch in just 5 minutes! And it's so easy to make that my 6 year old, Joshua, made this batch all by himself (with my supervision.)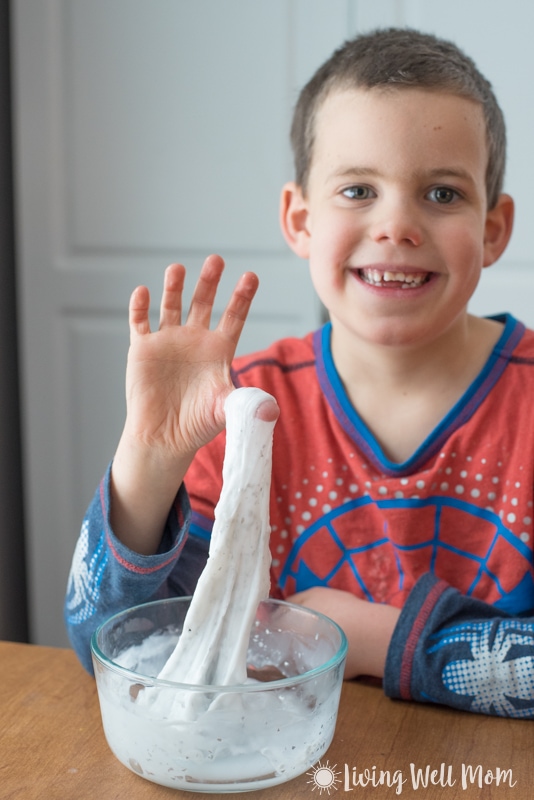 The other great thing about homemade slime is that it's a nice sensory tool if you have sensitive kids. My 12 year old, Nathan, has autism and sometimes gets overwhelmed. Handing him a baggie with glitter slime (or even the regular version) helps him calm down and focus on something besides his frustration.
How to Make Snowflake Glitter Slime:
Glitter slime is just as easy to make as the original slime recipe, the only difference is you add silver glitter.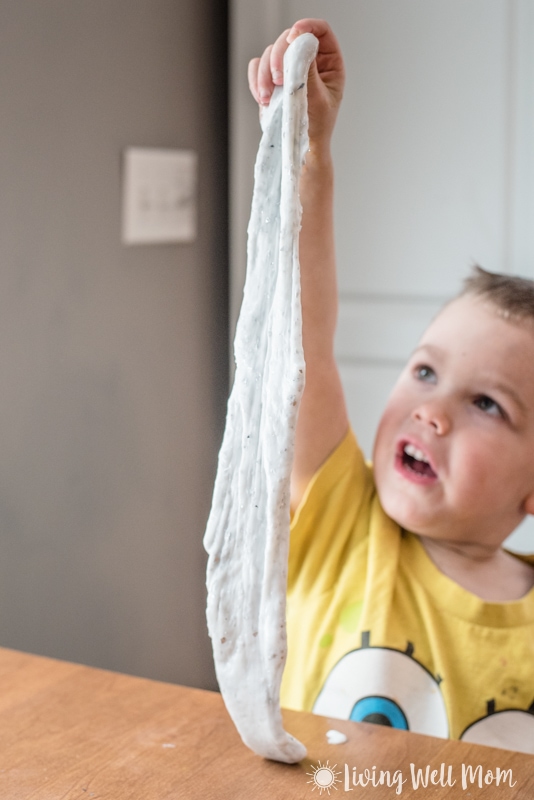 Here's what you'll need:
1 (4 oz) school glue

1/2 water
1/4 cup hot (not boiling) water
1/2 tsp borax

silver glitter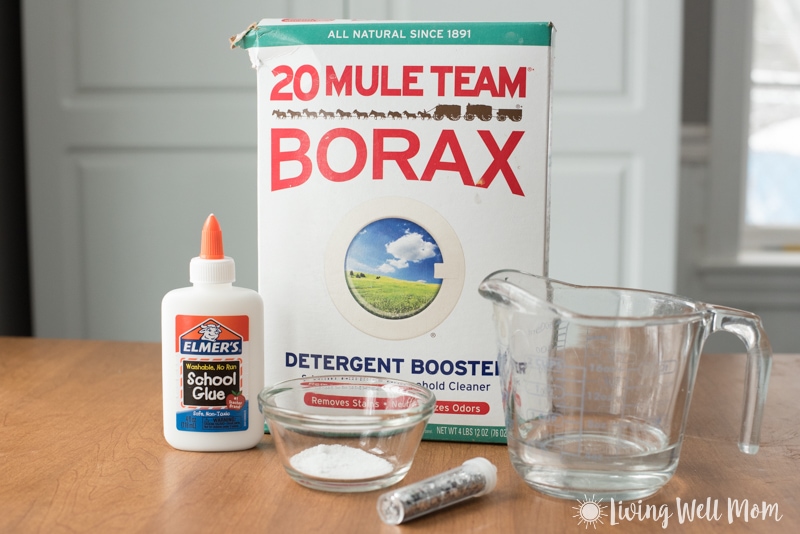 Just 4 Easy Steps to Make Snowflake Glitter Slime!
Step 1:
Add 1/2 cup of water to a small bowl or container, then squeeze the whole 4 ounces of glue into the water. (This is perfect for kids to help!)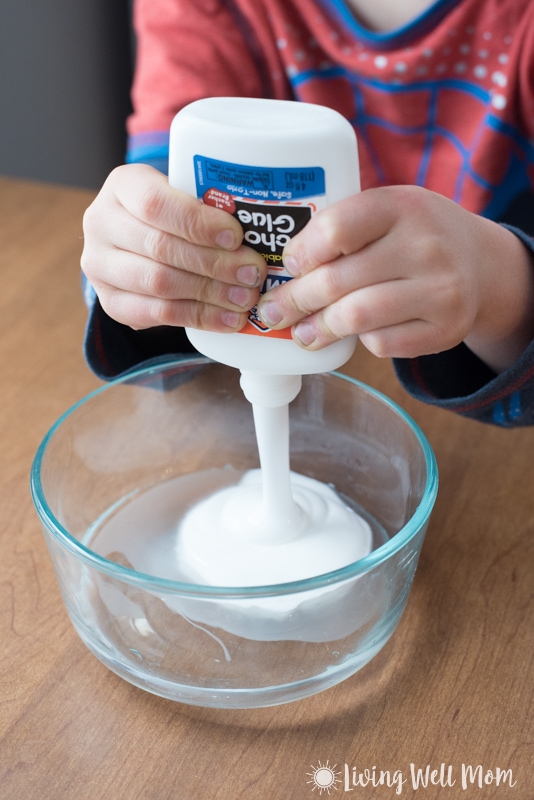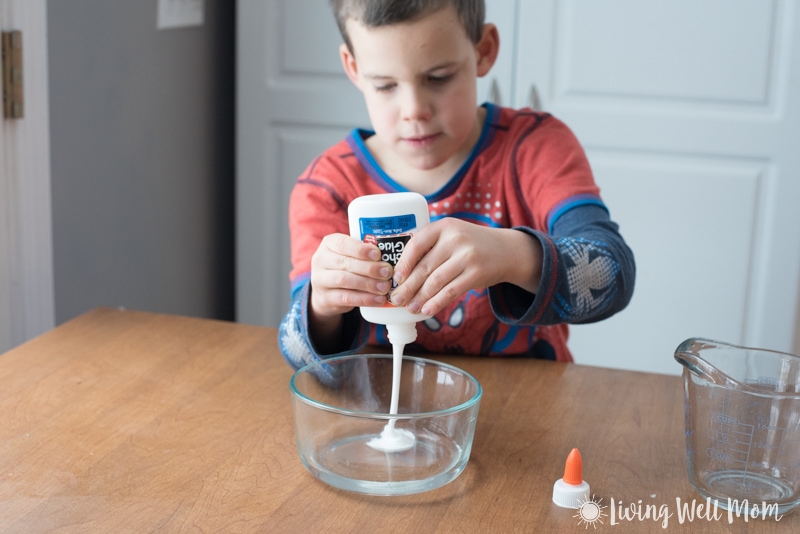 Have your helper mix the glue and water with a spoon.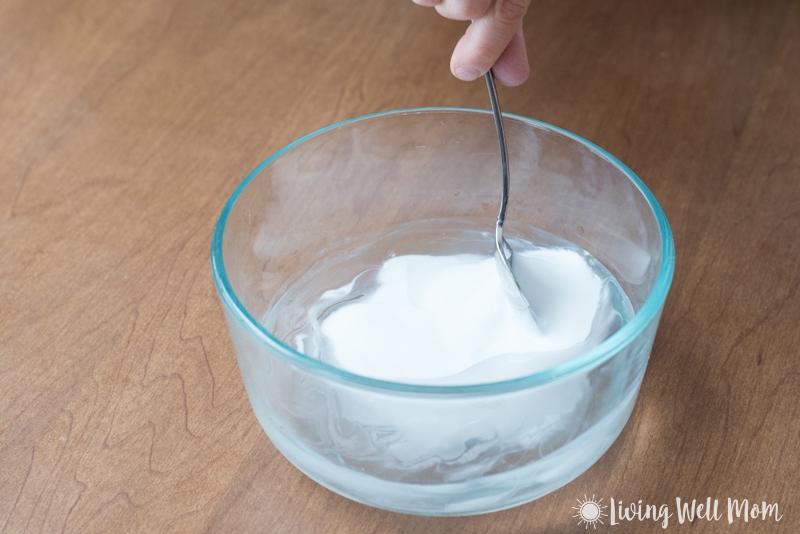 Step 2:
Sprinkle the glitter into the glue and water mixture and mix. Use as much as you want.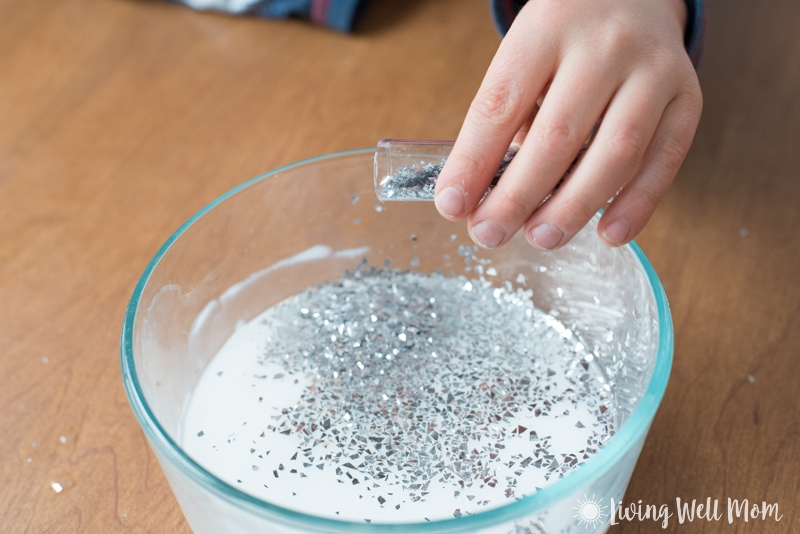 Step 3:
Set aside the glue mixture.
Dissolve 1/2 teaspoon of Borax into 1/4 cup hot water.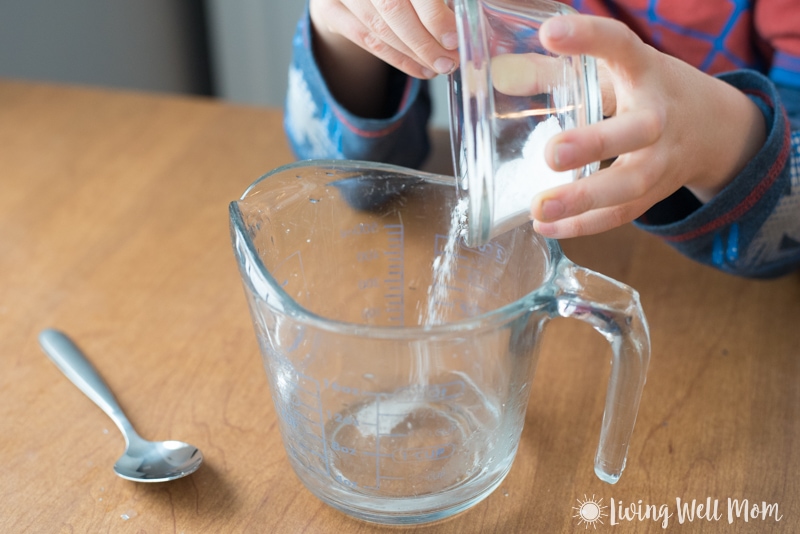 Mix very well. Keep stirring until the borax is completely dissolved.
This is the most important step – if even a tiny bit of borax is still visible, the slime will not form.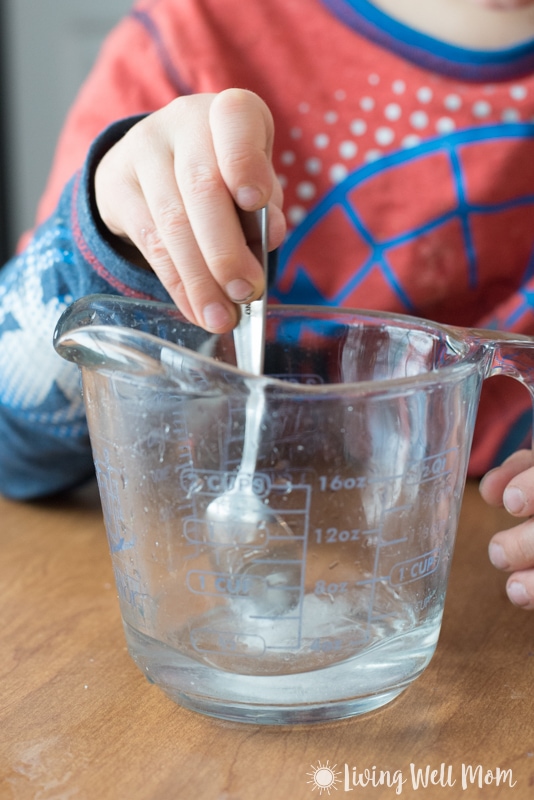 Step 4:
When the borax is completely dissolved, you can pour the borax/water mixture into the glue mixture. Begin stirring.
The mixture should begin to form around the spoon.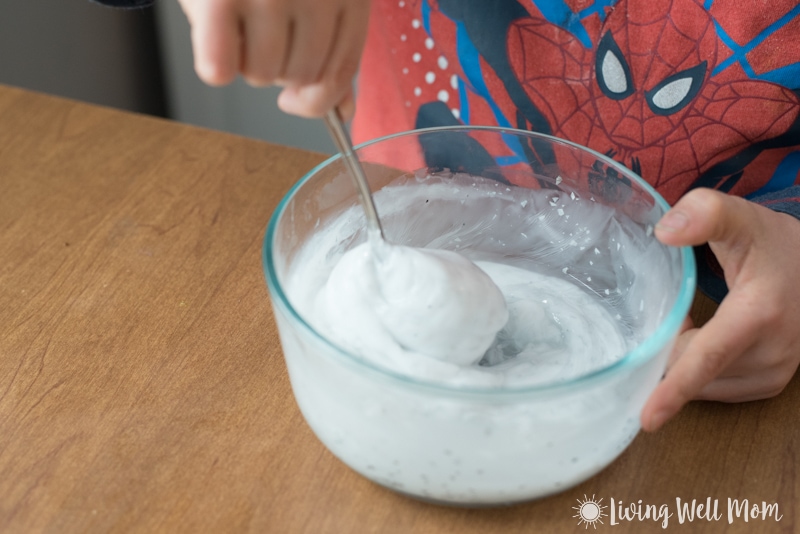 Keep stirring…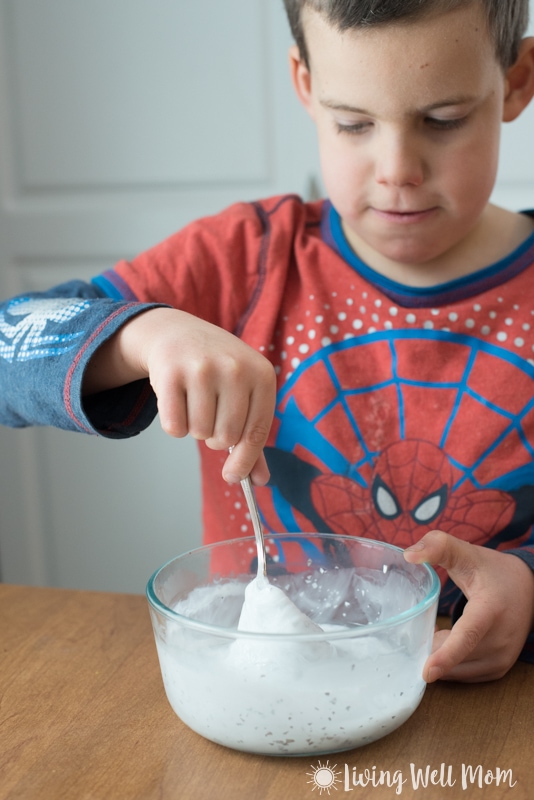 …until the liquid is mostly gone and the slime is really balling around the spoon.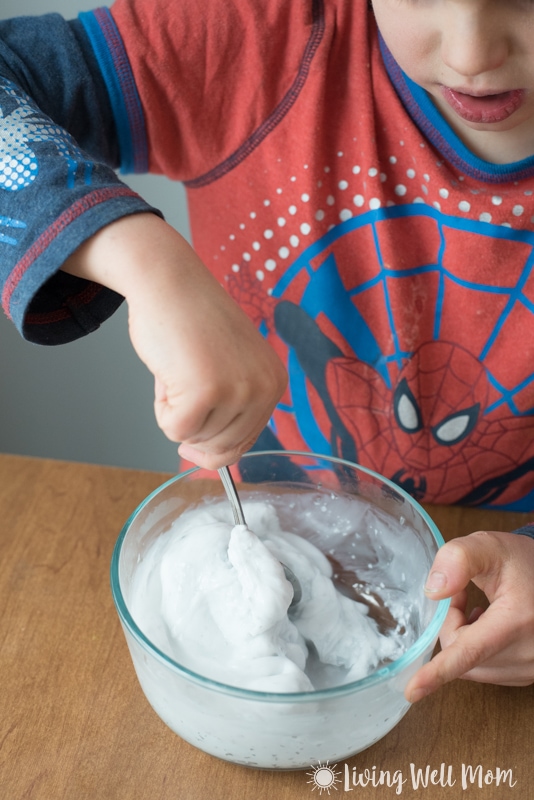 Now you can set aside the spoon and let your helper work the slime with their hands.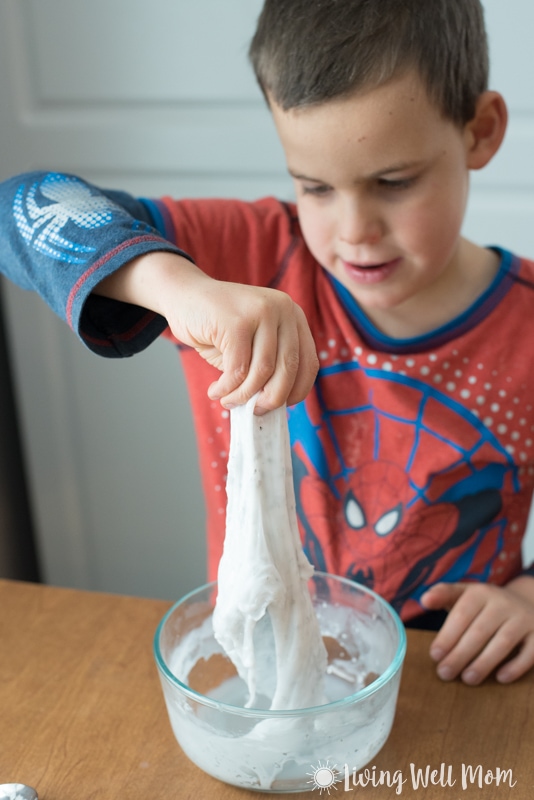 As your child pulls and works at the slime, it will finish mixing everything and fully form.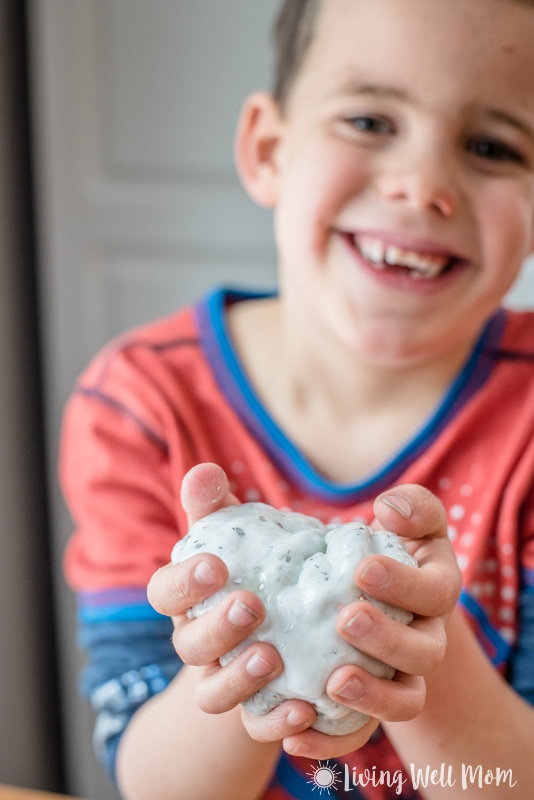 If you want to add more glitter, go for it.
You can split one batch of snowflake glitter slime between two kids, but I prefer making a separate batch for each child. Since it's so quick and easy (and my older two children who are 9 and 12 can make their own), it's simple enough to do.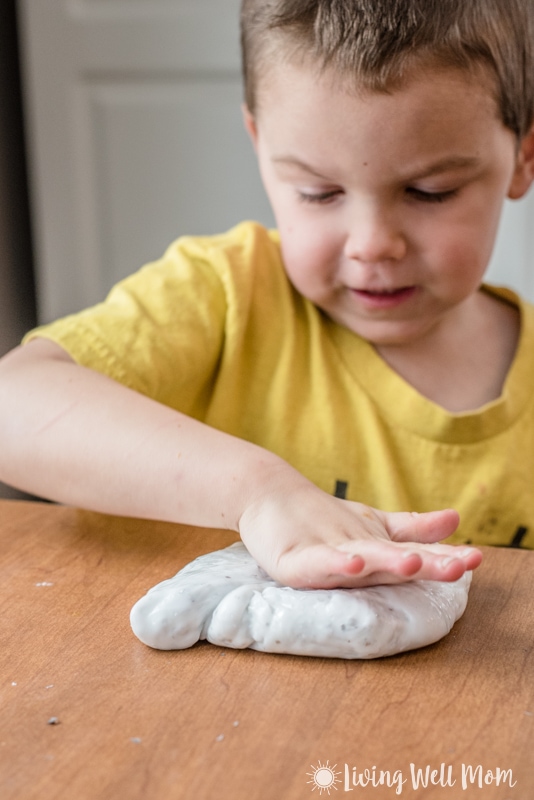 Print
Snowflake Glitter Slime
This fun recipe takes just 5 minutes to make and is so easy, kids can help make it!
Author:
Prep Time:

5 mins

Total Time:

5 mins

Yield:

1

batch

1

x
1

(4 oz) school glue

1/2

water

1/4 cup

hot (not boiling) water

1/2 tsp

borax
silver glitter
Instructions
Mix the glue and 1 /2 cup of water together. Add the glitter. Set aside.
In a measuring glass, dissolve 1 /2 teaspoon Borax with 1 / 4 cup of hot water. Stir until it's completely dissolved.*
Add the borax water to the glue mixture and mix well, until the slime forms a ball around your spoon.
Have fun!
Notes
*Make sure you 100% dissolve the borax in the water before adding to the glue or the recipe will FAIL!
A couple notes about homemade glitter slime:
Even though this may seem like a messy activity, there's actually very little mess because slime likes to stay together. It doesn't fall apart like old playdough tends to.
Yes, this recipe requires Borax; without it, you won't get the "slime consistency. You can find Borax near the laundry boosters in the store.
Store homemade glitter slime in a sealed container or zip-up bag.
Our glitter slime has often lasted for over a month. I'm not aware of an "expiration" date.