Summer is just around the corner, but that doesn't mean learning has to stop. You can make your very own DIY playdough with a patriotic twist and expand your children's learning and sensory fun at home.
In this post, you'll learn how to make simple DIY playdough in three patriotic colors. Plus, I'll show you exactly how you can turn it into a fun 4th of July activity for kids! This playdough recipe offers variations for learning sight words, patriotic vocabulary, a flag, and learning letters!
Easy DIY Playdough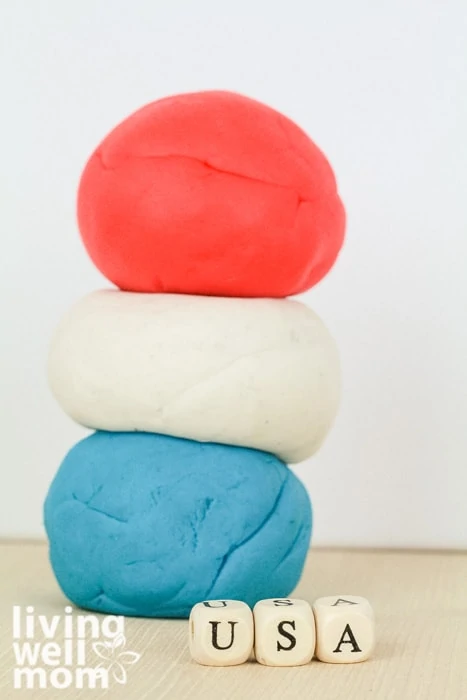 One of my favorite things to make for my kids is DIY playdough. It's honestly so easy to put together, and it feels great to know that it's perfectly safe if a kid decides to shove a bit in his or her mouth.
Not only that but making playdough at home will cost you pennies. You likely already have everything you need to make it right at home!
Kids will have a blast playing with this DIY playdough. Store it in an airtight container and it will last for months. It's a simple, long-lasting project that your kids will absolutely love!
How to make Patriotic DIY Playdough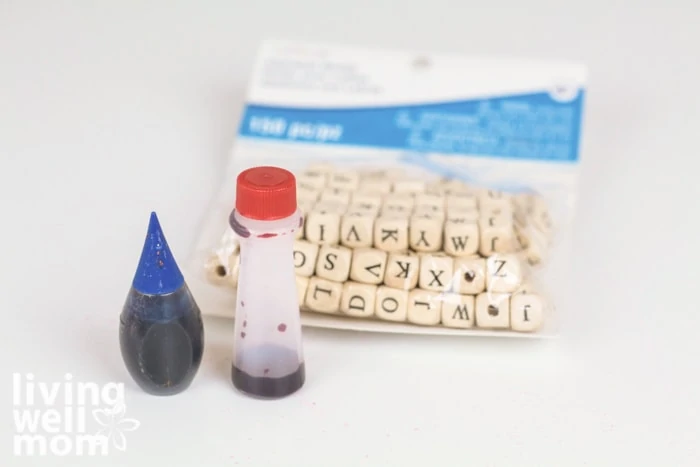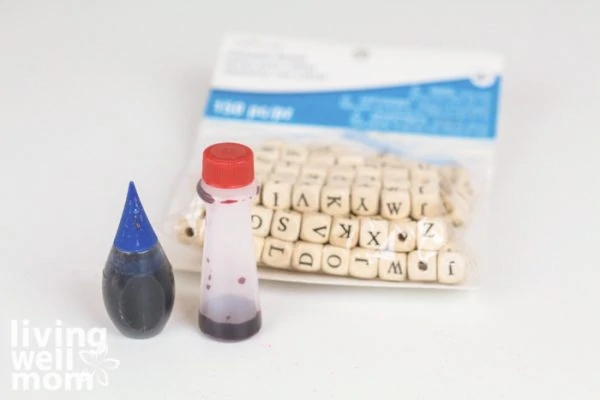 Making DIY playdough is simple! All you need are basic household supplies such as:
I recommend following along with my classic DIY playdough recipe here – it's easy to make and ready in less than 10 minutes.
Plus, if you want to play along with the fourth of July kids activities below, you may want to grab some alphabet beads like the ones pictured above.
Tips for Making This DIY Playdough Recipe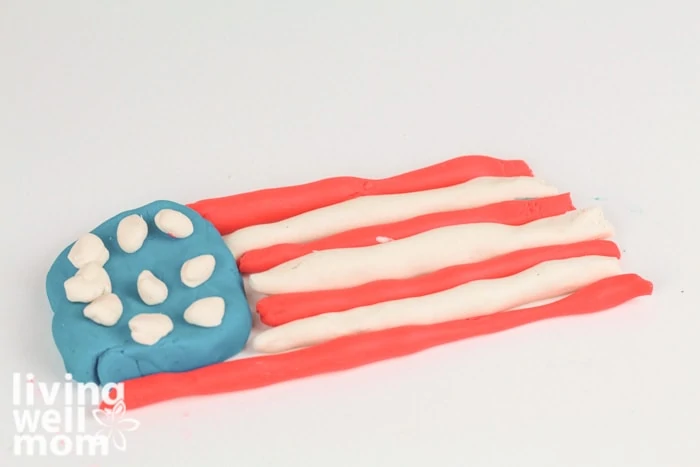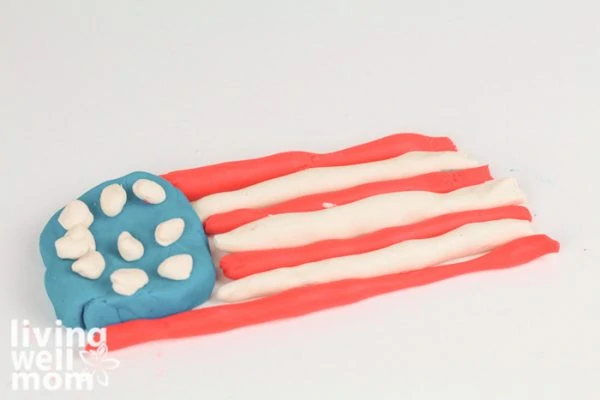 Having made this homemade playdough a few dozen times (at least!), I've learned some tips and tricks to make it even easier.
Mix your dry ingredients and then add the wet a little at a time to keep your dough from being too sticky.

We've found that bleached flour works better than unbleached.

You want to use all-purpose flour rather than cake flour or bread flour.

Add in the food coloring before you heat your DIY playdough to ensure it mixes in.
For bold colors like the red and blue in this project, you'll want to add a lot of gel food coloring.
Troubleshooting DIY Playdough Issues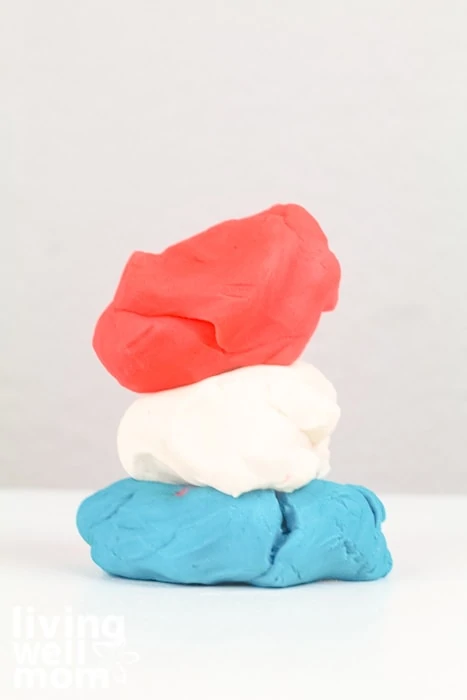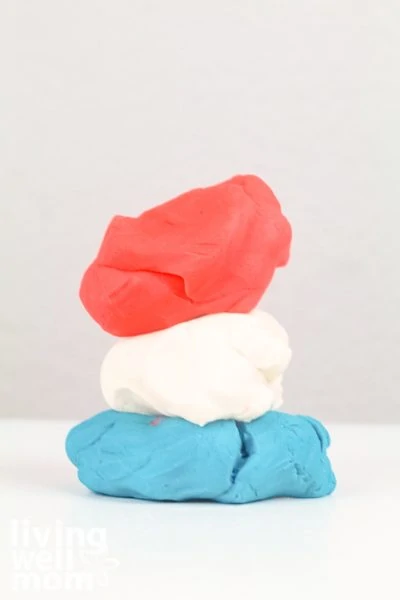 If you follow the recipe, you likely won't run into any issues. However, these are some common things readers have had pop up, and how they can be easily fixed.
If your dough is a bit sticky, you can add a little more flour. We found that using this gel food coloring
makes brighter colors than using liquid food coloring.
Once your playdough is completely cool, spend some time kneading it. This will make it even softer and help give it a "finished" look.
Making white playdough can be a bit tricky. If your dough turned out more yellow than white, it's likely due to using unbleached flour. Make sure you're using bleached flour and the lightest color of vegetable oil possible. Otherwise, you'll end up with a dough that's a bit yellow.
4th of July Activities for Kids to Try with Your Patriotic Playdough
Playdough can be more than just a sensory experience. We like to use DIY playdough as a learning tool for preschoolers and kindergarten kids. We did three fun patriotic variations with our homemade playdough.
Playdough Sight Words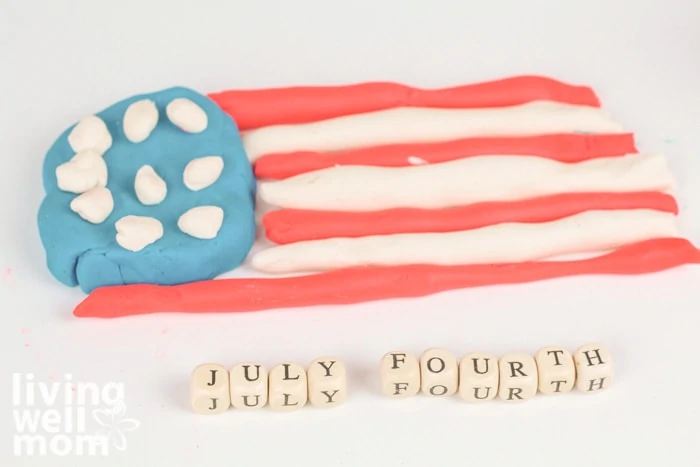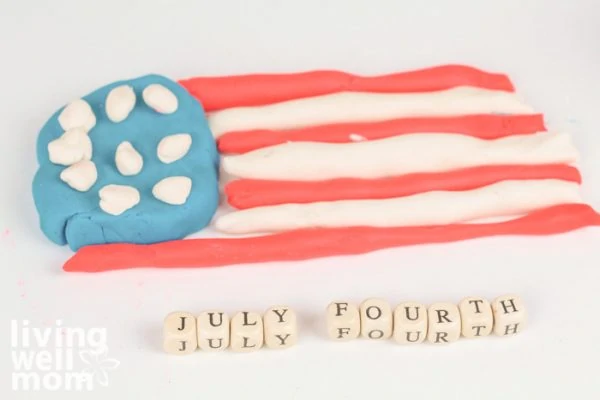 We used alphabet beads and our playdough to spell out patriotic sight words. For some weird reason, our alphabet blocks didn't have any Cs in them, so we were limited in the words we could spell. But my kids enjoyed spelling these patriotic words:
July Fourth
Independence Day
Patriotic
United States
You can also use alphabet beads to spell out other non-patriotic sight words, too.
Playdough Flag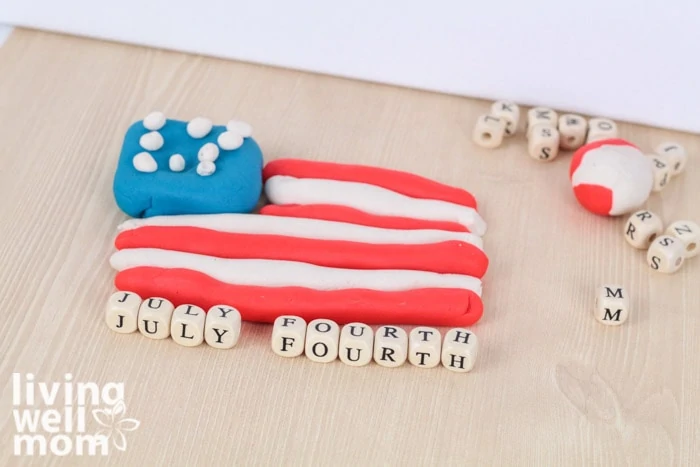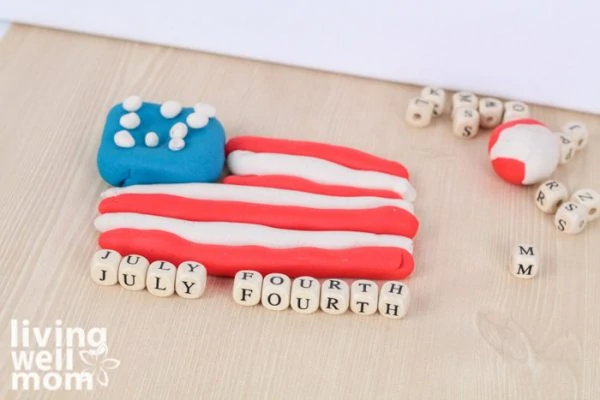 Roll out your red, white, and blue playdough and make it into a 3D flag. If you make it big enough, you might be able to add all 50 state stars! That would certainly keep kids busy for a while. 🙂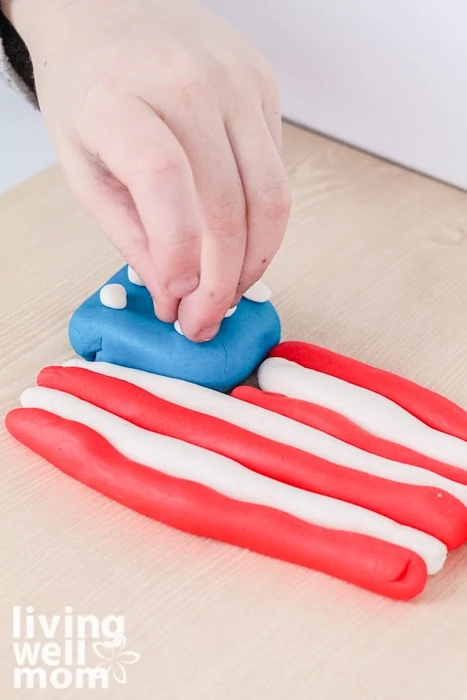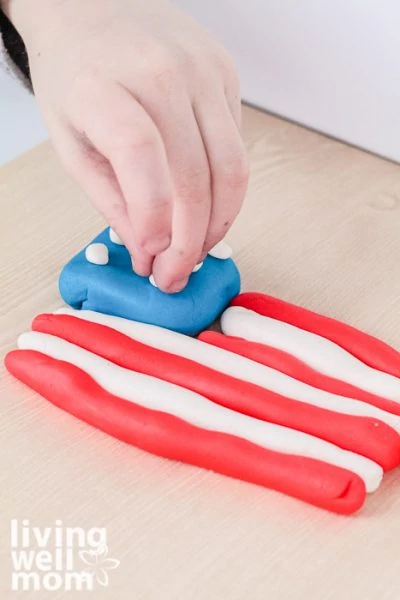 Playdough Letters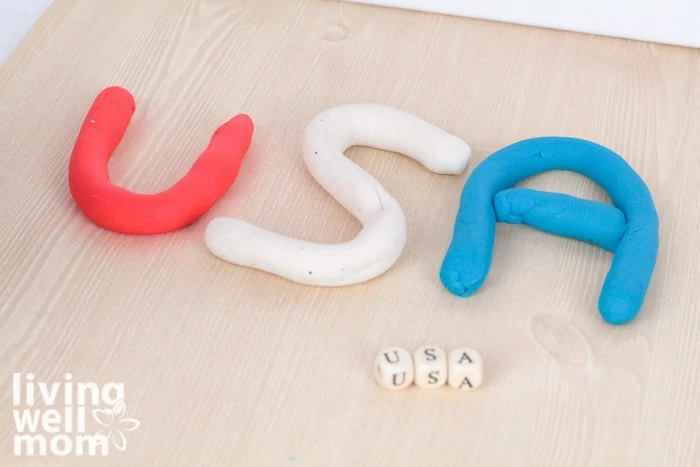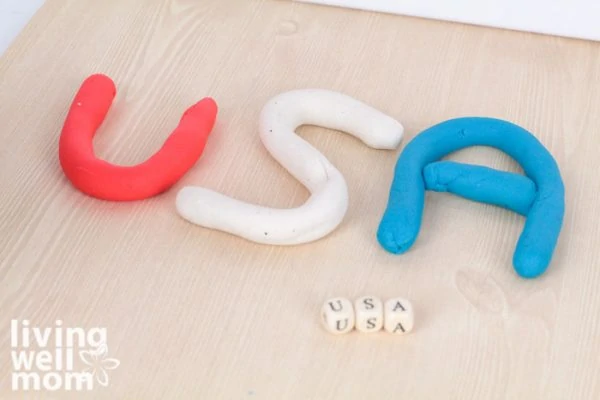 Roll out the playdough and use it to form letters and numbers if your kids aren't old enough for sight words. The act of rolling out the dough builds those fine motor skills, and it's a fun alternative to just making playdough snails.
Of course, you aren't limited to just spelling out "USA", although that certainly is a great option. Some other appropriate phrases and words to try include:
America
Independence
4th of July
1776
Freedom
Or any other word that's meaningful to your family.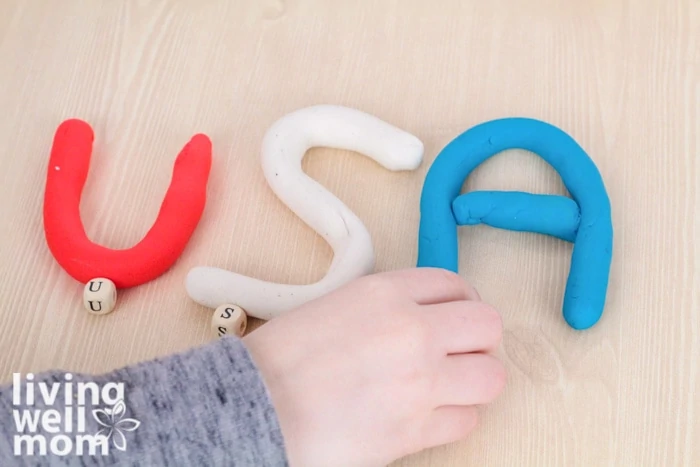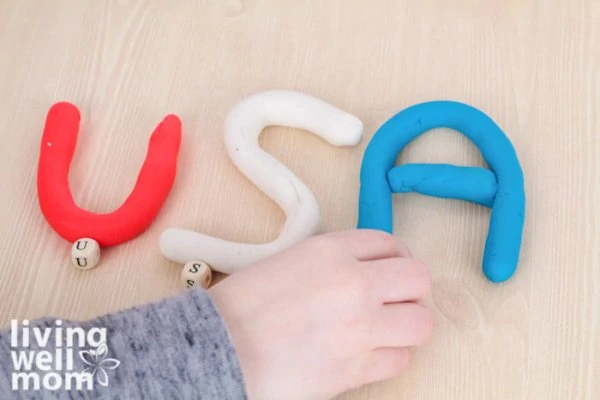 Patriotic Playdough: Final Thoughts
I hope you and your children enjoy these fun Patriotic homemade playdough activity ideas just as much as we did. These activities are fun to play all year long, and your child can pair playtime with learning time without ever knowing it.
Leave a comment and tell me what your children loved and if you came up with any of your own homemade playdough activities.
Pin the picture below to find the instructions later!