My four year old has so much energy that sometimes I'm taken aback. You wouldn't think much would surprise me since Luke is the youngest of my four kids (three boys, 1 girl), but he does. He runs and runs and runs some more. Then chases the dog. And catches chickens. He's a busy boy.
With my other three children in school all day, it's just Luke and me at home during the day. He has preschool two afternoons a week, but that still leaves lots of time to fill. It's surprisingly challenging to find things for him to do because as the youngest, there's always been someone for Luke to play with. So I end up being his go-to playmate and as I'm a very busy playmate, that doesn't always work.
I have a full time job working from home managing this site, writing, and photography. It's not easy balancing everything. I haven't figured it out and I admit that Luke watches more TV than he probably should. But I try to give myself grace and take each day as it comes.
But anyways, one of the activities Luke enjoys doing with and without me is homemade playdough.


My recipe for homemade playdough is still my most popular post here; I've been blown away with how many people have tried it and loved it.
Today, I have a slight variation of our homemade playdough recipe I'm excited to share with you. Because it's like A-MAZING. Like even more awesome than the original which is hard to believe.
We call it Calming Homemade Playdough.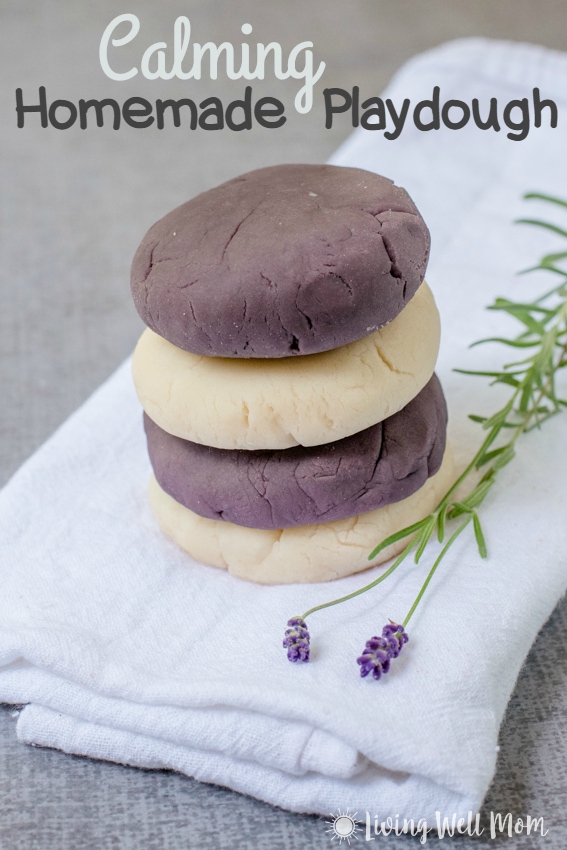 This simple version of homemade playdough helps my active boy to calm down and relax. All I have to do is whip up a batch of this playdough – it takes less than 10 minutes to make. No joke! – and Luke will calmly play for HOURS. He rolls his trucks in it, he puts little balls into his trucks, his play dinosaurs carry playdough, he cuts pretend food with a plastic knife. He loves it! It's fantastic!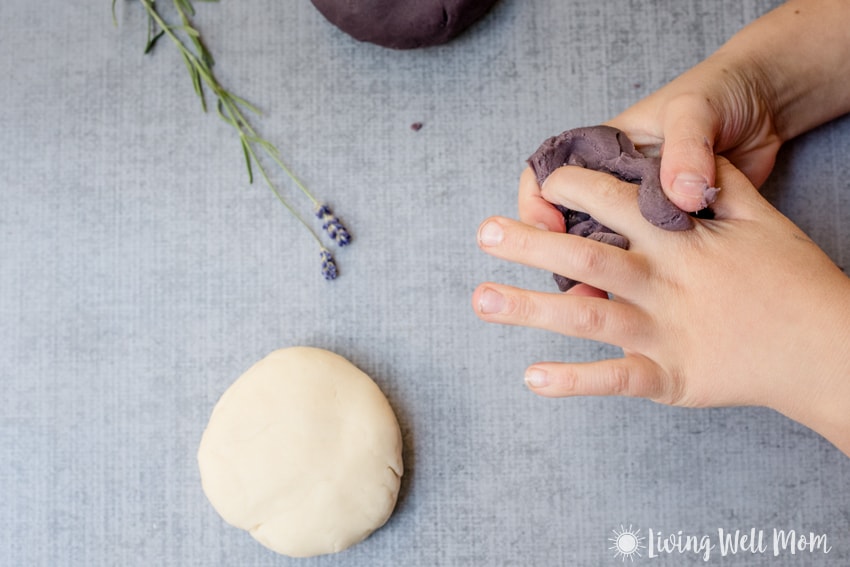 How to Make Lavender Calming Homemade Playdough
What you'll need:
For the easy step-by-step photo directions for making this easy recipe, head over to my original Homemade Playdough recipe post.
Or just scroll down to the bottom to print out the recipe.
Seriously this recipe is SO easy. One batch makes the equivalent of about 3-4 store bought playdough containers.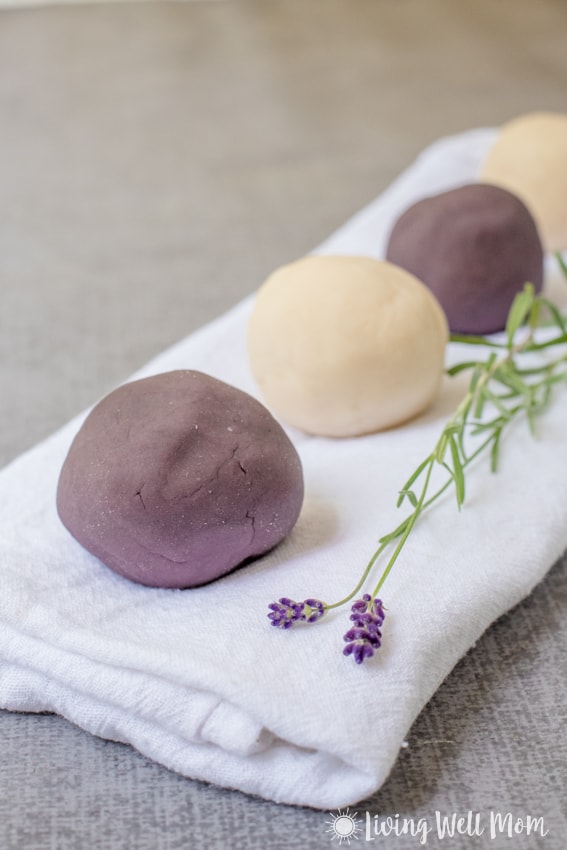 Make the playdough and simply work in 2-3 drops of lavender essential oil for a gentle soothing scent.
The more kids mold and squish their playdough, the more they'll enjoy the calming lavender aroma.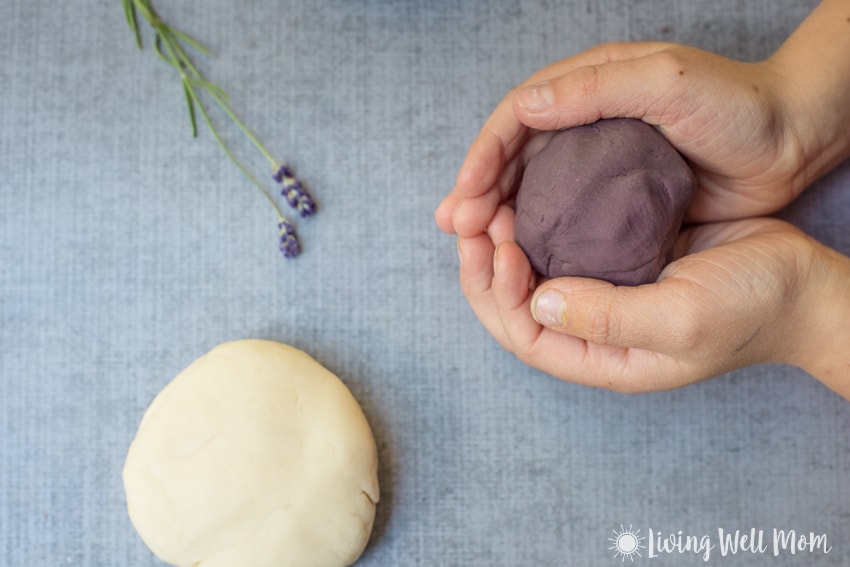 This isn't just for small children; my older children love calming homemade playdough too.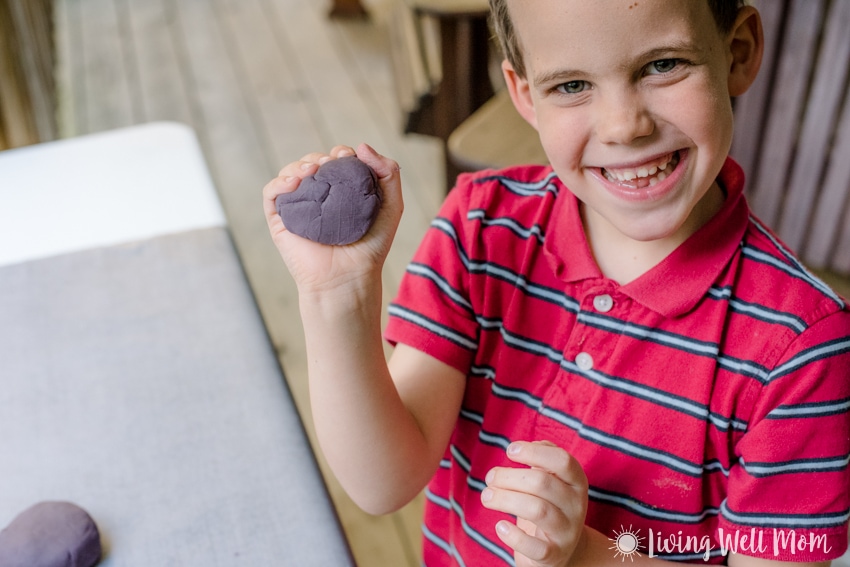 Even Nathan, who is 12 and sometimes struggles with calming himself down (he has high-functioning autism), feels better when he squishes around a ball.
For children with ADHD, autism, or generally have a harder time focusing or calming down, I recommend another essential oil in addition to the lavender, called Vetiver essential oil.
I discovered Vetiver a few months ago and is incredible for grounding and calming high-energy people, especially children. Read more about the benefits of Vetiver here. I made a Calming Essential Oil Roller for Nathan using Lavender & Vetiver and it really does help to calm him down if he's getting worked up. I've even used it for myself and love it.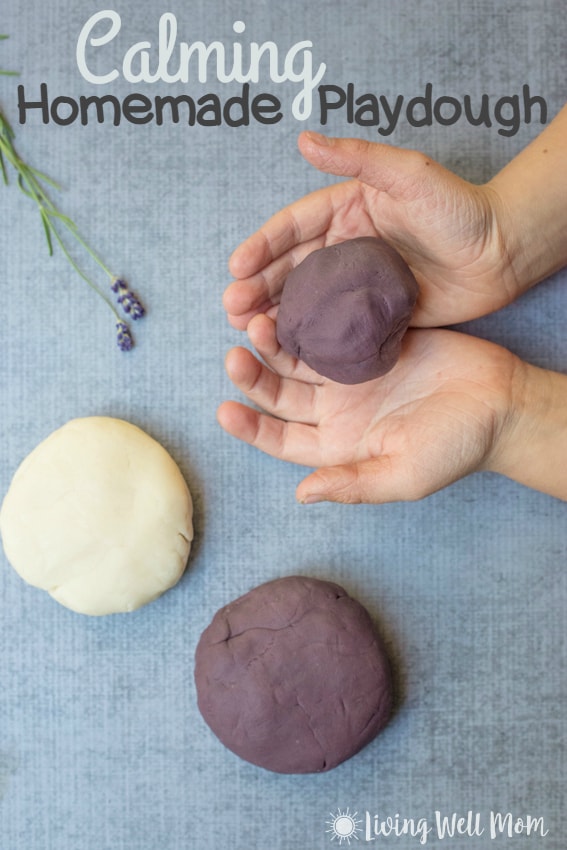 One note: Vetiver is rather strong-smelling and a little goes a long way, so you only need 1-2 drops at most.
It's no wonder why this Calming Homemade Playdough recipe is both a fun and relaxing activity for kids and moms!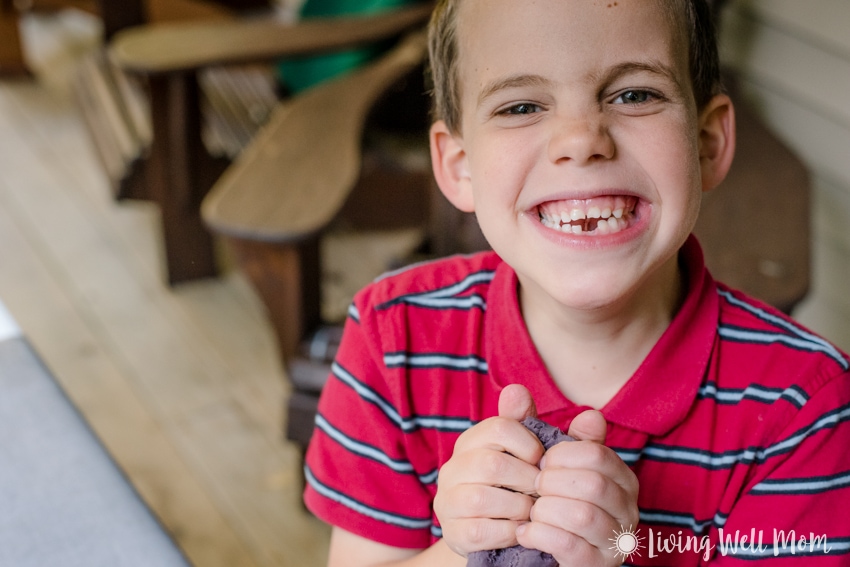 Questions? Check out my Easy Homemade Playdough FAQ.
Free Printable Activities with Playdough:
Printable Apple Playdough Mats
Print
Calming Homemade Playdough
Using essential oils, this Calming Homemade Playdough recipe is both a fun and relaxing activity for kids. Bonus: it takes less than 10 minutes to make!
Author:
Prep Time:

2 mins

Cook Time:

8 mins

Total Time:

10 mins
Instructions
Mix together all the ingredients, except the food coloring, in a 2 quart saucepan.
Cook over low/medium heat, stirring. Once it begins to thicken, add the food coloring.
Continue stirring until the mixture is much thicker and begins to gather around the spoon.
Remove the dough onto wax paper or a plate to cool.
Notes
Store in a sealed container or zip up bag.