Summer is a hectic time with changes to your daily routines. A week at camp or a family vacation can throw your normal schedule off big time. Luckily it doesn't have to be complicated to encourage your kids to read regularly.
This printable summer reading log will help motivate children to read in a simple manner. It doesn't require anything fancy; all you do is set up a goal and reward for your kids to work toward, then mark their progress with stickers or markers.
Teachers always encourage us to have our children read and continue to learn throughout the summer, so they don't experience "summer learning loss" and have to relearn things when they start back to school in the fall.
I grew up with my nose always in a book, thanks to my mom and grandmother passing down their love for reading. But I distinctly remember one thing that helped to really foster my love of books – a summer reading program at our local library.
We earned coupons for free ice cream cones as a reward for reading and the more we read, the greater the reward. My siblings and I really wanted that ice cream, so we read a lot. It was a great incentive for kids and it was simple for my mom.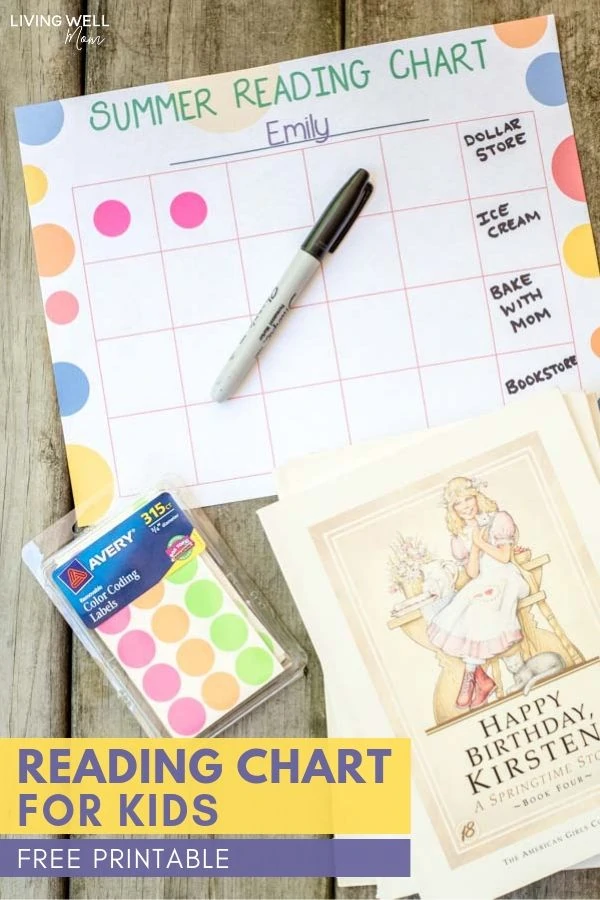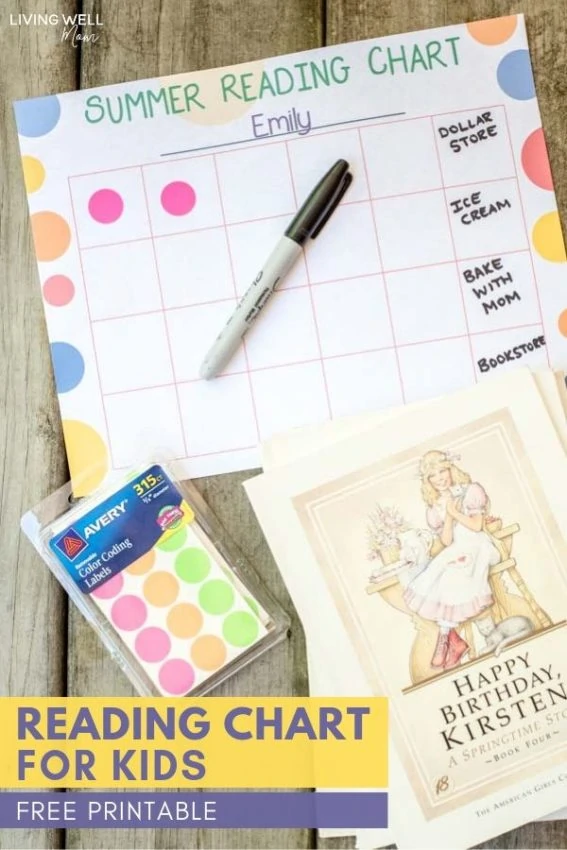 Now that I have my own kids, they all enjoy reading too and I'm always looking for great new (or classic) books to share with them and (trying) to prioritize time for reading.
It always sounds so simple, especially when summer first begins, but somehow the summer months fly by and we find our kids haven't read nearly as much as we had intended. At least that's how it happens – or used to – with my children.
But that's where this free printable reading log comes in.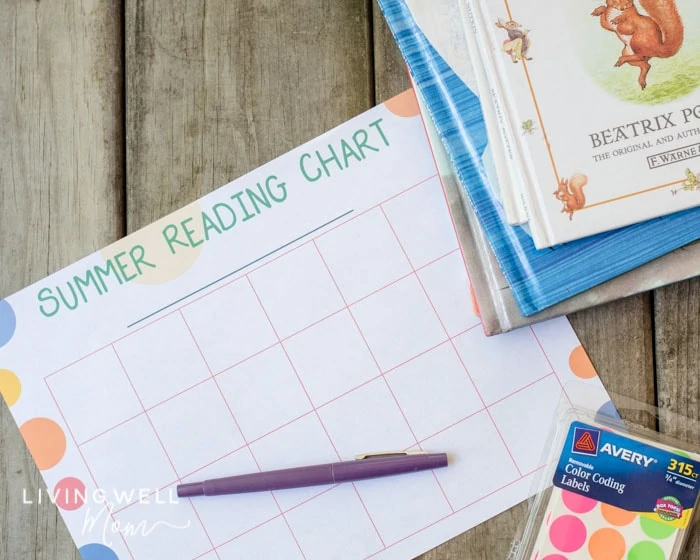 What is a reading log?
A reading log is simply a method of tracking books a child has read. It can be as simple as checking off how many books are read or include more detail, such as the name of the book and author, or even a short summary of the book. It can be online, in a fancy chart version, or a basic reading log sheet.

How to Make a DIY Summer Reading Program
Just like my childhood library, you can easily create your own DIY summer reading program right at home.
One town we used to live in didn't have a summer reading program. Technically they did, but there were no rewards – "the reward was reading itself" the library said. Um, that's kinda lame when you're trying to encourage our tv-video game-internet addicted culture to foster the love of reading.
Let's face it – kids, just like us adults, need a little motivation! And there's nothing wrong with that.
A few years ago, we set our own summer reading program using this simple reading log and reward system.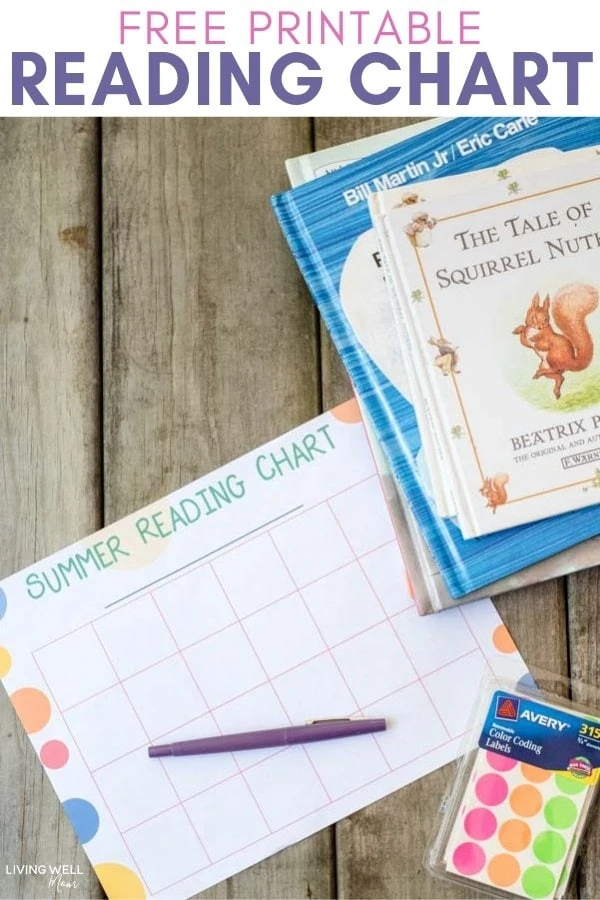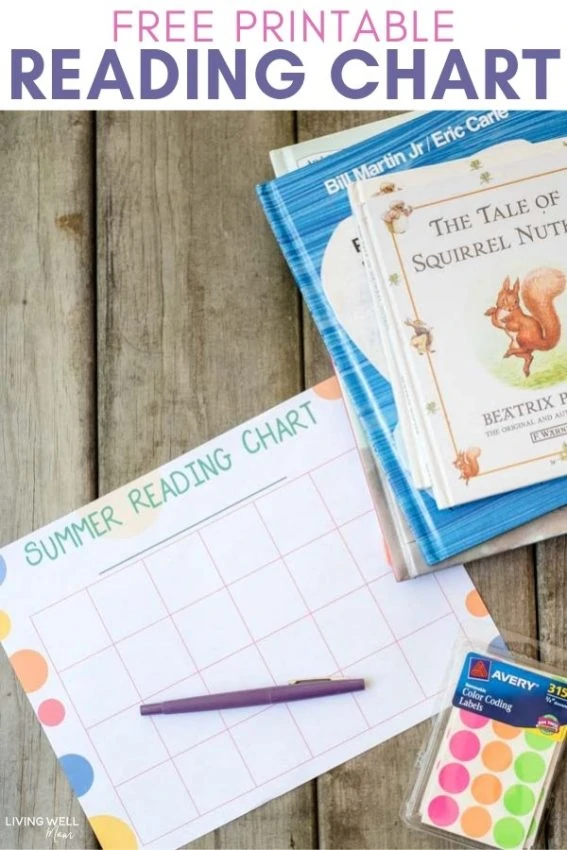 Here's what you'll need:
our free printable summer reading chart

How to Make this Reading Chart Work for Your Kids
Step 1. Print one copy of the reading log for each child.
Set your printer to landscape mode first.
Step 2. Write your child's name
There is space provided at the top of the reading log. Or have your child write their own name!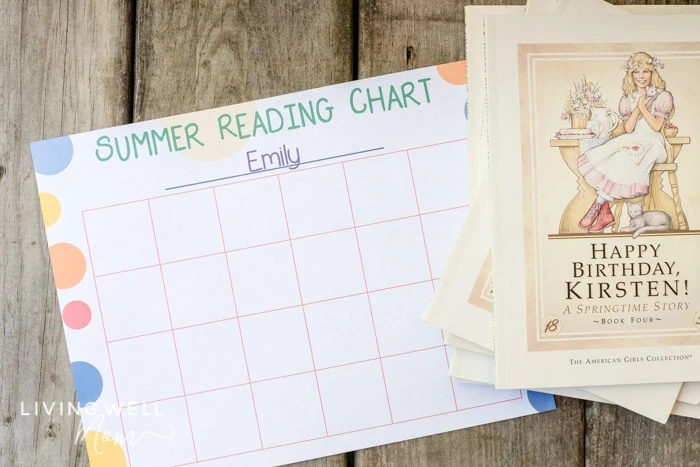 Step 3. Decide how many books your child should read
There are a few ways you can make this printable reading incentive chart work for your family. I recommend you personalize it for each child based on their reading skill level.
My oldest will read anything he can get his hands on. He's also very fast, so it's no big deal to read one or two novels in a day.
On the other hand, my youngest child is a newer reader and it takes her longer to finish a book.
I also have two more children who are 10 and 12 right in between.
Here are some awesome book ideas for kids ages 9-12.
Decide how many books you want your child to read in each reward tier.
Nathan will have 10 books, Emily will have 6, Joshua will have 2-3 novels or 5-6 other books, and Luke will read 4-5 of his own books.
Step 4. Assign awards for each child.
Here are a few ideas for rewards:
something from the dollar store
ice cream cone
a new book (we visit our local used book store)
personal pizza
even money, like $1 or something small (this may appeal to older kids)
special privilege – for example: reduced chores for a day or a later bedtime
something special with mom or dad – ie a trip to the store alone or a favorite activity (Emily loves baking with me)
dollar bins at Target
as a bigger item for LOTS of books read at the end of the summer, maybe a smallish toy they've been wanting
a family ice cream sundae party at the end of the summer
I recommend writing the rewards in the reading logs, so the kids can see what they're working toward. You could also use stickers (an ice cream or pizza sticker, etc.) for more fun.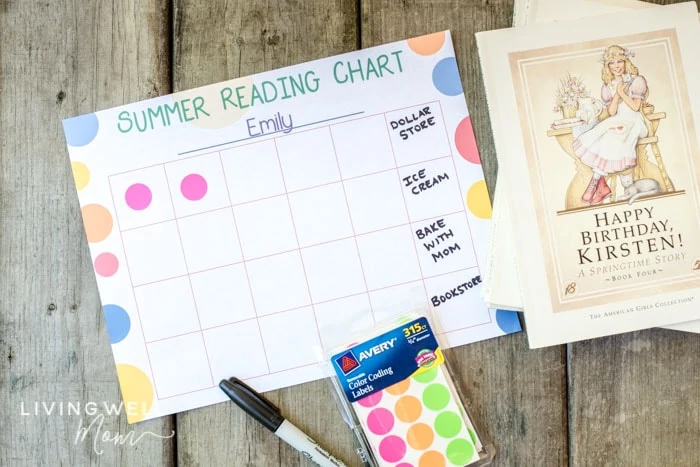 5. Track progress
To mark the kids' progress as they read books, use stickers or avery dots (I had tons leftover from our move last summer).
Or you could make a simple star or check mark with a colored marker.
For fast readers, like my 12-year-old, you may want to require them to give you a short synopsis of the book to make sure they actually did read it. You can use our more detailed free printable reading logs here.
A summer reading program for kids can be so much fun and is a great way to encourage kids to love reading.
Get yours here:


Don't think of a DIY summer reading program as one more thing to do this busy summer – the rewards themselves should be good incentive to get the kids reading without you needing to constantly remind them!
And I've found that sometimes the mere fact that one child was close to reaching a reward gave my other kid incentive to read more!
Whatever you do, summer is a great time to encourage kids to read and using your own printable reading chart is a great way to do it!
A summer reading program for kids can be so much fun and is a great way to encourage kids to love reading. Use this handy free printable for your kids and you'll be amazed at how much they'll read!