If you are wondering what books are good for 9 to 12-year-olds, here are some personal book recommendations from my own 10 and 12-year-olds that range from fun comic-book styles all the way to chapter books and classics. They're mom-approved too.
Have you ever gone to the library and wondered how to find good books for your kids? Or maybe you're shopping on Amazon and looking for book ideas as a gift idea.
There are so many options available, it can be tough to know what books are good or if your kids will actually read and enjoy them. The 9-12-year-old age group is also challenging because reading levels tend to vary quite a bit, as do interests.
Books for 9-12 Year Olds
I struggled with getting my middle son, Joshua, interested in reading for a long time until my mother, who is a teacher, sent him a variety of books and he found some favorites that sparked his interest, including #23 on this list. Now, they enjoy a monthly book club together over zoom (Grandma is in Texas and we're in New Hampshire) and Joshua is totally hooked on reading!
Often getting kids to read more takes trying something new. My 10-year-old son was a reluctant reader for a long time until he found the Dog Man books (#X on the list below.) While they're not as meaty as classic books, my son loved them so much, it inspired him to start reading other books too.
A little motivation goes a long way too. The Reading Fun & Motivation Kit will motivate your kids to read more and make it fun with 40+ exciting pages and options for K-8th grade. Learn more here.
Book Series for 9-10 Year Olds
Let's start with some favorite book series for kids. While this list will mostly include books for young boys (because I have 2 boys in this age range), girls will enjoy these book suggestions too. This is a book list filled with adventure, mystery, and more that will captivate young minds and hopefully help install a love of books.
#1 Zapato Power Books
by Jacqueline Jules and Miguel Beni­tez
Book 1 – Freddie Ramos Takes Off
Suggested Reading Ages: 7-10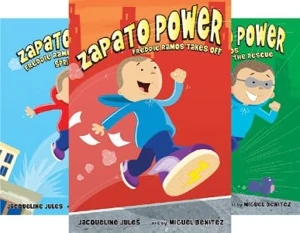 These fun intro-to-chapter books have larger print and fun illustrations throughout for an easier reading experience.
One day Freddie Ramos comes home from school and finds a strange box just for him. What's inside? ZAPATO POWER-shoes that change Freddie's life by giving him super speed! But what will Freddie do with his fast new skills? Weird things are happening at the Starwood Park Apartments where he lives, and his friends at school need his help. Is Freddie Ramos ready to be a hero? In this imaginative new story by Jacqueline Jules, an ordinary boy in a city neighborhood learns how to use his new-found powers for good. Illustrations by Miguel Benitez lend just a touch of comic-book style to this chapter book adventure.
Find more of the 7 Zapato Power book series here.
#2 Magic Tree House book series
by Mary Pope Osborne, Natalie Pope Boyce, and Will Osborne
Book 1 – Dinosaurs Before Dark
Suggested reading age – 7-10 years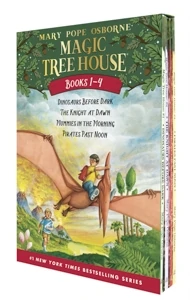 Where did the tree house come from? Before Jack and Annie can find out, the mysterious tree house whisks them to the prehistoric past. Now they have to figure out how to get home. Can they do it before dark…or will they become a dinosaur's dinner?
With over 50 books and a variety of interests in this series, the Magic Tree House books are perfect for readers who are just getting started with chapter books.
My 10-year-old son's favorite Magic Tree House book is #5 Night of the Ninjas.
Have you ever met a real live ninja? Jack and Annie do when the Magic Tree House whisks them back to ancient Japan, where they find themselves in the cave of a ninja master. Will they learn the secrets of the ninja? Or will the evil samurai warriors get them first?
My 12-year-old son's favorite Magic Tree House book is #24 Soccer on Sunday.
Goal! Jack and Annie have tickets to one of the most exciting soccer games ever—the 1970 World Cup! They are sure the famous soccer player Pelé will tell them a "secret of greatness." The game is nonstop action and the stands are packed. But how will they find Pelé in a crowd of 100,000 soccer fans? Have they failed their mission? Or will the answer come when they least expect it?
Find more of the 50+ Magic Tree House books here.
#3 Dog Man Series
by Dav Pilkey
Suggested reading age – 7-12 years
Book 1 – Dog Man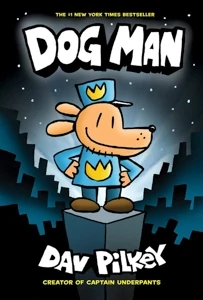 While the Dog Man books are more comic books than serious reading, my youngest son has enjoyed them so much, they've helped to inspire and encourage his love of reading. It's the only book we preorder for him and he anxiously waits at the door for his box on release day.
We call them "dessert books," a fun term I learned from Luke's 3rd-grade teacher because they are fun for kids, but shouldn't make up the entire reading list.
If you have a reluctant reader or simply want to introduce a fun series, the Dog Man books are bestsellers for good reason.
Dog Man is the crime-biting canine who is part dog, part man, and ALL HERO! Dav Pilkey's wildly popular Dog Man series appeals to readers of all ages and explores universally positive themes, including empathy, kindness, persistence, and the importance of being true to one's self.
Find more of the 10 books (and counting) Dog Man book series here.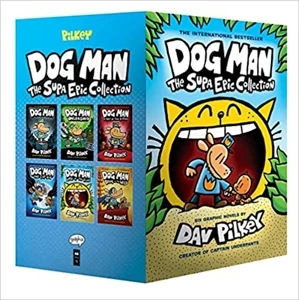 *Cat Kid is the next book series from the same author.
#4 Stink series
by Megan McDonald
Book 1 – Stink: the Incredible Shrinking Kid
Suggested reading age – 7-10 years old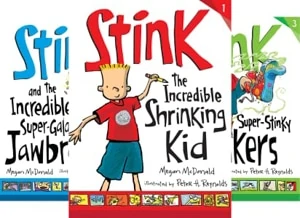 My 10 year old insisted the Stink books be added to this list; he loves them!
Every morning, Judy Moody measures Stink and it's always the same: three feet, eight inches tall. Stink feels like even the class newt is growing faster than he is. Then, one day, the ruler reads — can it be? — three feet, seven and three quarters inches! Is Stink shrinking? He tries everything to look like he's growing, but wearing up-and-down stripes and spiking his hair aren't fooling anyone into thinking he's taller. If only he could ask James Madison — Stink's hero, and the shortest person ever to serve as President of the United States.
In Stink's first solo adventure, his special style comes through loud and strong — enhanced by a series of comic strips, drawn by Stink himself, which are sprinkled throughout the book. From "The Adventures of Stink in SHRINK MONSTER" to "The Adventures of Stink in NEWT IN SHINING ARMOR," these very funny, homespun sagas reflect the familiar voice of a kid who pictures himself with super powers to deal with the travails of everyday life — including the occasional teasing of a bossy big sister!
Find more of the 12 book Shrink series here.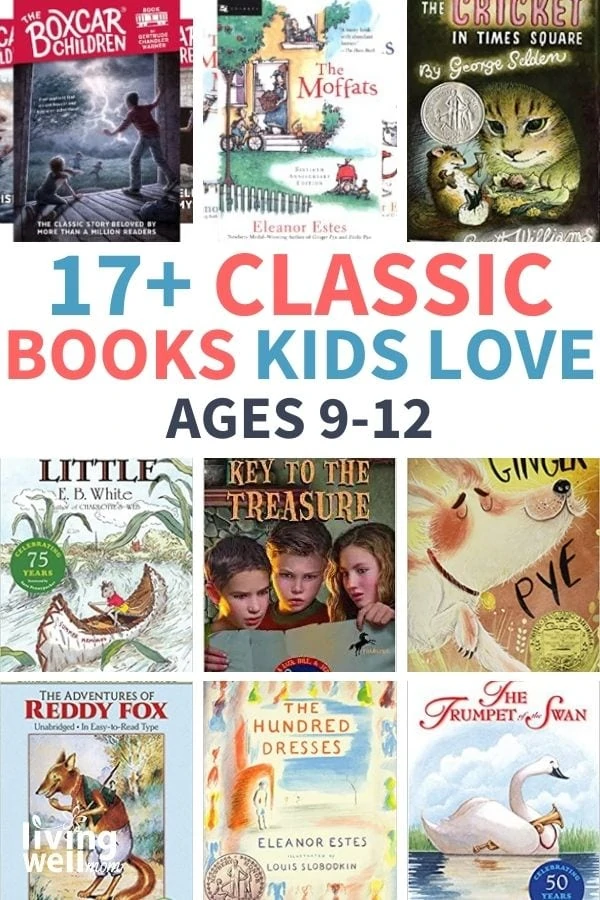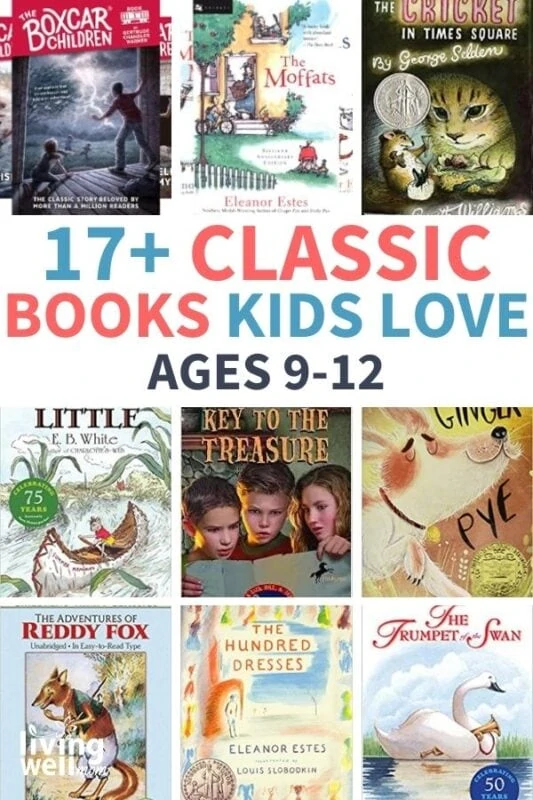 Classic Books for 9-12 Year Olds
#5 The Adventures of Reddy Fox
by Thorton Burgess
Find it here.
Suggested Reading Age: 8-14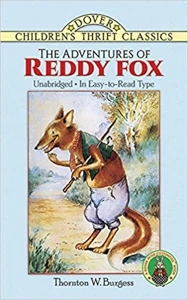 Thornton W. Burgess's books are some of my all-time favorites for kids. The books are clean, fun, and captivating for young imaginations. With text and occasional illustrations, they were some of the first chapter books I introduced to my four children as they started reading. (I grew up reading them as a young girl too.) I highly recommend this series as good books for kids.
When little Reddy Fox gets too big for his breeches and steals a plump pet hen in broad daylight, the stage is set for an exciting tale as Farmer Brown's boy pursues Reddy with loaded gun and Bowser the Hound. Fortunately, Reddy has wise Granny Fox on his side and, with some timely help from other woodland friends, manages to avoid an unhappy ending. As this timeless fable unfolds, children will delight in Reddy's risky antics and the commotion his behavior causes among Johnny Chuck, Drummer the Woodpecker, Peter Rabbit, and the other inhabitants of the Green Forest.
Thornton W. Burgess, author of Old Mother West Wind and many other children's classics, was a master at telling a good story that holds a child's attention while instilling an important lesson in the most painless and enjoyable fashion. First published in 1913, The Adventures of Reddy Fox was one of his finest efforts. In this inexpensive Dover edition, newly reset in large, easy-to-read type, it will delight children (and adults) today, just as it did their grandparents.
There are over 2 dozen books in the series. Some of our favorites include:
Find more of the 20+ Thornton W. Burgess books here.
#6 The Cricket in Times Square
by George Sheldon
Find it here.
Suggested Reading Age – 6-12 years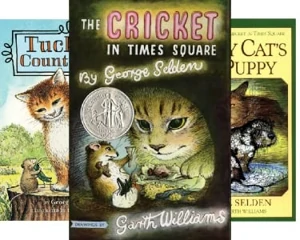 After Chester lands in the Times Square subway station, he makes himself comfortable in a nearby newsstand. There, he has the good fortune to make three new friends: Mario, a little boy whose parents run the falling newsstand, Tucker, a fast-talking Broadway mouse, and Tucker's sidekick, Harry the Cat. The escapades of these four friends in bustling New York City makes for lively listening and humorous entertainment. And somehow, they manage to bring a taste of success to the nearly bankrupt newsstand. Join Chester Cricket and his friends in this classic children's book by George Selden, with illustrations by Garth Williams. The Cricket in Times Square is a 1961 Newbery Honor Book.
This classic good book for kids is the first of a 7 book series with fun, talking animals, including Harry Kitten and Tucker Mouse. My kids have read most of these books and writing this book list has reminded me to grab the others for summer reading.
#7 Mr. Popper's Penguins
by Richard Atwater
Find it here.
Suggested reading age – 8-12 years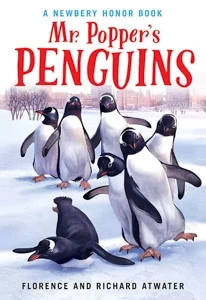 Whether you've seen the cute movie or not, this is a fun book the whole family will enjoy!
A classic of American humor, the adventures of a house painter and his brood of high-stepping penguins have delighted children for generations. "Here is a book to read aloud in groups of all ages. There is not an extra or misplaced word in the whole story."–The Horn Book. Newbery Honor Book.
#8-10 Classics by E.B. White
Suggested reading age – 8-12 years
Some Pig. Humble. Radiant. These are the words in Charlotte's Web, high up in Zuckerman's barn. Charlotte's spiderweb tells of her feelings for a little pig named Wilbur, who simply wants a friend. They also express the love of a girl named Fern, who saved Wilbur's life when he was born the runt of his litter.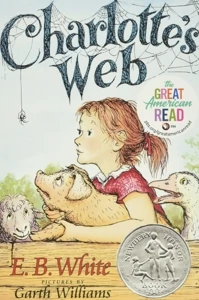 Stuart Little is no ordinary mouse. Born to a family of humans, he lives in New York City with his parents, his older brother George, and Snowbell the cat. Though he's shy and thoughtful, he's also a true lover of adventure. Stuart's greatest adventure comes when his best friend, a beautiful little bird named Margalo, disappears from her nest. Determined to track her down, Stuart ventures away from home for the very first time in his life. He finds adventure aplenty. But will he find his friend?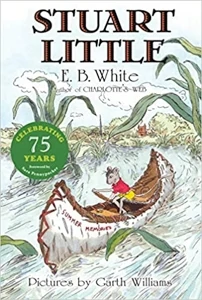 Like the rest of his family, Louis is a trumpeter swan. But unlike his four brothers and sisters, Louis can't trumpet joyfully. In fact, he can't even make a sound. And since he can't trumpet his love, the beautiful swan Serena pays absolutely no attention to him. Louis tries everything he can think of to win Serena's affection—he even goes to school to learn to read and write. But nothing seems to work. Then his father steals him a real brass trumpet. Is a musical instrument the key to winning Louis his love?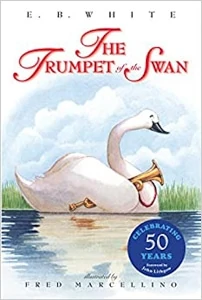 All three are classic books every family should own. My boys' favorite is Stuart Little.

#11 The Mouse and the Motorcycle
by Beverly Cleary
Get it here.
Suggested reading age – 8-12 years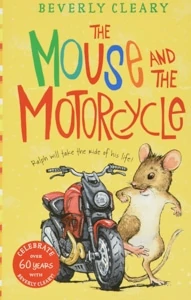 In this imaginative adventure from Newbery Medal–winning author Beverly Cleary, a young mouse named Ralph is thrown into a world of excitement when a boy and his shiny toy motorcycle check in to the Mountain View Inn. When the ever-curious Ralph spots Keith's red toy motorcycle, he vows to ride it. So when Keith leaves the bike unattended in his room one day, Ralph makes his move. But with all this freedom (and speed!) come a lot of obstacles. Whether dodging a rowdy terrier or keeping his nosy cousins away from his new wheels, Ralph has a lot going on! And with a pal like Keith always looking out for him, there's nothing this little mouse can't handle.
#12-16 Books by Eleanor Estes
Suggested reading age – 10-12 years
I grew up reading The Moffat books and others by Eleanor Estes and now my own children love them too. These classic books, published between 1941 and 1983, have received a Newbery Medal and Newbery Honors, among other recognitions. As a mom, I love the simplicity and fun in these books. I even read them occasionally as an adult because they are such enjoyable books to read. I'm not sure which one is our favorite – The Middle Moffat is particularly funny, but Pinky Pye is also hilarious!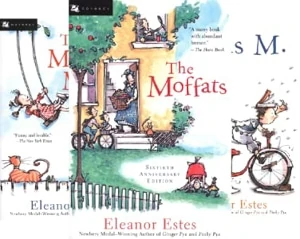 Meet the Moffats. There is Sylvie, the oldest, the cleverest, and-most days at least-the responsible one; Joey, who though only twelve is the man of the house…sometimes; Janey, who has a terrific upside-down way of looking at the world; and Rufus, who may be the littlest but always gets in the biggest trouble. Even the most ordinary Moffat day is packed with extraordinary fun. Only a Moffat could get locked in a bread box all afternoon, or dance with a dog in front of the whole town, or hitch a ride on a boxcar during kindergarten recess. And only a Moffat could turn mistakes and mischief into hilarious one-of-a-kind adventure.
Who is Jane Moffat, anyway? She isn't the youngest in the family, and she isn't the oldest-she is always just Jane. How boring. So Jane decides to become a figure of mystery . . . the mysterious "Middle Moffat." But being in the middle is a lot harder than it looks. In between not rescuing stray dogs, and losing and finding best friends, Jane must secretly look after the oldest inhabitant of Cranbury . . . so he can live to be one hundred. Between brushing her hair from her eyes and holding up her stockings, she has to help the girls' basketball team win the championship. And it falls to Jane-the only person in town with enough courage to stand up to the frightful mechanical wizard, Wallie Bangs.
Find the 4 Moffat books here.
Meet the marvelous Pyes – There is Mrs. Pye, the youngest mother in town; Mr. Pye, a famous bird man, who handles all the nation's important bird problems; Rachel Pye, who is so reasonable she can make unreasonable ideas sound like good ones; Jerry Pye, who knows about rocks of all sorts and plans to grow up to be a rock man; Uncle Bennie, who is Jerry and Rachel's uncle—even though he's only three years old. Lastly is Ginger Pye, the "intellectual dog," who Jerry bought for a hard-earned dollar. The most famous pup in all of Cranbury, Ginger knows tons of tricks, is as loyal as he is smart, and steals the hearts of everyone he meets . . . until someone steals him!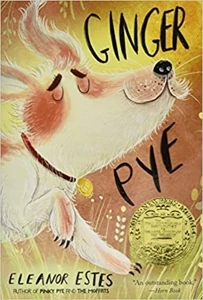 Meet Pinky, a furious black kitten who adopts the Pye family. The Pyes have some of the smartest pets around—there's Ginger the intellectual dog, and Gracie the clever old cat—but Pinky is more than smart enough to earn a place in the Pye's hearts. She can box with Ginger, play games with Mr. Pye, and—Rachel and Jerry can hardly believe their eyes—even type out her life story!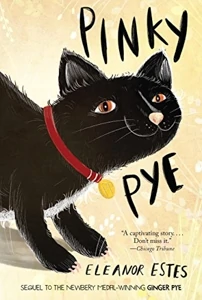 While this book may be more geared toward girls, my 12 year old enjoyed it and it has a great message with a wonderful storyline.
Wanda Petronski is ridiculed by her classmates for wearing the same faded blue dress every day. She claims she has one hundred dresses at home, but everyone knows she doesn't. When Wanda is pulled out of school one day, the class feels terrible, and classmate Maddie decides that she is "never going to stand by and say nothing again." A gentle tale about bullies, bystanders, and having the courage to speak up.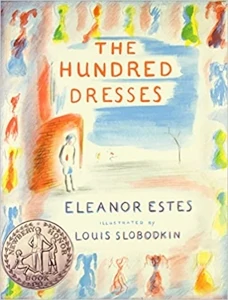 #17 The Borrowers
by Mary Norton
Find it here.
Suggested reading age – 8-12 years
The Borrowers—the Clock family: Homily, Pod, and their fourteen-year-old daughter, Arrietty, to be precise—are tiny people who live underneath the kitchen floor of an old English country manor. All their minuscule home furnishings, from postage stamp paintings to champagne cork chairs, are "borrowed" from the "human beans" who tromp around loudly above them. All is well until Pod is spotted upstairs by a human boy! Can the Clocks stay nested safely in their beloved hidden home, or will they be forced to flee? The British author Mary Norton won the Carnegie Medal for The Borrowers in 1952, the year it was first published in England.
I recently introduced this delightful series, another of my own childhood favorites, to my 12-year-old and he poured over all 5 books in just a few days. We even named one of our chickens Arrietty!
See the whole 5 book Borrowers series here.
#18 The Boxcar Children
by Gertrude Chandler Warner
Get it here.
Suggested reading age: 8-12 years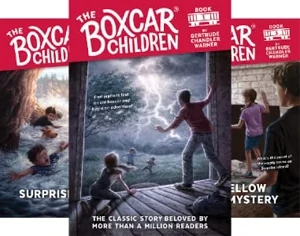 The Boxcar Children is a classic, clean mystery series with over 150 books! We have many and my children love reading and re-reading them over and over again. As a parent, I love how the 4 siblings work together to solve mysteries; it's a great example for kids.
Henry, Jessie, Violet, and Benny are brothers and sisters. They're orphans too, and the only way they can stay together is to make it on their own. When the children find an abandoned boxcar in the woods, they decide to call it home―and become the Boxcar Children!
See more of the Boxcar Children series here.
#19 The Little House in the Big Woods
by Laura Ingalls Wilder
Find it here.
Suggested reading age: 8-12 years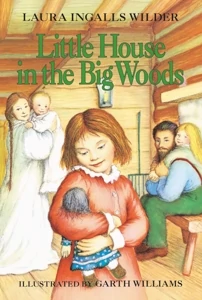 Based on the real-life adventures of Laura Ingalls Wilder, Little House in the Big Woods is the first book in the award-winning Little House series, which has captivated generations of readers. This edition features the classic black-and-white artwork from Garth Williams.
Little House in the Big Woods takes place in 1871 and introduces us to four-year-old Laura, who lives in a log cabin on the edge of the Big Woods of Wisconsin. She shares the cabin with her Pa, her Ma, her sisters Mary and Carrie, and their lovable dog, Jack. Pioneer life isn't easy for the Ingalls family, since they must grow or catch all their own food as they get ready for the cold winter. But they make the best of every tough situation. They celebrate Christmas with homemade toys and treats, do their spring planting, bring in the harvest in the fall, and make their first trip into town. And every night, safe and warm in their little house, the sound of Pa's fiddle lulls Laura and her sisters into sleep.
While I've read out loud the first couple books in the classic Little House on the Prairie series from time to time with my kids, my 12-year-old recently discovered the series and has loved them. He doesn't care that the main character is a girl; he enjoys it so much that he's even asked for the Rose series.
Find the Little House 9 book series here.
#20 The Story of Doctor Dolittle
by Hugh Lofting
Find it here.
Suggested reading age – 8-12 years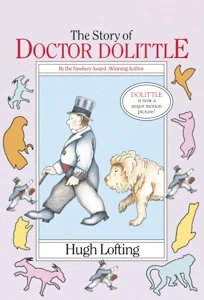 Doctor Dolittle is one of kind. Not only can he talk to animals—but he can understand them too! One day Doctor Dolittle receives a message from Africa—the monkeys there need his help. So he sails off from his home, bringing along all his pals: Dab-Dab, the duck; Jip, the dog; Gub-Gub, the baby pig; Polynesia, the parrot; and Too-Too, the owl. Join the doctor and his animal friends on an amazing adventure. They even meet the rarest of all animals, the two-headed pushmi-pullyu!
This is another classic that my children love; the whimsical characters and ability to talk with animals is magical.
#21 The Black Stallion
by Walter Farley
Find it here.
Suggested reading age: 10-14 years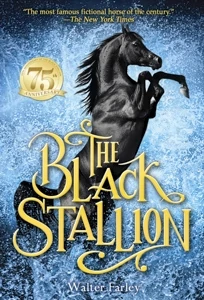 First published in 1941, Walter Farley's best-selling novel for young readers is the triumphant tale of a boy and a wild horse. From Alec Ramsay and the Black's first meeting on an ill-fated ship to their adventures on a desert island and their eventual rescue, this beloved story will hold the rapt attention of readers new and old.
While my boys haven't read this book yet, my 14-year-old daughter adores the Black Stallion and more from this wonderful series about horses. I also loved it when I was growing up. Tip: The Island Stallion was my personal favorite growing up..
Find more fascinating novels about horses by Walter Farley here.
Family Essential ↓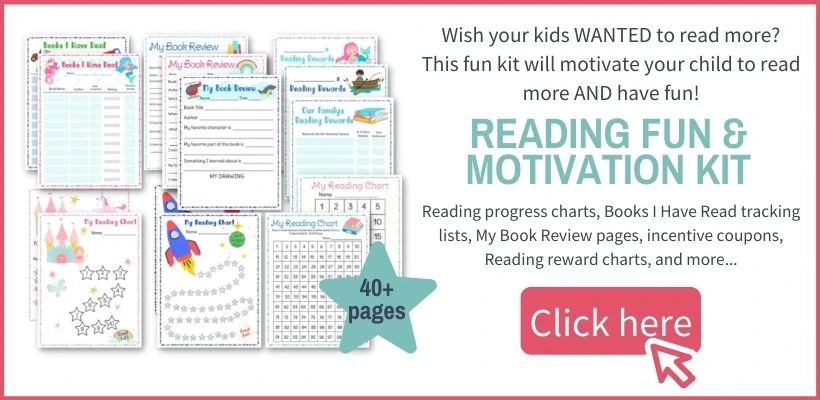 More Chapter Books for 9-12-year-Olds
#22 Frindle
by Andrew Clements
Find it here.
Suggested reading age – 8-12 years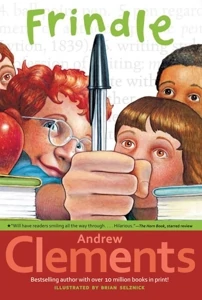 From bestselling and award-winning author Andrew Clements, a quirky, imaginative tale about creative thought and the power of words that will have readers inventing their own words.
Is Nick Allen a troublemaker? He really just likes to liven things up at school — and he's always had plenty of great ideas. When Nick learns some interesting information about how words are created, suddenly he's got the inspiration for his best plan ever…the frindle. Who says a pen has to be called a pen? Why not call it a frindle? Things begin innocently enough as Nick gets his friends to use the new word. Then other people in town start saying frindle. Soon the school is in an uproar, and Nick has become a local hero. His teacher wants Nick to put an end to all this nonsense, but the funny thing is frindle doesn't belong to Nick anymore. The new word is spreading across the country, and there's nothing Nick can do to stop it.
While I haven't personally read this book, my son loves it and my mother (who is also a teacher) recommended it and my son loves it.
#23 Adventures According to Humphrey
by Betty G. Birney
Find it here.
Suggested reading age: 8-12 years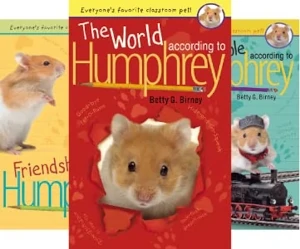 This is the book series that led my then 10-year-old to fall in love with reading. He has read and reread each of the 12 Humphrey books so many times, he's lost count!
You can learn a lot about life by observing another species. That's what Humphrey was told when he was first brought to Room 26. And boy, is it true! In addition to having FUN-FUN-FUN in class, each weekend this amazing hamster gets to sleep over with a different student, like Lower-Your-Voice-A.J. and Speak-Up-Sayeh. Soon Humphrey learns to read, write, and even shoot rubber bands (only in self-defense, of course). With lots of friends to help, adventures to enjoy, and a cage with a lock-that-doesn't- lock, Humphrey's life is almost perfect. If only the teacher, Mrs. Brisbane, wasn't out to get him!
Find more According to Humphrey books here (there are currently 12.)
#24 Life According to Og the Frog
by Betty G. Birney
Find it here.
Suggested reading age: 8-12 years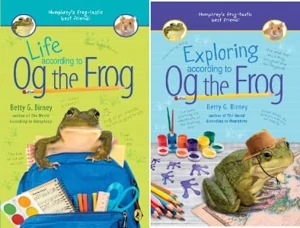 This book goes along with the Humphrey the Hamster books and my son says they are just as good.
The adventure continues in Room 26 with Humphrey's frog-tastic best friend, Og the Frog! Og the Frog has just moved into Room 26, and the place is hopping. There are lively kids, new routines, and a furry neighbor who seems to squeak all day. Luckily, everyone seems friendly and–BING, BANG, BOING!–some even put juicy crickets in his tank. But just as Og is getting used to this new life, there is talk of sending him back to the pond. Sure, he misses his friends, but now he has a lot more time for his favorite hobby–making up songs and poems–and he loves listening to his new friends and giving them encouraging BOINGS just when they need them. And there's that steady supply of crickets . . . Og doesn't want to say goodbye to his new life or his furry neighbor. But will his classmates decide to keep Og as their classroom pet or take him back to his old life, at the pond?
#25 Johnny Tremain
by Esther Forbes
Find it here.
Suggested reading age – 10-14 years
My 12 year old insisted this book be included in the list; he really loves it.
This Newbery Medal-winning novel about the Revolutionary War is a classic of children's historical fiction.
Fourteen-year-old Johnny Tremain, an apprentice silversmith with a bright future ahead of him, injures his hand in a tragic accident, forcing him to look for other work. In his new job as a horse-boy, riding for the patriotic newspaper The Boston Observer and as a messenger for the Sons of Liberty, he encounters John Hancock, Samuel Adams, and Dr. Joseph Warren. Soon Johnny is involved in the pivotal events of the American Revolution, from the Boston Tea Party to the first shots fired at Lexington. Powerful illustrations by artist Michael McCurdy bring this classic to life.
#26 Key to the Treasure
by Peggy Parish
Suggested reading age – 8-12 years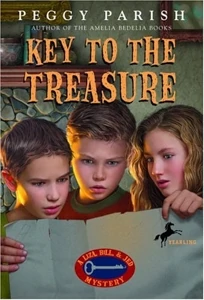 Unfortunately, this book appears to be currently out of print, but it's worth picking up a used copy from a used book store (or an online used bookstore) because it's that good. Written by the same Peggy Parish who wrote the beloved children's book series, Amelia Bedelia, this is a fantastic clue and mystery books kids will read over and over!
#27 Looking for Home – Beyond the Orphan Train series
by Arleta Richardson
Find it here.
Suggested reading age – 8-12 years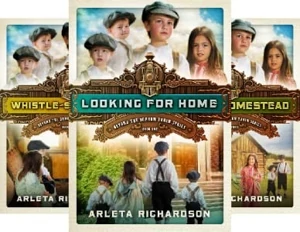 This book takes us back to 1907 and follows the real-life adventures of four children in search of a true home.
Find the 4 book series here.
#28 The Swamp Robber – The Sugar Creek Gang series
by Paul Hutchens
Find it here.
Suggested reading age – 8-12 years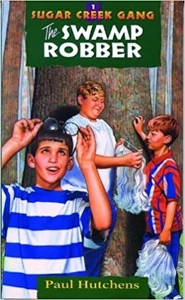 The Sugar Creek Gang series chronicles the faith-building adventures of a group of fun-loving, courageous Christian boys. These classic stories have been inspiring children to grow in their faith for more than five decades.
Find more in the 30+ book series here.
#29 The Thieves of Tyburn Square – The Trailblazer series
by Dave & Neta Jackson
Find it here.
Suggested reading age – 10-14 years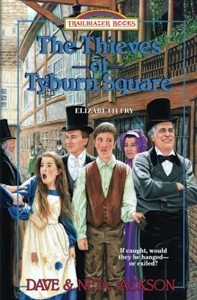 Each book in the 40-book Trailblazer book series by Dave & Neta Jackson features a different historical figure, including many missionaries. The books are written from a fictional child's point of view and do a fantastic job of sharing stories from the past.
My 12 year old's favorite book from the series is The Thieves of Tyburn Square while my 10 year old's favorite book is the Gold Miner's Rescue.
Find more of the 40-book Trailblazer series here.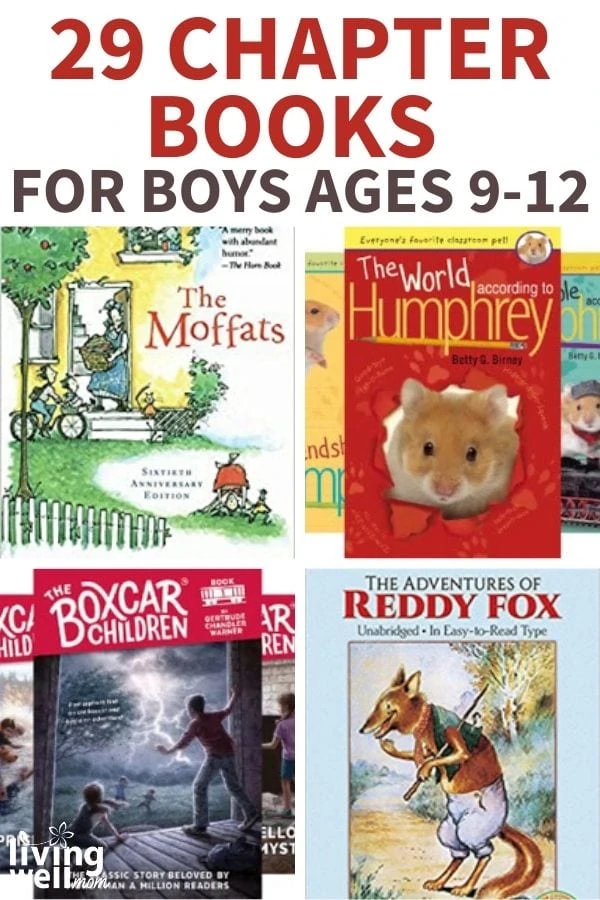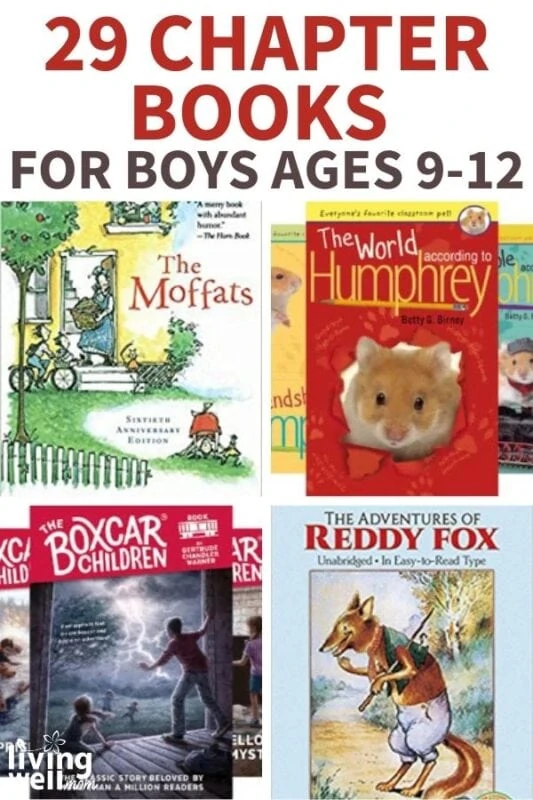 How to Motivate Your Kids to Read
I hope this book list for 9-12 year olds inspires you and your kids; there are so many incredible books out there and these are just a few of my family's favorites.
If you can't get your kids excited about books or you wish they would get more out of their reading, the Reading Fun & Motivation Kit is for you! This fun kit will motivate your child to read more and make it FUN! Because books are meant to be enjoyed, explored, and experienced without mom's persuading or pestering! Find it here.

Which book will your child read first?