Looking to supplement your little one's Easter basket? Look no further than this fluffy Easter slime. Made with everyday household supplies, you probably have everything you need at home already!
Easter is a time for Peeps, chicks, baskets, and picnics. But it's also time for… slime?
Once you make this fluffy slime for Easter, you won't want to make any other kind of slime recipe! Let your kids whip up a batch when they are home from school, or surprise them with some hidden in their Easter eggs on Easter morning! Just keep the slime away from their Sunday best clothing.
Follow along with our easy guide and learn how to make this version of fluffy slime. It's an inexpensive, fun way to keep your kids entertained this Easter…and for many weeks after!
Easter Slime: The Perfect Addition to Your Easter Basket
One of the best parts of spring in our house is putting together Easter baskets for the kids! They get so excited to see them every year.
As my kids get older, it becomes harder to find things that work in their Easter baskets. The last thing I want is to give my four kids a basket full of sugar!
Let me tell you…Easter slime has been a hit year after year for our kids. Not only is it a non-candy Easter basket filler, but it's something that keeps them away from screens and busy playing. All four get a couple of slimes in their baskets, so they even collaboratively play together, which is great.
You can find some of my other non-candy Easter basket ideas here!
How to Make Fluffy Slime for Easter
The other major win to this DIY Easter slime is it's very easy to put together. If you want, you can even have the kids help you (if you aren't trying to keep it as an Easter surprise).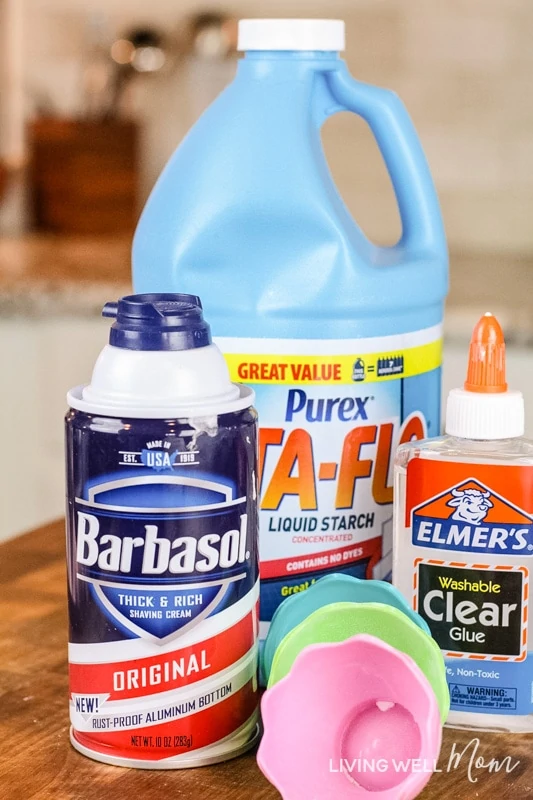 Easter Slime Supplies
First, gather your ingredients to make the slime! Thankfully these are all pretty common household supplies…with the exception of maybe the Easter eggs. 😉
Step by Step Directions for Making the Easter Slime
Making fluffy slime is one of the easiest slime recipes ever! Truly, if you can measure and stir, you can make slime! It's simple.
First, mix together one part shaving cream (the aerosol canned kind) with one part glue. The amount you should use depends on how much finished product you want, so just stick to a 1:1 ratio.
Next, add your food coloring. A little goes a long way here! Don't make it super saturated, as that's when you can get a bit of staining to happen.
For Easter slime, I like to stick with soft pastels. Light orange, soft pink, baby blue, mint green, and pastel purple are a few ideas for you. If you want to do multiple colors, you'll need to make the slime base in different containers too.
Next, add your starch or contact solution a little at a time. Stir the slime together. Keep adding your starch or contact lens solution until the slime is no longer sticky.
If you add too much starch, your slime will get stringy and won't be fun to play with. So make sure you only add it a little bit at a time.
Once the slime forms, stretch and pull it until all stickiness is gone and the slime is bonded. This is where your kids can come in handy and help!
Ideas for Playing with Easter Slime
Let the kids play at this point. Give them the Easter eggs and fill them up with Easter fluffy slime. You can also make Easter egg shapes from your slime or turn the fluffy slime into little chicks or flowers!
Slime is great for sensory play, so allow your child to explore the texture and let their imagination run wild!
Kids love this version of slime because it is stretchy and squishy. It doesn't spread as much as other slimes, which makes it easier to clean up, too!
How to Store Slime
To keep the slime fresh and ready to be played with over and over, keep it stored in an airtight container. I like to separate each color into its own container if they aren't already mixed together by my kids!
More Fun Easter Ideas:
Tye-Dye Easter Egg Sun Catchers
Pin the image below to save the fluffy slime recipe for later.