With so many Easter basket ideas, it's hard to figure out exactly what our kids might enjoy without stuffing a whole bunch of candy in their basket. So, I brought in a secret weapon, my 10-year-old daughter. She scoured Living Well Mom and a few other blogs (under my supervision, of course) to find her favorite non-candy Easter basket fillers.
Putting it all together may have taken a little longer than usual because she'd stop to ask when we were making all of them, but I suppose that confirmed that they were truly kid-approved Easter basket goodies. So, whether you want to make them or buy them, here are my daughter's top Easter gift ideas. Enjoy!

Kid-Approved Candy-Free Easter Basket Ideas
To be completely honest, my daughter was a little disappointed in a candy-less Easter basket idea, BUT her opinion quickly changed after looking at all the options. That's a good sign, right?
Homemade Easter Basket Fillers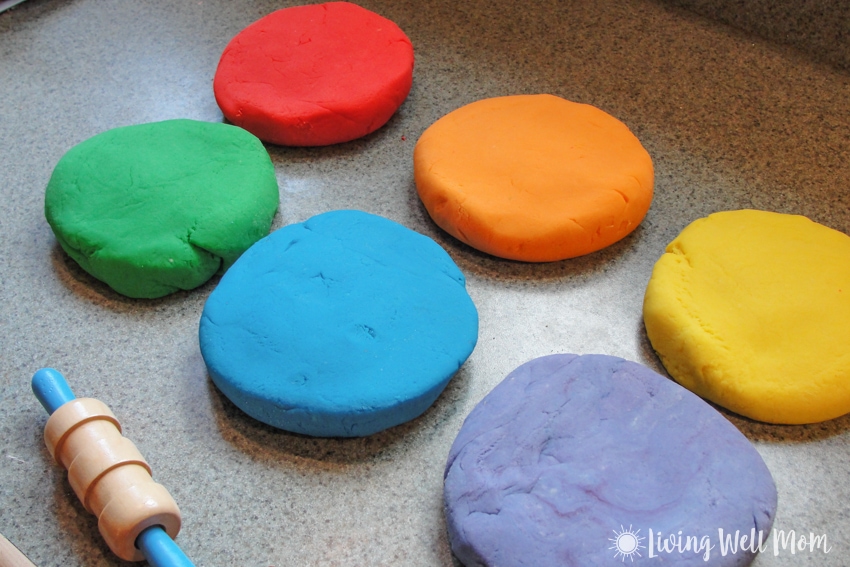 This easy playdough recipe is so easy that it takes less than 10 minutes to make! You can ball them up and store them in plastic eggs before adding them to their baskets.
There's also a gluten-free playdough recipe as well, just in case you need to avoid regular all-purpose flour.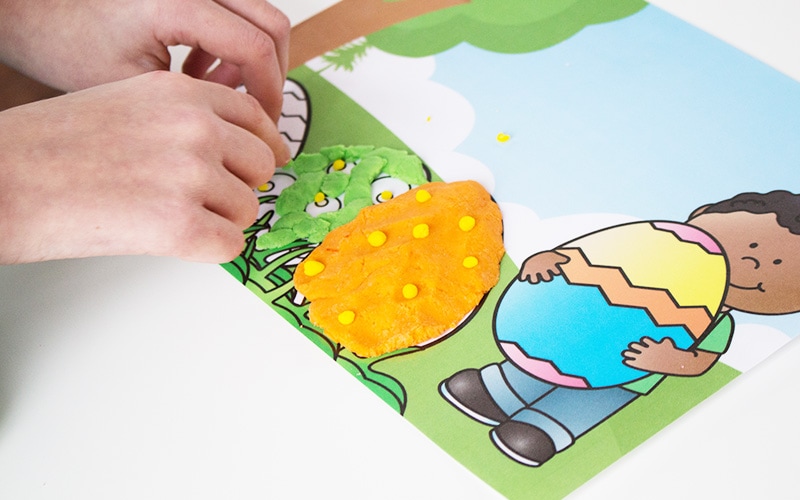 I think what really caught her attention was the fun activities you can print out to make playdough mats. She loved the Easter egg and cupcake printable mats, but there are quite a few you can choose from.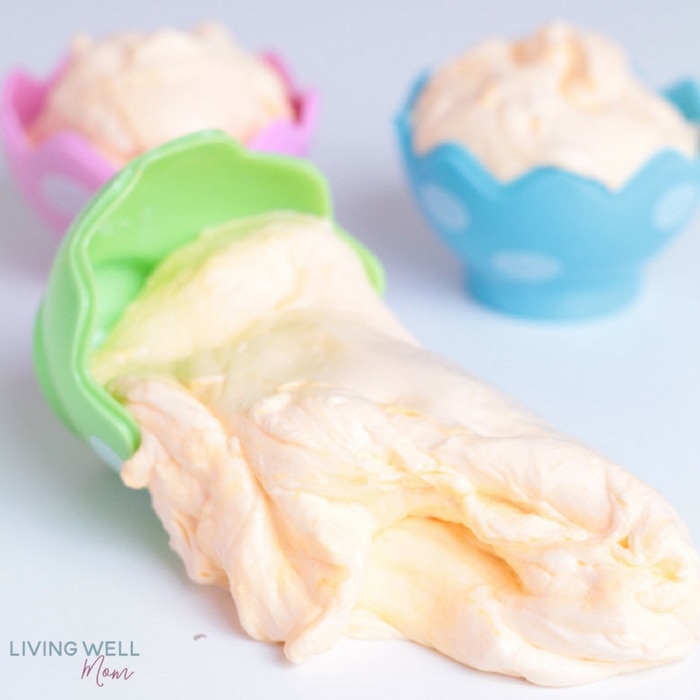 It didn't take very long for her to find the fluffy slime recipe. She read through the whole post just to make sure we had everything we needed to make this.
I thought we were past the slime wave…nope. This glitter glue slime made her top 5 list. I didn't even realize there was a certain way to play with slime. There's an understood set of rules within the slime loving community that you have to poke and mush it a certain way. Don't believe me? I just heard a 10-minute explanation, I'll spare you.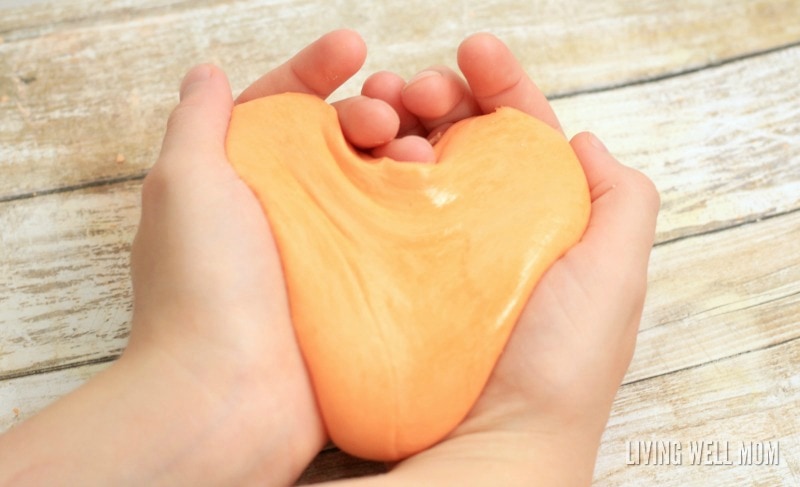 Want to go with a little less goo? Silly putty might be a better option. Actually, I remember getting this in a plastic egg when I was a kiddo myself.
I'm sure I'm not the only one starting to see a trend in her favorites, but I'm looking at her list and there's some variety coming up, I promise.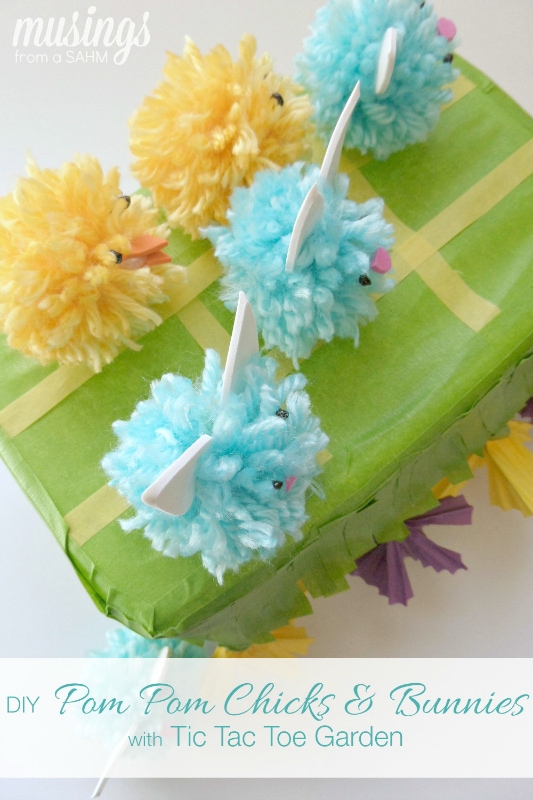 She loved this DIY Pom Pom Chicks and Bunnies Tic-Tac-Toe idea. My husband and daughter are very competitive, so naturally, this would be one more thing they'd have fun competing at. Personally, I think it's cute how the Easter basket can then be turned into the game itself.
FREE Printable Activities for Easter Baskets
We were able to find some fun printable Easter-themed activities that you could roll up and tie with a pastel colored yarn, ribbon, or even use pretty washi tape. Each one would be its own little surprise.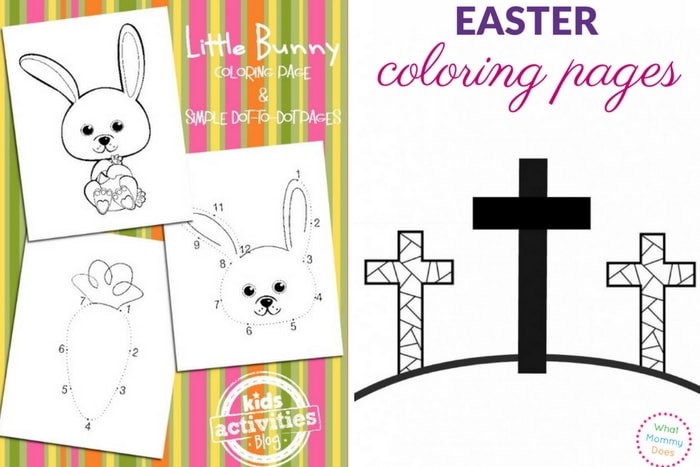 Coloring & Activity Pages:
Budget Friendly Easter Basket Stuffers You Can Buy Right Now
Blind bags are perfect for Easter basket goodies. They're small and fairly inexpensive. Last year, Mr. Bunny added a few Thomas and Friends and Littlest Pet Shop blind bags to our kiddos' basket and they loved them. Surprising enough, they still have them all in one piece too.
Mad Libs…do I really need to say more? These are CLASSIC! Our whole family loves these. If you hear a family of four in a restaurant laughing really loud, that may be us. We tend to bust these out when we have to wait for our food. It's a great distraction.
Mini building kits like this Easter-themed Lego set would do really well. Of course, you wouldn't want the wee little ones to get a hold of these.
You can never go wrong with bubbles. Just a plain bottle of bubbles makes for so much entertainment!
What about baby? This Infantino carrot teether is too cute. We had to find something appropriate for baby. That along with this Baby Touch and Feel Bunny Book. All together now, awwww!
I have to admit though working on this list with my daughter got us talking about all sorts of stuff.
"What was Easter like when you were growing up?"
"Did you like Easter egg hunts, Mom?"
"What was your favorite memory as a kid? You were a serious kid, huh?" OUCH!
It was so much fun just to take a moment with her, even though we were technically working. We hope you found a few Easter basket filler ideas you love too!