Looking for an inexpensive, simple DIY activity that will keep kids entertained for hours? Look no further than this homemade chalk recipe! If you have never tried it before, you may be surprised that learning how to make chalk is quick and easy. Here's everything you need to know.
Coloring with chalk is one of my favorite childhood memories. I spent hours creating images on every concrete surface I could find and it seemed like my siblings and I always went through chalk so quickly.
Now, that I have children of my own, I love joining them with their sidewalk chalk. A few years ago, I discovered it's very simple to learn how to make chalk!
Not only can you make your chalk, but you can completely customize it. You aren't limited to the standard colors and typical cylinder shapes.
Instead, you can make this DIY chalk in a ton of colors, sizes, and shapes—the only limit is your imagination (or your kids' demands!).
How to Make Chalk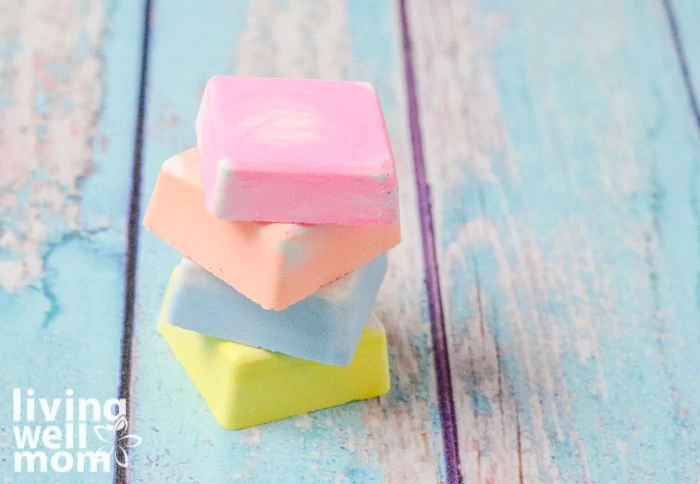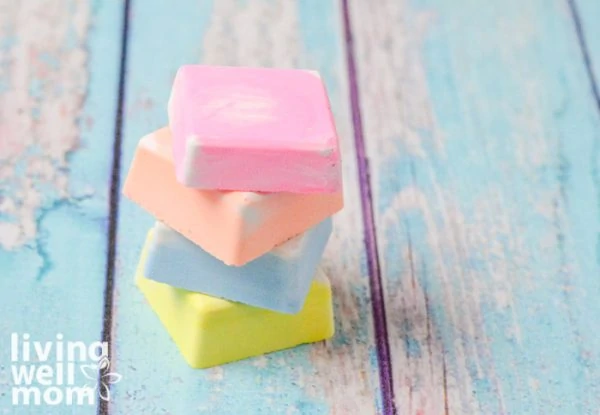 This homemade chalk recipe is so easy. Honestly, once you learn how to make chalk, you'll wish you had made it sooner! You only need a handful of ingredients, a silicone mold, and a few minutes of your time to make it.
Supplies for Homemade Chalk
What you'll need for Homemade Sidewalk Chalk:
Pottery plaster and tempera paint can both be found at Amazon, craft stores, or Hobby Lobby (that's where we got ours for super cheap). Get paint in whatever colors you want your chalk to be. A little paint goes a long way, so you won't need large bottles.
You can even let your kids help you mix custom colors of their own – they'll love it!
How to Make Chalk Step by Step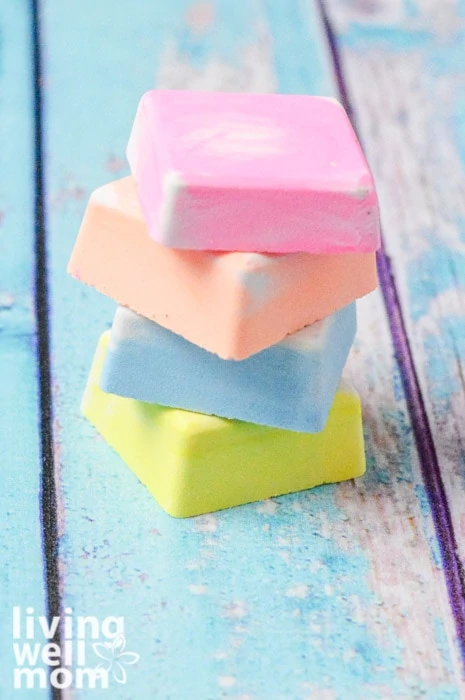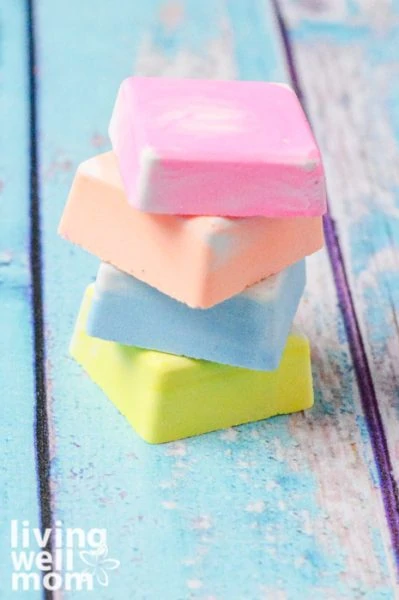 In a large bowl, combine the plaster, and water and mix them well. Once those two ingredients are combined, you're ready to add your paint.
Add about a tablespoon at a time (no need to measure, just squirt in a little at a time) and mix well, until you've reached the desired color for your DIY chalk.
Be Conservative with Your Paint
Just keep in mind that the more paint you add, the longer it will take your chalk to set. I learned this lesson the hard way!
The first time I made this homemade chalk a few years ago, I made them for my daughter's birthday party to hand out as party favors. I wanted them to be bright neon, so I used almost 8 oz of paint per batch (that's a TON) and put it in my guest bedroom to set up overnight.
It took the chalk two weeks to dry completely and turn into chalk. TWO WEEKS! I had to get different party favors because they weren't dry in time.
I learned my lesson! No more than a few tablespoons per batch is more than enough paint to achieve pretty colors.
Once you have the color you want, and it's all mixed smoothly, you're ready to pour your potential chalk into molds.
Add Chalk into a Silicone Mold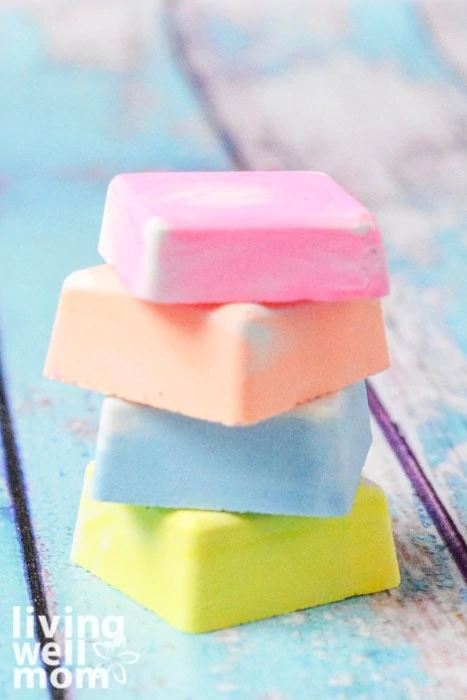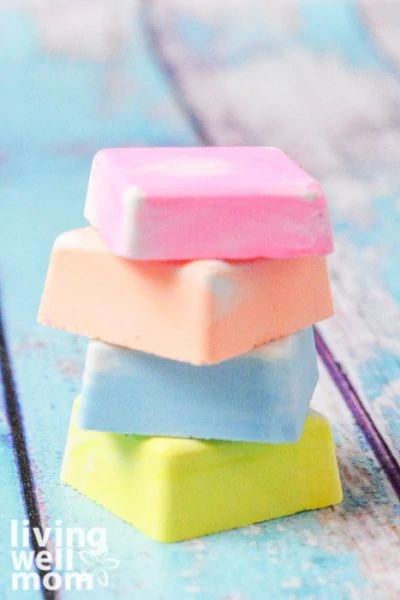 I used a cute silicone mold I found on a recent trip to IKEA. They were cheap and came in fun shapes. Any silicone mold works, and you don't even need to spray them first with non-stick spray.
When it's dry, the chalk will pop right out! It's okay if you make a mess during this step, it won't change how the chalk turns out in the end.
Your chalk won't look pretty when it's poured into the mold, and that's perfectly normal. Put your filled mold in a place where it won't be bothered for 12-24 hours.
Once your chalk is dry, you can simply turn your mold upside down, tap the bottom of the mold, and the chalk should just fall out! Once you remove it from the mold, it's ready for immediate play and creativity.
How to Use DIY Homemade Chalk
I used fluorescent colors
for my latest batch of chalk. We love bright colors around here, and these seemed like the perfect colors to add color to our front porch.
I love how you can see some of the marbling of the white plaster in this batch. It just looks like so much fun!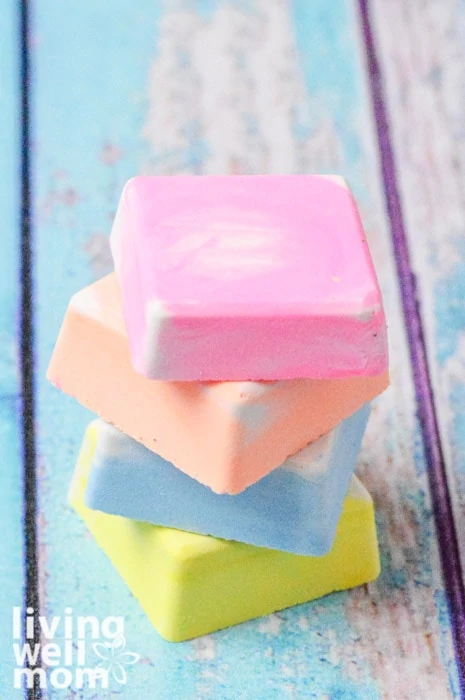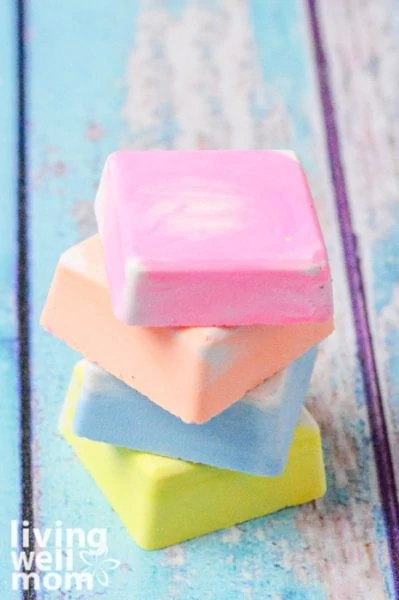 My daughter couldn't wait to go outside and play, so out we went.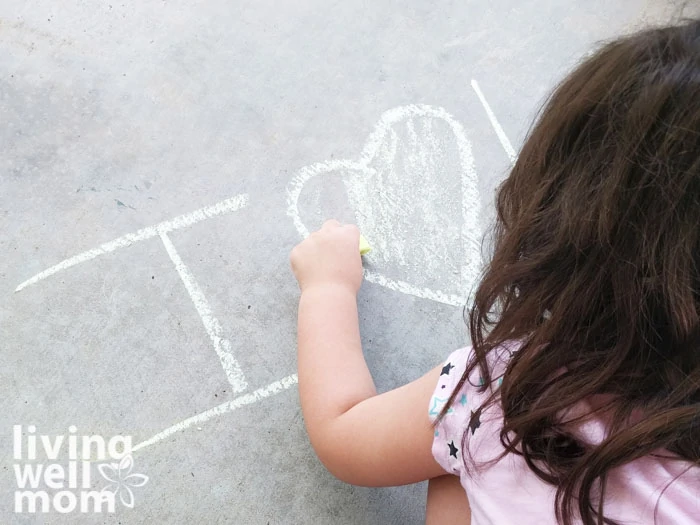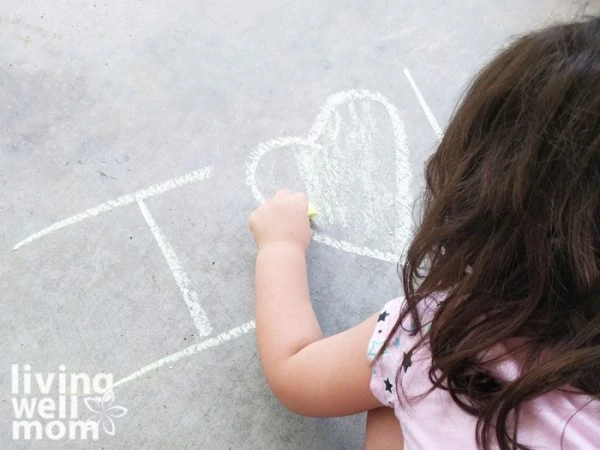 This easy homemade chalk works JUST as well as chalk you buy from the store, but I can make it in whatever adorable shapes, and fun colors I want to! And I loved that this was an easy enough project that I could let the kids help, without feeling like it was a nuisance.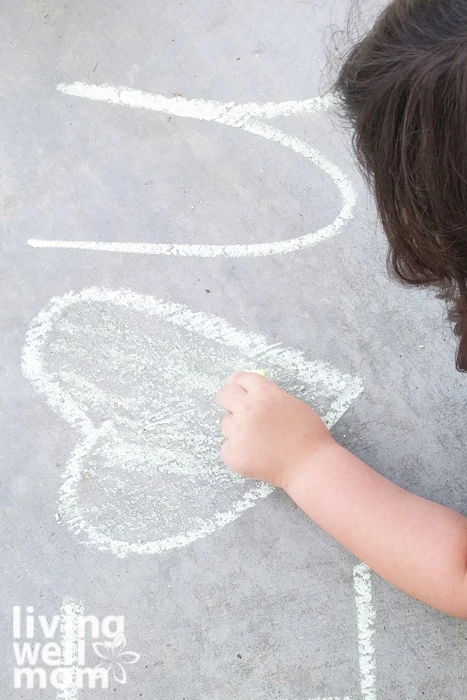 These do make great party favors too. I ended up making them the next year for my daughter's party and they were a huge hit! Kids love to create, and this is one way to get them outside in the summer sun and use all that creative energy at the same time!
I hope you enjoyed learning how to make chalk! More importantly, I hope your children have a blast and that you get to join in on the fun and turn your basic sidewalk into a masterpiece.
Just pin it below to find the instructions later!