Easter Bunny Cupcakes are simple to make and they're an adorable Easter treat. Kids will love helping you make them, and you'll love how easy they are!
This week, I wanted to make a fun Easter treat with my kids, but not something too complicated. The idea for Easter Bunny Cupcakes popped into my head.
These cupcakes turned out super cute and were a big hit with my kids.
I hope you'll love them as much as we did!
How to Make Easter Bunny Cupcakes
What You'll Need:
Bake your cupcakes and let them cool. My daughter, Emily, requested chocolate cupcakes (and that's all I had in the cupboard for cake mixes anyways), so chocolate it is for us. But you can make whatever kind you want. You can do chocolate, vanilla, even carrot cake (wouldn't that be perfect?!)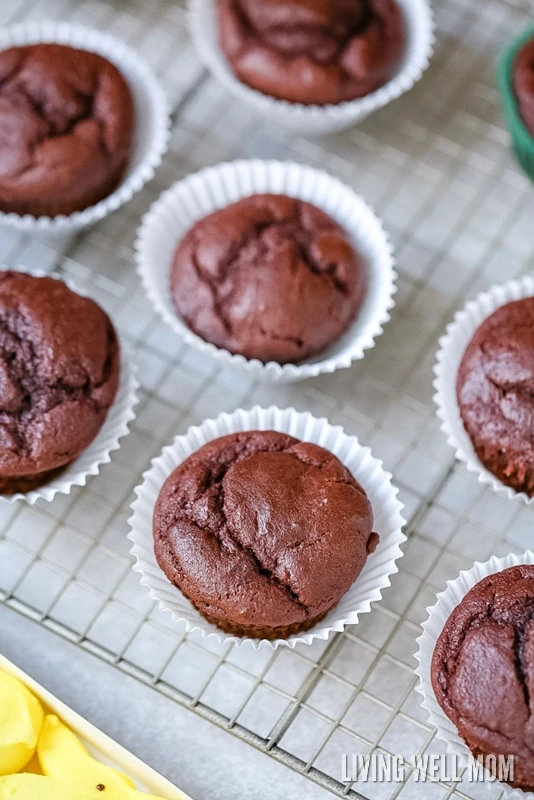 Now you'll need to color the frosting green. I use AmeriColor Gel Paste Food Color – the colors are amazing!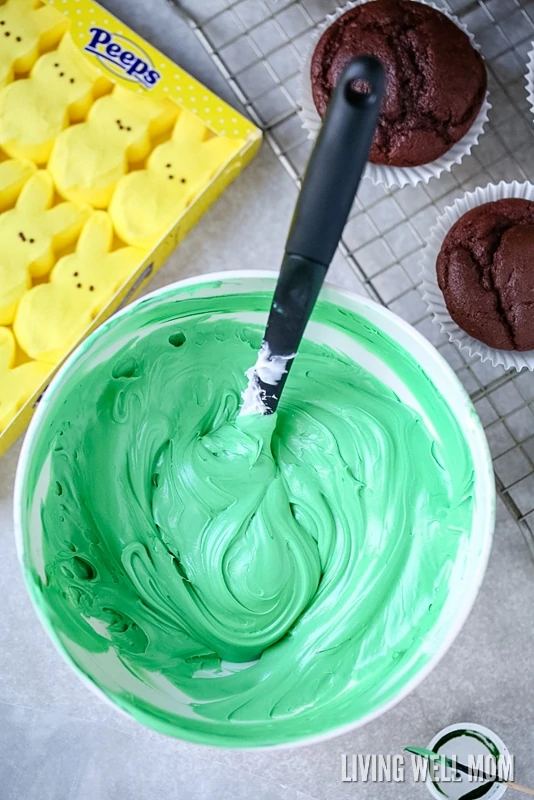 One little drop did that! Beautiful! I find coloring frosting fascinating – it's fun to see the colors form. Maybe I'm just weird.
Decorate however you like. Fancy or simple.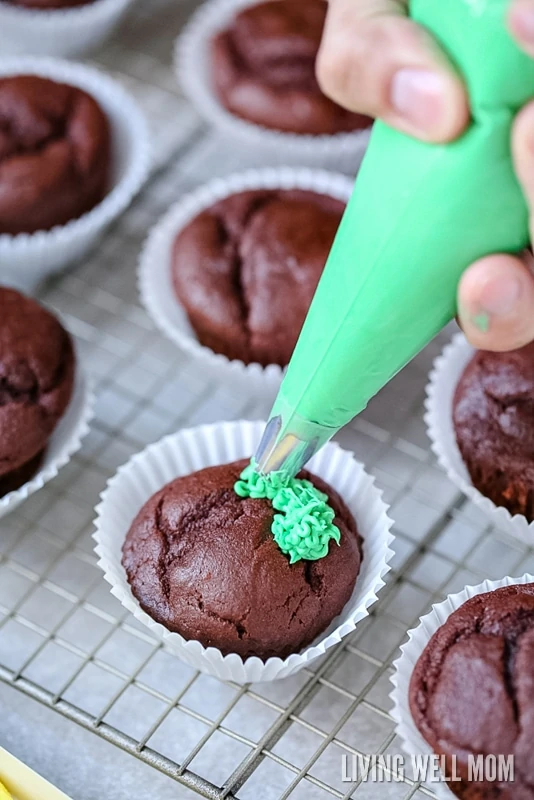 You can frost the cupcakes with a cake decorating tip (I used Wilton Tip 233
.) You can buy the Cake Mate cake decorating tips in the baking aisle and use a star tip by cutting the tip of the corner of a plastic bag and adding the frosting.
Or you can just grab a knife and frost simply. It's up to you.
Your Easter Bunny Cupcakes will be cute whatever you do, so don't worry. Brightly colored marshmallow bunnies have a way of doing that. Just have fun with your kids!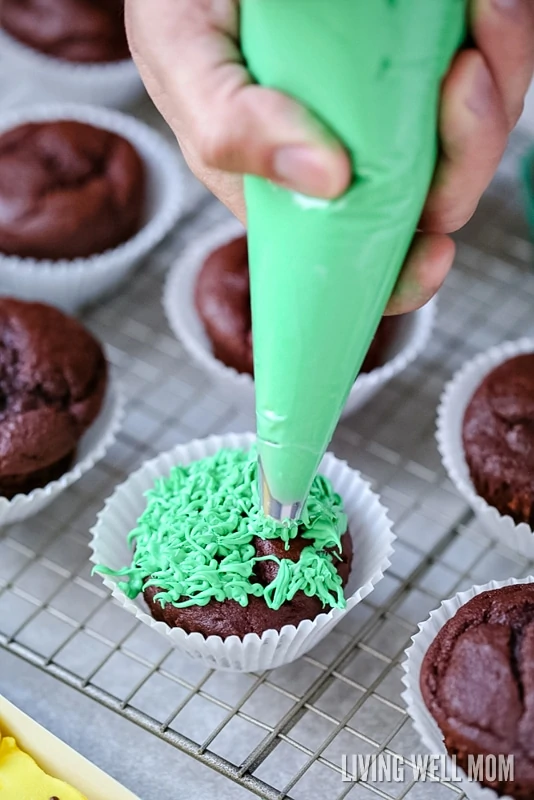 Once you've frosted a cupcake, add a bunny on the top. You don't want to wait too long, because the bunny won't stick as well if the frosting has already dried. The kids love doing this.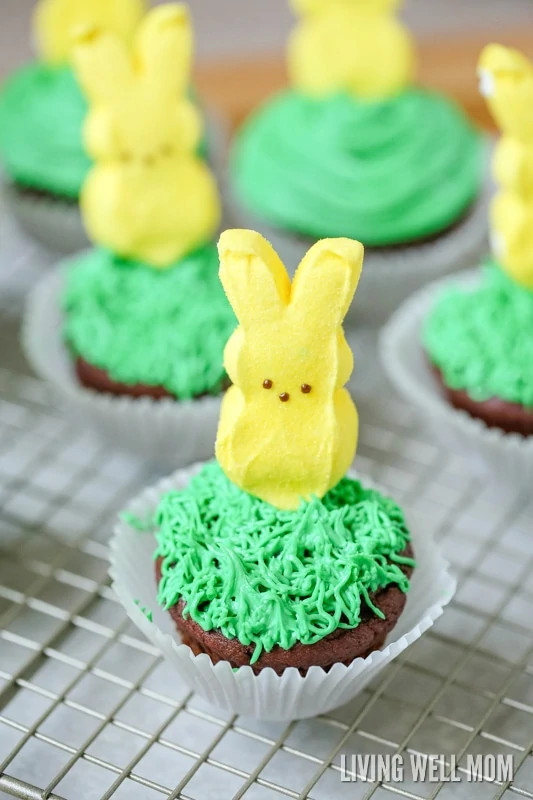 And that's it! You have Easter Bunny Cupcakes!

For another holiday-inspired treat perfect for kids to make – check out these adorable Santa cookies!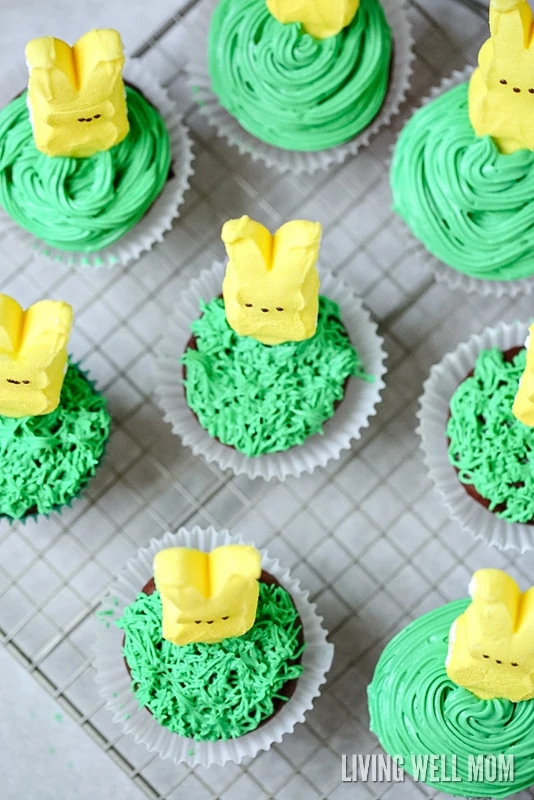 Print
Easter Bunny Cupcakes
Easter Bunny Cupcakes are simple to make and are an adorable Easter treat. Kids will love helping you make them and you'll be happy with how easy they are!
1

cake mix
ingredients on the back of the cake mix box (usually eggs, oil, water)
a can of frosting or your own buttercream frosting (I made my own)
green food coloring
bunny Peeps
Instructions
Bake the cupcakes according to the package directions. Cool completely.
Add green food coloring to the frosting and stir.
Frost the cupcakes. Immediately place one bunny on top of each cupcake, just after frosting.
Nutrition
Calories:

6459

Sugar:

292g

Sodium:

7735mg

Fat:

197g

Saturated Fat:

32g

Unsaturated Fat:

156g

Carbohydrates:

1132g

Fiber:

12g

Protein:

46g

Cholesterol:

21mg