Do you ever get up in the morning and wish there was a way to help you wake up quickly? Sure, there's coffee, but that can take some time to get into your system and too many cups may leave you feeling jittery and uneasy.
I have just the thing! It's an all natural "wake up" morning essential oil blend that, in just 10 seconds, can help kick-start your day by helping you feel more alert, energized, refreshed, and even improve your mental clarity!
My good friend, Kestrel, told me about this all-natural morning essential oil duo and I am so thankful she did. It works so well for me that I couldn't wait to share here with you!
I passed this on to my best friend and she loves how it wakes her up as well. It even works for her husband who sleeps like the dead and is almost impossible to wake up some mornings. A whiff of this blend under his nose and he wakes up!
I am not a medical professional and the information presented here is merely for educational purposes and not intended to replace medical advice. It is your responsibility to do your own research, consult with your doctor, and make safe decisions for yourself and your family.
What You'll Need:
peppermint essential oil
blood orange essential oil (be sure you use blood orange (species: citrus sinensis) for the best scent and results, regular orange oil is not nearly as effective)
I prefer Rocky Mountain Oils and Eden's Garden essential oils; both companies have high quality, therapeutic-grade essential oils and are affordable.
Buy Rocky Mountain peppermint ($16 for 15ml) and blood orange ($8.95 for 15ml).
Buy Eden's Garden peppermint ($6.95 for 10ml) and blood orange ($6.95 for 10ml).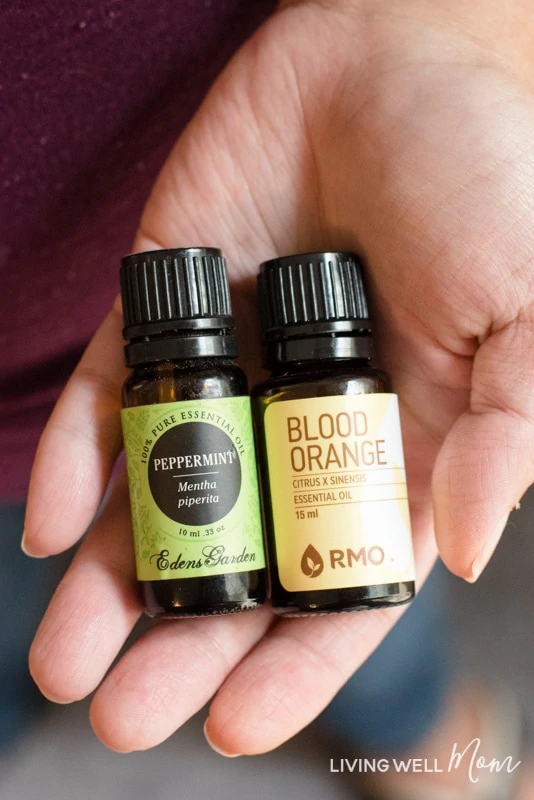 Peppermint can help increase alertness and energy with its invigorating and stimulating properties. Not to mention, it's a great natural expectorant if you wake up feeling stuffy and congested.
Blood Orange can help energize, while potentially improving concentration with its energizing and calming properties.
It can also help as a natural antidepressant and I've found it very effective in calming and relaxing both myself and my kids, including my son who has autism. If you wake up feeling overwhelmed and stressed, blood orange alone can be very helpful!
How to use this Morning Essential Oil Blend
Note: if you're new to using essential oils, particularly peppermint, I recommend you add a teaspoon or so of fractionated coconut oil (or your favorite carrier oil) to your hand before adding the oils.
Next add 1 drop of blood orange essential oil to the palm of your hand…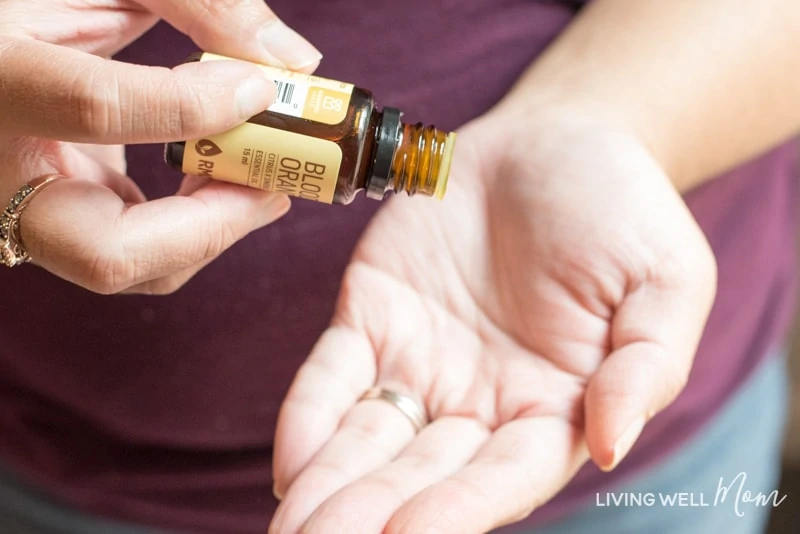 and 1 drop of peppermint essential oil.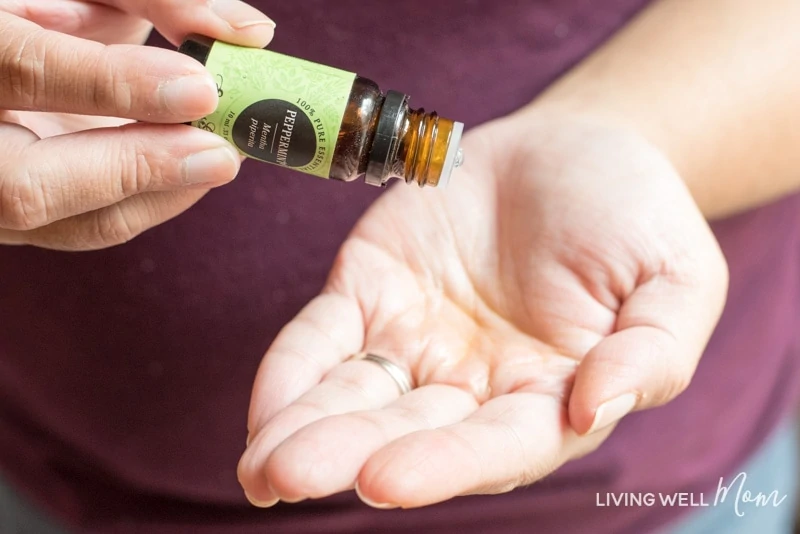 Rub the palms of your hands together for a few seconds.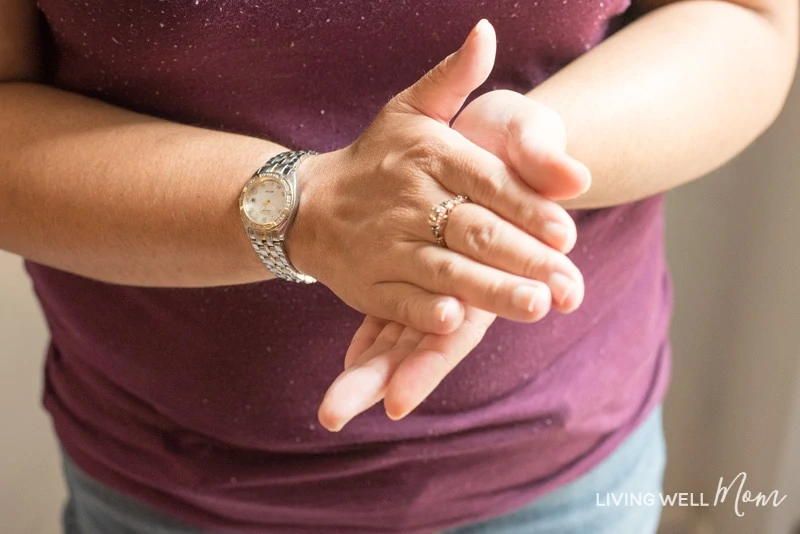 Cup your hands together and inhale deeply and slowly. The peppermint essential oil can be strong so I recommend you first inhale with your palms a little distance from your nose so your eyes don't start watering. As you do this more frequently, you'll be able to gauge your 'peppermint tolerance' and find the perfect distance for you.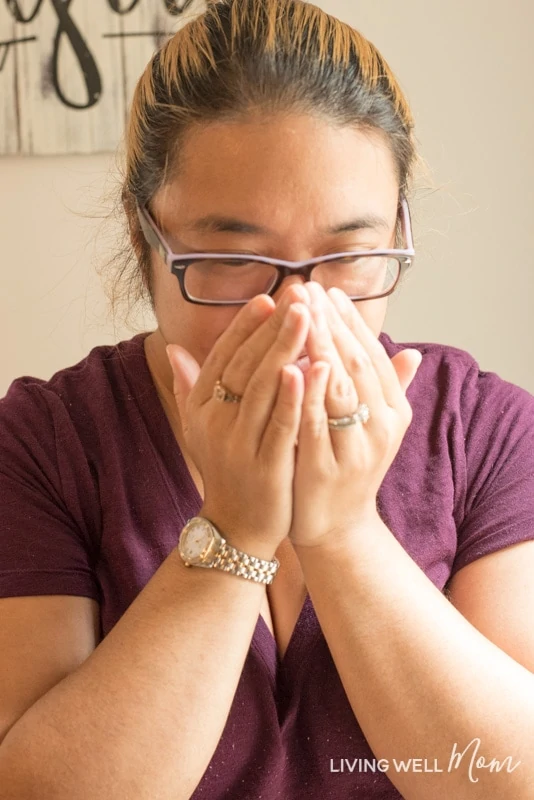 Breathe in and out deeply and slowly for 1-3 breath cycles.

Rub the palms of your hands onto your neck as one more way to get the peppermint and orange into your system.
Breathe deeply and notice how much more alert, refreshed, and awake you feel after using this morning essential oil blend!
Now you're ready to start your day!
Whether you're a stay-at-home mom, working mom, work-at-home mom, or any combination, this blend can help you and even your tweens, teens, and spouse!
My 10-year-old daughter also loves this "wake up" morning essential oil blend and regularly asks me for it in the morning.
Note: the peppermint can be very strong so be cautious in using this with children, especially under the age of 10. I use just the blood orange with my boys who are 6 and 8 as they don't like the peppermint.