My kids love to do crafts and to be quite honest they may actually have even more craft supplies than I do. Although that could be because they've been secretly sneaking my supplies into their stash. With summer here I know we'll be crafting more than ever and I need the kids to keep their supplies more organized than ever before. This Decorated Tin Can Organizer for Kids is perfect for storing their scissors, pens, markers, glue sticks and so much more. It's easy and inexpensive to make and it's cute enough to stay on display on the desk or craft table. If it's out in the open the kids will be more likely to put stuff away, right?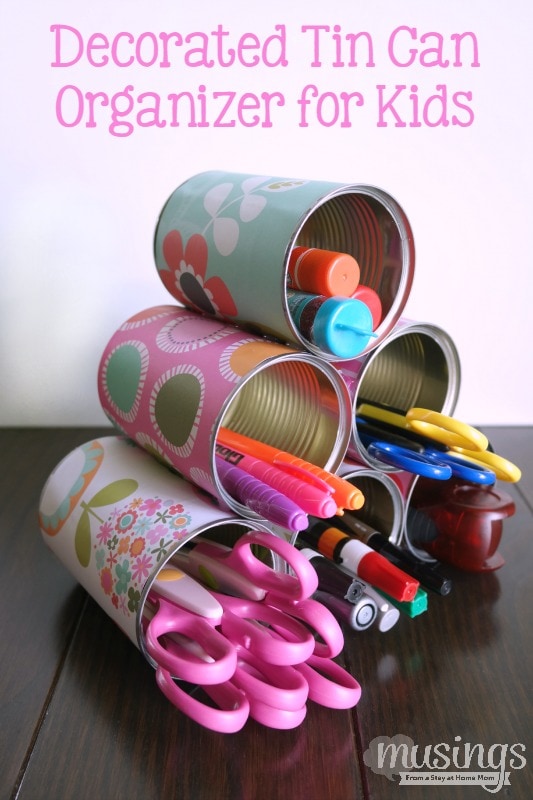 Decorated Tin Can Organizer for Kids
(affiliate links):
Supplies:
6 empty soup or vegetable cans – remove labels and wash well
craft paper, fabric, newspaper, or scrapbook paper for covering the cans – you could paint them as well
glue gun and hot glue
scissors
pencil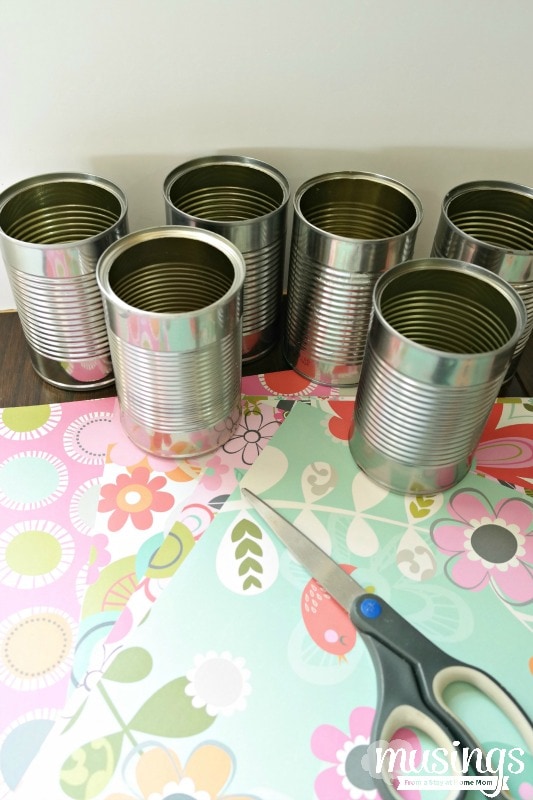 Instructions:
Begin by measuring your can height and diameter, marking it on the backside of your paper. Use a pencil to mark the paper and cut it to fit. I went ahead and cut all the paper for my cans at this point using the first piece of paper as a template for the others.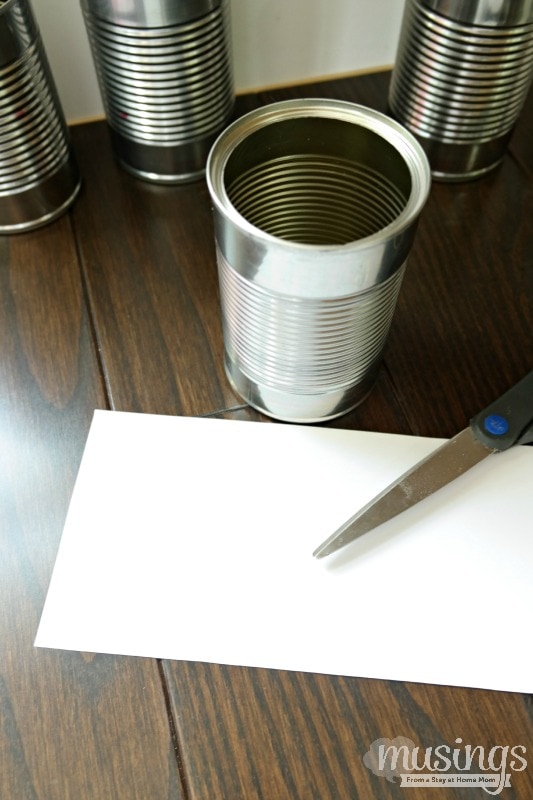 After the papers are cut to size begin attaching them to the can using hot glue. I added a line of hot glue where my paper first started, one half way around the can, and another where the paper meets in the back.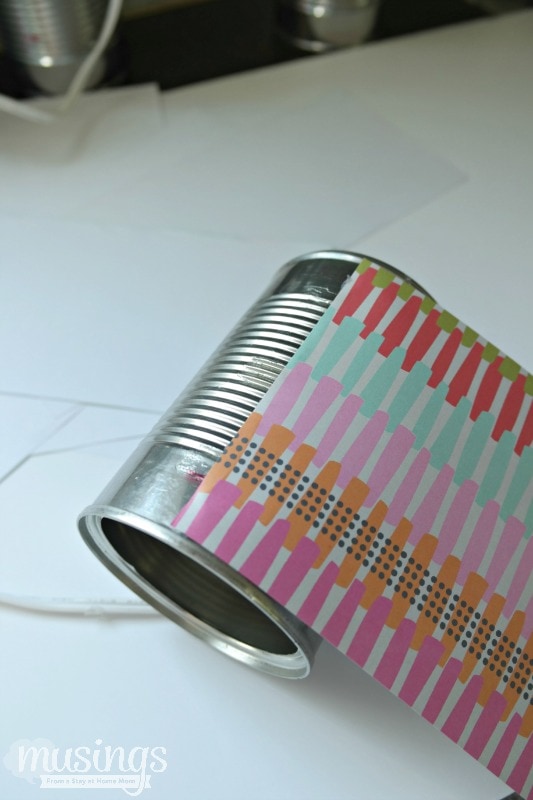 Continue covering the cans with paper until all cans have been covered. I did each can in a different yet complimentary print.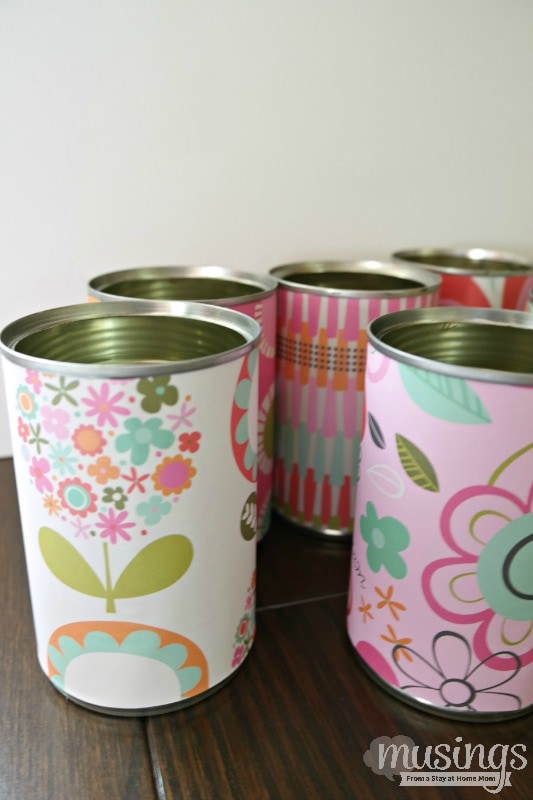 When all the cans have been covered lay three of them on their sides. Use the hot glue and glue gun to secure the cans together.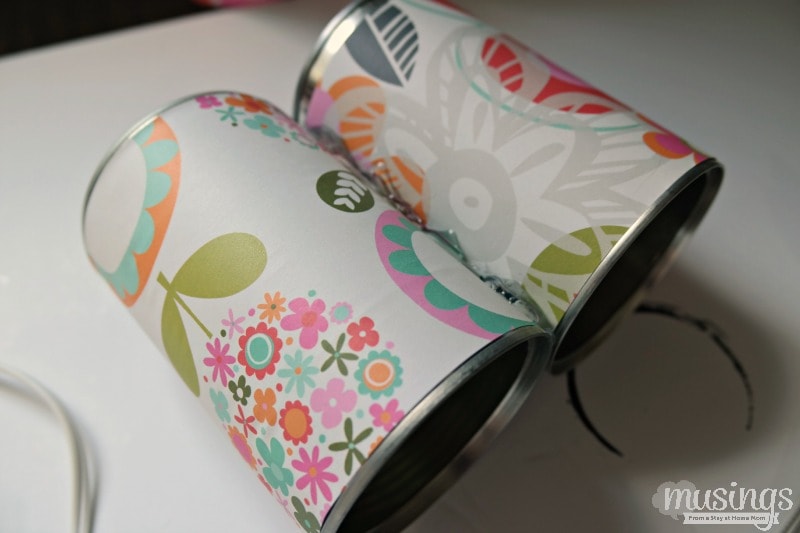 After the three bottom cans are secure attach two more cans on top of them using hot glue as well. This will be the second layer of your organizer. Finish the pyramid off by attaching the 6th can to the top.
Fill the cans with craft and art supplies for you child's desk or craft table. Make a grown up decorated tin can organizer for your own craft supplies. Whether it's the kitchen, bath, office, or craft room, this tin can organizer could hold many things in different rooms of the home!