I've been sorting through my recipes lately – I've just about got them organized and can't wait to tell you all about it! But anyways, I found a yummy-looking recipe for chocolate soda cake that was new to me. It looked easy enough so when I needed a quick dessert one night, I knew what to make.
I was right about my hunch that this Coca-Cola Cake is easy to make. It's a breeze to whip together. And it tastes amazing. The cola adds a delicious light flavor, but most people would never guess what the secret is.
Give this Easy Coca-Cola Cake a try – it's so simple and the compliments you'll receive are certainly nice too!
And me? I'm looking for an excuse to make this cake again because it's that good.
What You'll Need:
2 cups flour

2 cups sugar
1 teaspoon baking soda
1/2 teaspoon salt
1 1/2 cups mini marshmallows
3 tablespoons baking cocoa
1 cup cola (do not use diet)
1/2 cup vegetable oil
1/2 cup butter, cubed
2 eggs, beaten
1/2 cup buttermilk*
1 teaspoon vanilla extract
*You can make sour milk if you don't have buttermilk. Put 1.5 teaspoons of lemon juice into a glass measuring cup. Add milk over the lemon juice until you reach the 1/2 cup mark. Let it sit for about 5 minutes before using.
Frosting
3 tablespoons baking cocoa

6 tablespoons cola
1/2 cup butter, cubed
3 3/4 cups confectioners' sugar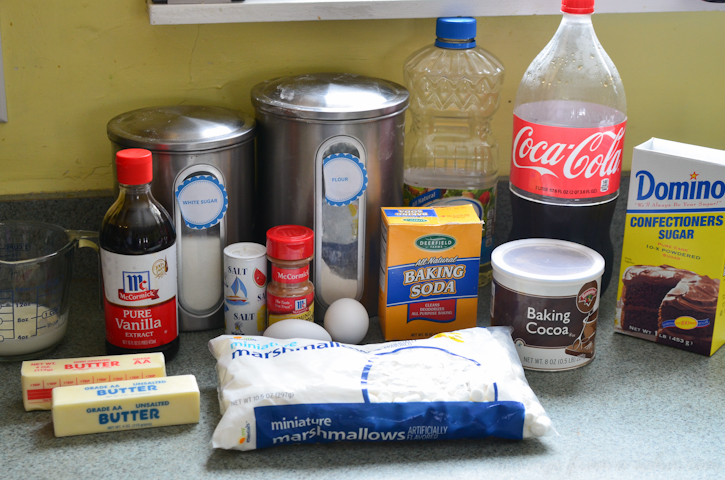 Let's Make a Cake!
Preheat the oven to 350°.
Pull out a large mixing bowl and sift together the flour, sugar, baking soda, and salt.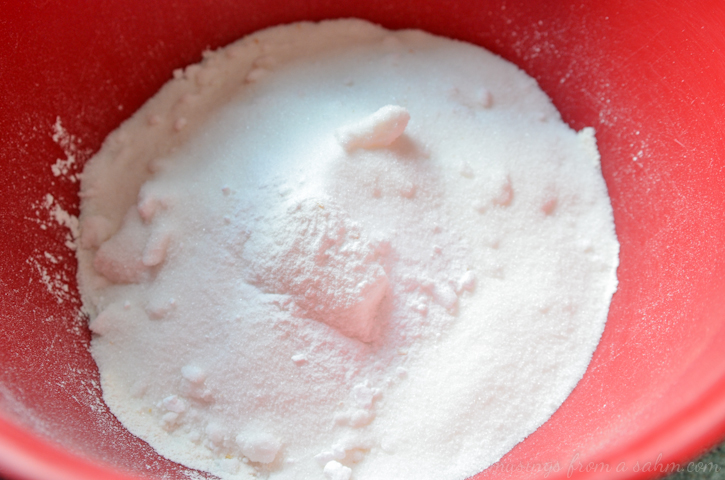 Stir in the marshmallows. Yes, I said mini marshmallows. It's a little odd but believe me, it works.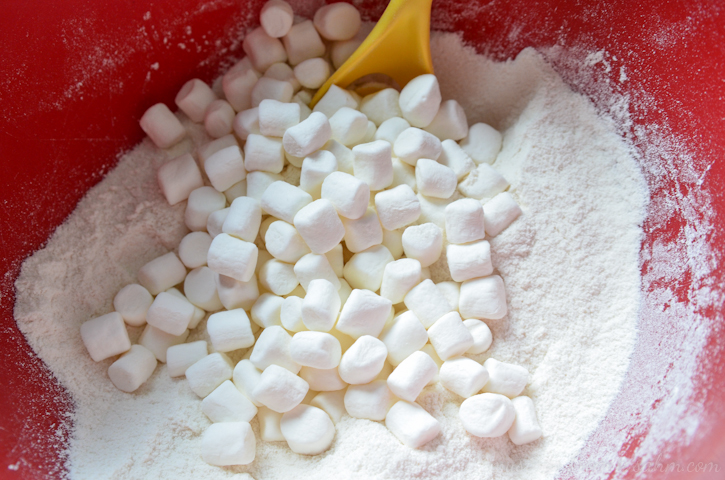 Set the flour/marshmallow mixture aside.
In a small saucepan, bring the cocoa, cola, oil, and butter to a boil.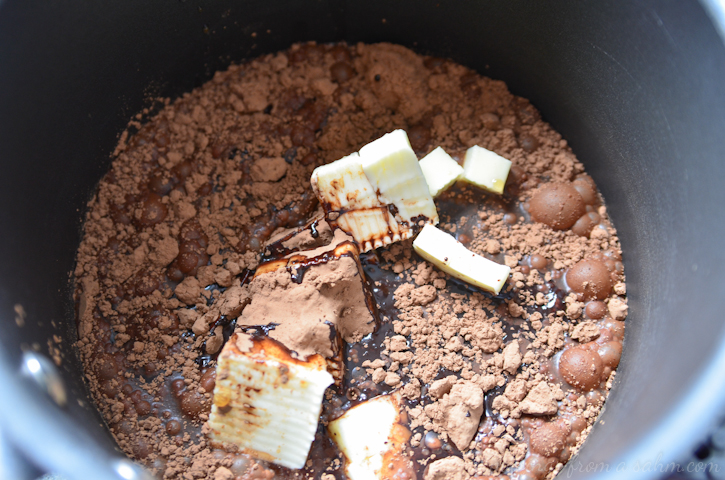 Yep, to a boil. And yes, you should stir it.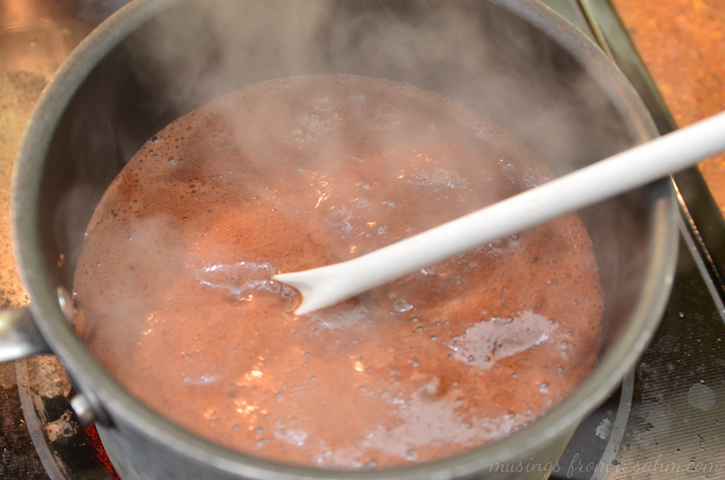 Remove from the heat. Then pour the hot chocolate mixture over the flour/marshmallow mixture.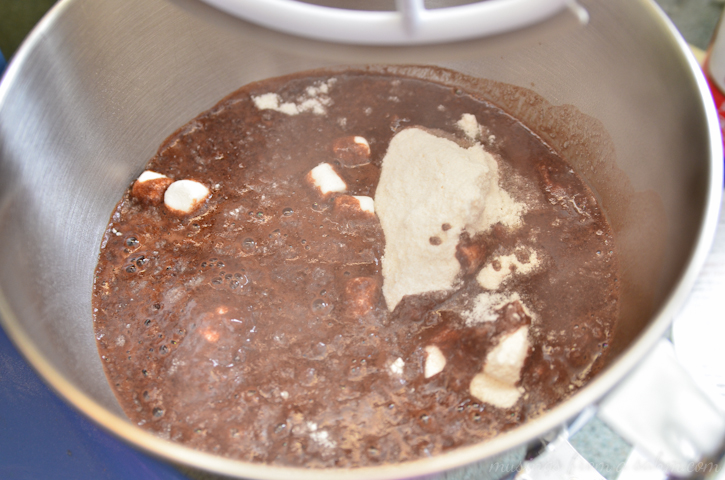 Mix well.

Add the eggs, buttermilk, and vanilla extract, stirring again to combine.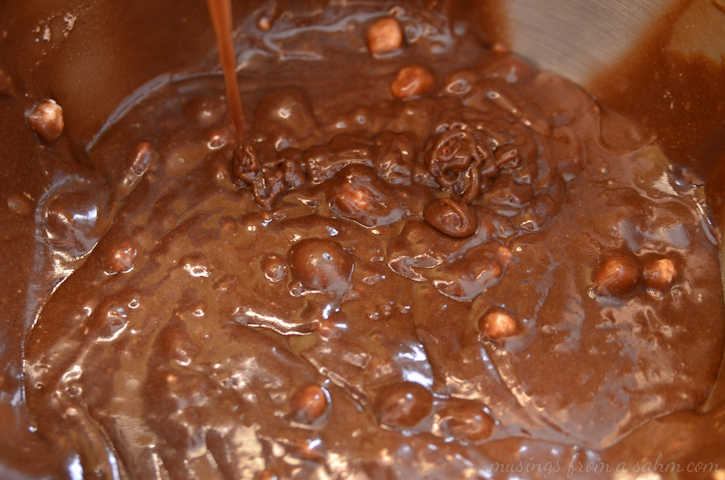 Pour into a greased 13x9x2″ baking dish.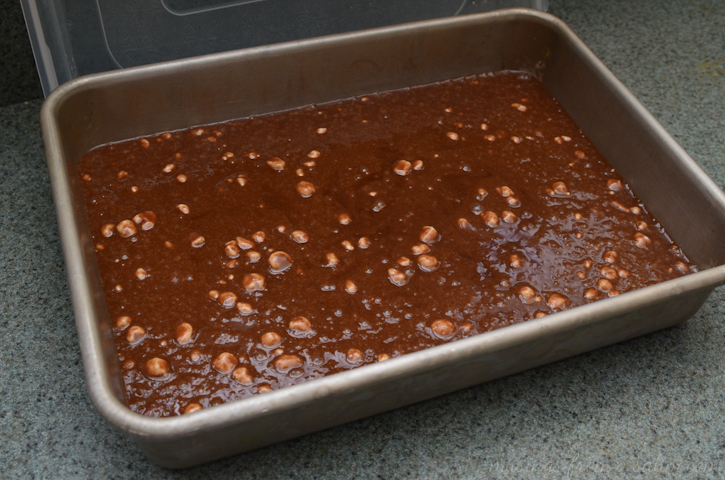 Bake at 350 degrees for 35-40 minutes, until a toothpick inserted in the center comes out clean.
(It was actually closer to 45 minutes for me.) You don't want to overbake this cake, but you also don't want it to sink because it's not baked fully. So watch it carefully, depending on how quickly your oven bakes.
Cool on a wire rack.
Frosting:
While the frosting can take a long time for some cakes, this frosting recipe is a snap to make.
In a large saucepan, bring the cocoa, cola, and butter to a boil.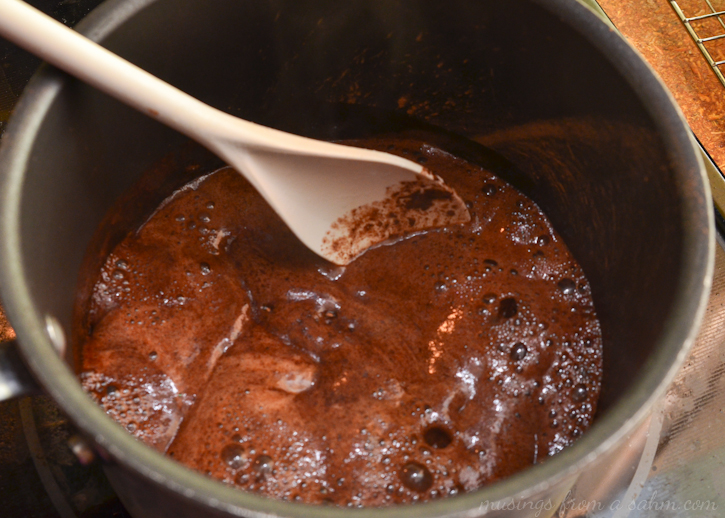 Remove from the heat and stir in the confectioners' sugar.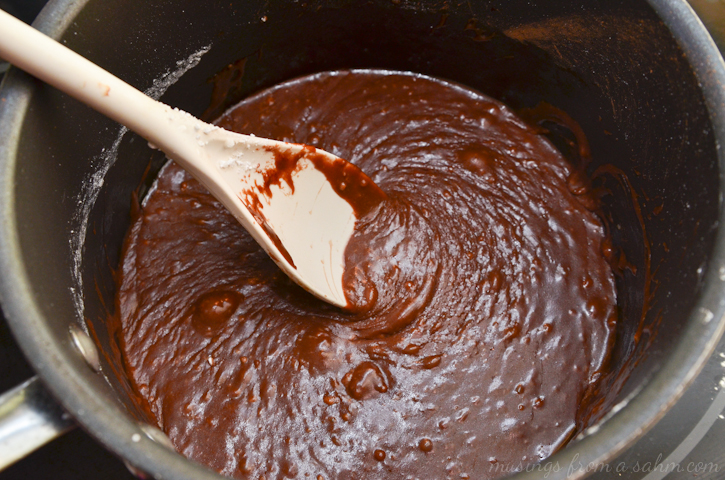 I whisked it to remove any lumps. Nice and smooth.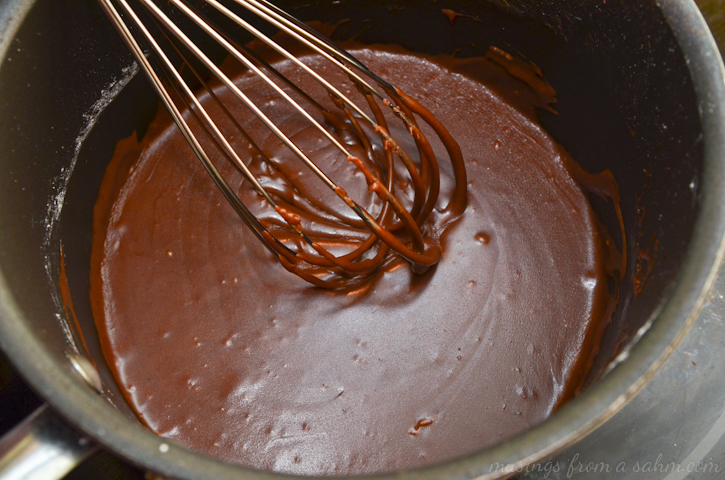 Now, simply pour and spread over the cake. It will cool quickly so don't take forever in spreading it, but don't panic either because it's really quite easy to work with.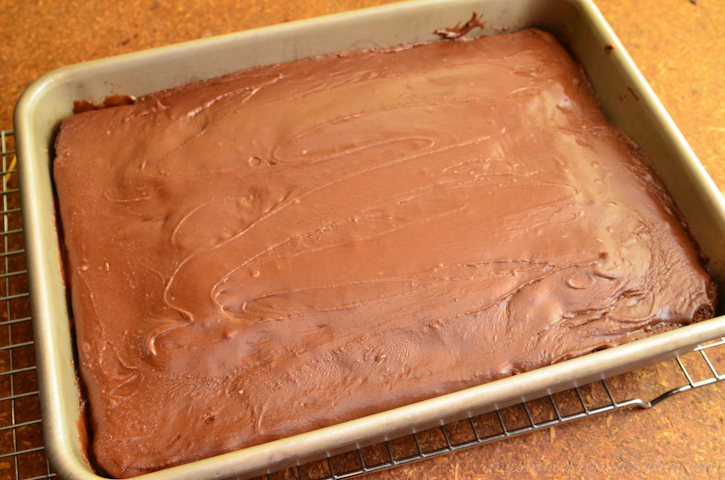 Let the frosting set before cutting the cake.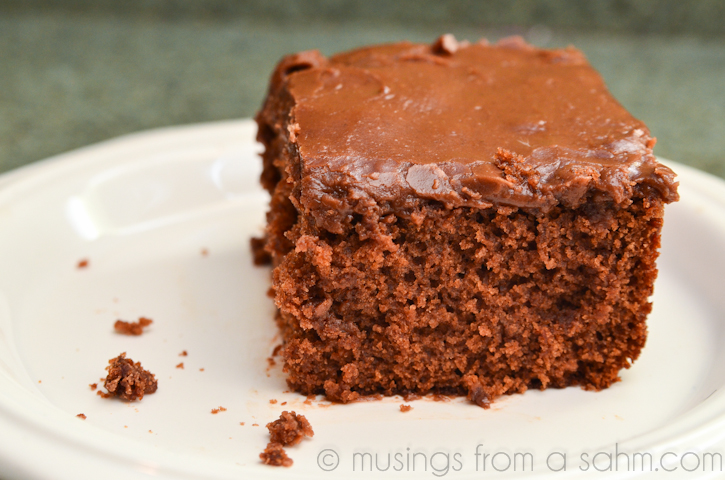 The cake is best served warm – it's extremely good when it's cooled, but amazing when it's warm. You'll see what I mean.
(You can microwave leftover pieces for a few seconds. That is if there is any leftovers!)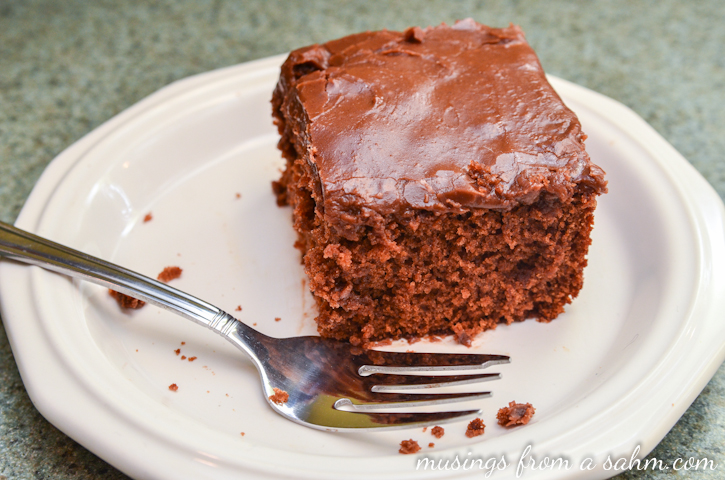 Enjoy your delicious Coca-Cola Cake!
Print
Easy Coca-Cola Cake
2 cups

flour

2 cups

sugar

1 teaspoon

baking soda

1/2 teaspoon

salt

1 1/2 cups

mini marshmallows

3 tablespoons

baking cocoa

1 cup

cola (do not use diet)

1/2 cup

vegetable oil

1/2 cup

butter, cubed

2

eggs, beaten

1/2 cup

buttermilk*

1 teaspoon

vanilla extract
*You can make sour milk if you don't have buttermilk. Put 1.5 teaspoons of lemon juice into a glass measuring cup. Add milk over the lemon juice until you reach the 1/2 cup mark. Let it sit for about 5 minutes before using.
Frosting

3 tablespoons

baking cocoa

6 tablespoons

cola

1/2 cup

butter, cubed

3 3/4 cups

confectioners' sugar
Instructions
Preheat the oven to 350°.
Sift together the flour, sugar, baking soda, and salt in a large mixing bowl. Stir in the marshmallows. Set aside.
In a small saucepan, bring the cocoa, cola, oil, and butter to a boil and stir. Remove from the heat. Then pour the hot chocolate mixture over the flour/marshmallow mixture. Mix well. Add the eggs, buttermilk, and vanilla extract, stirring again to combine.
Pour into a greased 13x9x2″ baking dish.
Bake at 350 degrees for 35-40 minutes, until a toothpick inserted in the center comes out clean.
(It was actually closer to 45 minutes for me.) You don't want to over bake this cake, but you also don't want it to sink because it's not baked fully. So watch it carefully, depending on how quickly your oven bakes.
Cool on a wire rack.
For the Frosting:
In a large saucepan, bring the cocoa, cola, and butter to a boil. Remove from the heat and stir in the confectioners' sugar. Whisk to remove any lumps – this should be nice and smooth.
Pour and spread over the cake (still in the baking dish.)
Let the frosting set before cutting the cake.
The cake is best served warm – it's extremely good when it's cooled, but amazing when it's warm. You'll see what I mean.
(You can microwave leftover pieces for a few seconds. That is if there is any leftovers!)