Can you keep a secret? My girls are getting their first sewing machine for Christmas. My mother-in-law has worked weekly with my daughters, teaching them how to sew. I know they're going to love their gift and expect our entire winter to be spent crafting.
But we are already crossing things off our Christmas to-do list. The first thing was making gifts for my children's teachers. These Felt Apple Ornaments are easy to put together, and they have a secret….they're cinnamon-scented!
How to Make DIY Felt Apple Ornaments
Materials Needed
Start by cutting out the apple from the free ornament template. Having four on a page made it easy to craft with multiple kiddos. I gave my kids each two paper apples cut out from the templates (one for the apple itself & one for the leaf).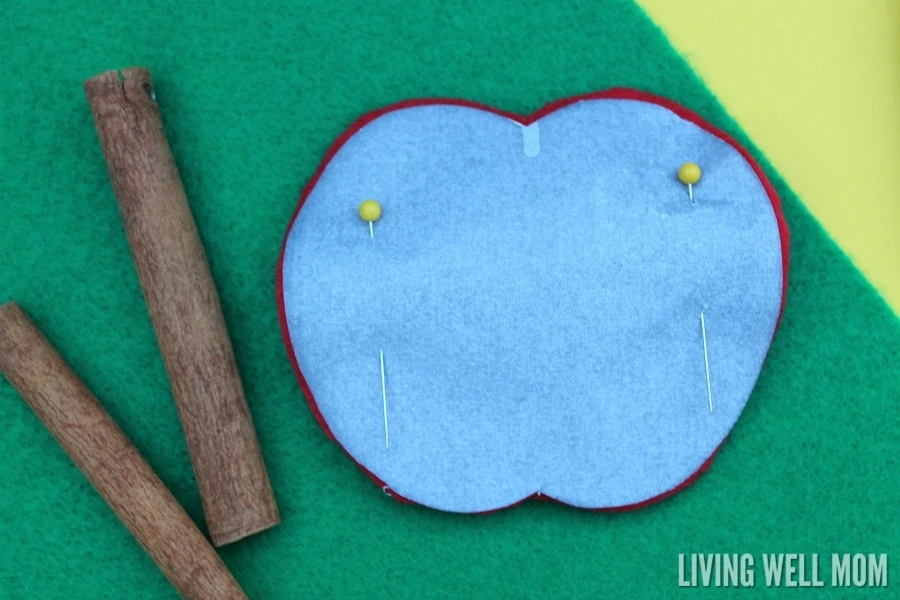 Next, pin the template to red felt and cut out two apples. Pinning is helpful as it keeps your material steady while cutting. Once you've cut out the two apples, remove the template. You'll also need to cut out one leaf from green felt.
To personalize the ornaments, stitch the names of teachers (or any apple-loving recipient) onto the front apple piece. Use a disappearing marking pen or write lightly with a pencil. Then, go over the letters with thread.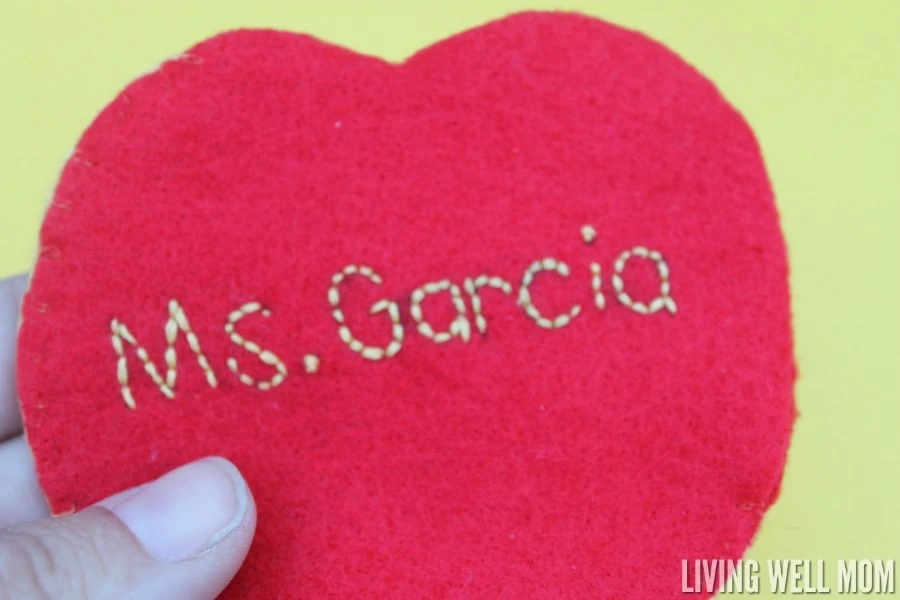 Sew the leaf onto the front of the apple. We ended up adding it at the end, but more on that later.
Optional: I made a small rectangle out of green felt to great a loop for stringing my ornament later on. I sewed this onto the apple that will be the back piece. You could skip this step & attach string with a few stitches, if you'd prefer.
Now you're ready to sew your two apple pieces together. If Santa already delivered a sewing machine to your house, you can sew these apples together in just seconds. But don't feel disappointed if you're sewing by hand. I promise this won't take long.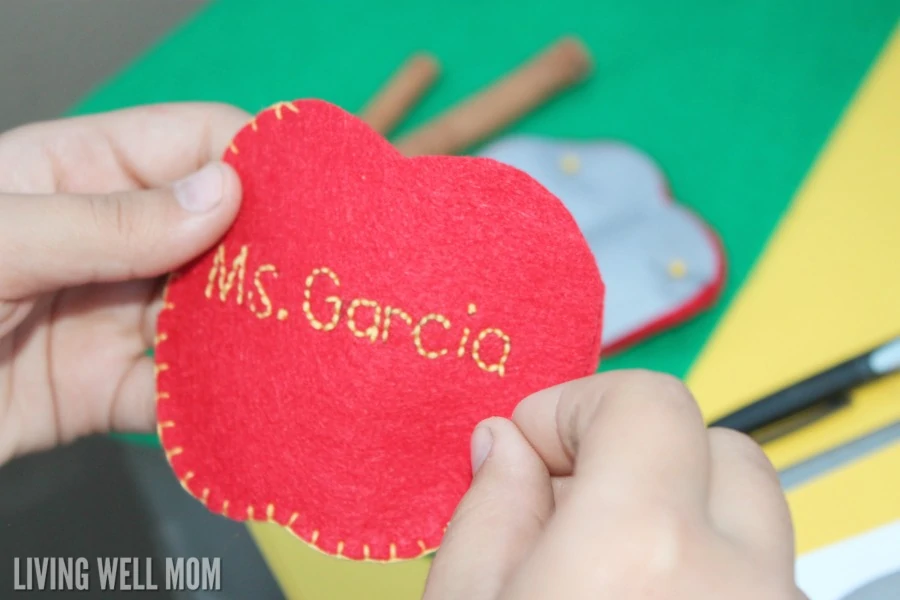 We opted for a blanket stitch, which is a great beginning stitch and adds a sweet homemade look to the ornament.
Repin your apples (the front with teacher's name & the back) to keep them secure while sewing. Stitch around your two apple pieces, leaving an opening at least 1-inch at the top.
Lightly fill your apple with stuffing.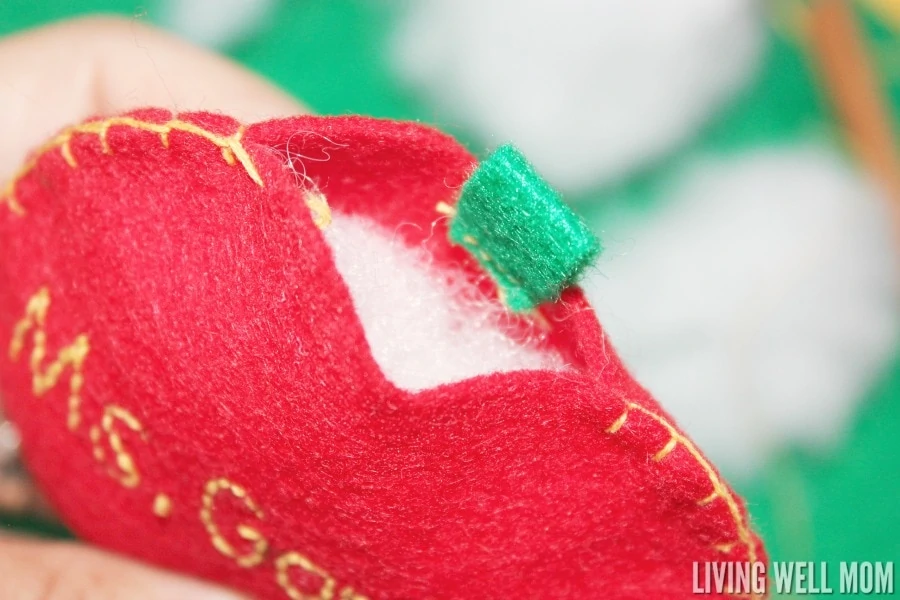 Now for the scent! In place of an apple's stem, we inserted a cinnamon stick into the apple ornament. Around the cinnamon stick, we finished sewing the hole shut. You might notice that the cinnamon stick is not sewn into the ornament. This will allow for it to be replaced once the yummy smell has gone away.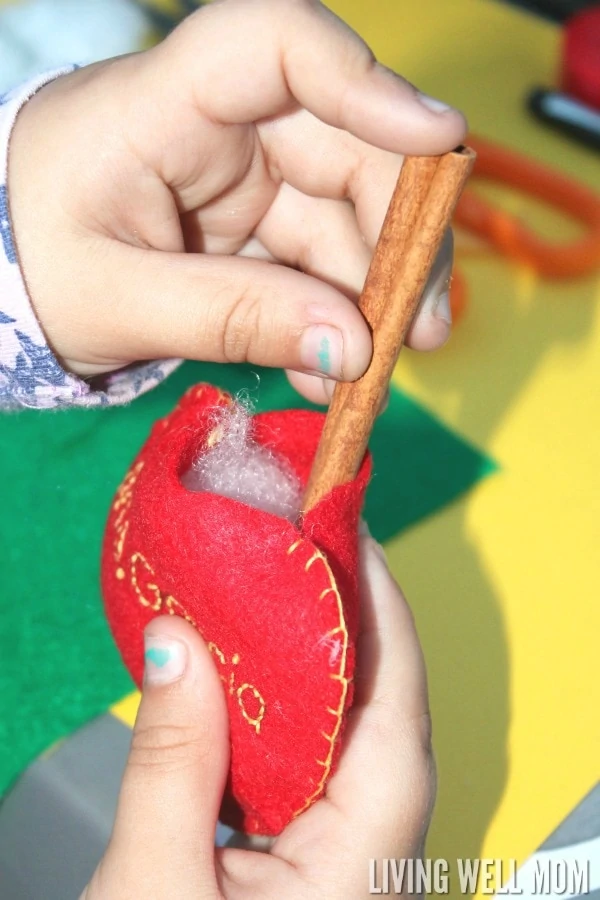 While crafting, we decided we didn't have thread that matched the green leaf. My little problem solver 9-year-old suggested attaching the leaf with fabric glue. Done and done!
To hang the ornaments, we used yellow ribbon. If you made a loop, string the ribbon through and tie in a bow.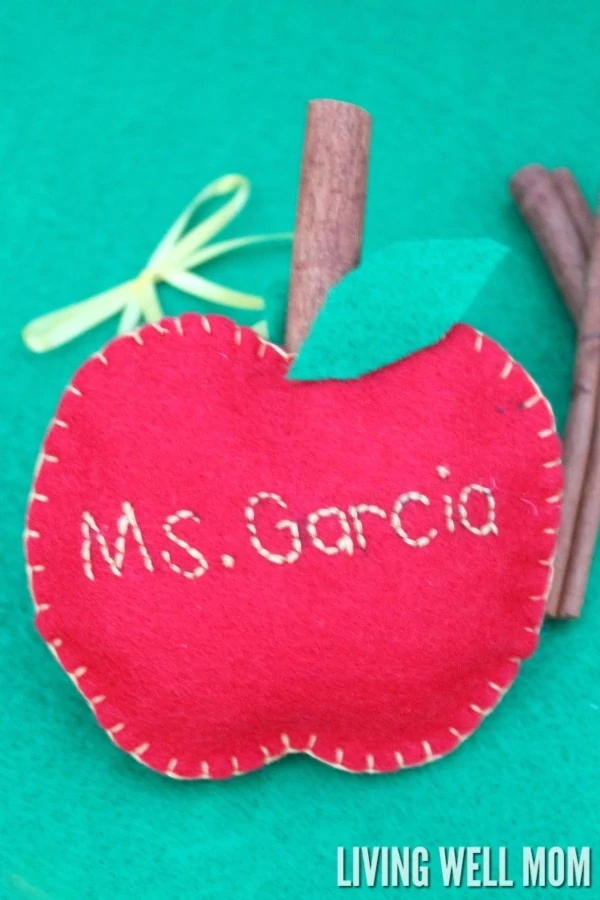 With our felt apple ornaments completed, we're one step closer to being ready for the holidays. Plus I know my daughters' teachers will appreciate the time they put into making special apple ornaments.
Do you make something special for the holidays? I'd love to hear your holiday craft ideas!
For a similar craft also fitting for the holidays, try these felt Christmas tree ornaments – they are adorable!