I love involving my children with Christmas projects this time of year, especially when they are on school vacation. Without keeping their hands busy, they get bored easily. This year our favorite craft is making Christmas tree ornaments with felt and embellishments.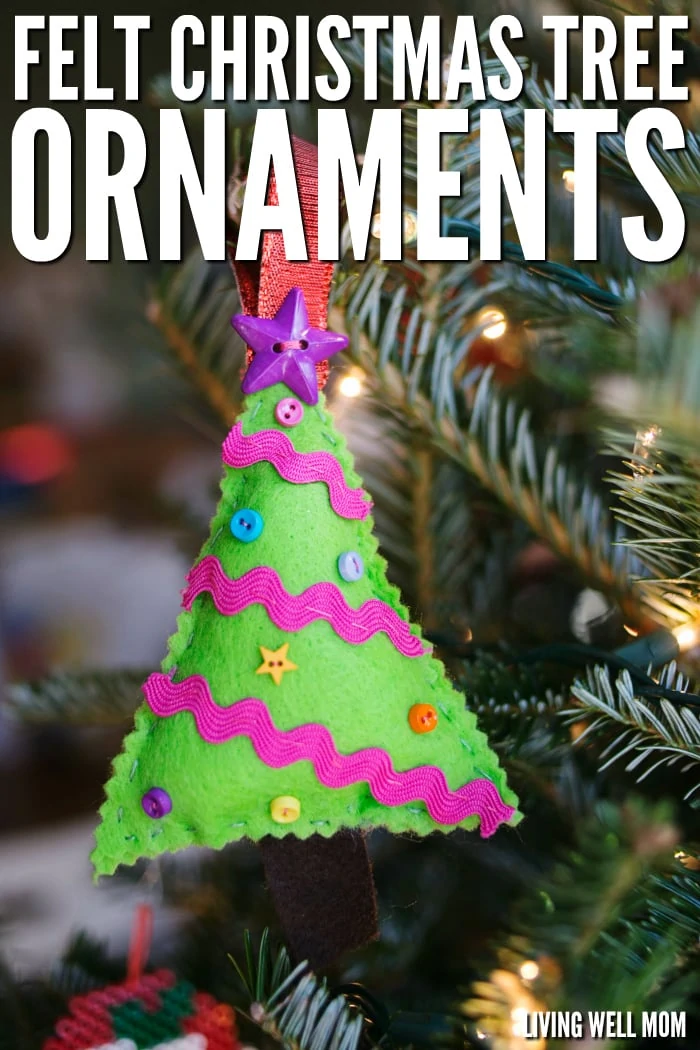 Felt Christmas Tree Ornaments are fun for kids as young as 4 years old, all the way to adults. I must admit that I've dusted off my embroidery needles to make several of my own Christmas tree ornament creations! These felt ornaments are the perfect first sewing project for kids.
Younger children can sew buttons and beads on the front of the Christmas tree, and let Mom help sew the pieces together. If you have really young kids who want to be involved, let them glue on the embellishments with fabric glue. But, you will be surprised how well young children can sew with a little help! A few wrong stitches, knots in the thread, or loops on the front of the ornament only add to the character of each ornament!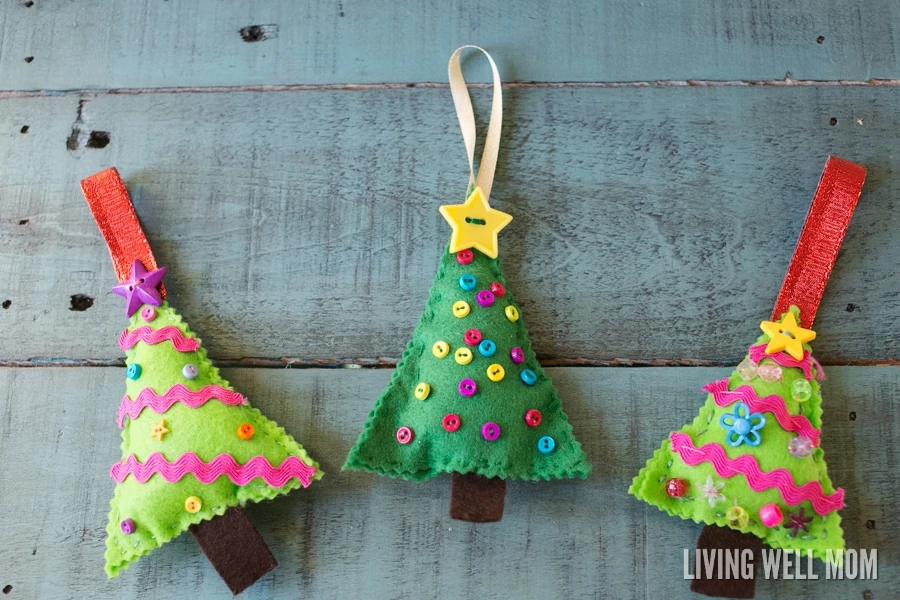 Now, gather some supplies and make Christmas memories AND cute ornaments with your kids!
How to Make Felt Christmas Tree Ornaments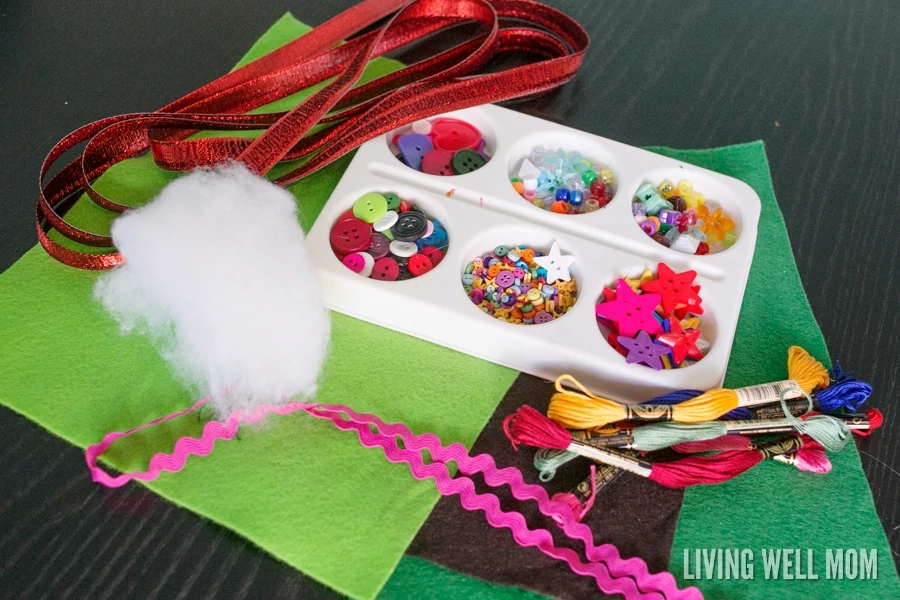 Directions
Fold a piece of green felt
in half, and cut out a triangle shape so you have two identical triangles. Use pinking shears
if you have them for a cute finished edge.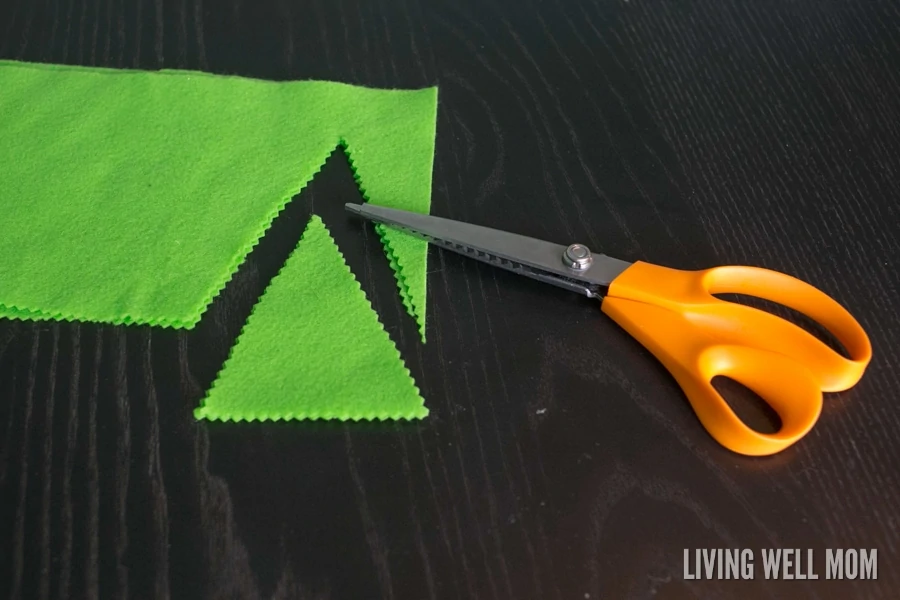 Sew decorations on one of the triangles.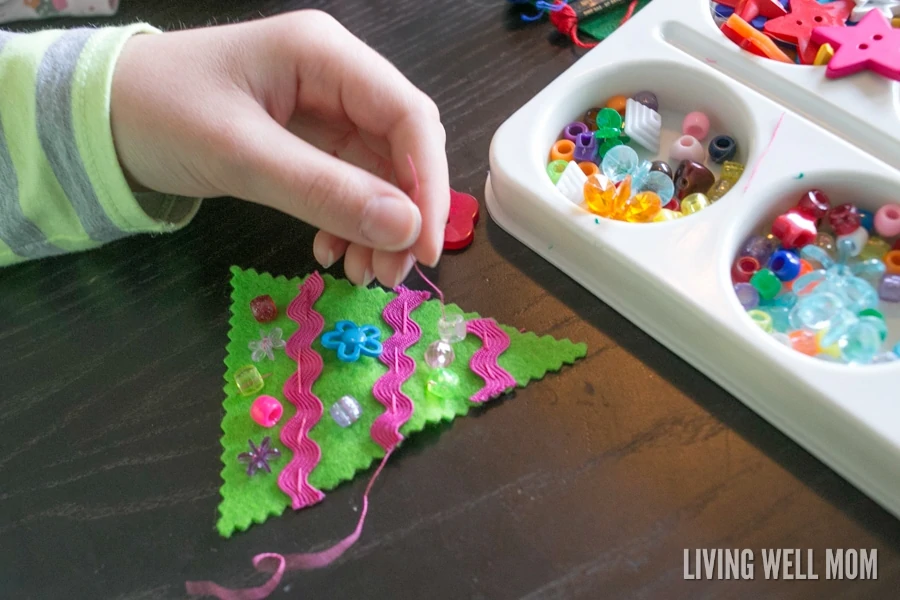 Cut a small brown rectangle for the tree trunk, and sandwich it between the two green triangles. If the child has little sewing experience, make a little stitch to hold the trunk in place.

Cut a 5 inch piece of ribbon
.
Starting on one edge sew the triangles and trunk together, leaving an opening along one side about 1.5 inches long. When you get to the top point of the triangles, fold the ribbon in half, making a hanging loop and sandwich it between the points of the two triangles. Sew through both triangles and the ribbon.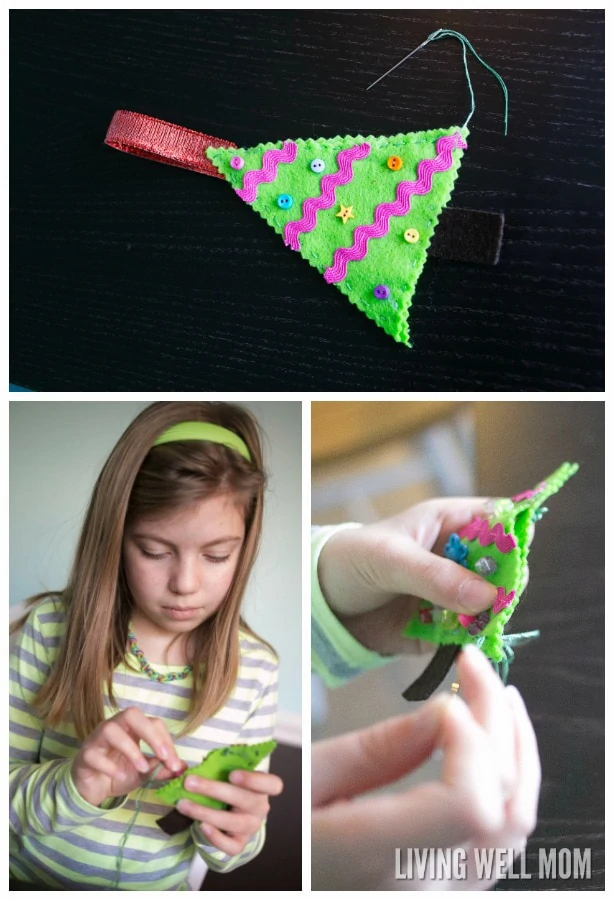 Stuff the tree through the 1.5 inch opening, and then stitch the opening shut.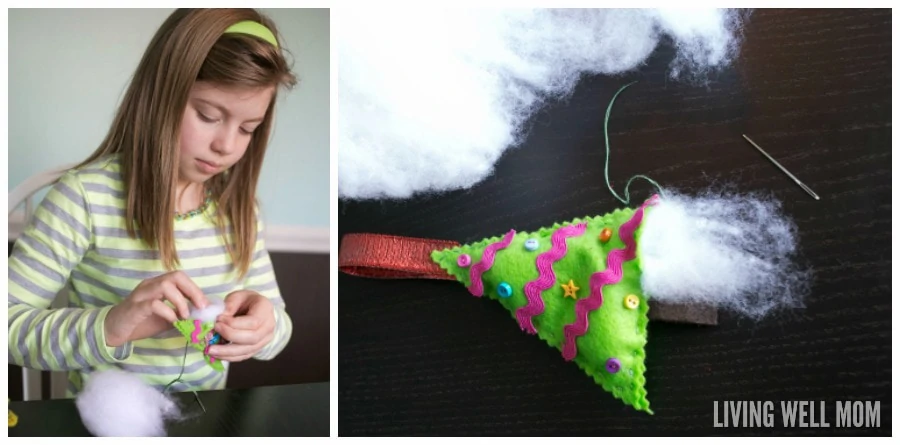 Sew a star button to the top of the tree.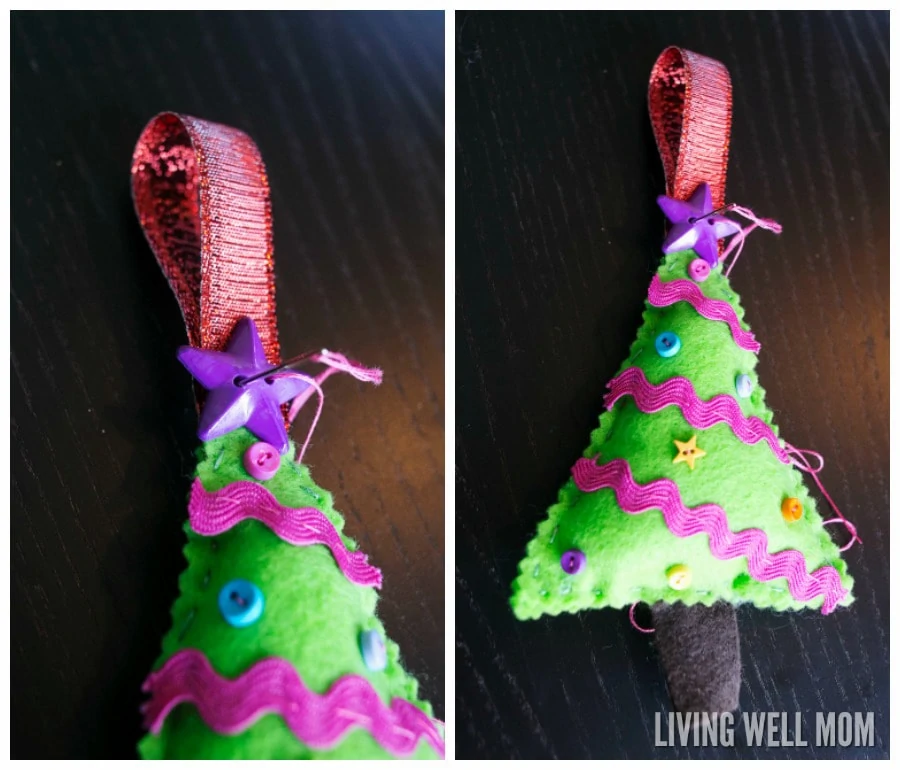 And you're finished with your Felt Christmas Tree Ornaments!
See the variety my children created?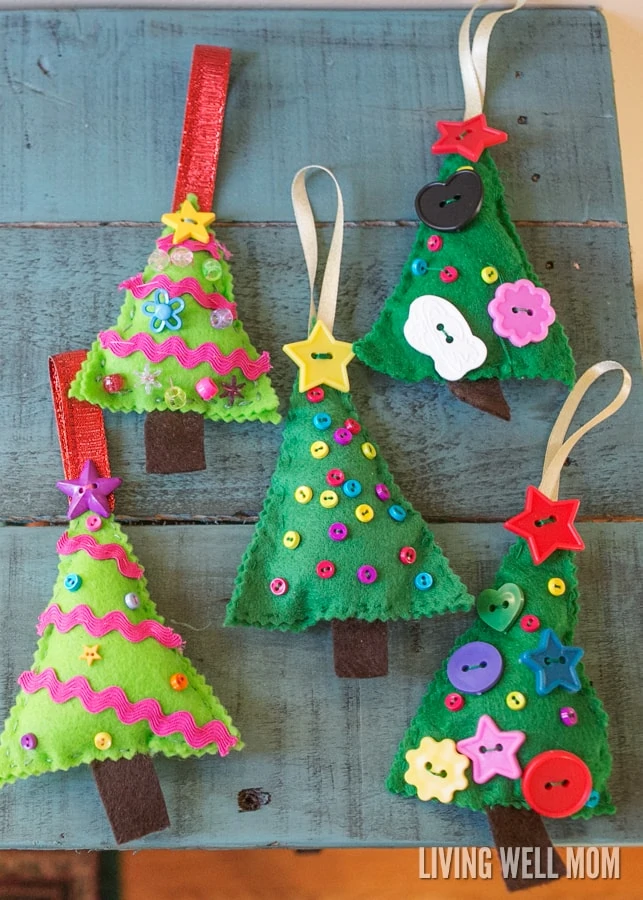 We had so much fun crafting this fun project together – I can't wait to make more or another variety with my children soon!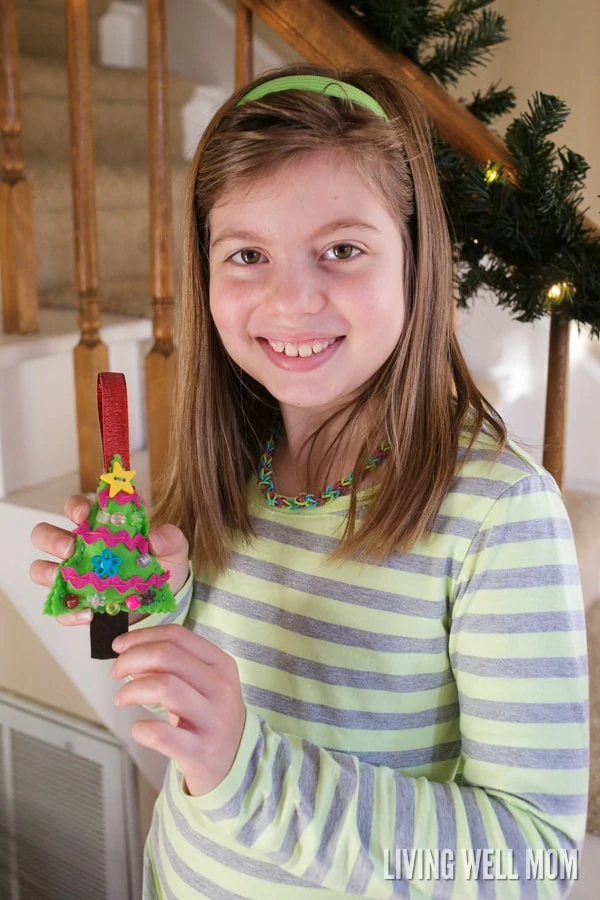 Now all you have left to do is to hang up your new felt Christmas tree ornament!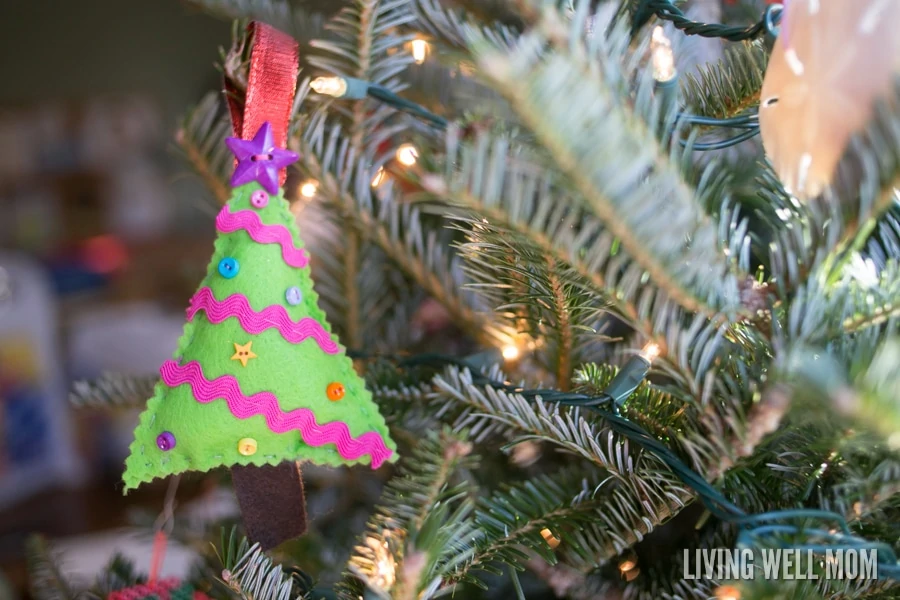 Or tie your felt Christmas tree ornament to the top of a present as a cute keepsake. You know Grandma will love it! And if your children make as many of these fun, adorable felt Christmas tree ornaments as mine did, you will need to give some away!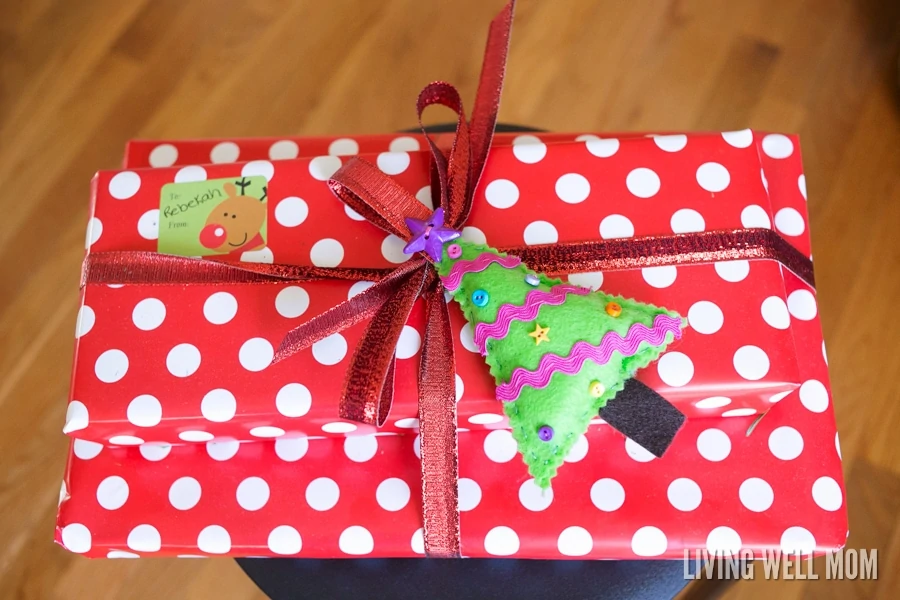 I hope you and your children enjoy this simple sewing projects! Have fun making Felt Christmas Tree Ornaments.