I Spy is an age-old tradition for little kids. A fun way to pass the time that also happens to be great for developing visual discrimination skills. (Strong eye skills, in case you were wondering…) I Spy is a wonderful way to pass the time with your kids, thinking of clues that are hard, but easy enough for a 5 year-old to figure out. These free Christmas printable I Spy cards are great stocking stuffers for Christmas day or simply having fun on a cold winter day.
Materials needed for the Christmas Printable I Spy Cards: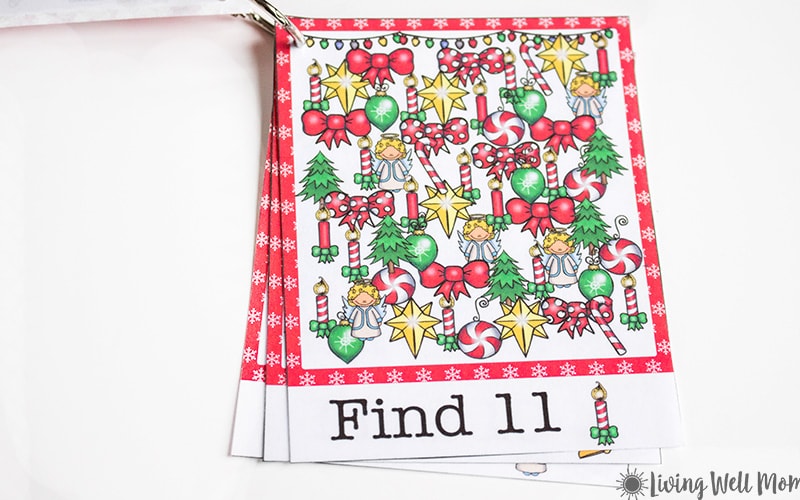 To prep: Print the Christmas I Spy cards found at the end of this post. Then laminate and cut out the cards.
Use the hole punch to put a hole in the upper left corner of the cards and thread them onto the book ring.
There are four cards in total, so there will be plenty of I Spy fun for the kids!
Each card specifies a certain number of the target object to be found, so they are also perfect for using to work on counting skills with a preschooler or kindergartener during the month of December.
After they find the main picture on each card, you can extend the activity by asking your child how many of another object are on the cards.
These are great for stocking stuffers. They will give the kids something quiet to do with the craziness of Christmas day. After all the meals are finished and the pumpkin pie has been eaten, they can sit down with this Christmas printable to have some quiet time while you relax as a family.
My kids are obsessed with I Spy and these are great for starting an interactive game once the cards have all been used. Have the kids take turns spying something Christmas-y around the room and try to figure out what it is. Start a new family tradition of playing I Spy this Christmas!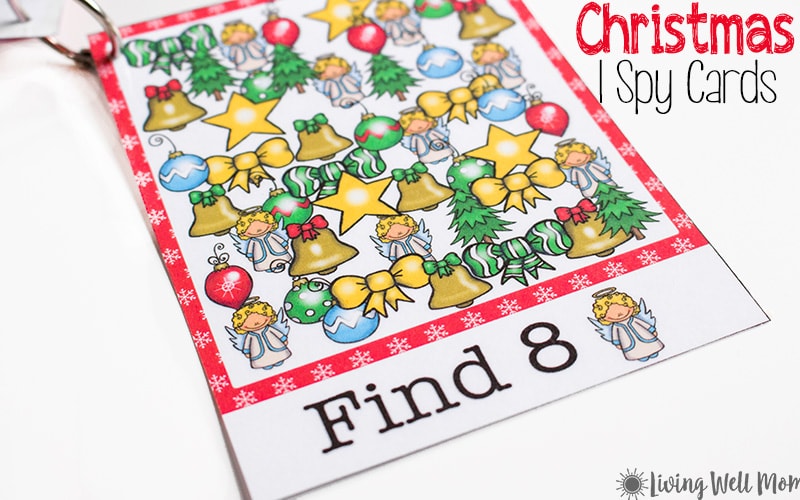 Click here for another free Christmas i Spy game for kids and even more free Christmas printables!