I Spy Christmas cards are a fun holiday activity. Kids become engrossed in search and find activities, so use this simple printable as a learning activity around the holidays or as a way to pass the time on a road trip!
I Spy is an age-old game for little kids. It helps them develop visual discrimination skills (strong eye skills), but they see it as a fun way to pass the time.
I Spy Christmas Edition
I Spy is a wonderful way to challenge your kids and you as you work to think of clues that are hard but easy enough for a 5-year-old to figure out! In other words, fans of all ages can enjoy this game!
These free Christmas printable I Spy cards are perfect to play on a cold winter day or in the car on a holiday road trip. And they make great stocking stuffers that will delight the kids on Christmas day.
No matter how you use them, they'll add some fun holiday cheer to the season!
Looking for more iSpy fun that isn't holiday specific? Here's a Travel iSpy perfect for on the road.
Printable Christmas I Spy Cards Materials Needed
Here's a list of supplies you'll need to prepare this activity packet for your little one.
First, grab the free download:

Next, you'll also want to have the following: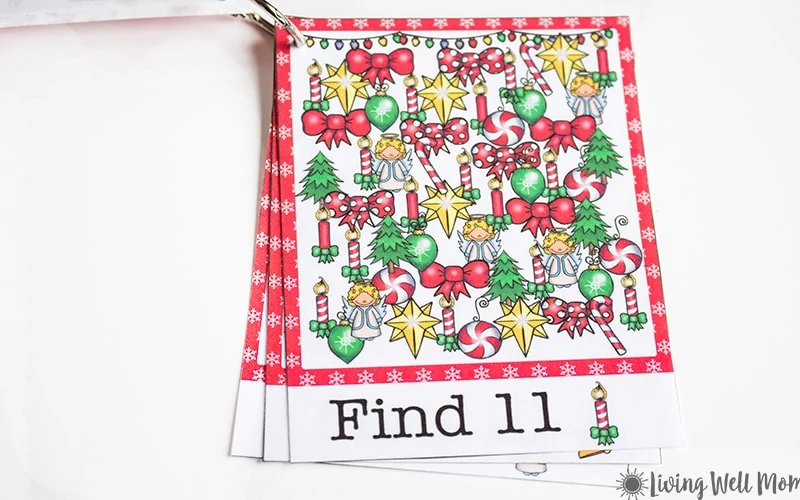 How To Prepare These I Spy Christmas Cards For Play
Preparing these cards is simple. Here's how:
Step 1
Download and print the Christmas I Spy cards by entering your email address in the form found at the end of this post.
Step 2
Then laminate and cut out the cards.
Step 3
Use the hole punch to put a hole in the upper left corner of the cards and thread them onto the book ring. Now they're ready to play – easy, right?
There are four cards in total, so there will be plenty of I Spy Christmas fun for the kids!
How To Play Chrismas I Spy
This is one of those games that kids of all ages can play solo, or you can make it a competition if you need to keep siblings occupied. I Spy Christmas edition is also perfect for working on counting skills with a preschooler or kindergartener during the month of December.
Here's how to play:
Each card contains different objects (ex: toys, gingerbread men, ornaments, candy canes, etc.)
The bottom of each card has a certain number of a specific object that your child needs to find.
Have your child "spy" the correct number of the designated object on each card.
That's it!
Extend The Game
After they find the main picture on each card, you can extend the activity by asking your child different questions:
How many different objects can they find on the cards?
Count how many of each object is on each card (how many ornaments? how many angels?)
Which object has the most pictures on the card?
Which object has the least number of pictures on the card?
Are there more angels or Christmas trees on the card?
Questions like these will help your child develop their critical thinking, problem-solving and simple mental math skills.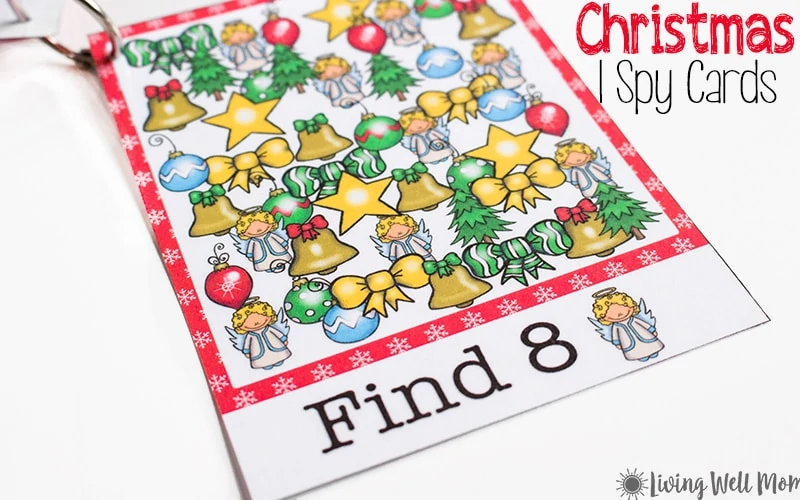 Christmas I Spy FAQs
Here are a couple of questions I often see from readers about this printable game. If you have a question but don't see it answered below, please leave it in the comments!
What age is this I Spy game suitable for?
I intentionally created these cards to work for toddlers, preschoolers, and kindergarteners. Young elementary school-aged kids might also find it entertaining – especially if they are competing with their siblings to find the greatest number of objects or to find all the objects first (the fastest)!
Can I print this game out on regular printer paper?
I highly recommend printing it on cardstock because it will be more durable and stable. If you don't have any but plan to laminate the cards, printer paper should work just fine.
How can I help my child not lose count of the objects?
It can be hard to keep track as you count! If you have laminated the cards, I recommend using dry-erase crayons or markers and having your child circle each item as they count.
When can we use this I Spy Christmas game?
You can use them anytime you want during the greatest time of the year! They're great for school parties, playdate Christmas parties, and cold days.
Kids are also delighted to find them as stocking stuffers. The cards will give the kids something quiet to do during the craziness of Christmas day. They can play Christmas I Spy while they're waiting for food.
Or, after all the meals are finished, and the pumpkin pie has been eaten, they can sit down with this Christmas printable to have some quiet time while you relax as a family.
My kids are obsessed with I Spy, and these are great for starting an interactive game once the cards have all been used. Have the kids take turns spying something Christmas-y around the room and try to figure out what it is.
Start a new family tradition of playing Christmas I Spy this year! Don't forget to grab your free download:

More Printable Fun
If you love this printable, you'll love these other ideas too!