Fine motor skills are just as important for kids to learn as the ABCs. Help your child develop their skills with these cute scissor cutting practice worksheets.
Confession: I've often felt like I've neglected my kids' scissor cutting skills when they were little. After all, it's not plastered everywhere like the ABCs or 123s, so it's easy to forget about cutting practice for preschoolers. Plus, sometimes, just the thought of handing scissors to a preschooler can be scary! Ya know?
Luckily, learning this skill doesn't need to induce panic for moms anymore. All you need to help your child learn this important skill (and we'll talk more about why it's important) is a pair of safety scissors! I use Fiskars Preschool Scissors and have been happy with them. The ergonomic designs fit those tiny hands and make cutting easier.
Learning Scissor Cutting Skills
Some parents may not see this skill as one that's important to focus on (they'll get it in school, right?). However, there are a few reasons why kids need scissor cutting practice:
Fine Motor Skills: The motion of opening and closing scissors builds strength in the muscles of the hands that help with holding crayons and pencils. Playing with playdough also helps build these muscles!
Hand-Eye Coordination: The act of holding a piece of paper in one hand while tracking with their eyes and cutting with the other hand builds up coordination.
Bilateral Coordination: This is the process of coordinating different movements with both hands at the same time.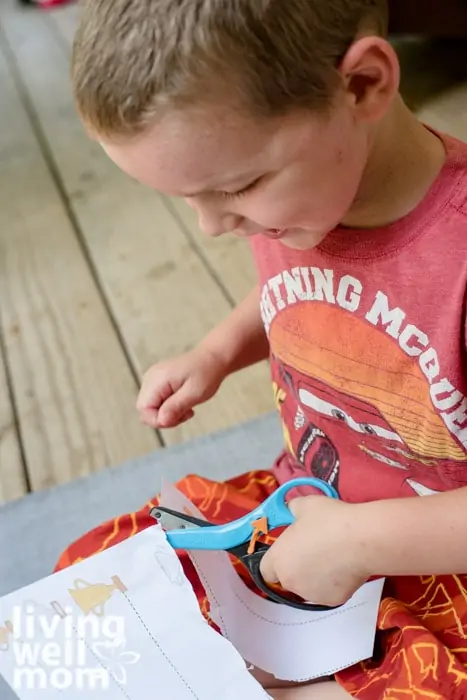 My son, Luke, is 4 and definitely needs cutting practice with scissors as he enters preschool this fall. It was perfect timing when I stumbled upon a set of kids' safety scissors when I was out shopping.
Luke hasn't had much cutting practice at all (remember… I was much more focused on the ABCs and 123s thing). I was happy to see that he took to the preschool scissors right away.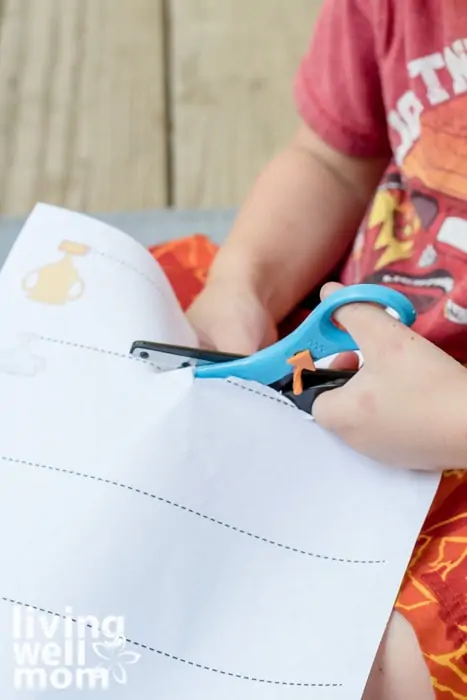 With just a little help from me to figure out how to hold them properly, he was cutting (almost) like a pro in no time. He hasn't quite made up his mind whether he's a righty or lefty, but he was able to use the scissors with both hands fairly easily. (Bonus!)
Scissor Cutting Practice For Preschoolers Free Printable Packet: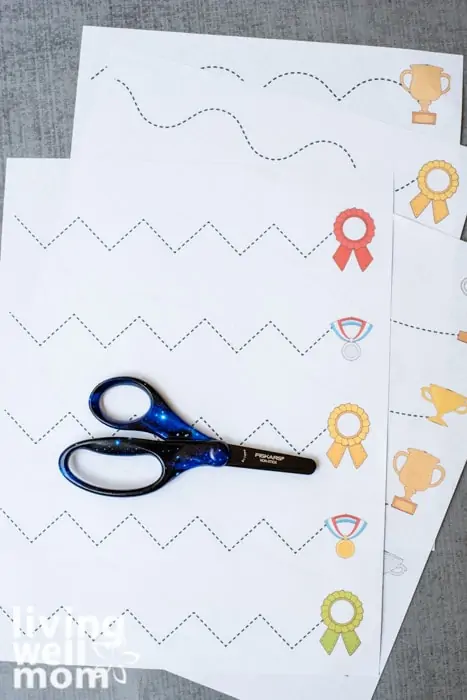 I came up with a free printable activity packet for Scissor Cutting Practice for Preschoolers, and I just love how it turned out. It's sure to make learning this skill SO much easier for your kids and you!
Older kids will enjoy this fun activity as they fine-tune their own scissors cutting skills too!
You'll find 3 sheets for cutting practice with fun rewards at the end of each row in this free printable activity packet. Your kids will be so excited when they "cut to the prize!"

One of my other sons, Joshua, is entering the first grade this fall, and he absolutely loves these cutting practice sheets along with his new kid-friendly scissors. He used to have a hard time using scissors, but it's clear that practice makes perfect – because he does a great job now!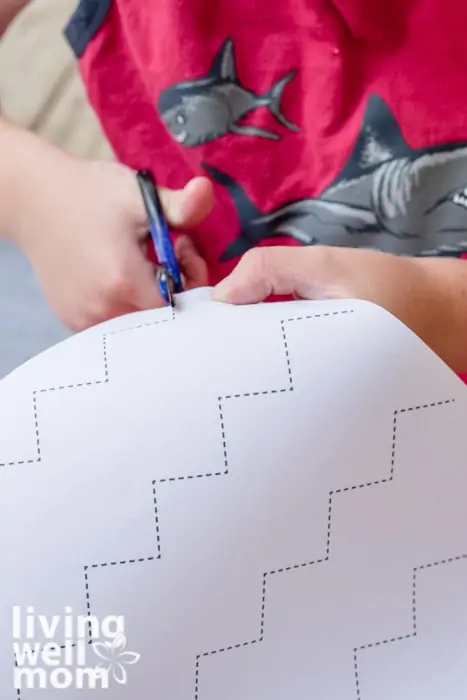 Encourage Cutting Practice – Without Fear Of Injury
When it comes to my kids using scissors, safety is my number one concern. I like the Fiskars Kids Scissors because they have an innovative safety-edge blade for high-quality cutting with a safer blade angle. It allows kids to learn a new skill more safely and gives moms peace of mind.
If you're ready to start preparing your child for school, get a pair of kids scissors. You can quickly and easily get your child all the scissor cutting practice they need. Plus, with my scissor cutting practice worksheets, they'll get their practice while having fun too!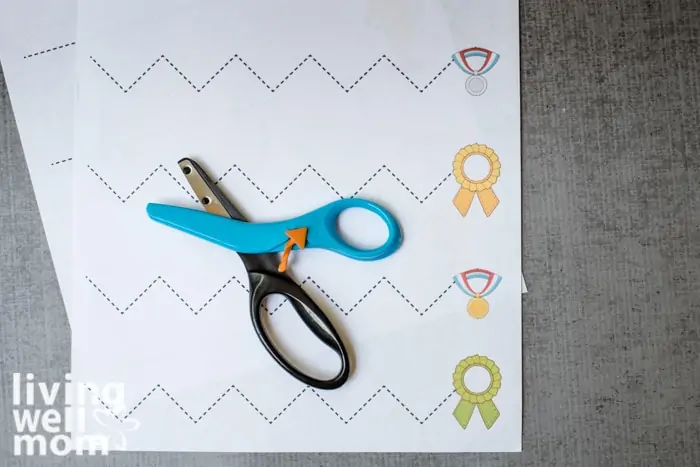 When choosing scissors, another tip is to pick a set that has a non-stick blade coating. This will make it much easier to cut cleanly through materials (even ones with sticky adhesives like tape or glue). Make sure to put a pair on your back-to-school shopping list!
Get your free printable worksheets here: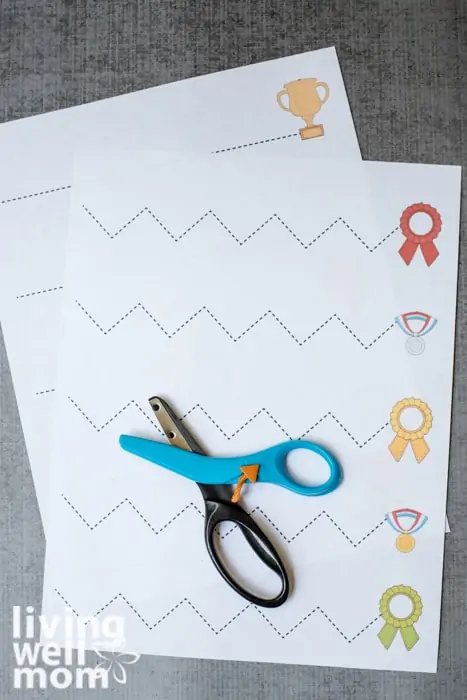 More Fine Motor Skills Practice Activities For Kids
Pin the image below to print your practice sheets later.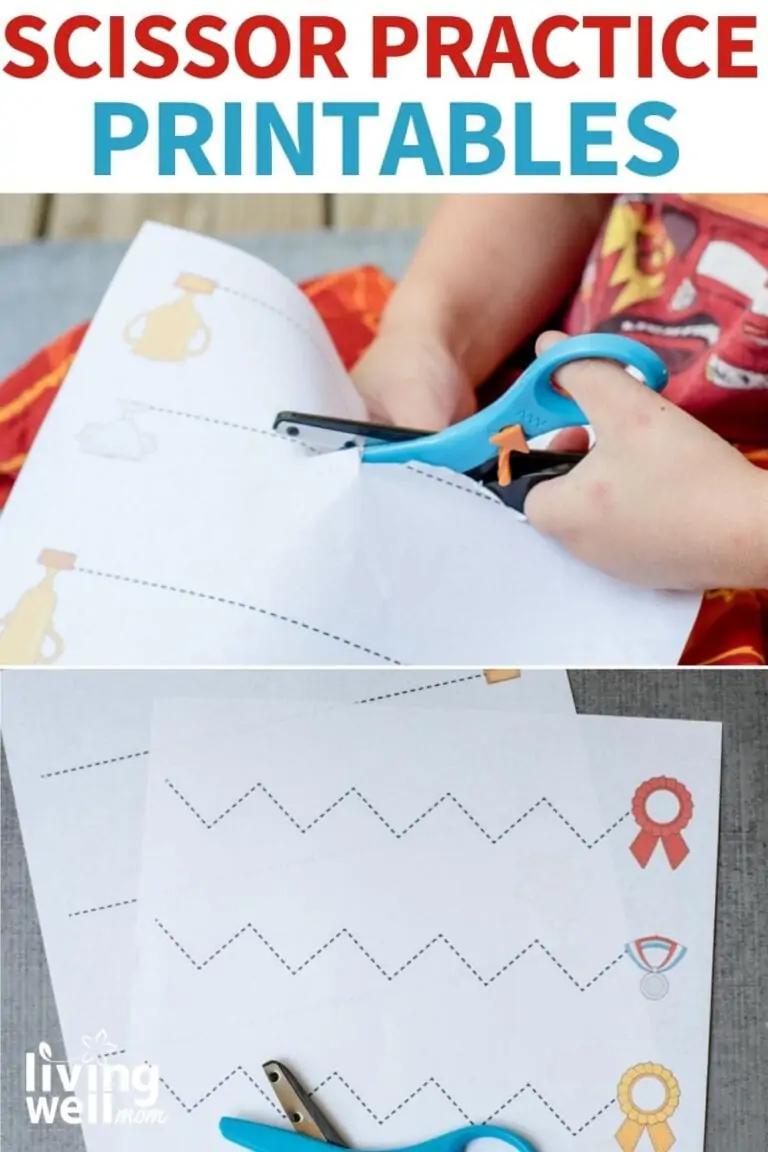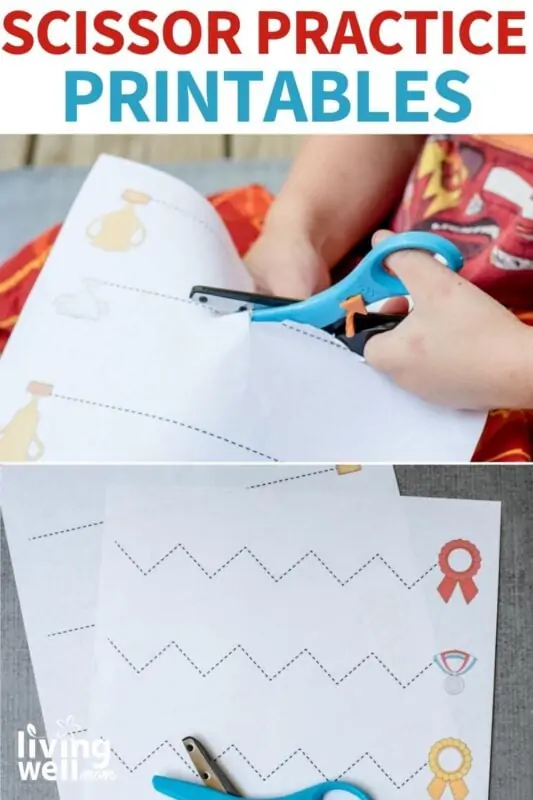 https://living-well-mom.ck.page/7d4d044d7a/index.js