One of the most anticipated movies of the summer is Minions! My little one's are super excited and if yours are too you will want to learn How to Make Minion Stick Puppets!
Minions are everywhere right now and kids cannot seem to get enough of them. They are silly, fun, and mischievous which makes it easy for our kiddos to relate, am I right mom and dad?
So if there are days when it's just way too hot to head outside, crafts like these can be lifesavers for parents. My little guy loved making these with me today and he loved playing with them even more!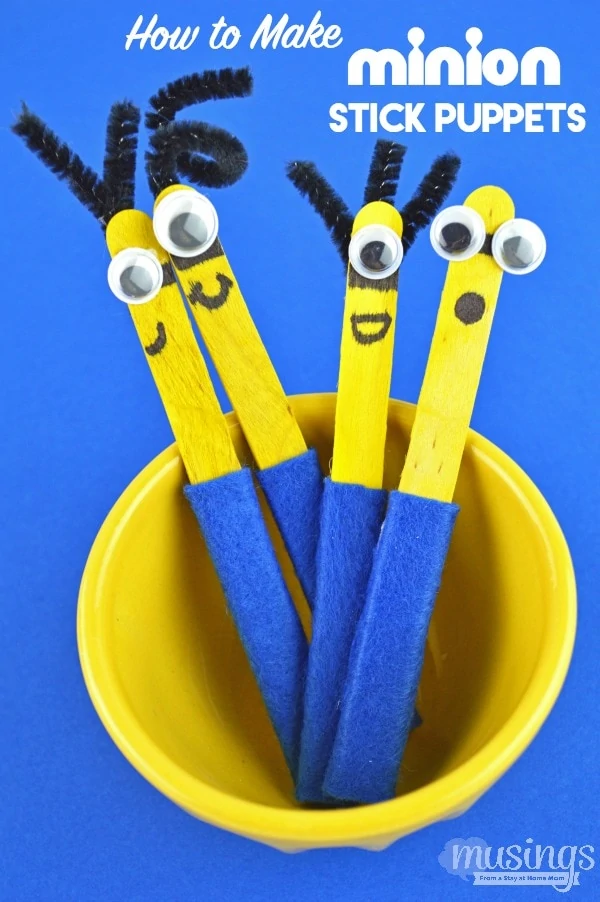 I truly love how bright the colors are for minions. It's one of the many reasons I adore them. It's also why I love how well this stick craft turned out!
Now aside from these being puppets your kids can play with, they actually work amazingly well for bookmarks! So while you are encouraging summer reading, these little guys can encourage your children to learn and read.
With that being said, if you are a teacher (or know one) these would make fun crafts to make in class to use as bookmarks too! They truly are an all-around fun craft to make!
Both you and your kids are going to love learning how to make these special stick puppets!
Note: You will be using hot glue to make these. However, you can certainly make it a bit more kid-friendly and use school glue.
How to Make Minion Stick Puppets:
Supplies Needed:
(affiliate links below:)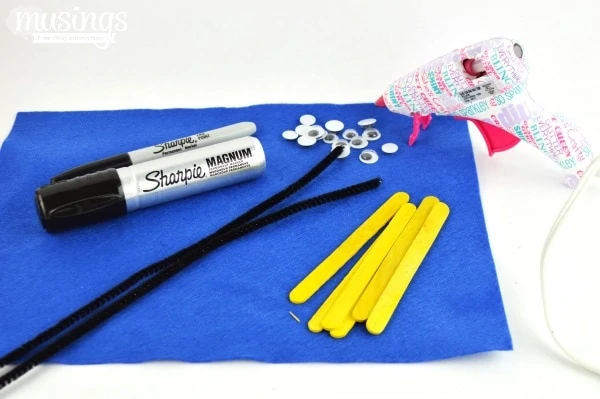 Directions:
Measure out how much felt you need by placing your stick over the top of your felt. You only want the felt to cover half of the stick (this is the pants of the minion).
Cut the piece of felt off so you have a nice long horizontal piece. Don't worry if it's not perfectly straight as you won't be able to tell once your sticks are complete.
Grab your first stick and wrap the end of the felt piece around it. Hot glue this part to the stick.
Cut off the felt leaving just enough so it can wrap around to the stick to adhere to the area where you glued it down in step 3. Repeat this process until you have as many minions you want to make.
Take your black sharpie marker and add a thick line towards the top of the stick.
Hot glue a googly eye on top of the line you added in step 5. This serves as the minions eye. You can get creative and add 2 eyes, 1 eye, etc.
Draw on the mouth using your sharpie marker. Again get creative and make each one different!
The final step is to add the hair (if you wish). I just cut some different sized pieces of the black pipe cleaner and hot glued them onto the backside of the craft sticks. I also opted to leave some bald.
Once the hot glue dries, your children can play with them and have some fun!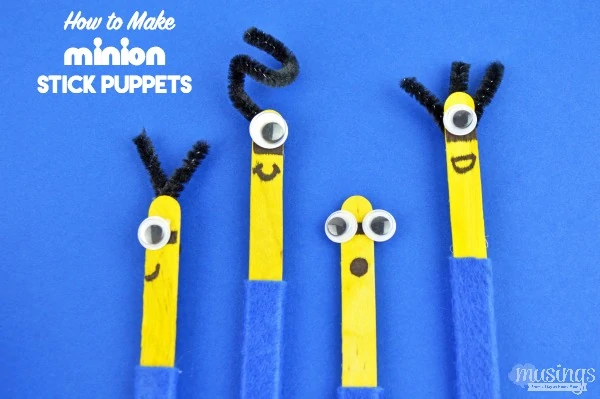 What is your favorite Minion?