As our kids run through the door to unwind from an exhausting day at school, the backpacks, shoes, and socks love to fly off and land in random spots around the house. Sometimes you can make out a breadcrumb-like trail as they make a beeline to the kitchen for afternoon snacks. There must be a simple solution to backpack storage and organization!
Of course, I made my way over to Pinterest to look for ideas and I was inspired by all the creative ideas. I've rounded up more than 10 backpack "drop zone" ideas I love and I think you will too.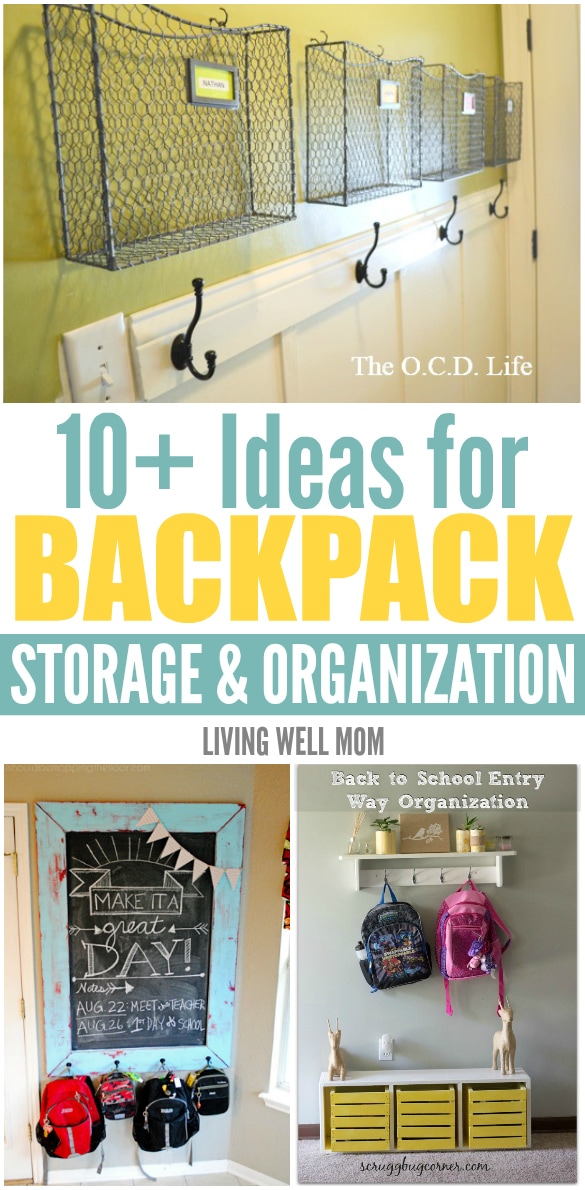 10+ Ideas for Backpack Storage and Organization
Command stations or centers are a great way to keep the whole family organized, so it makes sense to add an area for backpack storage. All those school flyers and notices that get sent home will finally have a place to go immediately after the kids hang their school bags. You'll no longer find yourself saying, "Where did that paper go?"
This homework/kids' command center has a little of everything, portable homework station, backpack storage and framed motivational quotes. [Sophistishe]
Having multiples means more backpacks and school papers. Keep them all neat with this kids' command center idea. [Inspiration Organization]
This family command center by The Homes I Have Made is colorful and bright and perfect for keeping the entire family on track.
This minimalist organization concept featured on I'm an Organized Junkie, updates a plain entryway wall into a beautiful area for backpacks, bags and paperwork.
From Overwhelmed to Organized steps away from the traditional hooks and uses bins to create a backpack storage area.
For a more decorative approach to backpack storage and organization, be sure to take a look at these great ideas. Maybe space is limited so you just want a look that blends with your existing home decor or style.
This simple entry way backpack landing zone, is clean and bright! I love the splashes of color. [Gym Craft Laundry]
Get crafty by creating your own backpack hangar like this one (above) from One Mile Homestyle.
Repurpose old bookshelves to make decorative lockers for your home. [My Creative Days]
If you love the repurposing idea, but don't want to spend too much time on the project. You can use the bookshelves in this DIY Kids' Cubbies post from Elle Cherie Blog.
Even a couple inexpensive bulletin boards and hooks will do the trick. This backpack center from The Organised Housewife, is perfect for the budget-conscious household.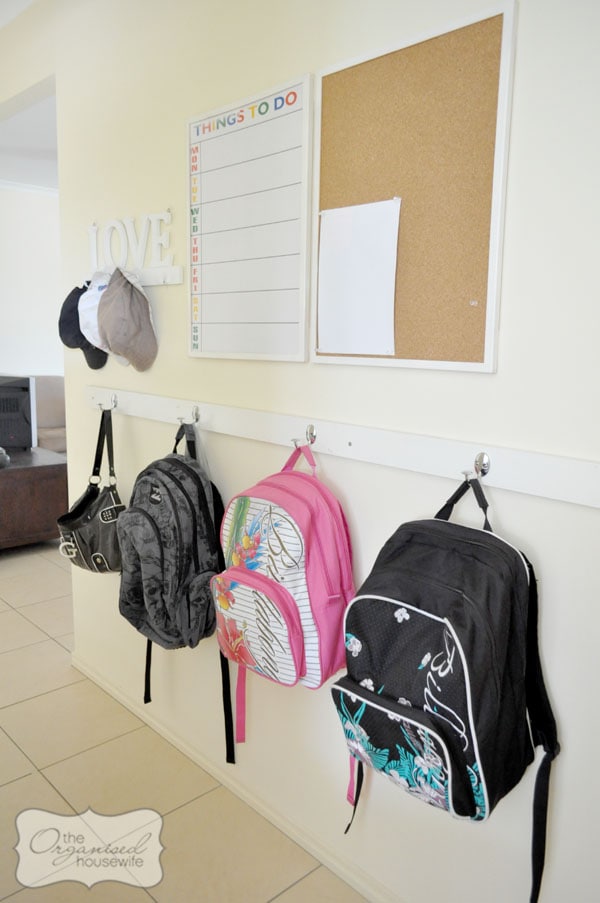 A Mom's Take turns a bare wall into a colorful and decorative backpack station.
This DIY backpack and homework center from Dogs Don't Eat Pizza, keeps school papers sorted and backpacks off the ground.
The Backpack Wall by Bat Mom mixes different elements for a creative storage and organization unit.
I love this chalkboard idea from I Should Be Mopping. It's a shabby chic approach to backpack storage.
With the variety of inspirational concepts for backpack storage and organization, it may be difficult to pick just one. Just remember to do what works for you and your family. You don't have to be Pinterest perfect! As long as your space is functional and effective that's all that matters.
Share your own ideas in the comments, I'd love to see them!