It's time to start thinking about the new school year, and that means buying supplies, packing lunches, and storing backpacks. Rather than just having those backpacks laying all over the house, I've gathered some clever backpack storage ideas you'll love.
As our kids run through the door to unwind from an exhausting day at school, the backpacks, shoes, and socks love to fly off and land in random spots around the house. Sometimes you can make out a breadcrumb-like trail as they make a beeline to the kitchen for afternoon snacks.
There must be simple solutions to backpack storage and organization out there! As it turns out…there are, and I'm showing you some of my favorite ideas today.
Practical Backpack Storage and Organization Ideas
As I searched all around for ideas, I was so inspired by the creative ones I found that I just had to share them with you. Here are more than 10 backpack storage "drop zone" ideas I love and know you will too.
You will find some of these ideas are very basic and extremely functional, while others are a more decorative approach to backpack storage and organization. Even if space is limited, you can find a look and style that blends with your existing home decor and helps you stay organized.
By the way, if you are looking for other helpful tips and tricks to start the school year right, be sure to check out these 35 Back to School Organizing Hacks to Make Your Life Easier!
Command stations or centers are a great way to keep the whole family organized, so it makes sense to add an area for backpack storage. It will take hardly any time but will go a long way toward keeping you organized.
Now, all those school flyers and notices that come home will finally have a place to go immediately after the kids hang their school bags. You'll no longer find yourself saying, "Where did that paper go?"
This homework/kids' command center has a little of everything: a portable homework station, backpack storage area, and framed motivational quotes.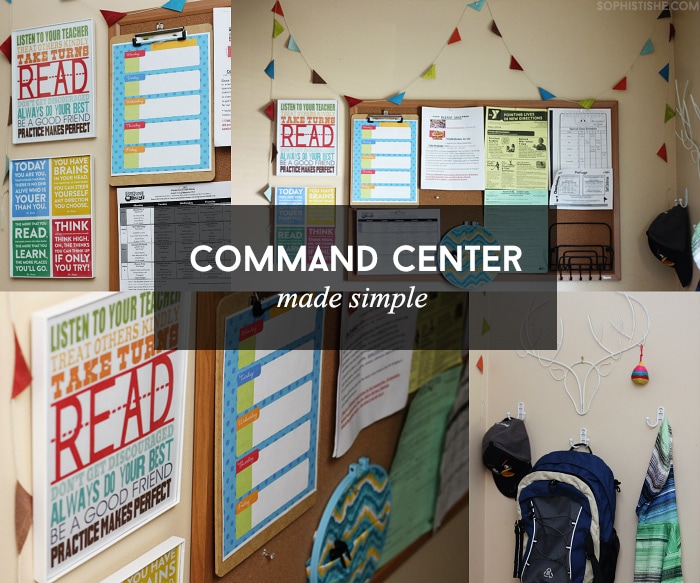 Having multiple kids means more: more backpacks, school papers, lunch boxes, and everything else. Keep everything neat and organized with this kids' command center idea.
This family command center may be compact, but it's bright, colorful, and perfect for keeping the entire family on track. With a calendar, bulletin board, cubbies, file organizer, and hooks for backpacks and jackets, nothing will fall through the cracks.
This minimalist organization concept takes a plain entryway wall and transforms it into a beautiful area for backpacks, jackets, and paperwork.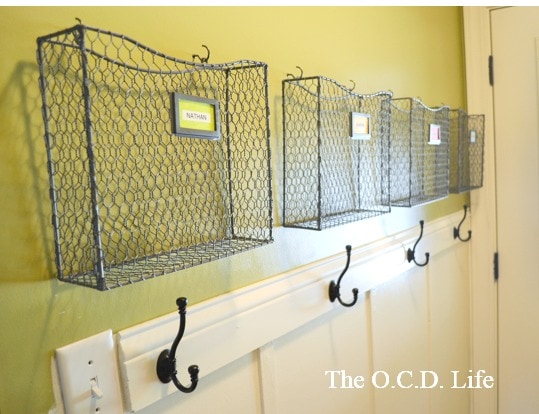 Here's a way to make use of supplies you already have in a creative way. Forget about the traditional hooks and use bins to create a perfect (contained) backpack storage area.
This simple entryway landing zone has everything you need for an effective backpack (and jackets and shoes) storage area. Plus, I love the clean and bright splashes of color!
Love to DIY? Reclaimed wood can be used for SO many things, and it looks amazing every single time. Let your crafty side out by creating your own backpack hangar like this one.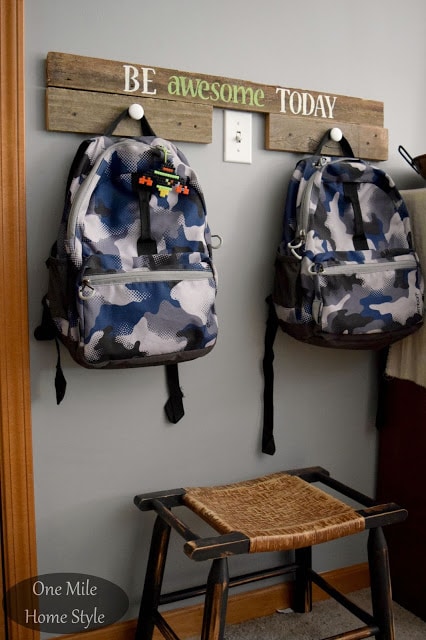 Give your old bookshelves new life while also using them to make decorative lockers for your home. It's simple, genius, and adds tons of organizational opportunities (like backpack storage!).
If you love the repurposing idea but don't want to spend too much time on the project, you can use the bookshelves in this DIY Kids' Cubbies post. Not only are they easy and affordable to make, but they are perfect for small spaces and fit almost anywhere.
Even just a couple of inexpensive bulletin boards and hooks can be enough to do the trick. This backpack center is perfect for the budget-conscious household.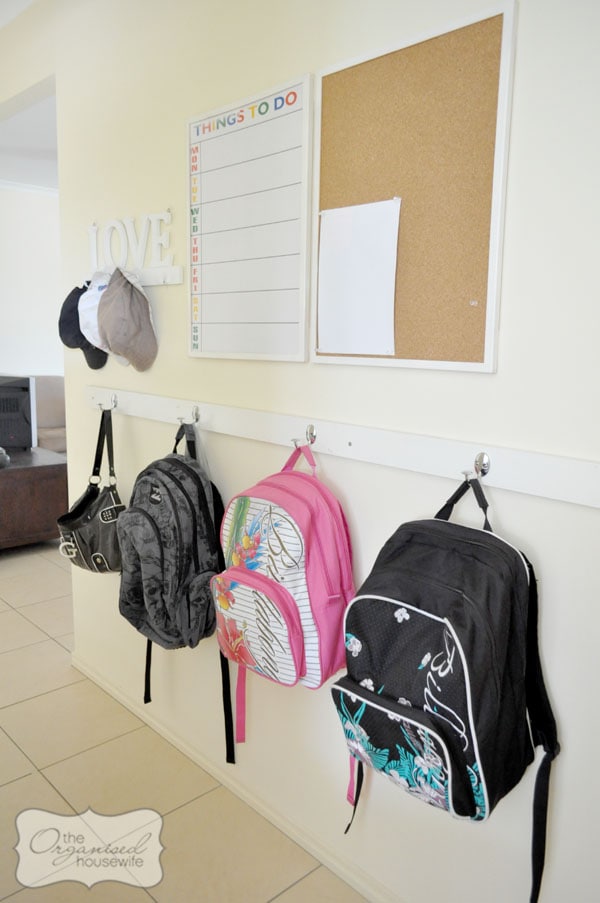 Turn a bare wall into a colorful and decorative backpack station. I love the organization of having the child's initial above their backpack storage hook. No more fighting over whose hook is whose!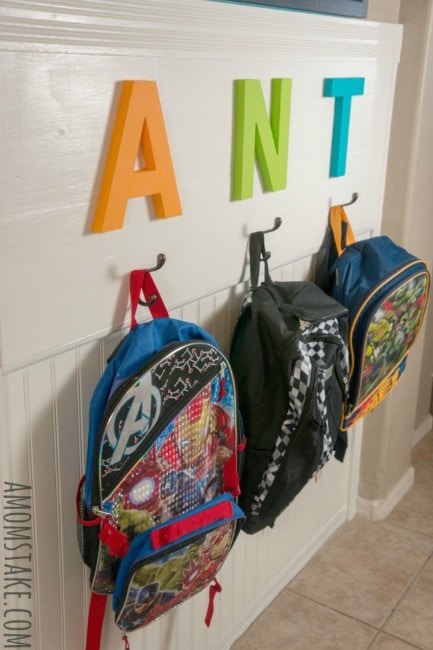 This center keeps school papers sorted and backpacks off the ground. I need this so homework and other important papers don't get lost anymore. Plus, it looks amazing.
If you want something that's super stylish while also keeping the clutter to a minimum, try this backpack storage idea. It mixes different elements for a creative storage and organization unit.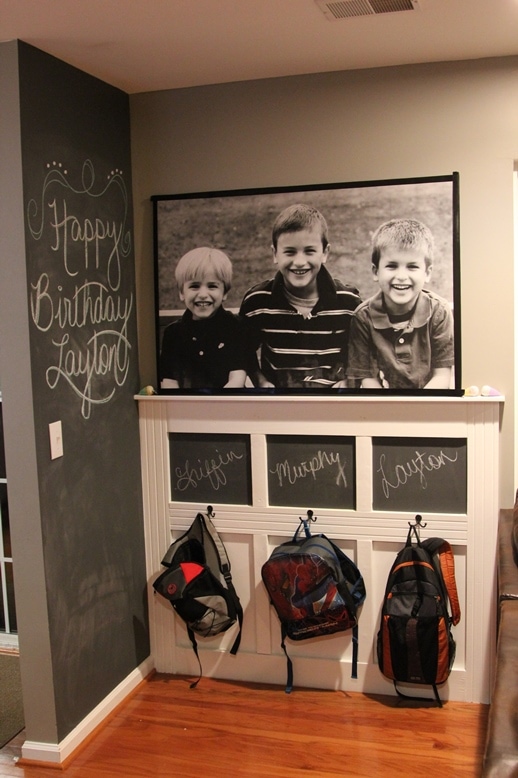 I love this chalkboard idea! Its shabby chic approach to backpack storage is both adorable and effective. Add something like this to your home and you'll love the flattering comments you get about it.
Final Thoughts About Backpack Storage
There you go! I hope these 14 ideas for backpack storage inspired you with a plan for containing (and organizing) your backpacks this school year.
Given how amazing all these inspirational concepts for backpack storage and organization are, it may be difficult to pick just one. Just remember to do what works for you and your family.
Nothing says that you need to be Pinterest perfect! All that matters is that your space is functional and effective in reducing your clutter and keeping you organized.
Do you have other ideas? Please share your own ideas in the comments because I'd love to see them!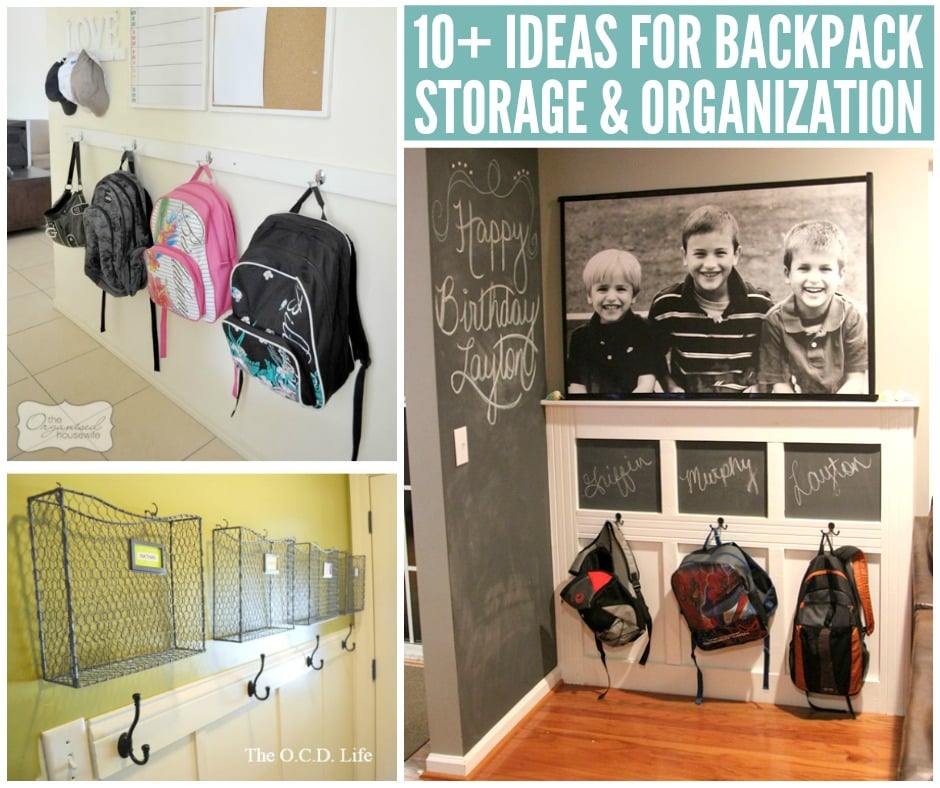 More Posts About School Organization:
35 Back to School Organizing Hacks to Make Your Life Easier