With so many new craft supplies available every season it almost becomes overwhelming to see all of the possibilities for things that you can create with your kids. But this classic fall craft is free from all of that! My mom did this with me when I was little and I had a blast doing it with my kids this year. This Apple Suncatcher craft is not only super easy, but also a great way to use up old broken crayons as you replace them this season.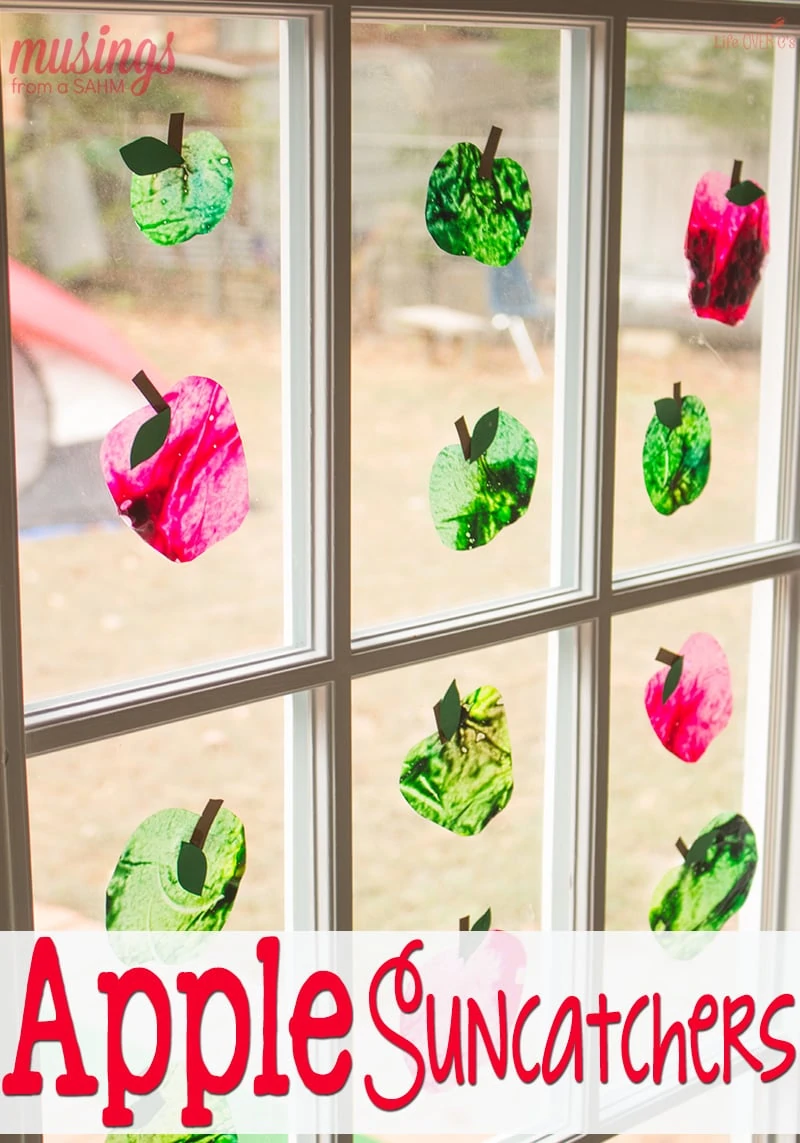 What You'll Need for this Apple Suncatcher Craft :
Broken or dull crayons
Jar or glass
Wax paper
Scraps of brown and green construction paper
Old knife and cutting board
Old towels or cleaning rags (they may get stained)
Iron
Ironing board
How to Make Apple Suncatchers:
The first thing you will need to do is remove the paper from the crayons. I have a little girl who loves peeling the papers off, but for this suncatcher craft I did something even easier.
I filled my jar up with water and put the whole crayons into the jar. After only 10 seconds, the papers slid right off the crayons. It's a much less messy way of cleaning off the crayons than the preschooler's version…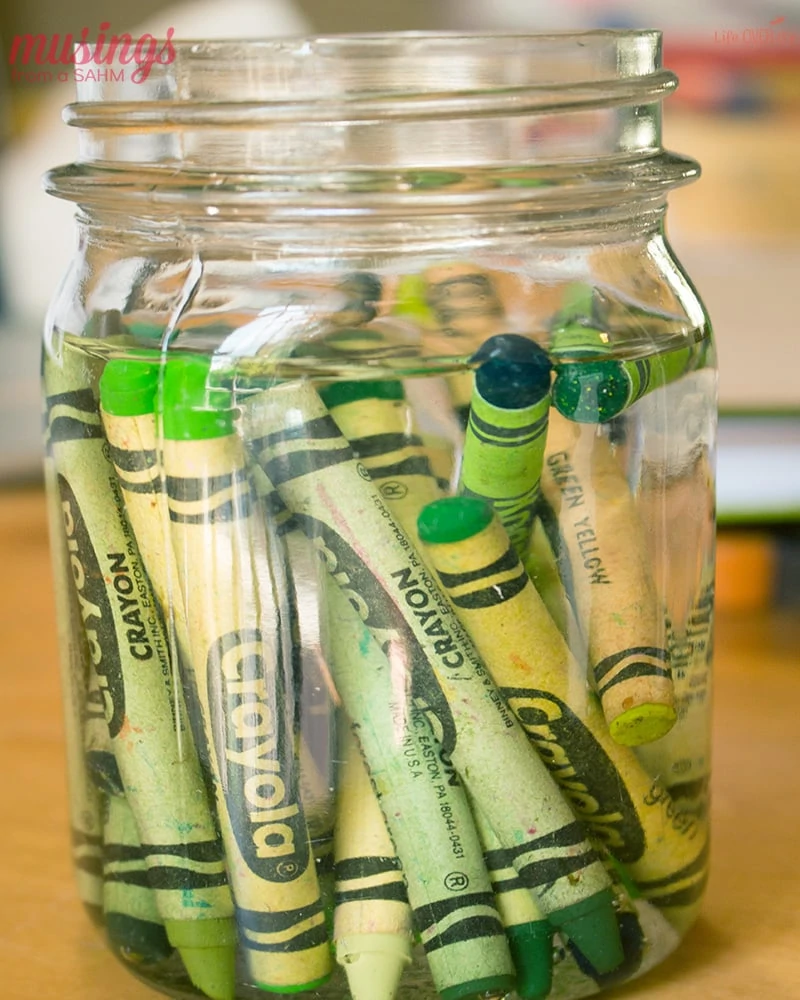 Using the old knife and cutting board, chop the crayons into small pieces. They don't have to be super tiny, but it can be difficult to melt them if the iron can't stay on top of them. This is what mine looked like.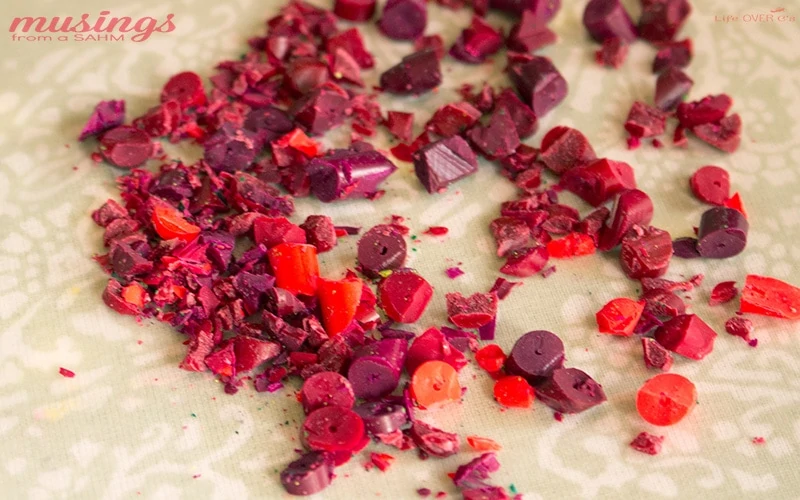 Place one or two kitchen towels on the ironing board to protect it from stray melted wax. Then put a layer of wax paper on top, followed by some of the crayon pieces. The broken crayons in the picture above melted to about 1 foot long, so go sparingly to start.
Lay another layer of wax paper on top of the crayons and then put a kitchen towel on top of that.
Heat the iron to medium and gently move it across the wax paper and towels. Be careful not to push the crayons to the outside of the wax paper. That can happen if you have a big chunk of crayon and press too hard.
Once the crayons have melted, remove the towels and wait for the wax to cool. Then cut the wax (with the wax paper still on) into apple shapes. This will be your suncatcher craft!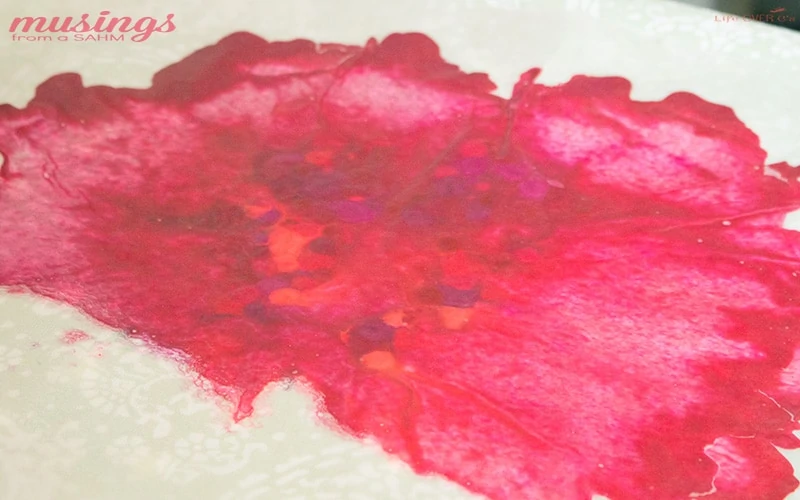 Add a stem and leaf with the construction paper.
Then let kids tape their pretty apple suncatchers to the window and you can see the beautiful marbled textures.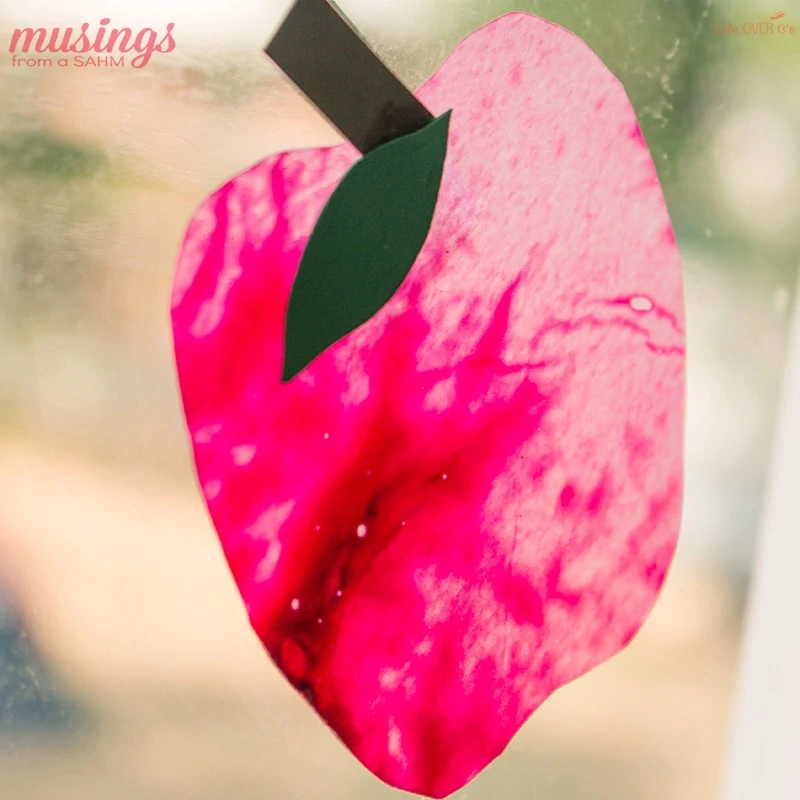 What is your favorite classic fall craft? We'd love to hear about it!