Can you believe back to school season is upon us already? Some of your kids have already started but for us, school begins in less than 2 weeks. This week, I wanted to make a special treat for the kids. But, like many of you, I didn't have time to do super fancy, yet still wanted something fun. So I thought of this simple Back to School Cupcakes idea.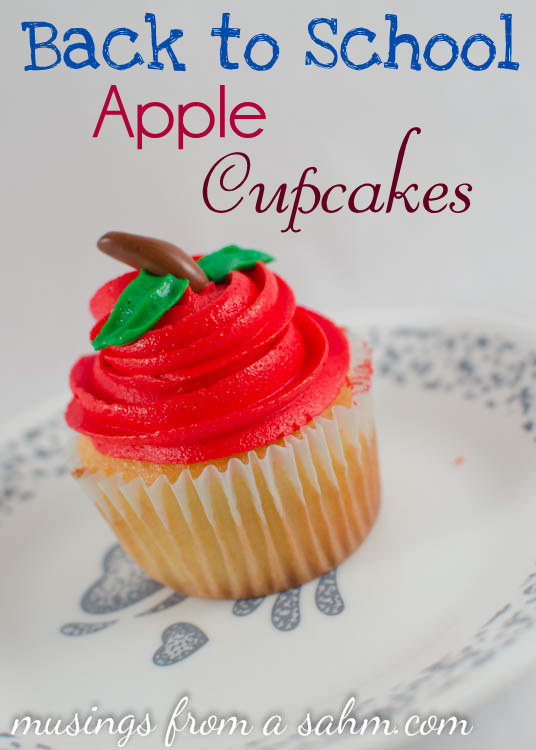 It's not as fancy as it sounds or looks. Which is exactly what I wanted. In this busy time of year, who has time for complicated treats that are going to be gobbled up in seconds anyways?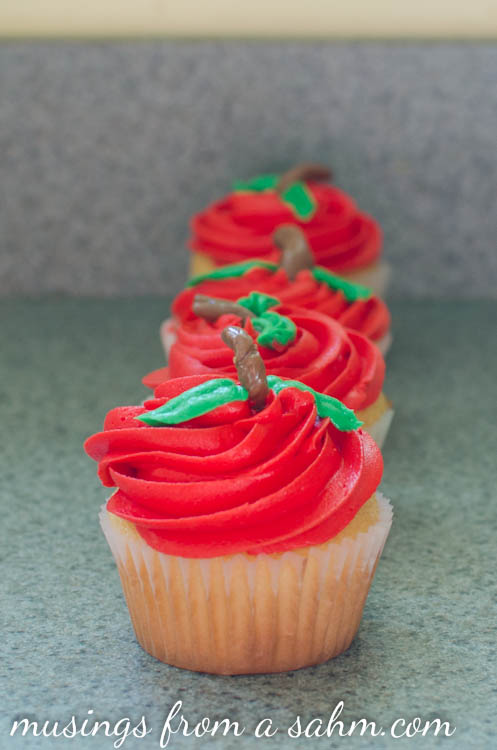 Here's the quick version of this recipe.
Print
Back to School Apple Cupcakes
boxed cake mix + required ingredients (usually oil, water, eggs)
buttercream or vanilla frosting
if desired, a tube of Cake Mate green frosting
food color(I recommend Americolor for rich, deep colors)

6

–

12

tootsie rolls
Instructions
Mix up the cake mix as directed and spoon into 24 regular-sized, paper-lined muffin cups. Bake according to package directions for cupcakes.
Cool completely.
For the frosting – make your favorite buttercream frosting or use the canned variety. The canned variety probably won't look as pretty, but it's easier. Save a small portion to tint green for the leaves (you won't need much) or you can go the easy way and buy a tube of Cake Mate green frosting. Your choice.
Frost the cupcakes with red. Cut the tootsie rolls into small piece and roll into the shape of a stem. Put those in the center of the cupcakes, then pipe in green "leaves."
Enjoy!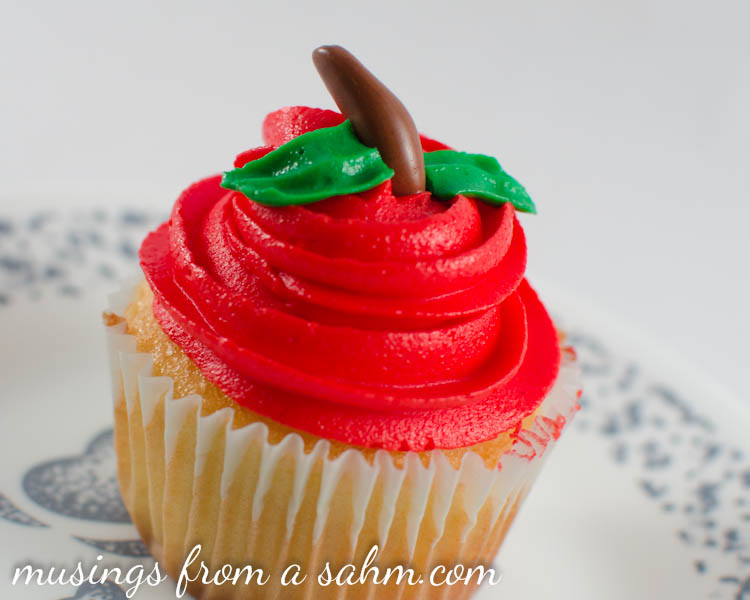 When it comes to food color, I can never say enough about how awesome the AmeriColor food color is. It provides such deep, rich colors and a little goes a long ways. You could never get these colors with regular food color from Target. Totally awesome.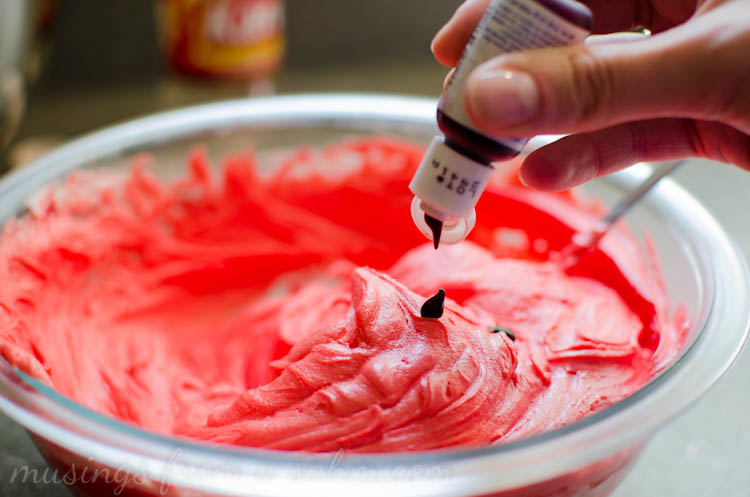 Want to do really simple? Just frost with a knife.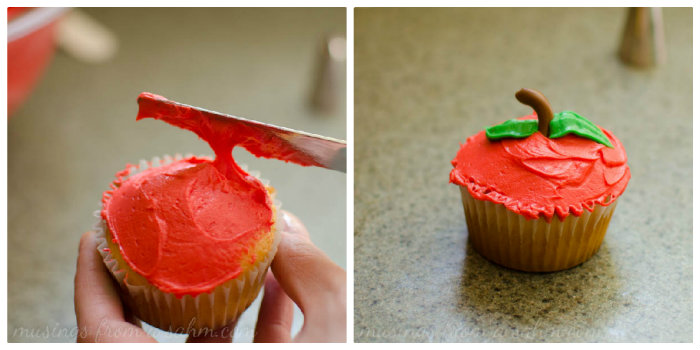 Or you can use a decorator's bag and tip, like I did for the rest of our cupcakes. (I can never resist a bit of decorating! I just wish I had more time for it!)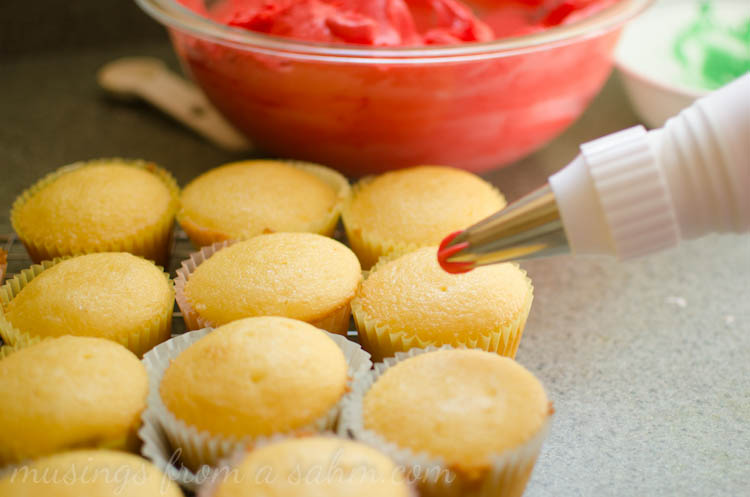 For the green food coloring, you can make your own or buy a Cake Mate icing tube. Your own will taste better (personally I don't like the taste of Cake Mate) but Cake Mate is much quicker. In this case, I bought the icing when I was still figuring out how to work these cupcakes, but ended up using my own green frosting as you can see here: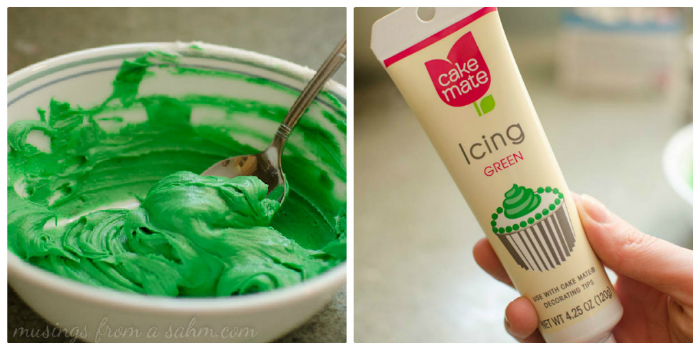 Don't forget that frosting colors will deepen overnight, so if it's not quite as green as you'd like, you're probably still okay. See the above frosting in the bowl? It's lighter than this photo below.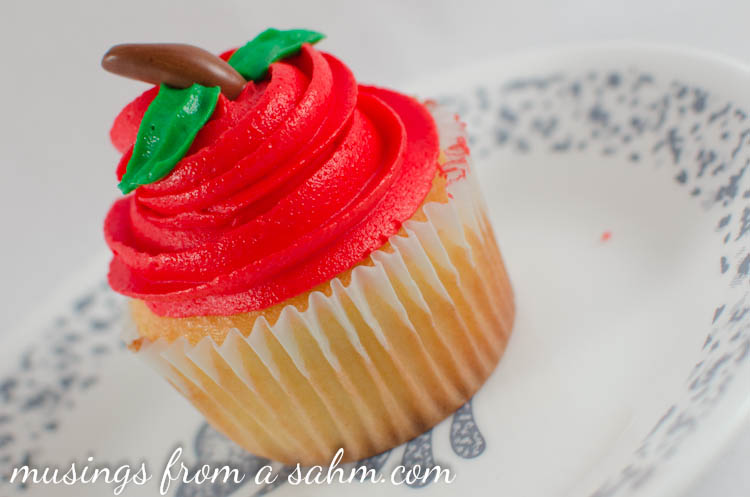 You can get the kids involved with rolling the tootsie rolls and putting them on the cupcakes.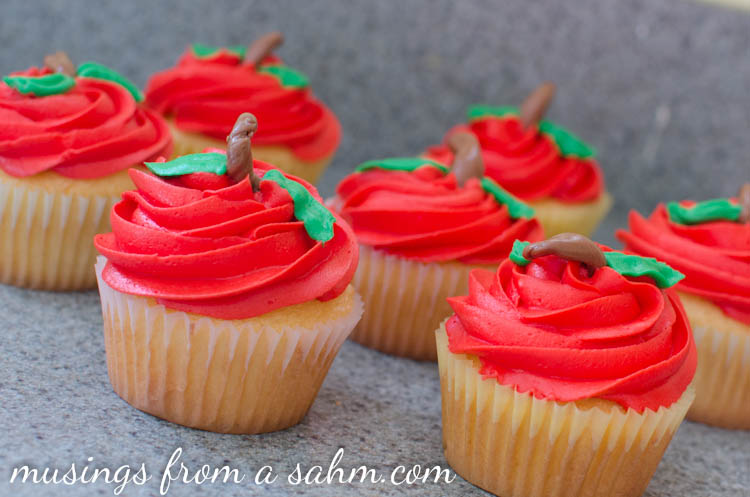 My children totally loved these Back to School Cupcakes. I was happy they were a hit, yet I didn't have to spend hours making them. It's win-win in my book!
Like this recipe? Please click the "Pin It" button on top so others can see it too! Thank you!
Back to School Cupcakes #Recipe – Easy to make & kids love the fun apple theme! bit.ly/OAmzrI via @musingssahm #BackToSchool

— Erika Bragdon (@MusingsSAHM) August 16, 2012