Götz dolls are coming back to the United States with more dolls and accessories than ever, thanks to HABA. My girls received the beautiful red-haired Julia, a Precious Day Girl Doll for review.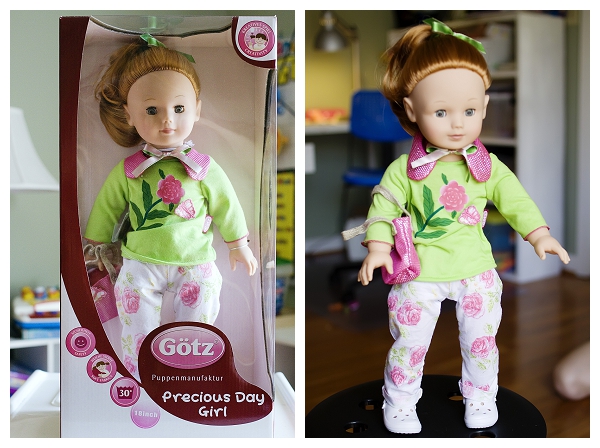 Nothing is more frustrating than bringing home a doll with beautiful hair, only for the hair to end up matted and snarled after just a few days of play.  Over the last 9 years I've spent hours (unsuccessfully) trying to tame the wild hair of my girls' beloved dolls.  When I read that Gotz doll hair would be easy to care for and brush I was skeptical, but we've found that it truly does not tangle and mat as all the other dolls in our home are prone to doing.   After a week of play, plus sleeping in bed every night with my preschooler,  Julia's hair is still shiny and soft.
Our  hair can even be washed and styled with a curling iron or blow dryer on low setting!  Any other doll hair would melt with this treatment.  The company secret is that the long locks are rooted in the doll's scalp, so they won't snarl or kink.  This makes a Gotz doll perfect for children who love playing with doll hair.  My girls loved watching the Gotz doll hair styling techniques on HABA's YouTube channel and practicing new styles on Julia.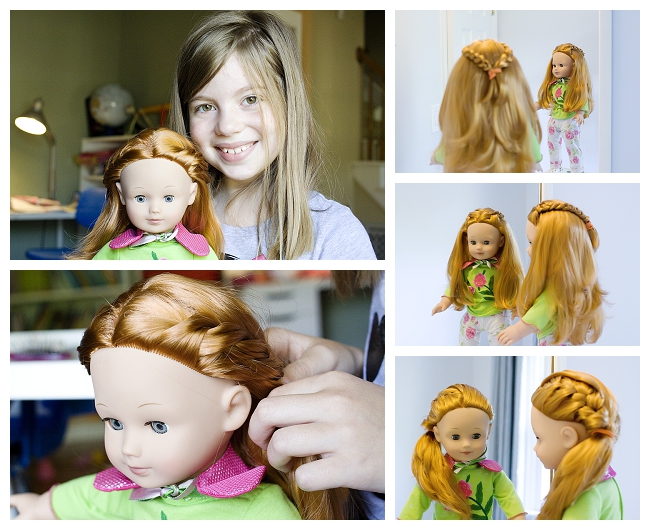 The other really wonderful thing about Gotz dolls is their washability.   If they get dirtier than a spot treatment can take care of, these dollies can be tossed in the washing machine!  If you have a little girl who insists on carrying her dolly everywhere with her, then Gotz dolls are the right choice for you.  Though my girls beg to bring their dollies along on every outing, I rarely agree knowing that if a beloved doll gets very dirty that it's owner will be heartbroken.  Therefore, my daughter has been so surprised to hear me say "yes" to every request to bring Julia out of the house.  Julia has been to the grocery store, the doctor's office and even to the ball fields and the park.  She has climbed trees, ridden down slides, and even gone bicycle riding!  We haven't needed to give her a thorough washing yet, but the smudges she earned on her face from tumbling out of Peyton's bicycle basket washed off with just warm water.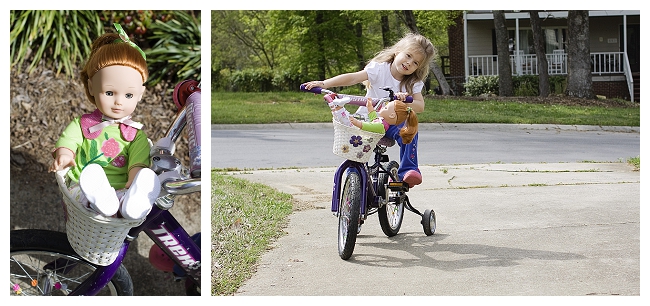 My preschooler claimed primary ownership of Julia, which means she's been very thoroughly played with for this review.  Other brands of similar dolls are recommended for girls ages 8 and up because they must be played with very carefully- they can't get dirty and their hair is very delicate.  I love that the Gotz brand creates their dolls in a way that allows them to be accessible to younger children also.  Peyton really put those great features to the test playing with her doll this week.   I feel very confident recommending Gotz dolls not only for older girls who play carefully and gently with their dolls, but also for those younger children who play hard with their dolls.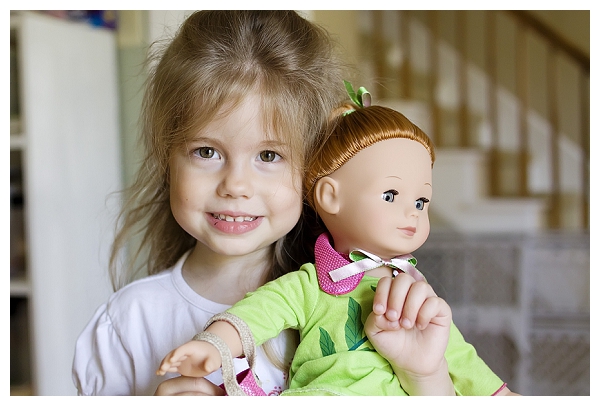 Win It!
1 lucky winner will receive a HABA Gotz doll – Muffin or Aquini doll of their choice!
CLOSED