It's good for kids to learn about nature and the simpler things in life, but it's not always easy to teach this when life is so busy. Building simple bird feeders kids can make is a great way to teach them about wild birds in a very real way.
Kids will love helping create a feeder for birds and they'll be so excited to see the birds eat from their feeders! It's also a great way to teach kids to be kind and help animals.
My son, Luke, and I made a very simple bird feeder out of materials we already had a few weeks ago and he was so thrilled with our fun project. (I was thrilled with just how easy it was to make!) I thought it would be fun to find some other bird feeders kids can make too.
Here's 15 Simple Bird Feeders Kids Can Make:
This homemade bird feeder from A Mom's Take will have all the birds happily snacking in your backyard.
The kids will enjoy going on a pine cone hunt as they prepare to make their own peanut butter bird feeders. [I am THE Maven]
Teach your little one about re-purposing with this DIY milk carton bird feeder from Simmworks Family.
Watch your children beam with pride as they create their own bird feeder buffet by The Frugal Mom Eh.
Hang these fun shaped bird feeders to attract some feathered friends. [Real Moms of Vegas]
This simple bird feeder tutorial comes with a feeding guide to help you attract specific birds. [Confessions of an Overworked Mom]
Download a free printable bird feeder instruction sheet for your Disney Fairy fan, so they can build one just like Fawn would. [Enchanted Homeschooling Mom]
Re-purpose tin cans into whimsical bird feeders. [Turning the Clock Back]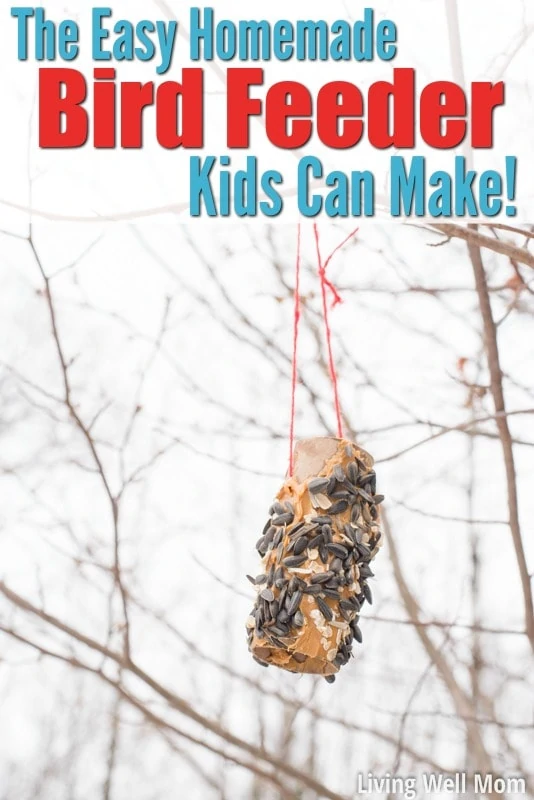 It's okay if this toilet paper roll bird feeder is a little messy to make, the kids will have a blast. [Living Well Mom]
Apple slices + peanut butter will make for a fun bird feeder activity. [Director Jewels]
I'm sure there will be a little snacking involved when making these popcorn ball bird feeders by Turning the Clock Back.
Show some feathered friends some love with these cute heart shaped bird feeders. [Spring Mount 6 Pack]
This bird feeder wreath by Sugar Spice and Glitter, uses different types of seeds and cranberries to make it so colorful.
A mix of nuts and fruits will truly make this a Festive Feast for Birds. [Natural Kids Team]
See what Our Peaceful Planet does with an old CD and plastic cups!
What can't you do with popsicle sticks? Check out this cool bird feeder by The Koala Mom.
Don't throw out those coffee cans! Save it for your kiddos to make this really colorful bird feeder. [Momtastic]
For those who love hummingbirds, here's a simple kid friendly tutorial by Growing Up Gabel.