Life has been crazy busy around our house lately. It feels like we just returned home from our long road trip to North Carolina and my sister and nephew just arrived for a week long visit. But in truth, it's been almost 3 weeks since our trip and my sister returned home last Friday. Seriously, where does the time go?
With all that fun and busyness, I haven't been cooking as much as usual and instead, we've been eating out more. Of course part of that is bringing sis from Texas out to try a tasty New Hampshire lobster roll (A-MAZING! If you ever visit, you MUST try it!)
Anyways, it's more reason to continue expanding my quick-and-easy family dinner recipe collection. And I've got another tasty addition to share with you today.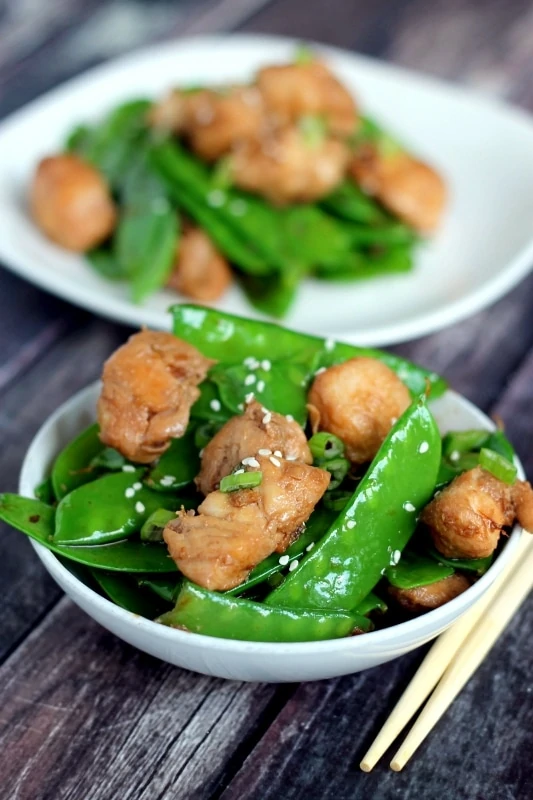 Easy Ginger Chicken and Snow Peas is a tasty dinner made even better by the fact that it takes less than 20 minutes to make. With a flavorful sauce and crunchy snow peas, this Asian inspired meal goes very nicely on a bed of rice or quinoa.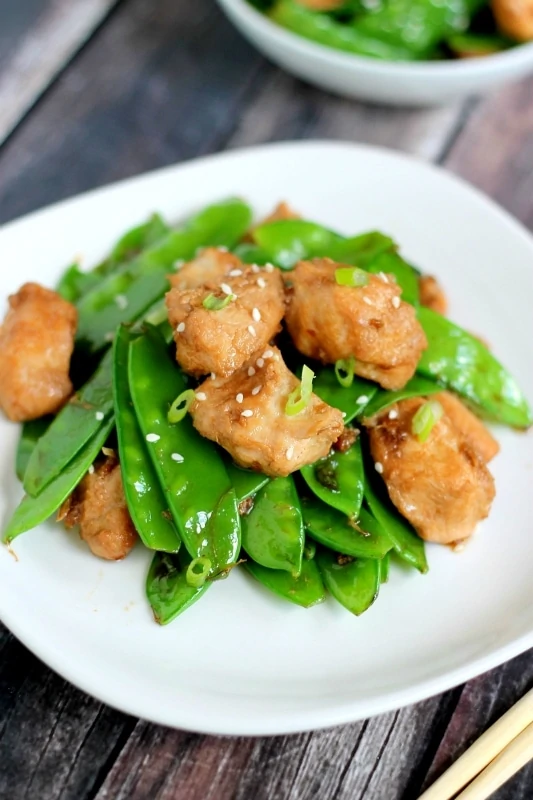 This Easy Ginger Chicken and Snow Peas recipe has the vegetables (snow peas) included, so it's a great way to get your green veggies without having to make an additional side dish. Plus throw in some quinoa and you've got even more protein!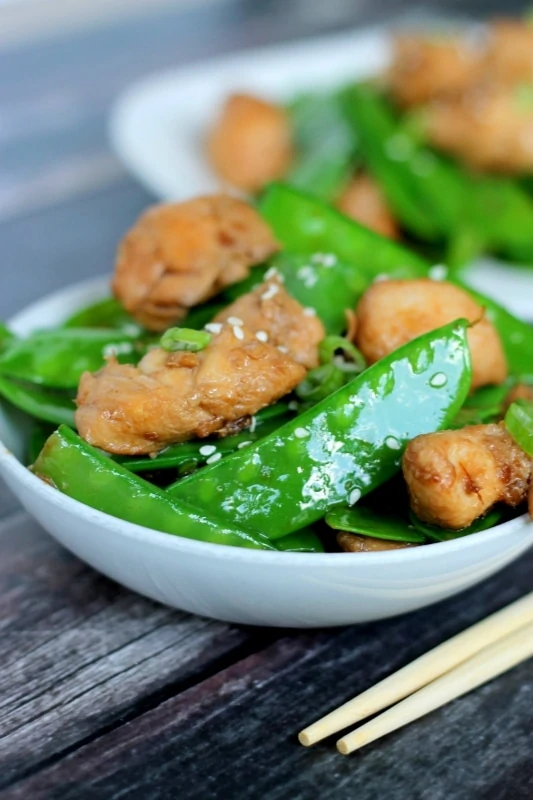 Print
Easy Ginger Chicken and Snow Peas
This tasty dinner is easy to make and ready in less than 20 minutes!
1

pound boneless skinless chicken breast, cut into bite sized pieces

1

pound snow peas

1

TBS vegetable or canola oil

1

TBS +

1 tsp

soy sauce

1

inch knob ginger, peeled and minced

3

green onions, chopped

1 tsp

sesame seeds

2 tsp

dark sesame oil
Instructions
Fill a medium pot with water, place over high heat and bring to a roiling boil.
Using a medium bowl, fill with water and ice cubes; set aside.
Add snow peas to boiling water and cook for 2 minutes. Remove/strain and then plunge snow peas into ice bath (this stops the cooking and preserves the bright green color); remove after 1
minute and let rest on a clean towel; set aside.
Combine 2 tsp vegetable oil, 1 TBS soy sauce, and ginger in a shallow dish. Add chicken and coat with sauce mixture.
Heat remaining vegetable oil in a large skillet or wok over medium/high heat. Add chicken and
cook for about 5 minutes, stirring occasionally, or until cooked through.
In a large bowl combine snow peas, green onions, sesame oil, and remaining soy sauce. Add
chicken and toss to coat. Sprinkle with sesame seeds and serve immediately.
Notes: This is great served over rice or quinoa
Pin This:>>