Essential oil diffuser necklaces are becoming more and more popular, even now for kids to wear! But despite it being trendy, it's harder to find a style that a boy would be willing to put on. So I decided to design one that was a little more masculine for boys to take advantage of oil diffusing, especially while at a school where he may not have access to a plugin diffuser!
I found triangle shaped lava beads that I think are masculine enough for a boy to wear as a necklace. If you have a son and can't find a diffuser necklace he will wear, then try this one. You can also easily modify this type of EO diffuser necklace to make it great for girls as well!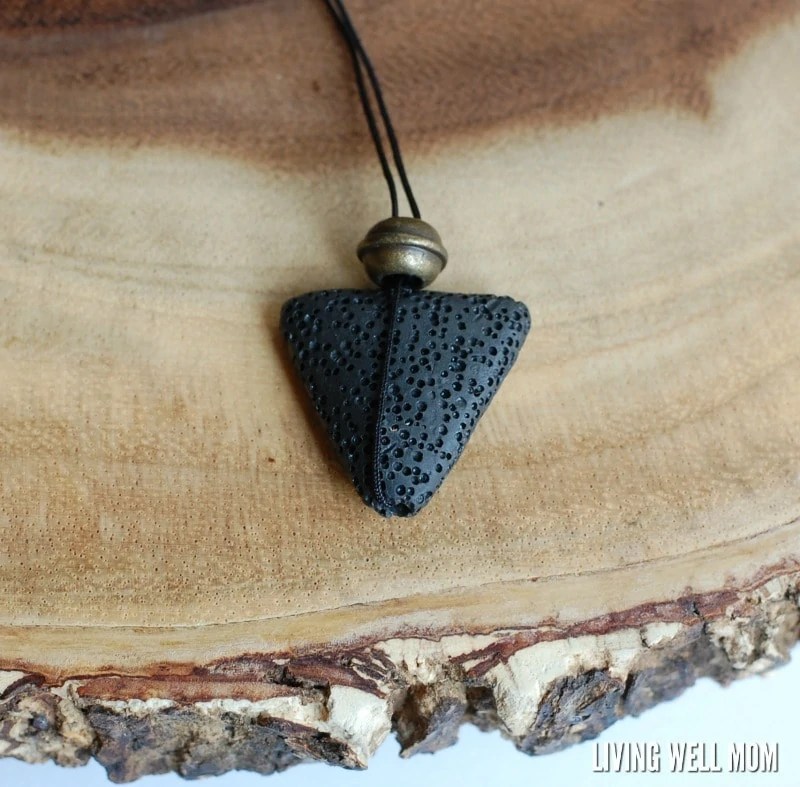 Materials needed to make an Essential Oil Diffuser Necklace for Kids: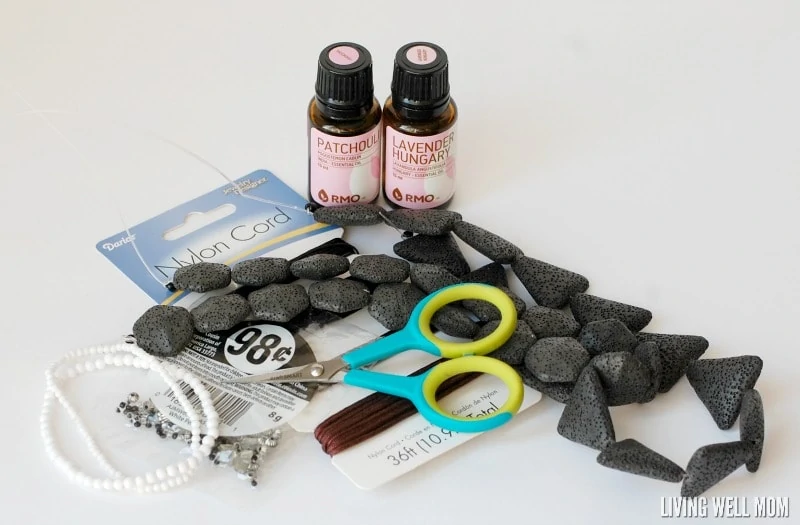 The triangle shaped beads I ordered were from Etsy. It came as a string of them with a small black bead on each end of the lava bead strand. When you cut your string, be sure to hang on to that small black bead as I used it later in tying a knot.
To start the necklace, thread the nylon cord through the triangle lava bead.

Wrap the nylon cord around the bead, so that one side of the bead will have a nylon cord up the middle of it. This will be the "back side" of the necklace.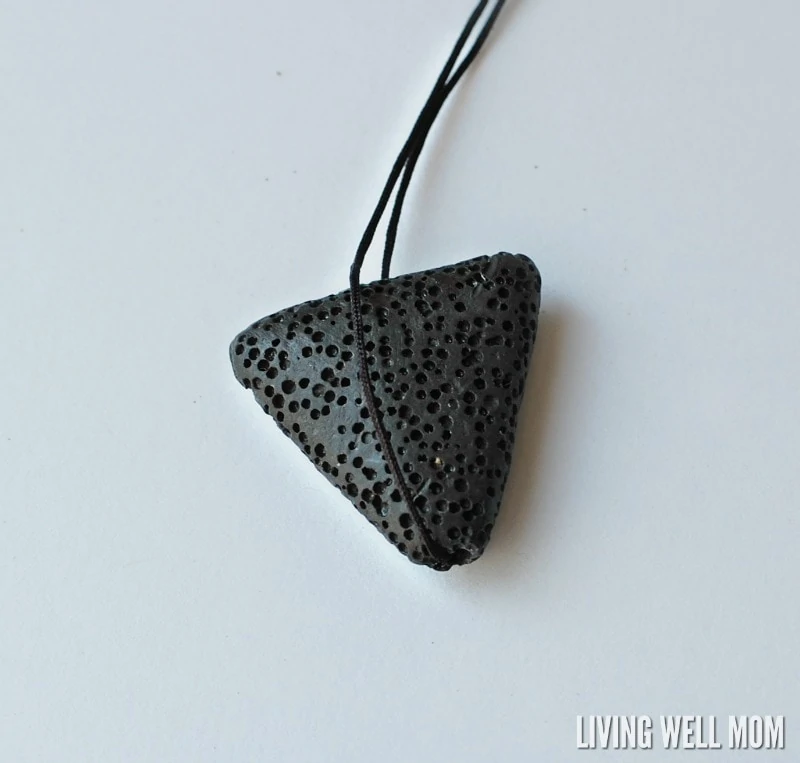 Add a small black bead (the one I mentioned earlier that came with the lava beads) on one of the nylon strands and the large hole bead on both of the strands.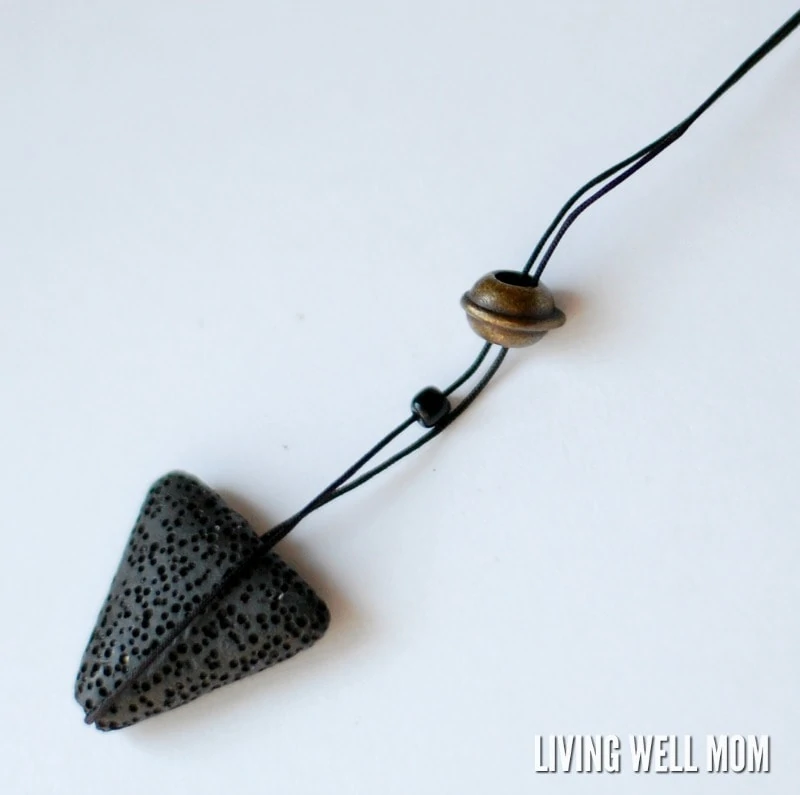 Push both beads down to the base of the triangle. Hopefully, your large hole bead will be big enough to wrap itself around the small black bead. It's great if the black bead gets hidden by the bigger bead, but not mandatory.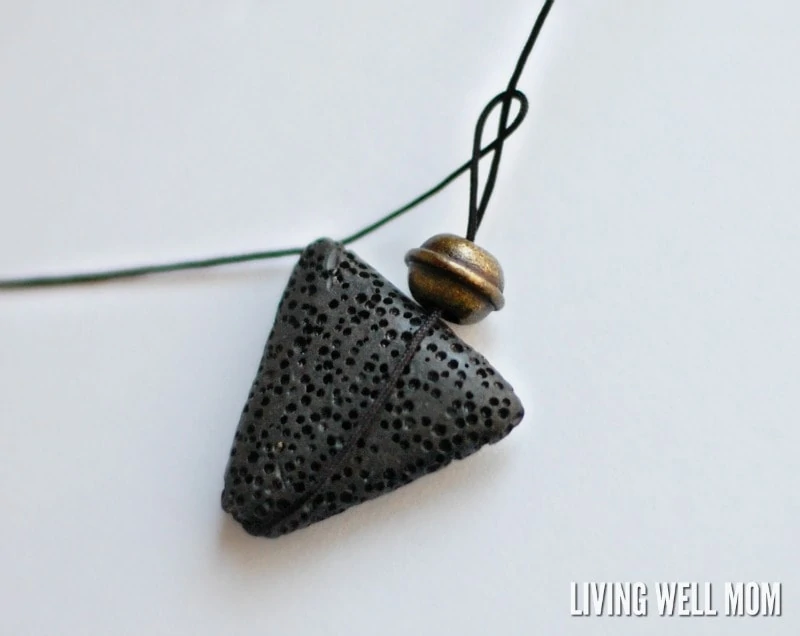 After you get the small bead to fit snugly inside the big hole bead, tie a knot so that all of the beads are secure. That are all the beads you will need for this necklace! Again, we want to keep the style simple and masculine so that a boy will want to wear it.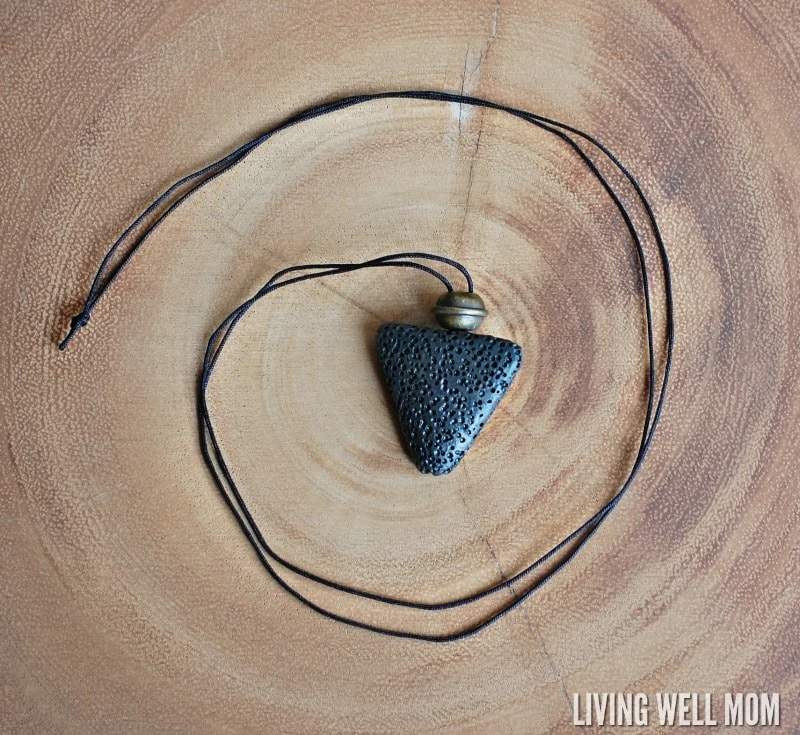 The easiest way to tie off the necklace is to just use a simple overhand knot. Be sure the strings are long enough so that the necklace can fit right over your head.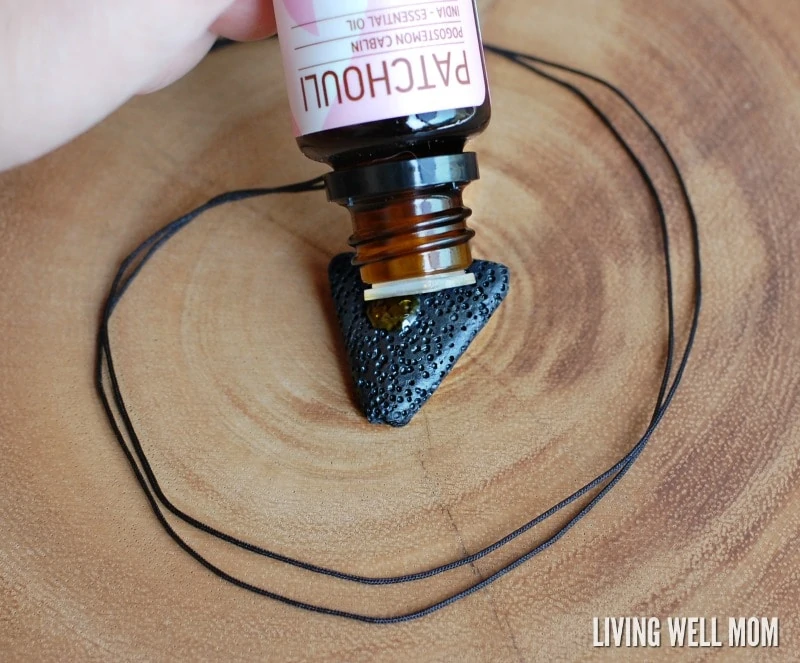 Then you can add a drop of your favorite essential oil that you want to diffuse while you wear it. I recommend adding the drop on the bead and letting it sit on a table to dry a bit or slightly blotting it first before putting it on. Otherwise, you could get some oil on a shirt, and it could leave an oil stain.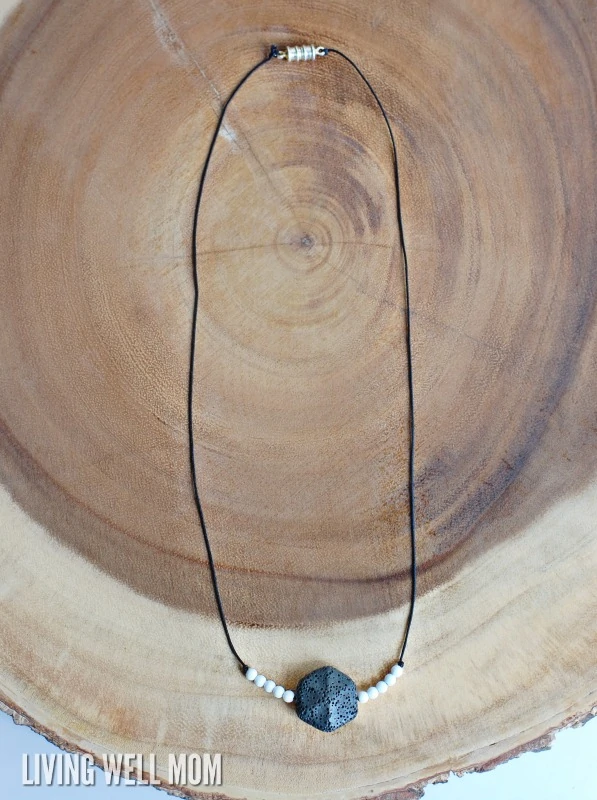 Here is another style I made with a hexagon bead and 5 small white beads on each side. This is a more feminine style in my opinion, but still very simple in its design.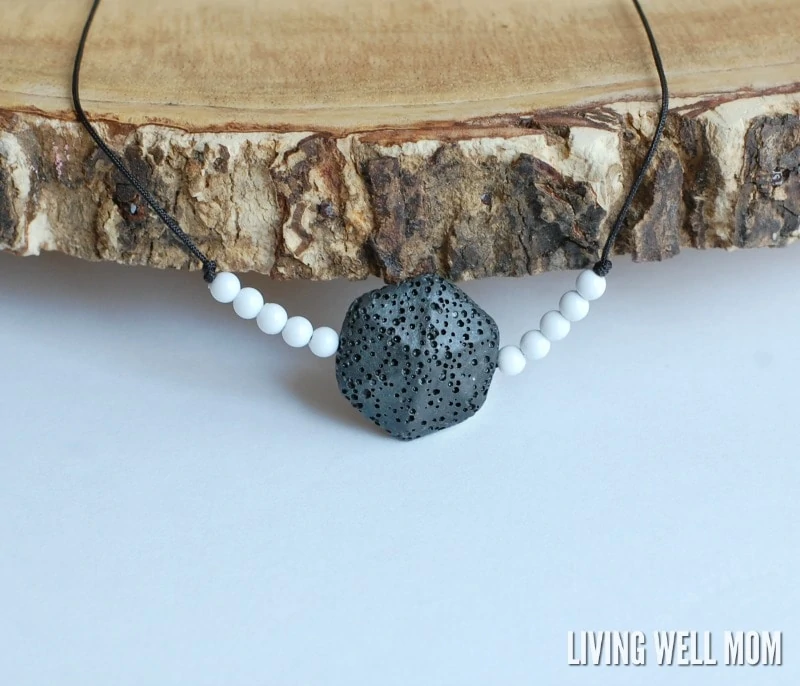 I threaded on 5 white beads, then the hexagon lava bead, followed by five more white beads. Push those beads into the center and tie a knot as close as you can get it to the end of the white beads. That way the beads will stay in place while you wear it.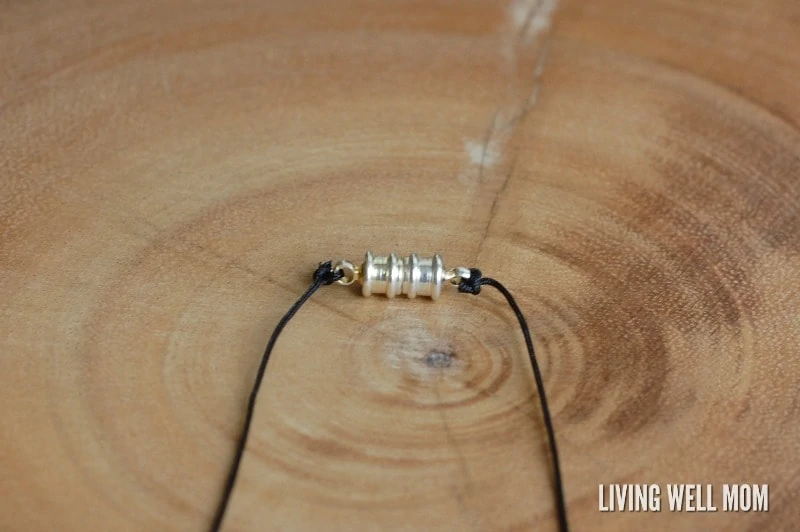 On this necklace, I also used a magnetic clasp to close the necklace. If you've never used one of these, they are very strong clasps made of rare earth magnets. I remember making necklaces with these clasps specifically for when my infants were becoming more active babies.
They would grab my necklace, and it wouldn't break because the magnet would just open up and the beads didn't go flying everywhere from a broken necklace! I also think that if a boy wants to wear a necklace, this is a more masculine style of a jewelry closure rather than typical spring ring clasps.
As you tie your nylon around the jump rings on the magnet clasps, I recommend dabbing the ends of the nylon with a bit of clear nail polish. That will seal the ends of the nylon from unraveling so that you don't unravel a knot and lose one side of your magnet.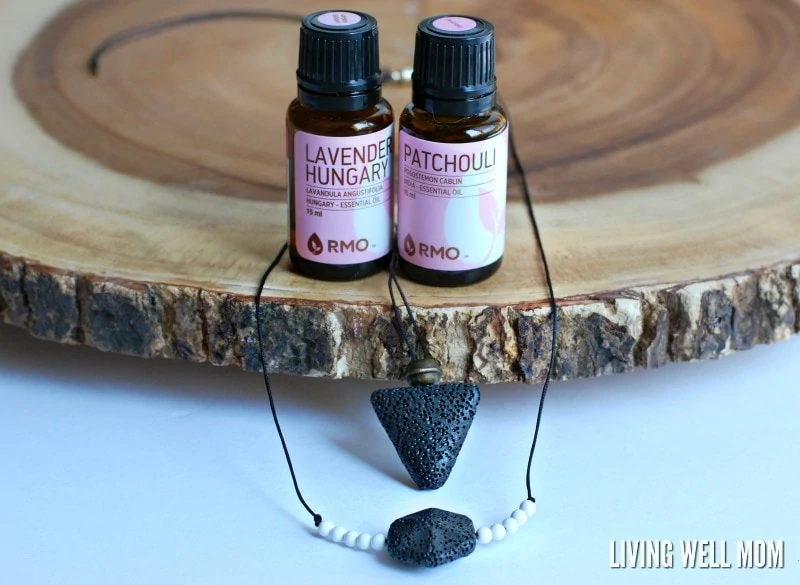 Here are both styles up close – I chose that day to use a drop of patchouli or lavender to diffuse. If you are specifically looking to use this necklace with Erika's suggestions on using essential oils for kids with autism, then you may want to have your bottles of frankincense and cedarwood handy as well.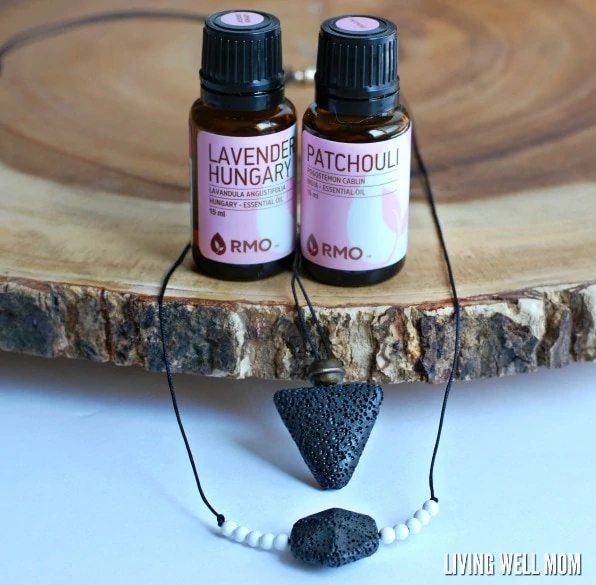 I would love feedback in the comments below if you find your son being comfortable wearing this style and if it helps with diffusing oils throughout the day!
Don't feel like DIY-ing this one? I've used these terracotta diffuser necklaces from Etsy too!
Looking for other ways to diffuse or use your essential oils? Check out these posts:
"Wake Up" Morning Essential Oil Blend
DIY Essential Oil Diffuser Bracelet