These dairy-free chocolate chip cookies are so delicious, no will guess they're actually gluten-free! You'll also love that they're sweetened with coconut sugar so you can avoid the refined sugar found in most recipes.
I came up with this recipe after experimenting with dozens of different chocolate chip cookie recipes. Because I couldn't find the perfect gluten-free cookie recipe that was also dairy-free, I had to make my own recipe.
This is the result: a gluten-free, dairy-free chocolate chip cookie recipe your whole family will love.
When I gave my husband a cookie from my final batch, he couldn't believe it when I said they were gluten-free and dairy-free! My husband is not strictly gluten-free himself; he does eat "normal" food. So for him to say that these cookies didn't taste gluten-free is impressive.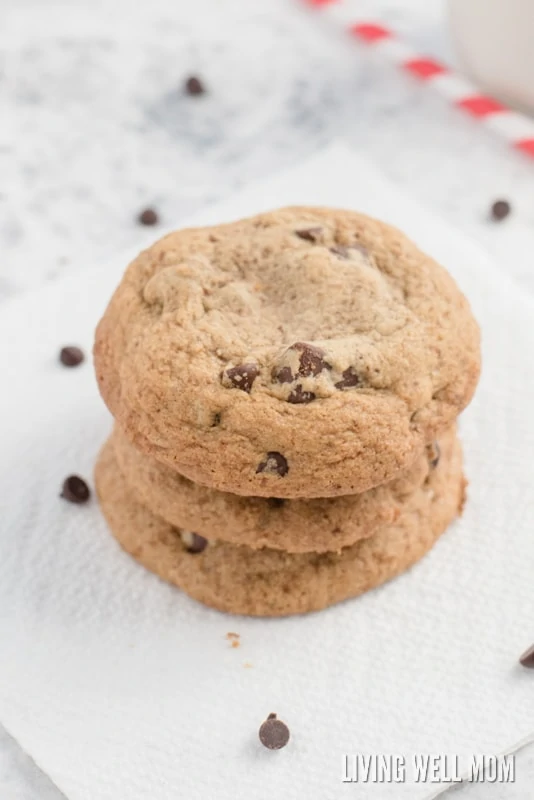 And there are no extra fancy steps with these gluten-free, dairy-free chocolate chip cookies. They are just as quick and easy to make as any normal cookies.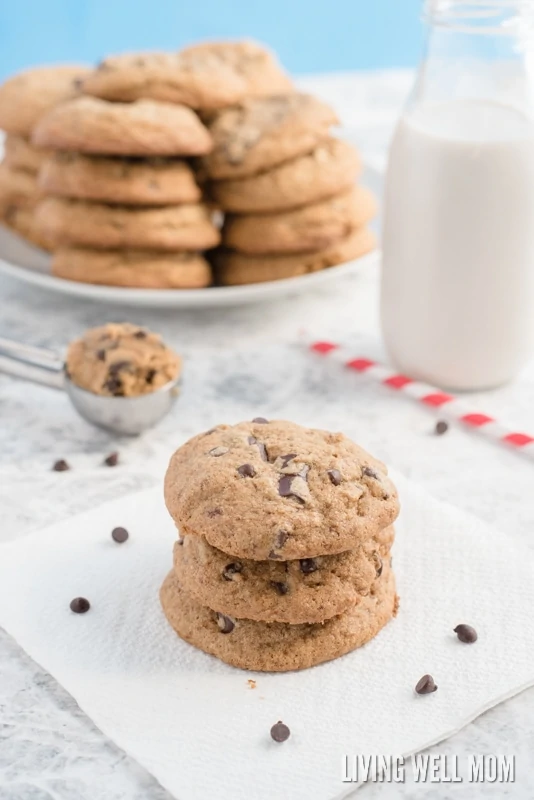 These cookies are sweet; just like other chocolate chip cookies. I tried a reduced-sugar version, but it wasn't the same.
I'm of the mindset that certain recipes – and chocolate chip cookies are one of them – should just be done right.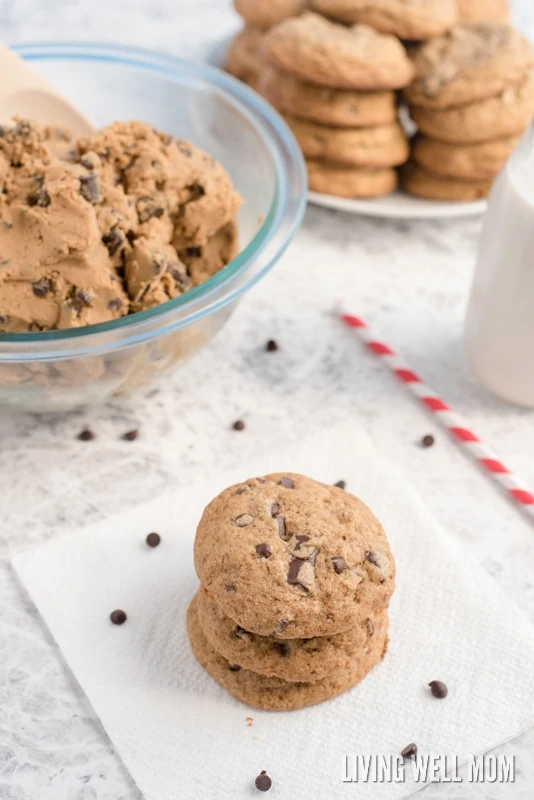 This recipe is easy enough that my son, Nathan, loves to make a batch on Friday evenings. And my 10-year-old daughter, Emily, can practically make it all by herself. Of course my two "little" boys (they're really not so little anymore at ages 6 and 7), love to help me make cookies too. Whenever I pull out my mixing bowl, they come racing into the kitchen and ask to help.
This recipe is a great way to get your kids involved with helping you bake!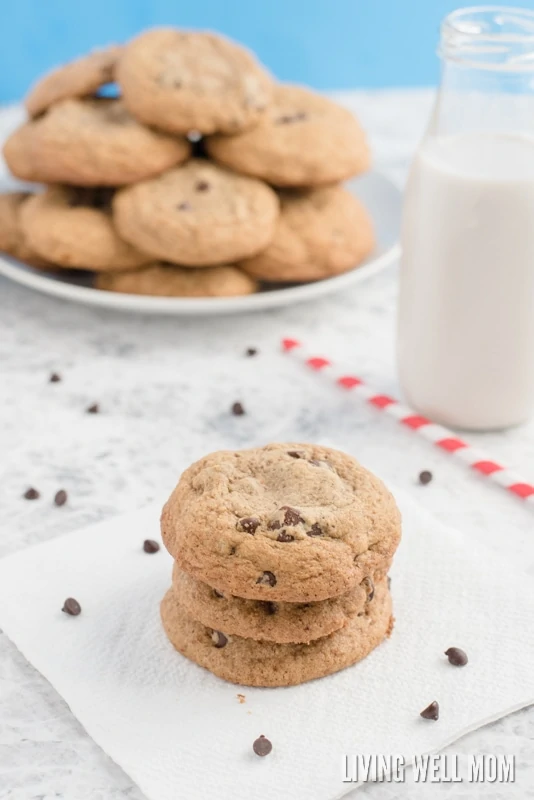 Of course, it's faster if you can whip up a batch of these gluten-free, dairy-free chocolate chip cookies all by yourself. But little helpers do make it fun (and more messy!)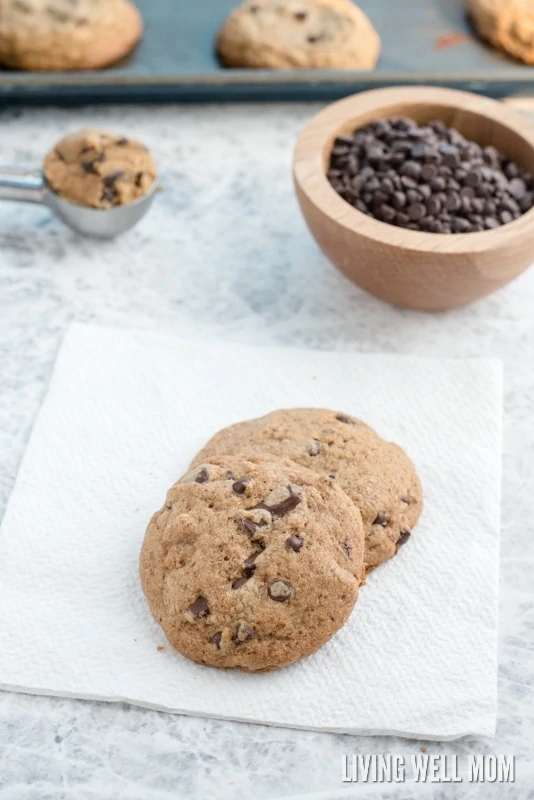 How to Make Gluten-Free, Dairy-Free Chocolate Chip Cookies
Melt 3/4 cup of coconut oil. Add the oil and 1/2 cup shortening (I use palm shortening) to a large mixing bowl.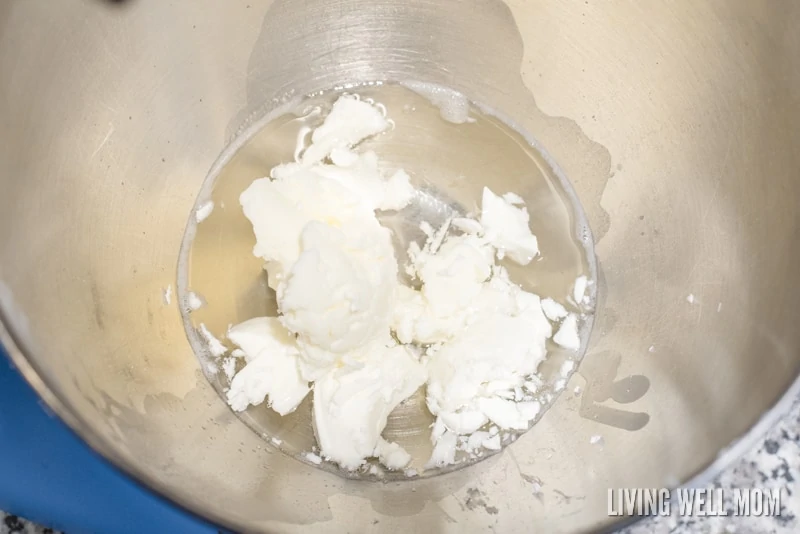 Add 1.5 cups coconut sugar…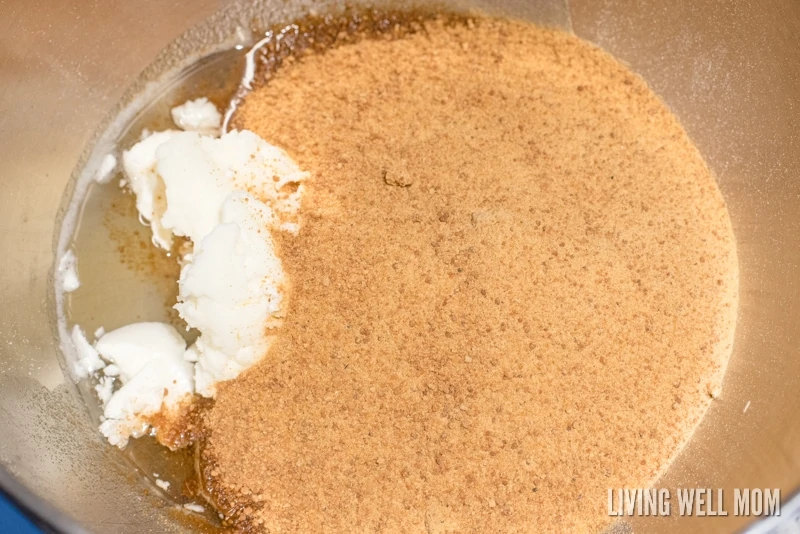 Mix well.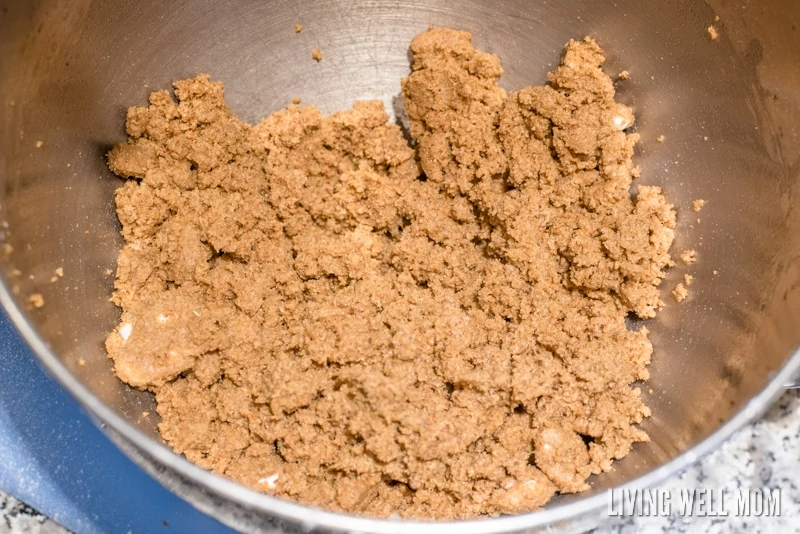 There may still be chunks of shortening; that's okay. Beat in 1 Tablespoon vanilla extract, 1 teaspoon baking soda, and 1 teaspoon salt.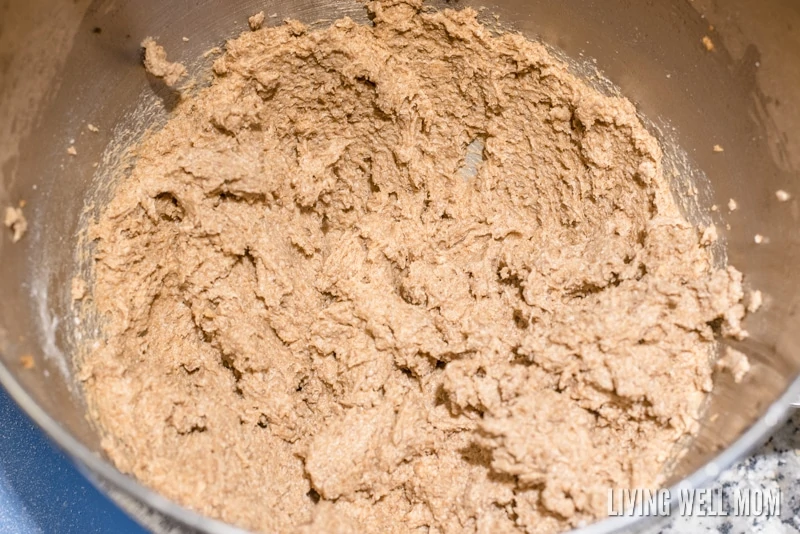 Add 2 eggs, one at a time, mixing well after each addition.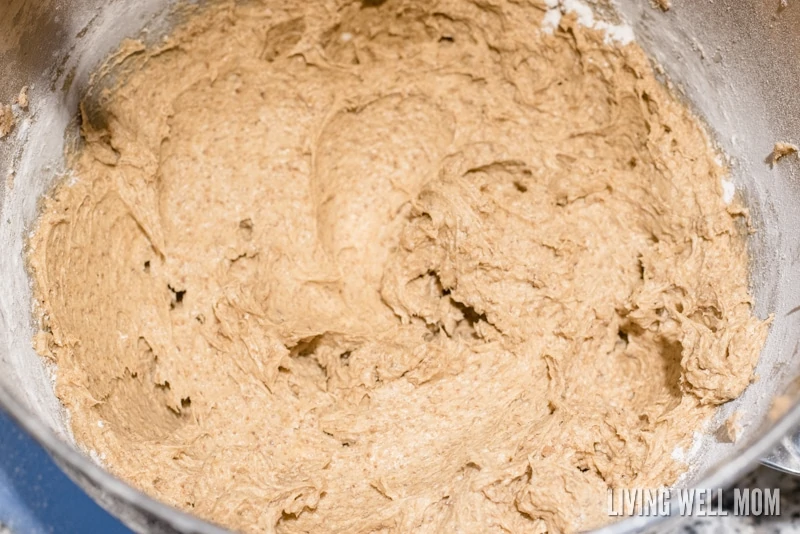 Stir in 2 Tablespoons tapioca flour
, followed by 2.5 cups gluten-free flour. I use and recommend Bob's Red Mill gluten-free 1 to 1 flour
for this recipe.
Note: other flour blends may have different results.

Your cookie dough will be thicker now.
Stir in 1-2 cups of dairy-free chocolate chips
. You can use "normal" chocolate chips, but your cookies won't be dairy-free then.
Cover and your chill your cookie dough for about 30 minutes. You can chill it for longer, even overnight, but you'll need to let it "warm up" on the counter before scooping onto cookie sheets first.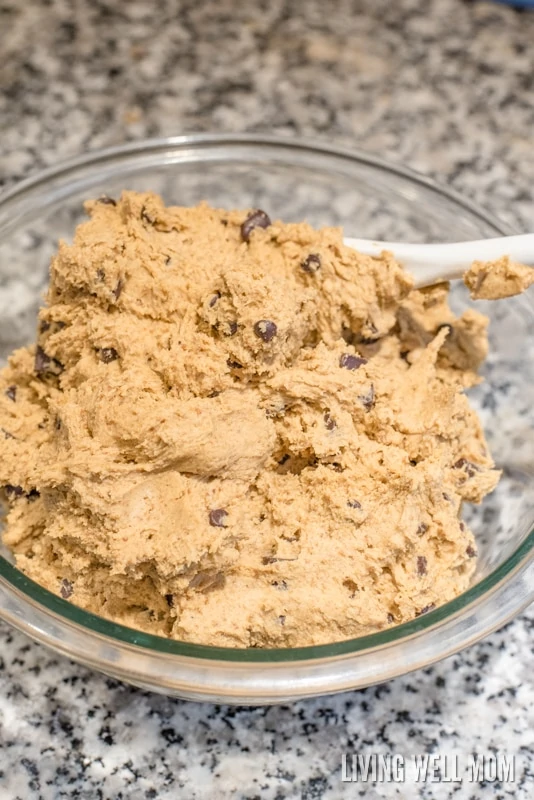 Heat your oven to 375 degrees and scoop the cookie dough onto cookie sheets about 2-3″ apart.
I use a medium cookie scoop
for this; it's so much faster and the kids love using it too!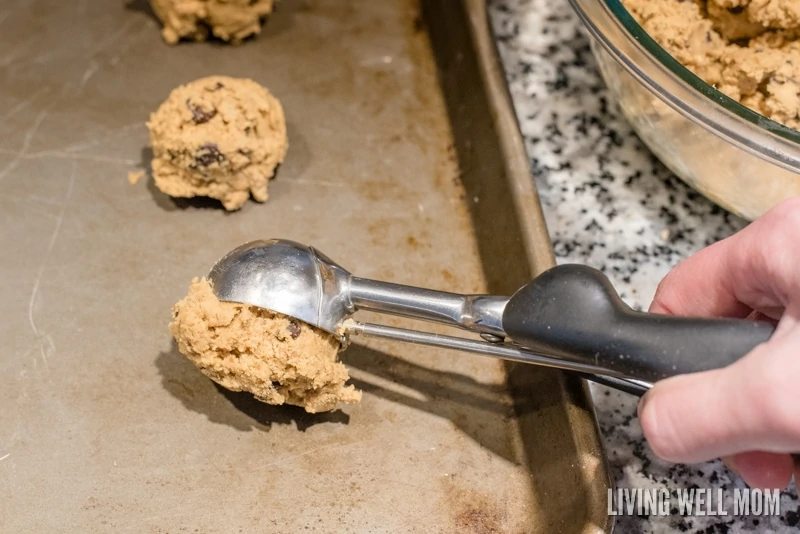 Bake for 8-9 minutes or until the edges are starting to turn brown. Cool for a few minutes, then remove from the cookie sheets to cool completely. Of course you your kids might not be able to wait that long!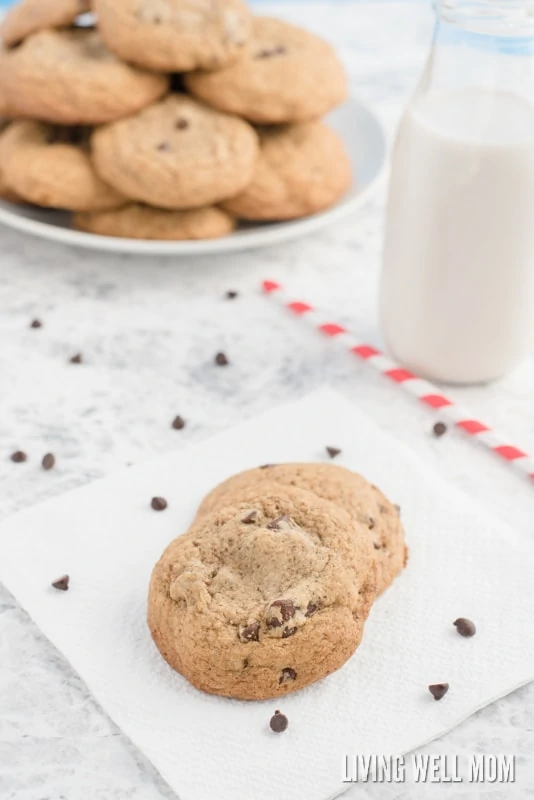 And that's how our delicious Gluten-Free, Dairy-Free Chocolate Chip Cookie recipe!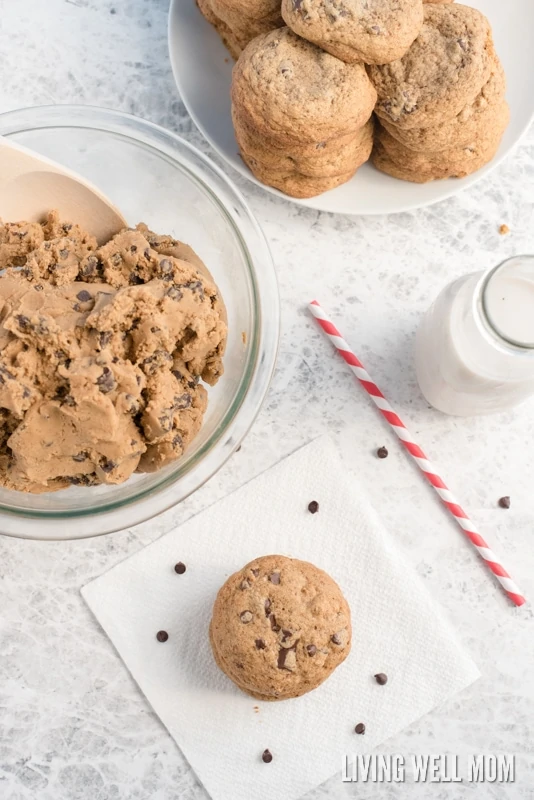 Print
Gluten-Free, Dairy-Free Chocolate Chip Cookies
Dairy-free chocolate chip cookies so delicious, no one will guess they're gluten-free too!
Author:
Prep Time:

10 mins

Cook Time:

9 mins

Total Time:

19 mins

Yield: about

3

dozen

1

x
Instructions
Mix together the coconut oil and shortening until just blended. Add the coconut sugar and mix again. Beat in the vanilla extract, baking soda, and salt.
Next, add the eggs one at a time, mixing well after each addition. Stir in the tapioca flour.
Add the gluten-free flour, 1 cup at a time, mixing well after each addition. Stir in the chocolate chips.
Cover and chill for 30 minutes or longer. You can leave the dough in the refrigerator overnight if needed, but you will need to let it sit on the counter to warm up a bit before scooping.
Preheat your oven to 375ºF.
Once chilled, scoop using a cookie scoop onto baking sheets.
Bake for 8 to 9 minutes on a regular baking sheet. For lighter baking sheets, bake for 10-12 minutes. Bake until the cookies are just beginning to turn brown on the edges. Remove the oven and cool on the baking sheet for 5 minutes, then transfer to a tray to cool completely.
Store in a sealed container for up to a week.