Ever thought about growing your own pumpkins? Pumpkins are perfect for a kids as they learn to garden! I'll share a few of those reasons and how to get kids started with their own pumpkin garden today.
Pumpkin seeds are inexpensive so that's always a plus.
I love a good deal or a "cheap thrill." Seeds are cheap thrills, as you get a handful for under $2 a pop. I also love the names- "Early Sweet Sugar Pie,' "Jack Be Little…" so cute. Landon can't read yet, but knows a thing or two about good farming and pretty plants, so we went to the store to grab some seeds to grow our pumpkin. I read and he pointed, and we came home with this treasure trove.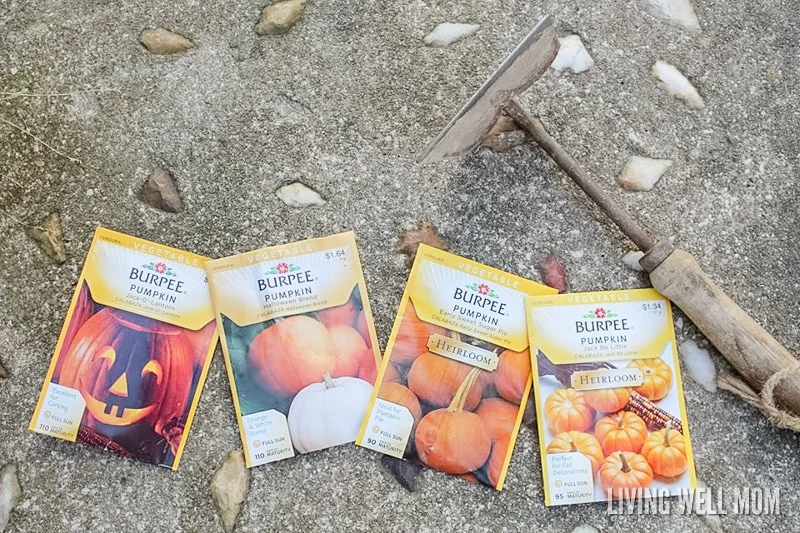 Sure it's a lot, but we like to plant a few of each plant. Of course we've been known to get on a roll and end up with our very own huge pumpkin patch too!
You'll want to look at your seed choices and decide how you'll want to use your pumpkins. There are little pumpkins for decorating, delicious pumpkins specifically for baking, white pumpkins for something different…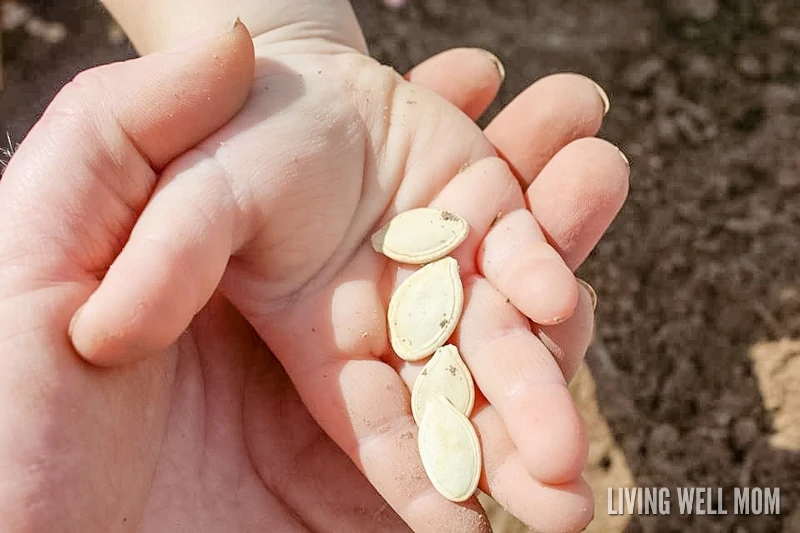 Pumpkins are easy, non-finicky plants to grow. You don't have to do too much finger crossing that they'll come up.
Look on your seed packets to determine when you want to plant. Our seed stash had maturity dates of 90-110 days. Do you want your pumpkins on Halloween or perhaps a few weeks before to decorate with? While it won't be a precise calculation, you can get it close to right!
(I feel like at this point I should explain Landon's outfit, but I truly can't. I'd say it a Halloween theme, but his cape gets some serious frequent flier miles!)
Most pumpkins are mound plants. Older kids will be able to grab a shovel to make the mound, but for the little guys, grab a beach bucket and let them build a pumpkin castle of sorts.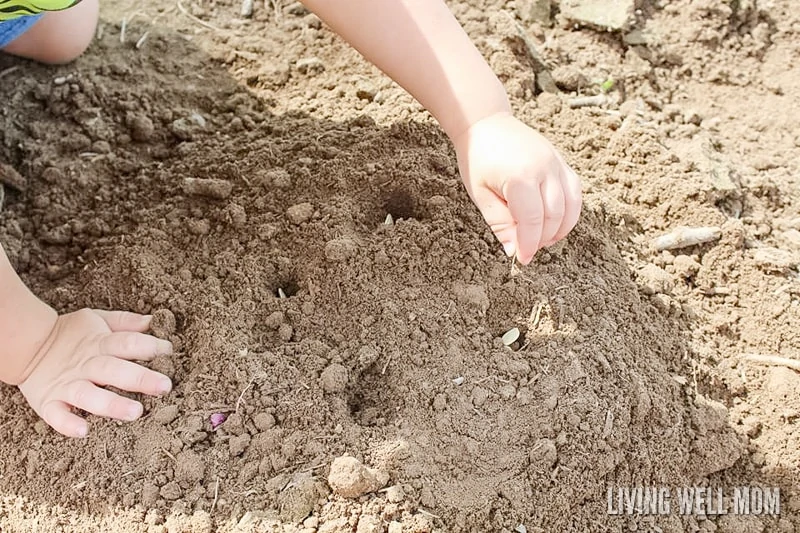 If you don't have a garden spot already, find a sunny spot in your yard and use a flat tipped shovel to lift the dirt in a sod like clump out, then loosen soil and create a bit of a hill. The vines can crawl over the grass just fine. Just remember, like your seed packets will say, sun is crucial for this plant.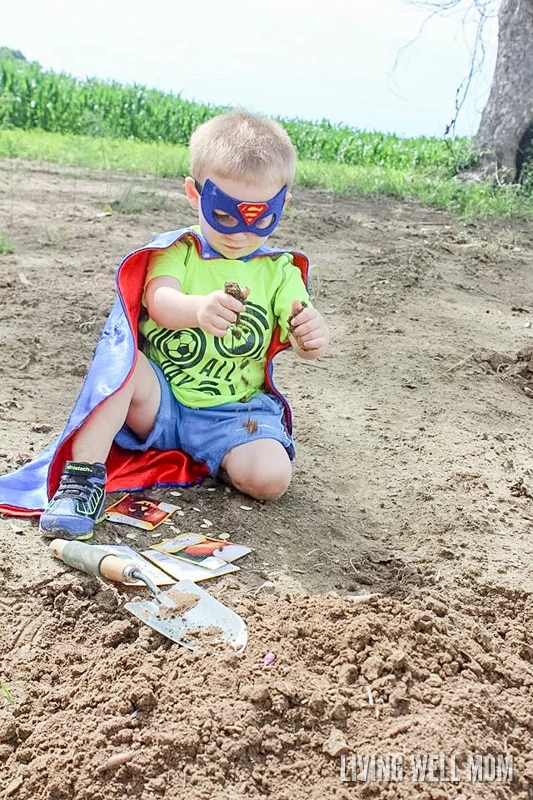 Poke a few seeds in each mound- we do five- like the four corners of a square with one poke in the middle!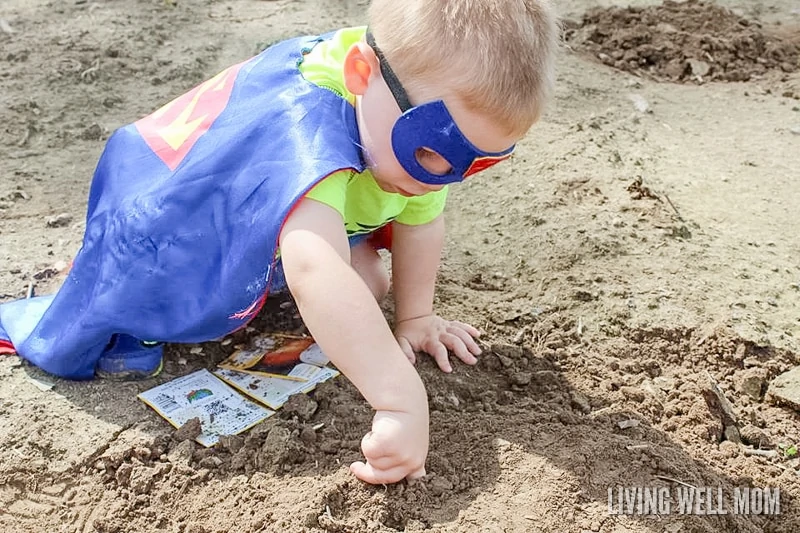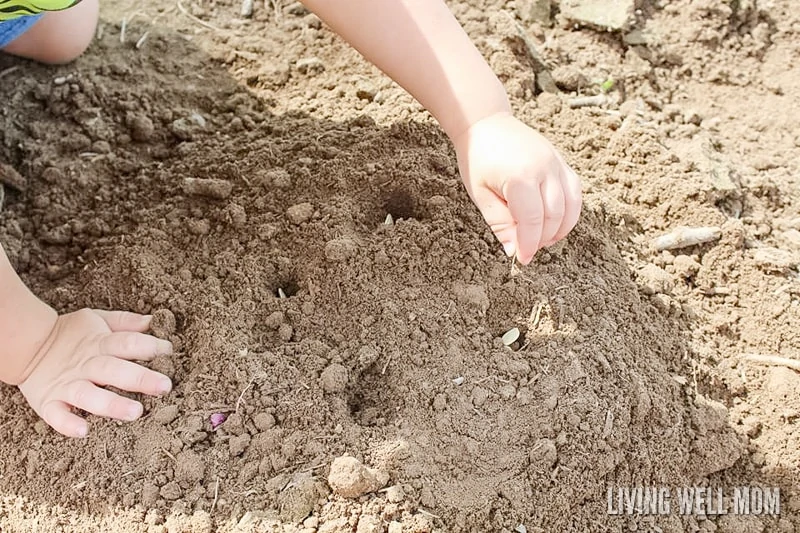 Smooth some dirt over, pat it down, and add a little water. You're all done planting your pumpkins!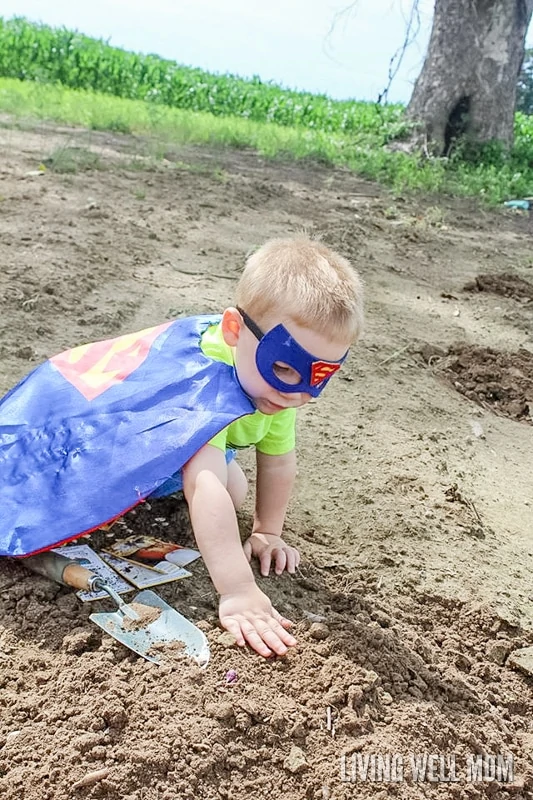 Let's talk money. Yes, I spent a little over $5 on my seed stash.
When you visit a pumpkin patch to buy grown pumpkins, it can add up quickly! I remember last year I saw this couple that had a few of her kids and a niece of his. I could tell he had a) never been to a pumpkin patch with kids, b) was still trying to impress her. He was pulling a wagon of 6 of the expensive pumpkins (ie, $50-$60, which is crazy but pretty normal pumpkin pricing). We made it to the register when they did, and I thought he was going to have to be wheeled out in that wagon. Halloween can be scary.
Pumpkin patches really market that fall family fun feeling, but why not save some money and start the fun at home? You can still head to the pumpkin patch in the fall for some cider and hay rides, but your kids will know they have their own HOMEGROWN and carved pumpkins all ready at home! Pride is priceless.
I actually thought more about how a simple trip to the pumpkin patch might not be in the budget for all families as we were planting our seeds. But every kid should be able to scoop pumpkin guts and cut a crooked smile into a pumpkin, so we decided to throw a couple of extra in the ground to share with our local homeless shelter for families. We take dinner there for our church every month or so, and whenever I bring a little something extra the response is through the roof. What better (or easier) way to make everyone's Halloween a little spookier! Think of a special organization or family you may be able to share your extra bounty with if you have space to plant a few extra.
Don't forget Grandma. Grandmas love pumpkins from their little pumpkins.