My first child had a bookshelf filled with baby toys, but by the time my 5th baby joined the family we were down to just one basket.  I've learned that it's more important to have quality toys rather than a huge quantity of toys for my babies.  The brittle plastic and paint chipped toys from my oldest's babyhood have long since been thrown away and replaced with much fewer, but much safer toys.  Babies are hard on their toys, they throw, bang and chew everything thing- I only want toys in my home that are safe and well made so I know my baby isn't going to accidentally eat a broken part or mouth unsafe chemicals.
HABA is synonymous with safety and quality.  When I see HABA's name on a toy I know it has met rigorous quality and safety standards so I am confident giving that toy to my little one.  HABA is bringing Lilliputiens, the land of little wonders, to the US.  Each toy in the Lilliputiens line has it's own story and is made challenge a child's inquisitive spirit.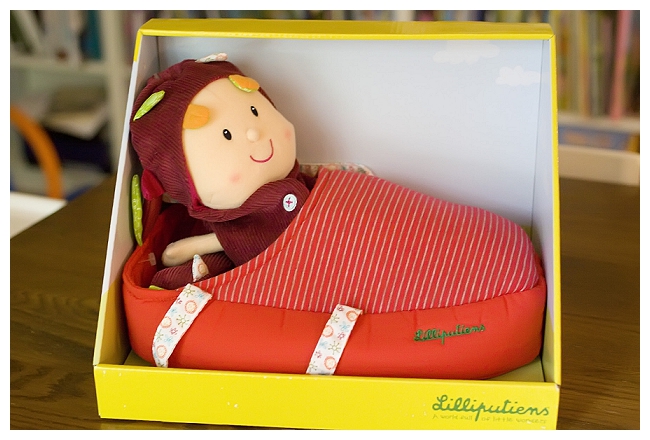 I choose Baby Lucy from the HABA Lilliputiens line for my toddler (and me) to review.  The first thing I noticed about Baby Lucy was the obvious attention to detail in the creation of this toy.  From her adorable leaf basket, to her tiny, functional accessories; each detail is beautiful, thoughtful and well made.  The textures in the fabrics are varied and entice a little one to feel each piece- her hair is a soft velvety fabric while her coat is textured corduroy.  Her little baby doll rattles and the magnet in her bottle helps a little one easily feed her dolly.  Baby Lucy is recommended for babies even in the infant stage, and I definitely feel this toy is the perfect choice for baby's first dolly whether your baby is a tiny newborn or a toddler.  This doll has features that allow it to grow with your child's ability to play and imagine.  In fact my 4 year old insists that she too needs her own Baby Lucy!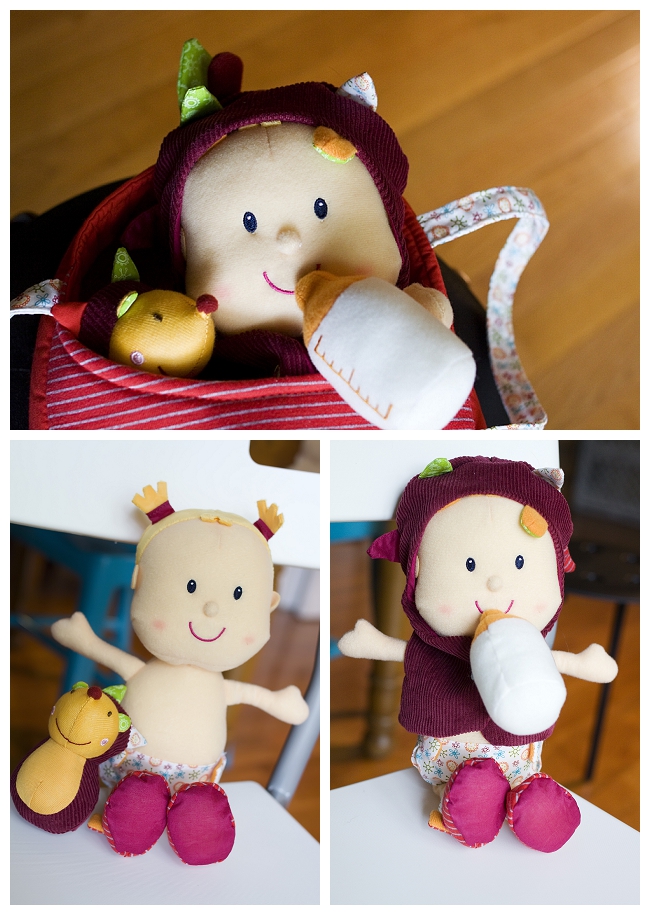 My toddler's favorite things are baby dolls and purses, so this toy is perfect for her.  She carried Baby Lucy in her leaf basket around our house all morning.  In fact, it took me until after lunch to convince her to take Lucy out of the basket to play.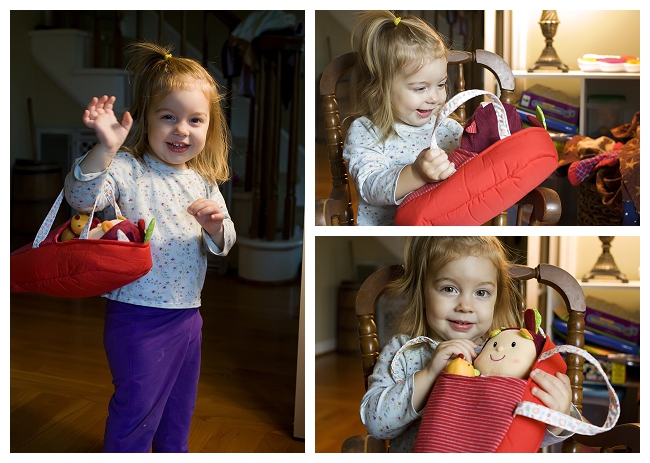 Emily was already enamored with her HABA Lilliputiens Baby Lucy in her leaf basket, and then she discovered the dolly's removable clothing and she was in love.  A toddler's favorite pastime…in/out, on/off!  Emily can't put Baby Lucy's clothes back on independently yet, but she sure loves taking her in and out of the basket, removing her clothing and changing dolly's diaper.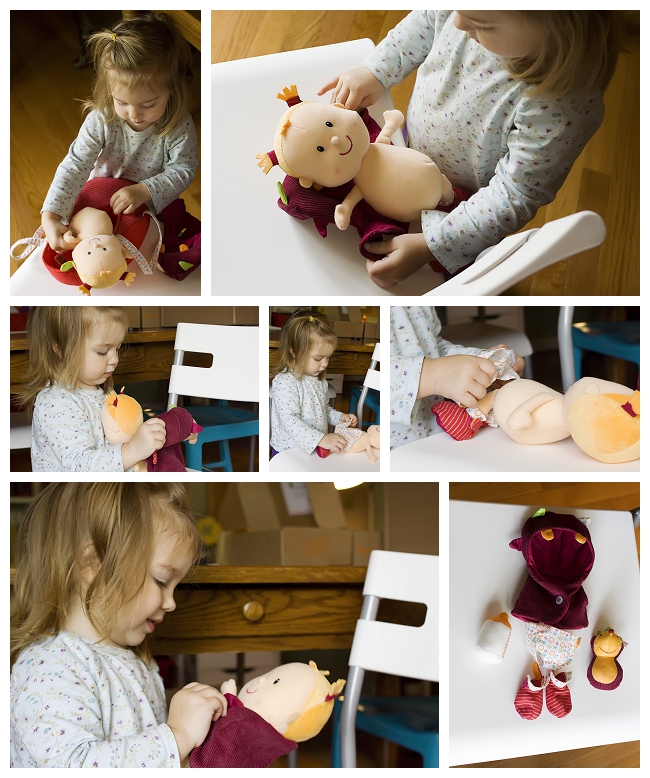 Emily and Baby Lucy are now inseparable.  One afternoon she managed to sneak Baby Lucy into her highchair at snack time.  Before I realized it Baby Lucy's blond hair and face were covered in Emily's chocolate croissant.  Thankfully Baby Lucy is washable, and a quick trip through the washing machine had her looking as good as new.  At church Baby Lucy kept Emily quiet during sermon as she fed her bottle and changed her diaper.  The Mom next to me in service had to know where she could buy a Baby Lucy- she thought it would be the perfect toy for her son who will soon be a first-time big brother.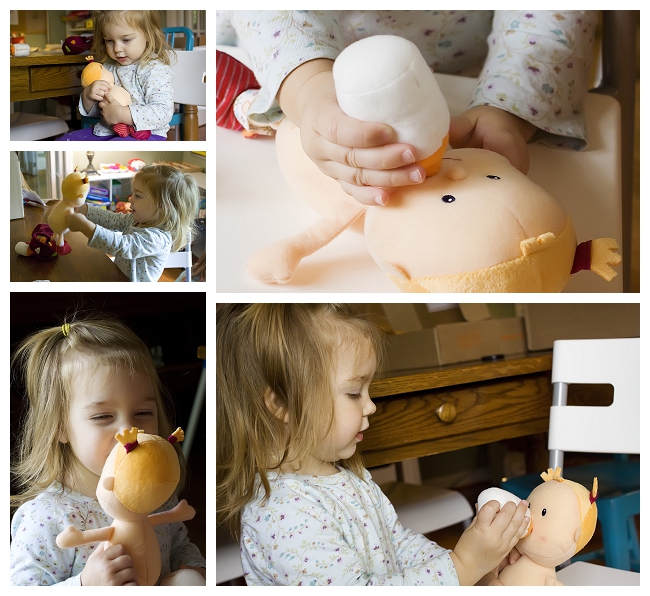 Lilliputiens Baby Lucy gets the Emily seal of approval for her lovability, how well she cuddles, and the fun play her accessories allow.  And she definitely gets the Mom seal of approval for her cuteness, her safety and high quality build, and for her wash-ability.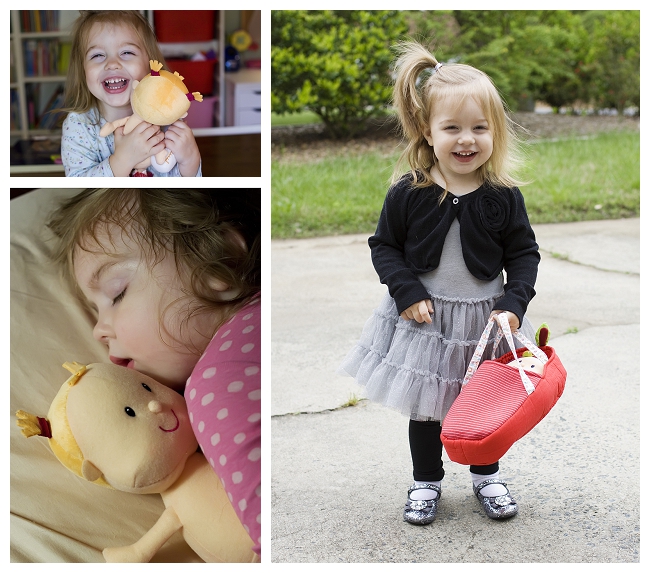 1 lucky winner will receive their choice of one HABA Lilliputiens toy!

Rules:
This giveaway ends on May 29th  at 11:59 pm EST.
Open to the US only, ages 18+.
Click here for complete rules and disclosure.