I've been wanting my get my children a play "kitchen" set for a long time now. So when I was asked to review the Fisher Price Servin' Surprises Kitchen & Table, I was thrilled to do it.
Just a fore-warning – there are a ton of photos in this post, but this kitchen is so awesome, I had to show it to you!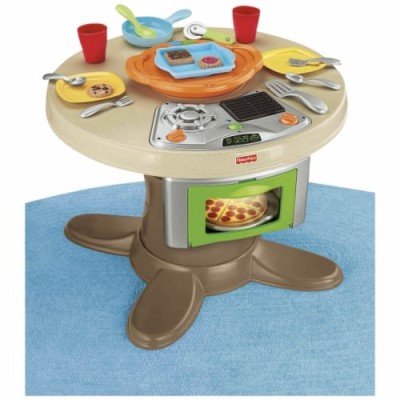 Our Servin' Surprises Kitchen & Table set arrived, along with one of the add-on sets – the Servin' Surprises Barbecue Set.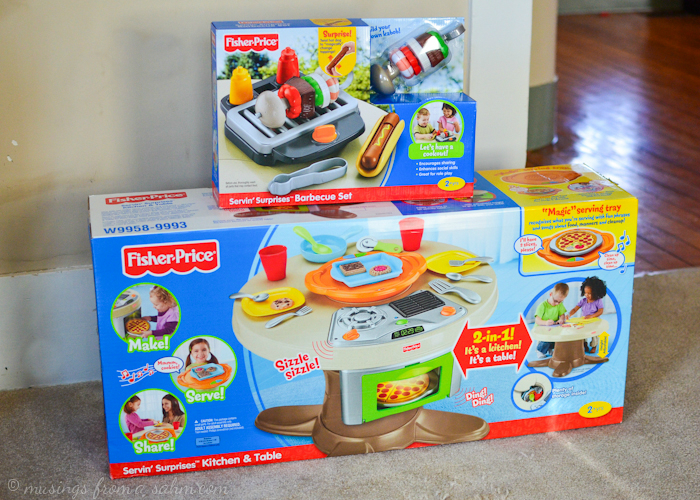 Nate put it together as the kids waited eagerly.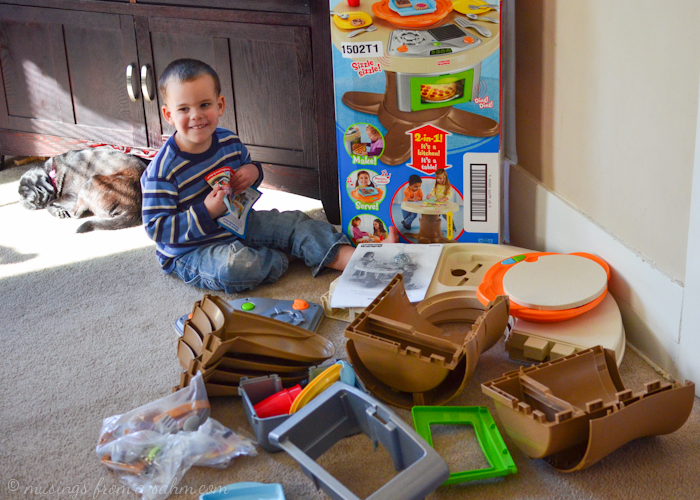 It was pretty easy and only took about 20-30 minutes to assemble. (It probably would have been even quicker if not for his little 'helpers.') 🙂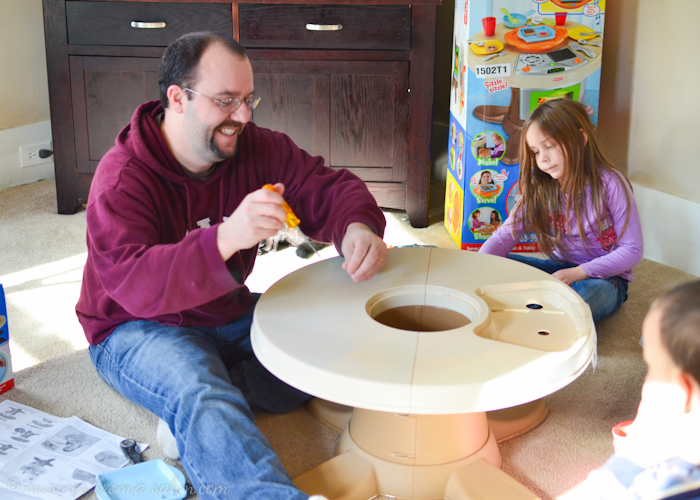 The table stands about 2 feet high but the height can be adjusted by simply twisting and "clicking" the table into place. This is a nice feature, especially if you have small toddlers.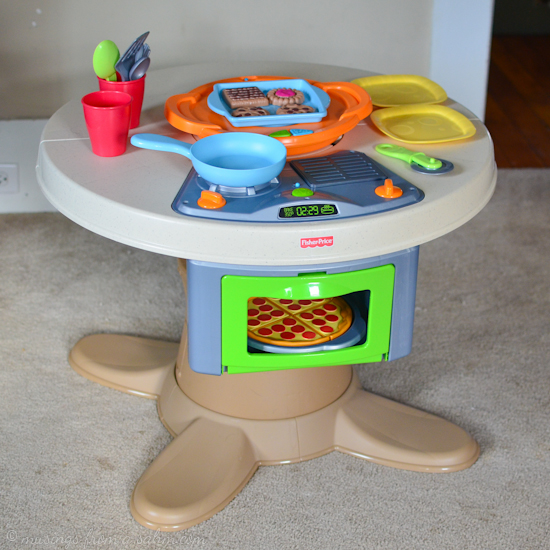 There are so many fun features on this table. The stove 'boils' water (you can hear the bubbling sound when you turn the burner 'on') and the frying pan that 'sizzles' so the kids feel like they're really pretend-cooking.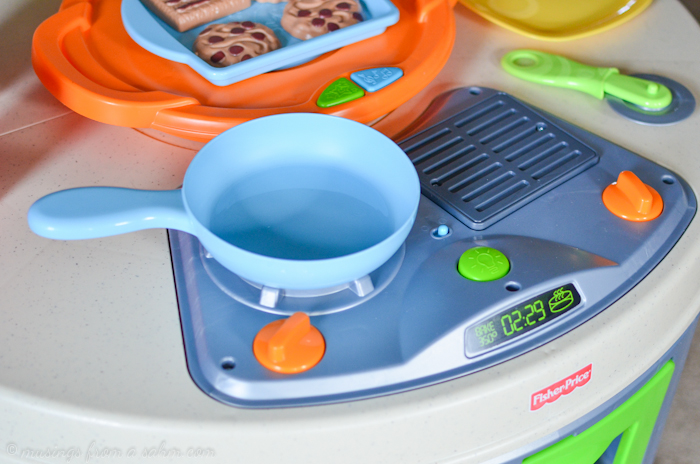 What sets this kitchen apart from others is its versatility. It's not just a kitchen, but it can be converted into a table. Look – you can just flip over the 'stove' part and it turns into a table.
I like that the Servin' Surprises Kitchen & Table comes with lots of accessories. Some sets don't and we're expected to fork over more money on top of it all, because of course the kids need play food and dishes, etc. if they're going to have a play kitchen. This kitchen comes with a frying pan, a serving tray, 2 plates, 2 forks, 2 knives, 2 cups, a spatula, a big spoon, a pizza cutter, a pizza pan, 4 slices of pizza, cookies, and a big round orange serving tray.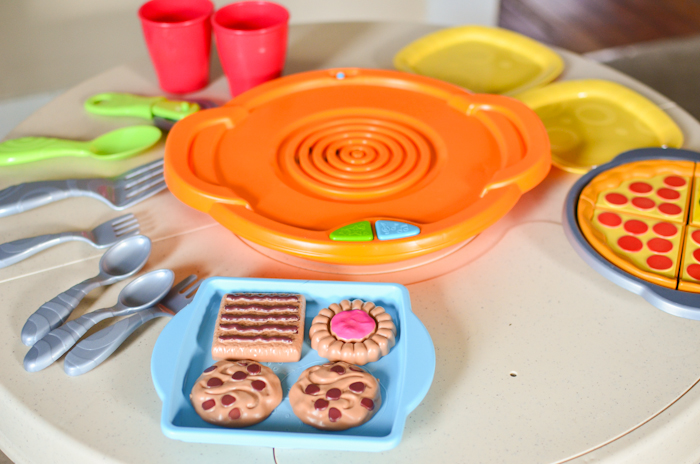 The Fisher-Price Servin' Surprises Kitchen & Table is recommended for ages 2 and up. My kids are ages 22 months, 3, 6, and 9 so they're the perfect ages to try this out. And all four of them love it. The open table aspect of this set allows each child to have an area to play. There were a few arguments, particularly over who had the pizza (that was the most popular piece of the set) but most of the time, they play really nicely.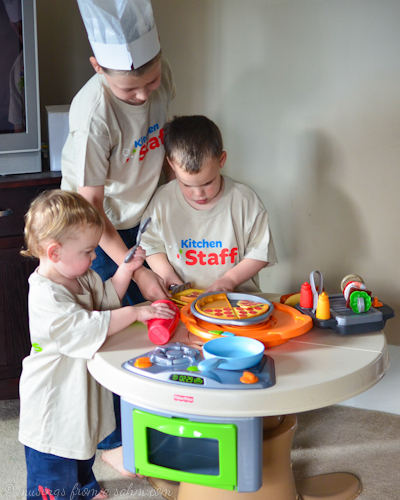 Even Luke loves it. I found him opening the oven door to put cookies inside. It was so adorable.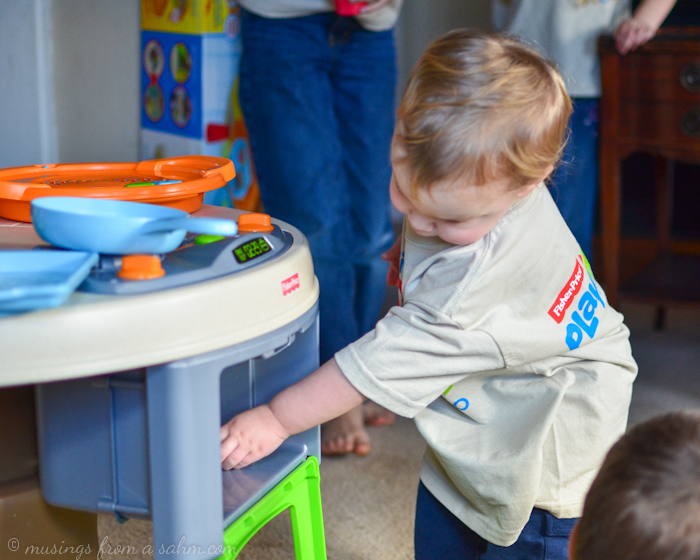 And making pizza too: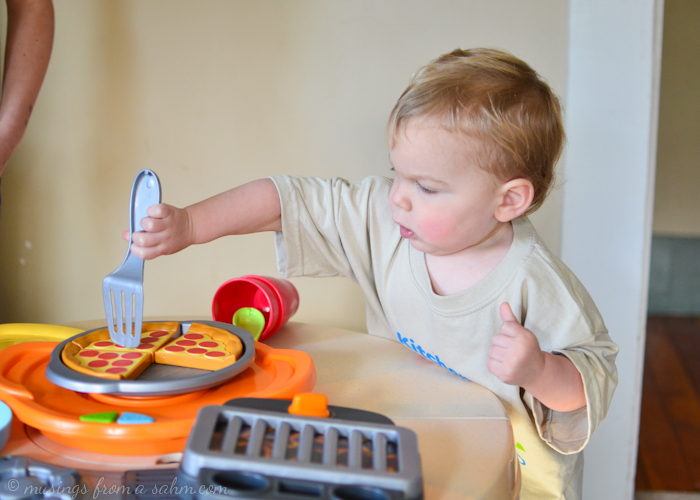 My only minor complaint with this set is that the oven door doesn't always shut well. Sometimes it doesn't latch all the way and opens back up. But it doesn't seem to bother my kids though.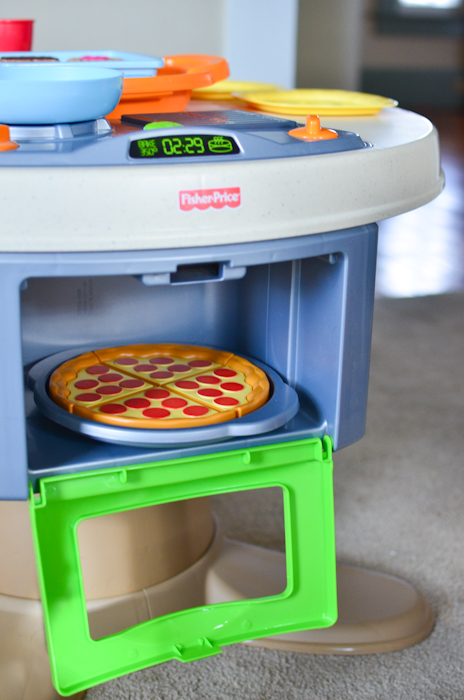 What really sold me was the storage section. Yep,storage is included in the Fisher Price Servin' Surprises Kitchen & Table set! It might seem like a little thing, but it was pretty big for me because now I don't have to find yet another spot for organizing new toys. The storage is right in the middle of the table! Check it out: Awesome, isn't it? Thanks, Fisher-Price – you're speaking my language!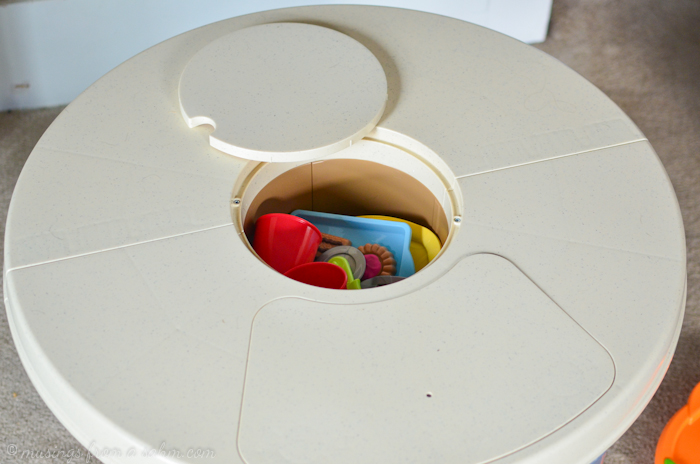 The pizza is really neat because the kids can really personalize it by choosing pepperoni or flipping it over for tomatoes and mushrooms. The four slices can each be changed so it's completely up to them.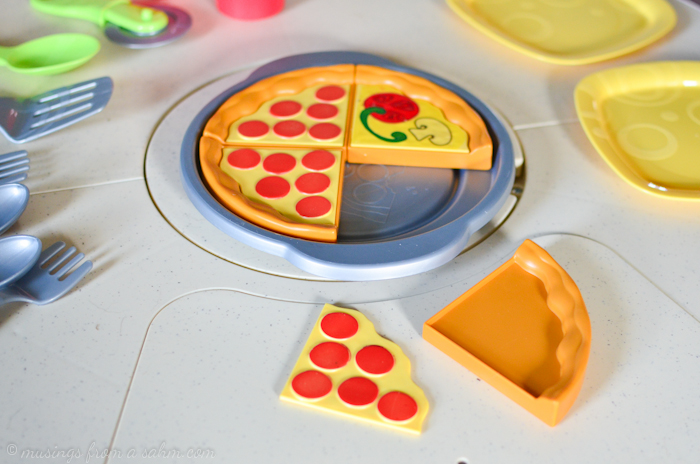 The added Servin' Surprises Barbecue set is fun too. You can "add" mustard/ketchup, etc. to the hotdog and make grilled kabobs.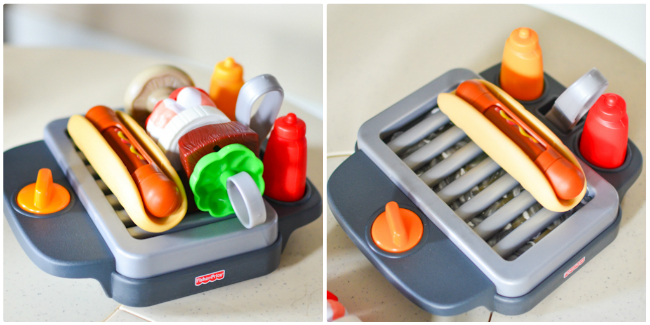 My kids spend hours playing with their Fisher-Price Servin' Surprises Kitchen & Table.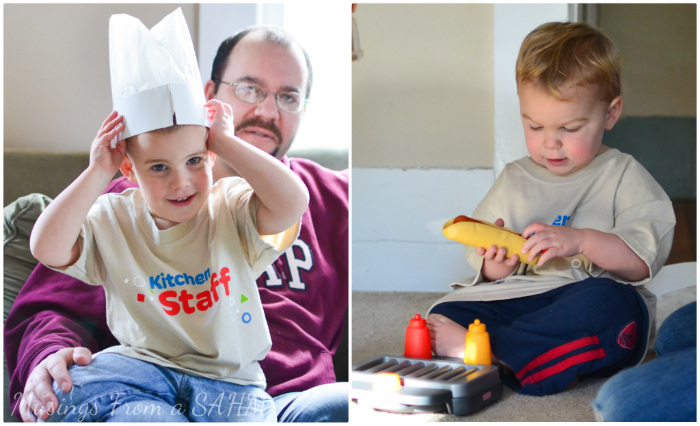 From taking orders from each other and Mom & Dad to baking and cooking and even eating their snack at the table later, there is so much to keep the kids busy with the Fisher Price Servin Surprises Kitchen. And while, there are a few "sounds" with the set, it's not yet another obnoxious constantly-noisy electronic toy.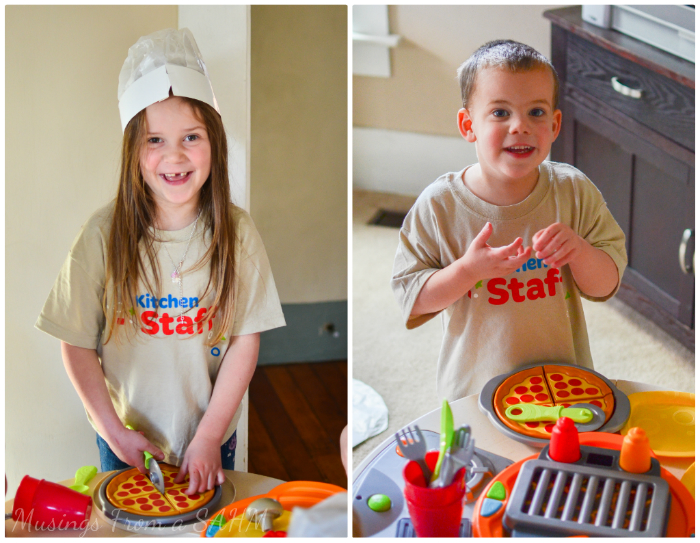 Even Nathan, my oldest, surprised me by enjoying this kitchen. I had thought he'd be too old for it but he plays with it just as much as the other kids. He even wrote out a menu and found a notebook to take 'orders.'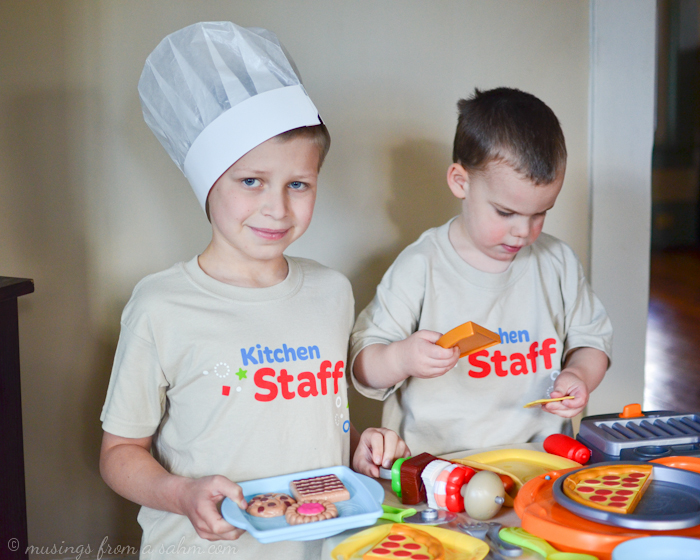 Oh and the shirts they are all wearing? Fisher-Price sent them to us too. We were supposed to do a playdate with friends, but due to the crazy holiday season we opted to just do our own "party" with just us. And with four kids, well we certainly have our crew, don't we?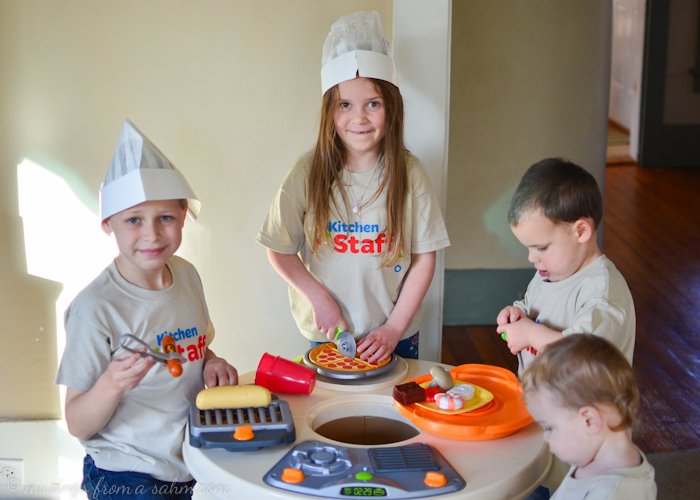 So there you have it – the Fisher-Price Servin' Surprise Kitchen & Table. It gets two thumbs up from the kids and Mom. I highly recommend this set – your kids/grandkids will love it!
Buy It:
You can find the Fisher Price Servin' Surprises Kitchen & Table everywhere.
It's available online at Fisher-Price and Amazon too.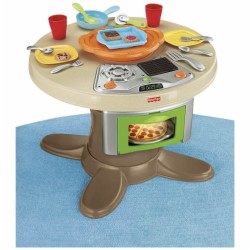 Win It!
1 lucky winner will receive a Fisher-Price Servin' Surprises Kitchen & Table!
CLOSED