Huggies has been working hard to make their products better than ever. I've already talked about the new and improved Snug 'n Dry diapers and now, as a Huggies Ambassador, I'll share how I put the new and improved Huggies wipes to my "real life Mom test."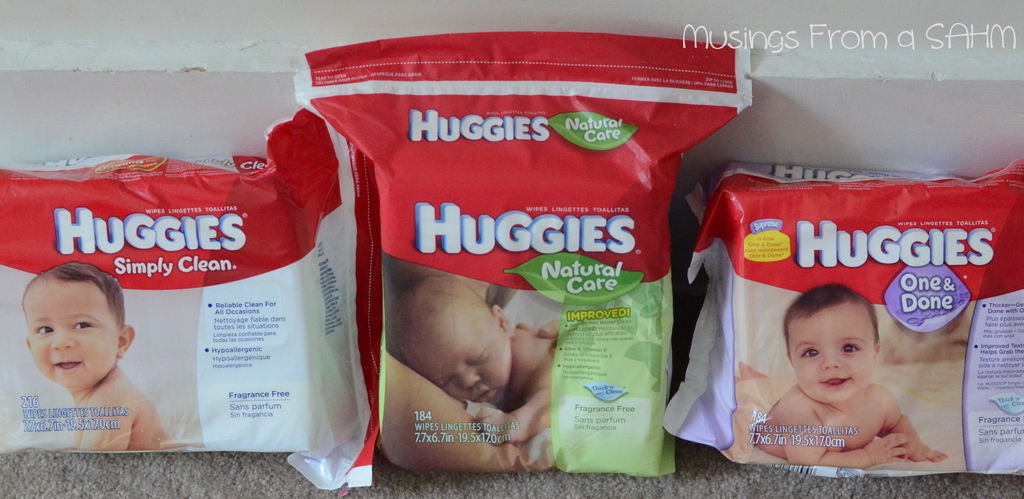 The new and improved Huggies wipes include three varieties, all of which are fragrance-free and alcohol-free:
Huggies Natural Care Wipes are hypoallergenic and gentle for baby's delicate skin. Now they're softer than ever with fewest added ingredients and contain Aloe & Vitamin E.
Huggies Simply Clean Wipes provide a consistent versatile clean and are good for faces, hands, and bottoms.
Huggies One & Done Wipes have improved texture and thickness, which means you can get more done with fewer wipes.
I've tried many different brands of wipes and, just like diapers, I've always returned to Huggies. I remember how one summer another brand had coupons that made for free wipes and I stocked up on a bunch. But I couldn't stand them! I ended up donating them and went back to Huggies.
Why do I love Huggies wipes? I love their texture and thickness. Because they work so well, I use fewer Huggies wipes at a time than any other brand. Other brands may be a little cheaper (usually not by much if you take advantage of the many coupons Huggies offers), but because they're thinner, I use more at a time, so it negates any savings. I have literally cleaned massively poopy butts with just 2 or 3 Huggies wipes. Now that's impressive.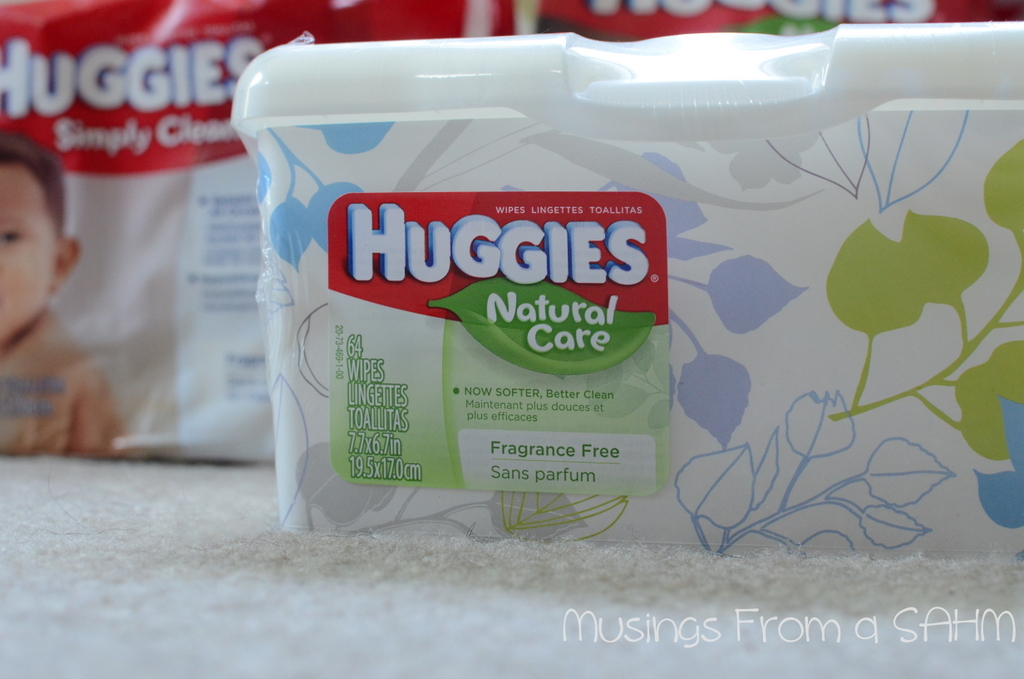 And because Huggies wipes aren't too thin, they don't stick together like other brands. Have you ever tried separating stubborn wipes while trying to keep a poopy toddler from squirming away with the other hand? It's not fun! But thanks to Huggies, that rarely happens to me. (If it does, it's usually because my children have yanked all the wipes out of the container and then crammed them back in. But that's just life with kids.)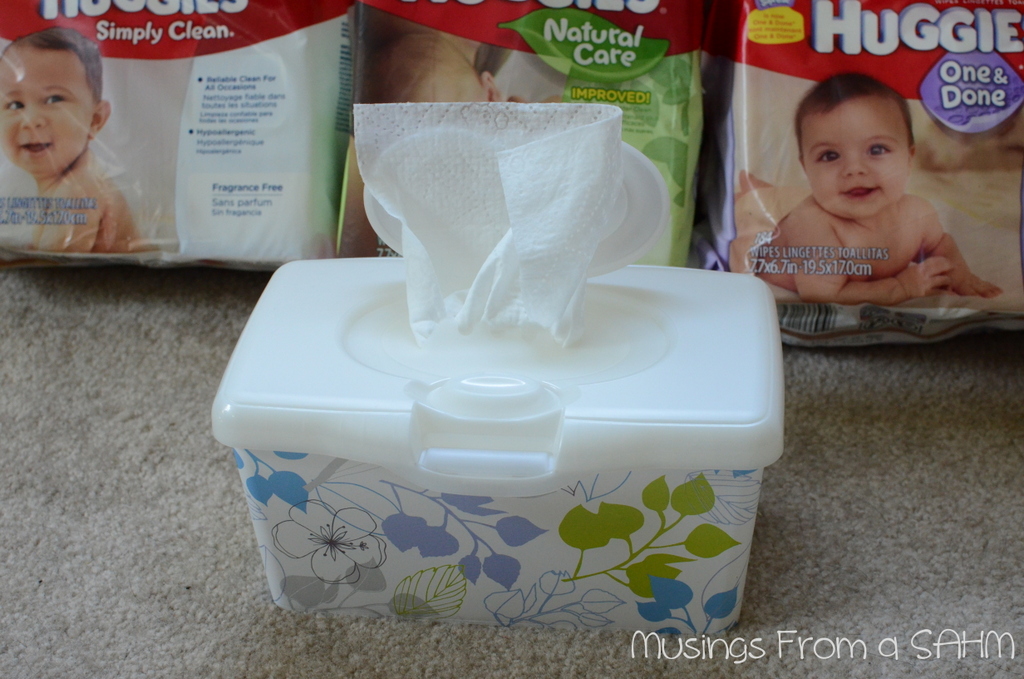 I use Huggies wipes for so many things besides wiping little bottoms. They're perfect for wiping faces and hands. And because I always have Huggies wipes with me, I never have to think about packing wet wipes for out and about.
I also use Huggies wipes for cleaning. Yes, I said cleaning! I wipe off dirty door frames, light switches, fingerprints on the walls, even wiping up a small spill on the carpet. These wipes are really one of the most versatile products I know of. Look at my dirty door frame – before, during, and after – all with one little wipe! No yucky chemicals, just a baby wipe.

I put all three of the new Huggies wipes varieties to the test. I'd have to say the Natural Care wipes are my favorite because they are so soft. My next favorite is the One & Done; they're a little thinner, but still have great texture for "grabbing" things. Simply Clean are the thinnest and so gentle, they would be perfect for a newborn or a little one with really sensitive skin. I would have loved them for when my Joshua was a baby; he had really bad eczema and Simply Clean would have been perfect.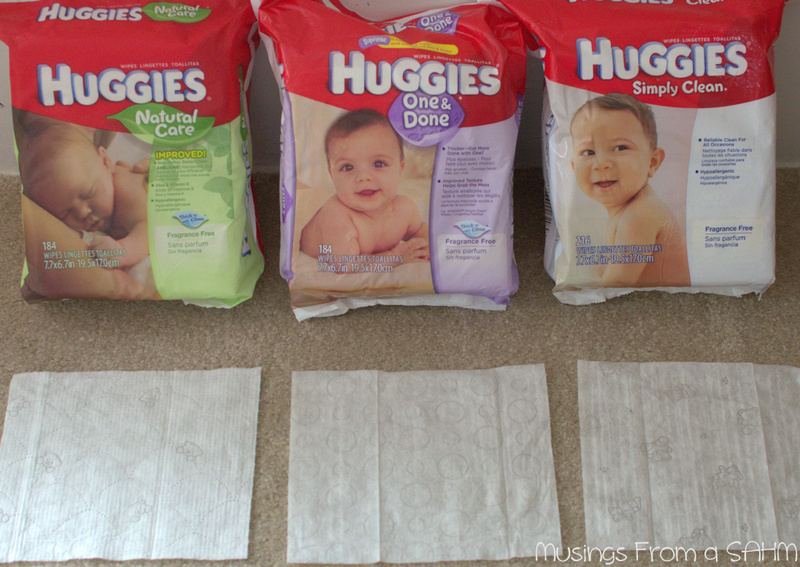 The new & improved Huggies Wipes really are better than ever and definitely pass my "Mom Test." It's no wonder I'm a Huggies mom all the way!
Be sure to visit the Huggies Facebook page where you can learn more about their products!