I know many of you (or more likely your little ones!) are fairy fans because our Make-A-Fairy-House craft is a favorite here at Musings. That's why I knew you would love this post on how to make a fairy garden and fairy dolls!
Fairy gardening has become popular, especially for those little spots in your yard you're not quite sure what to do with. It's the perfect project to do with your kids or grandkids. Today I'm going to show you how to create a magical fairy garden in your own backyard and how to make your very own fairy dolls to play in it!
My mother-in-law has just over an acre of land with pines that open up to a small grassy area. One step in this quiet corner and my 5 year old daughter and I knew it was the perfect place for our fairy garden.
The great thing about fairy gardens is you don't need a big space – in fact, most are in small gardens or even in a planter.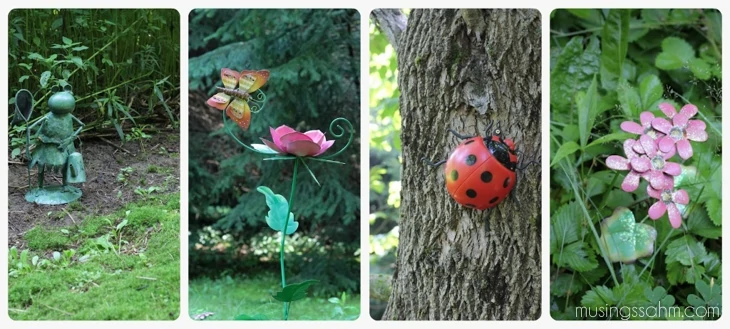 We picked up a lot of discounted and clearance items for the garden from Walmart, Dollar Tree, and Home Depot.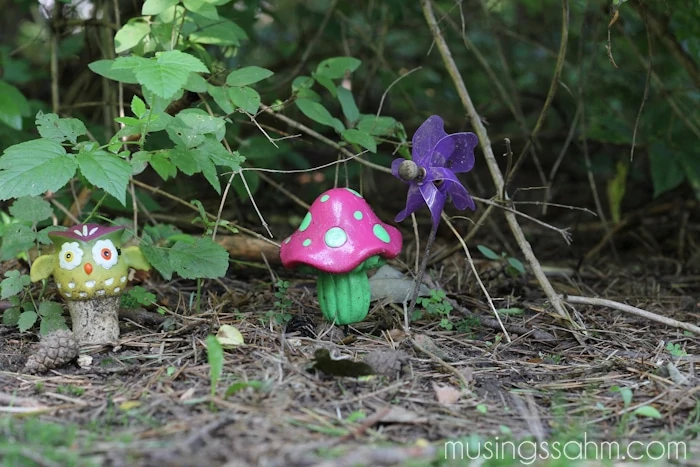 This garden is not just for girls. My son and nephew spent some time building a gnome house and fence with sticks. Imagination running rampant all summer! I love how the sun peaks through the trees onto the ground.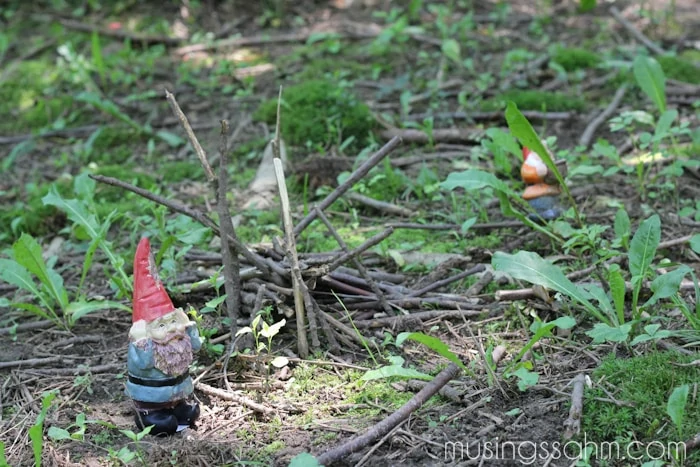 A small strawberry patch and soft moss made our fairy garden even more perfect. The kids call the moss "Fairy Carpet" and love to run on it barefoot.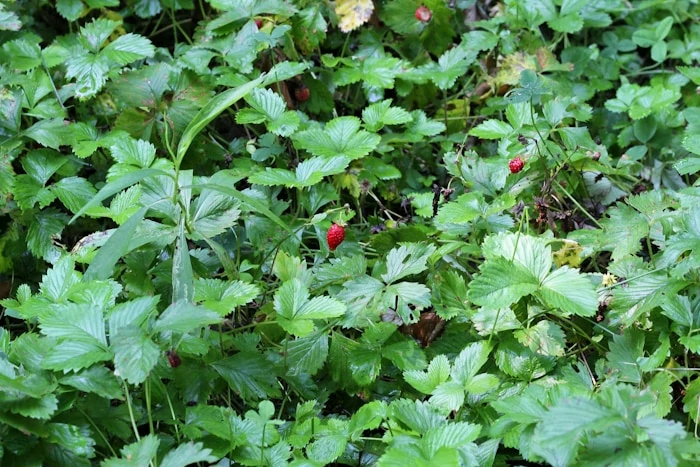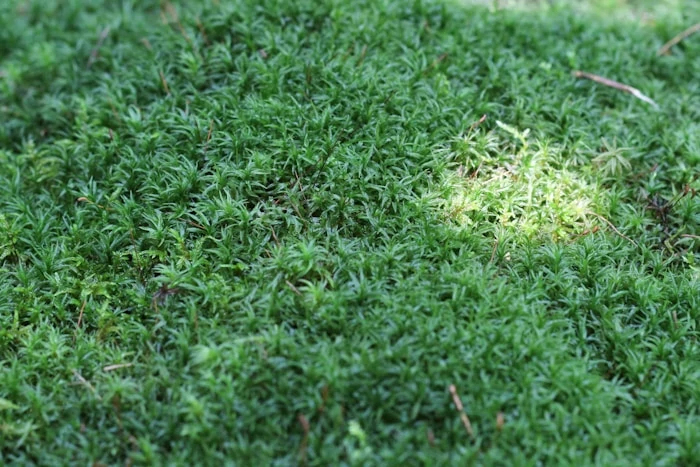 Really you can do whatever you want your fairy garden. Use your imagination – or better yet, let your child take the lead and see where their imagination leads!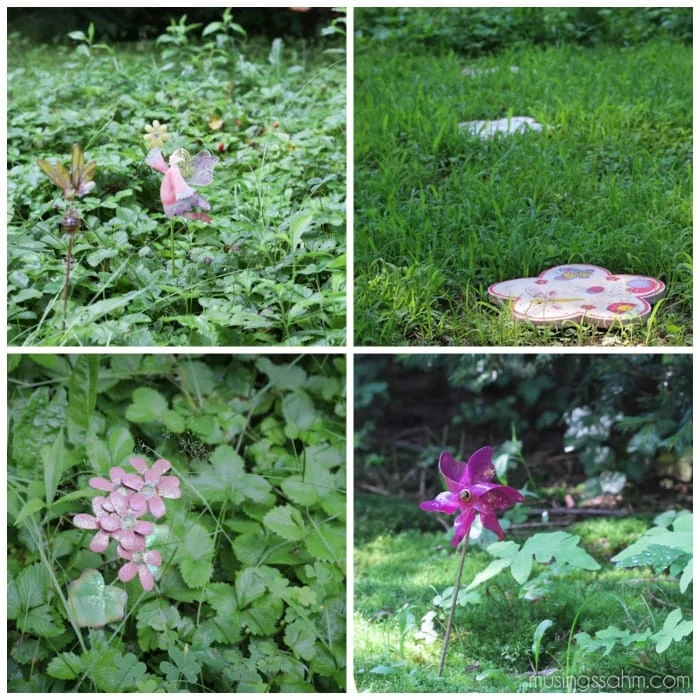 Make Your Own Fairy Dolls
It's not hard to make your own fairy dolls out of wooden clothes pegs. Kids, especially little girls, will have so much fun making these clothes pin fairies!
What You'll Need:
Bag of wooden pegs
Permanent marker or paint for making features on the face
Yarn or wool for hair
Ribbon with wire, fabric, paint, fabric petals- any of these would work for the clothes.
Glue gun or Elmer's glue
Feathers, thin art foam, pipe cleaners- to make the wings
Acorn tops to make hats for boy fairies

We bought wood pegs at a local hardware store and used old fabrics and wire ribbons that my mother-in-law had.
Step 1: Use a permanent non-bleeding marker or paint with a small brush, features for the face.
Step 2: Glue the hair on. You can use wool, yarn or an acorn top for a hat. There are so many colors to choose from.
Step 3: Cut a small piece of fabric and glue it to the wood peg for the fairy's top. You could also paint a top on instead.
Step 4: The dress. This is where you can get very creative. We used a stiff ribbon remnant on sale at a fabric store. You can also use fabric flower petals to have more of a garden feel to the doll. Pictured above are fabric pieces that can be cut into circles. Just make a hole in the center to fit the peg through and glue it.
Step 5: My daughter's favorite part was putting the wings on. My mother-in-law used the thin art foam pictured above and cut them into shapes. Using feathers is another cute idea.
Step 6: Pipe cleaners for the arms. You don't have to do this, but if you want, simply wrap the piper cleaners around the fairy's body once or twice.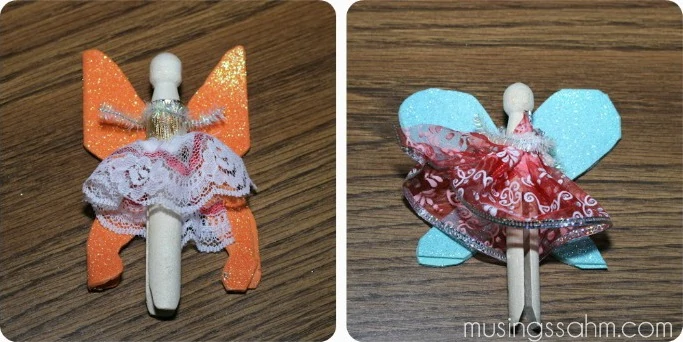 Then it's time to have fun in the fairy garden! My daughter put on her Halloween costume.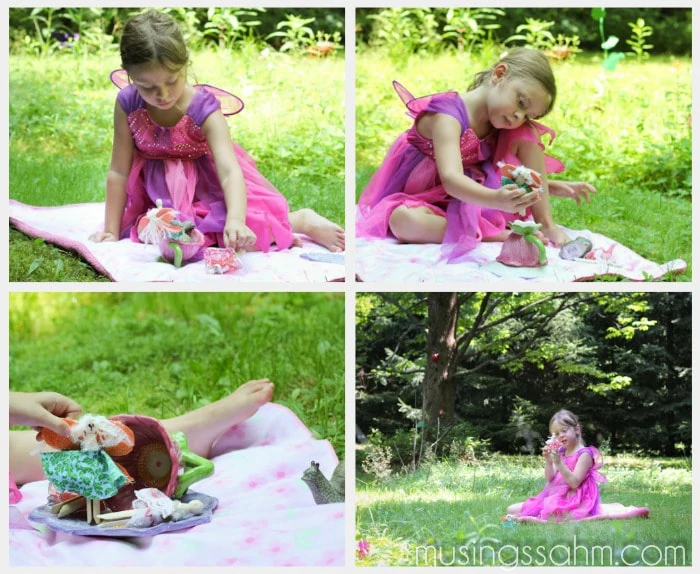 The path to the Fairy Garden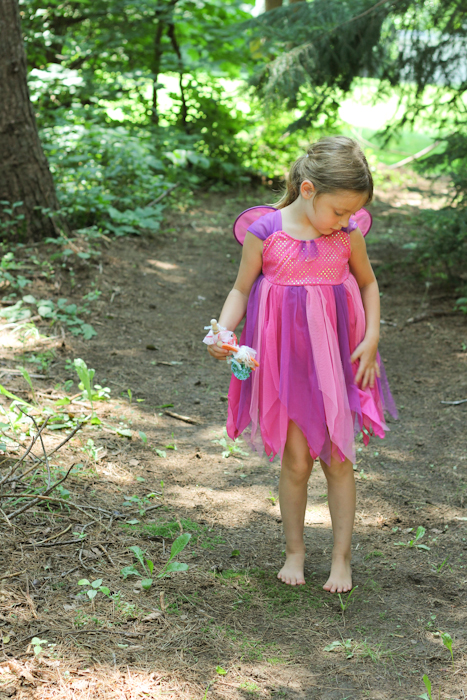 Next project will be having the kids paint these little wooden bird houses. Yes you guessed it! They will be little Fairy houses.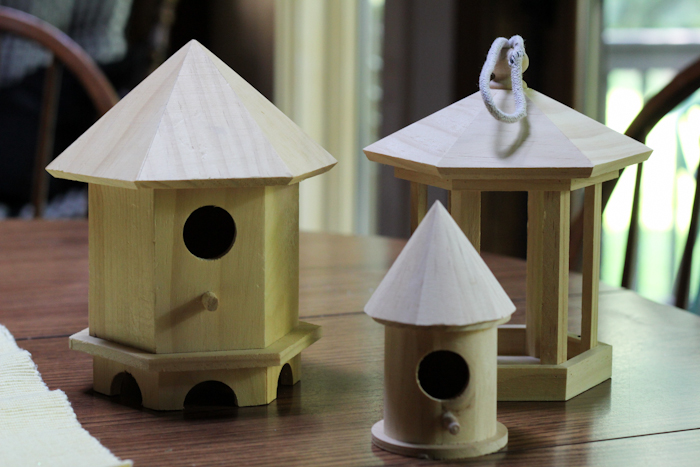 I hope you and your little ones will draw inspiration from these ideas. Have fun!