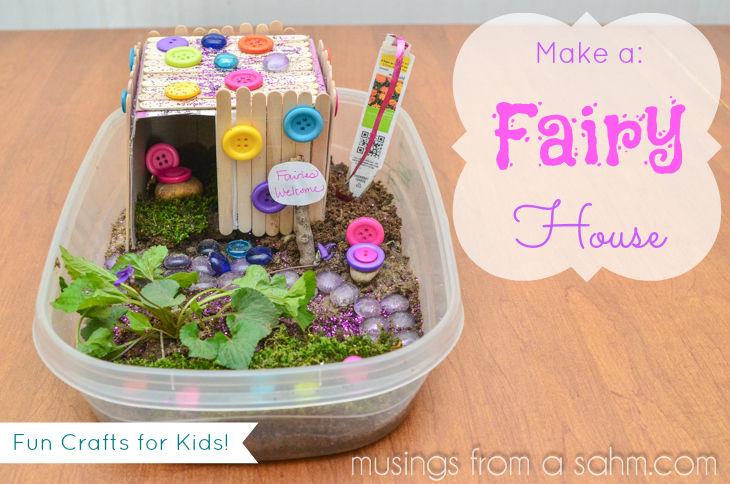 Now that we're done with school, I've been doing more fun craft projects with the kids. Last week we made homemade Gak, and this week, Emily and I made a Fairy House craft.
Emily is six and she loves Tinkerbell. She very firmly believes that fairies are real and will argue till the sun goes down if anyone suggest otherwise.
So when I asked if she wanted to make a house for fairies, she was immediately full of ideas.
We rounded up a few things around the house and then went to Walmart to pick up a couple more things.
Here's a few supplies you may want to use:
(affiliate links:)
small plastic container (you could buy a new one, but this is a great chance to upcycle an old plastic container you can't find the lid for!)
colorful buttons (these are cute too!)
colorful stones
cardboard box
sticks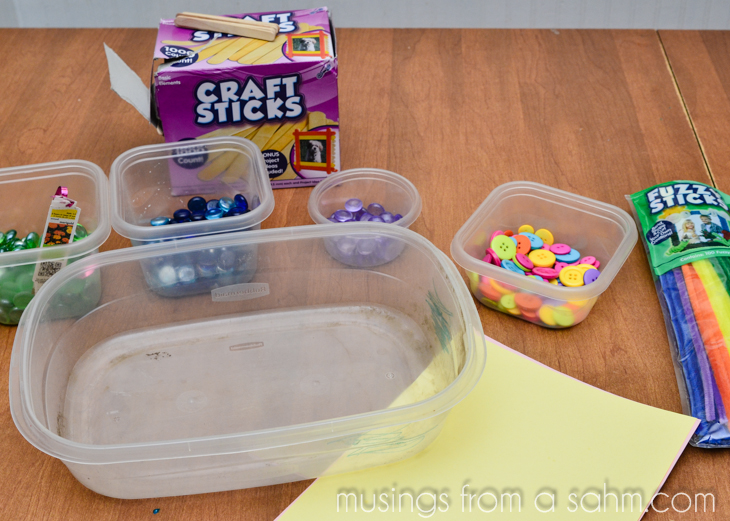 The best part of this craft project is that you and your child can make your Fairy House however you want. Use stuff from around your house or go visit the craft store; it's up to you. And your little fairy-house-maker of course. He or she may have some very specific ideas!
We bought some colorful buttons and stones. Also some pipe cleaners, which we actually didn't use. But maybe you will!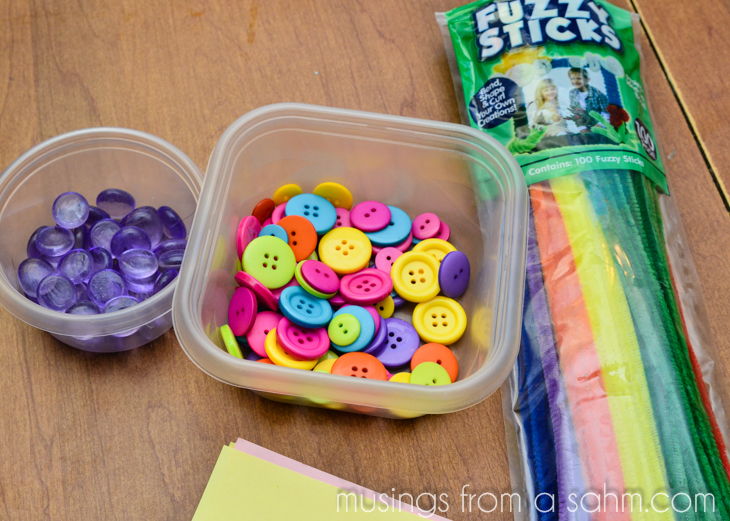 You'll need a plastic container of some sort. We used an old Rubbermaid container. Have your child fill it with dirt. Not too full – about half way. It doesn't have to be exact. This project is all about your child using their imagination!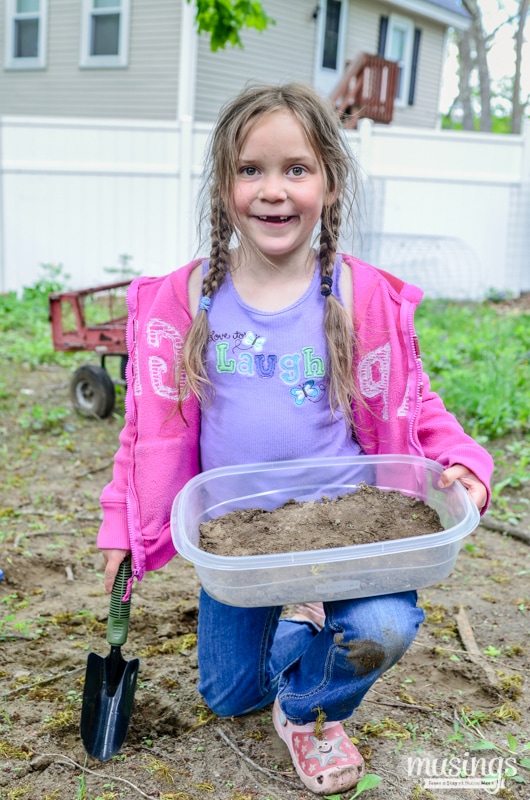 Emily made a stone pathway around her Fairy House container.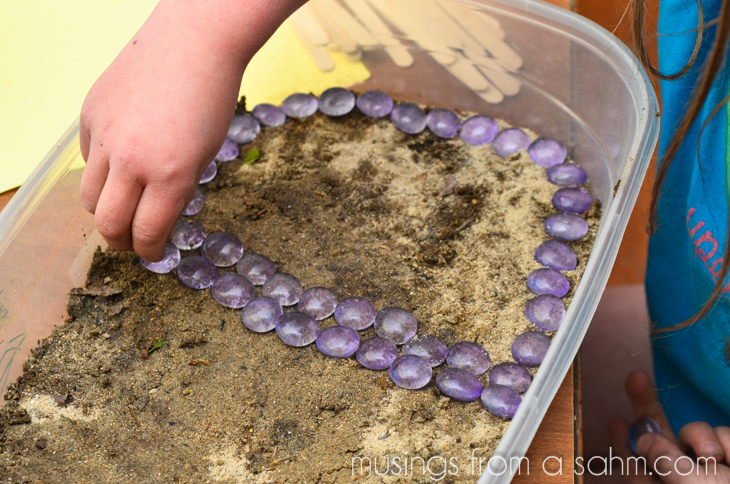 The next step is to work on the actual house. I took an old tissue box (recycling and reusing too – woohoo!) and cut it up to fit the container.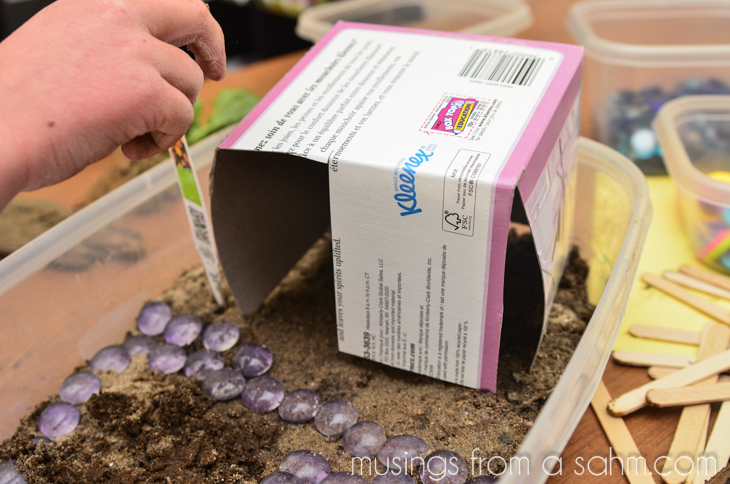 Next, I used a hot glue gun to attach craft sticks to the sides of the box.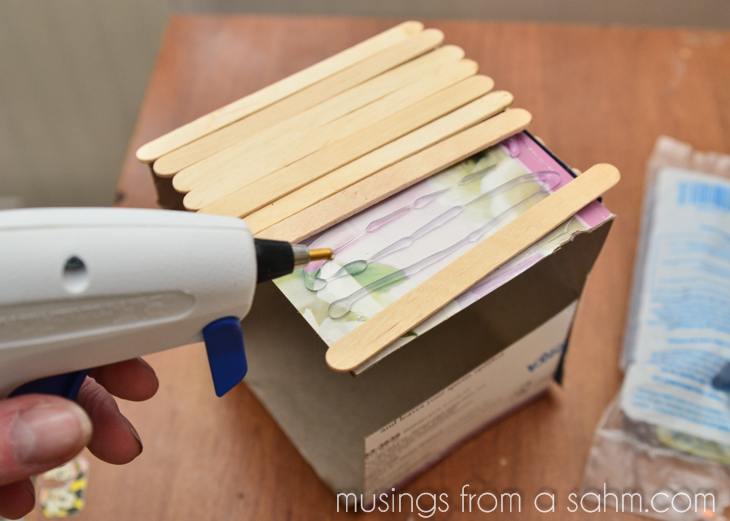 We covered all the sides and the roof. Remember (as I had to remind myself!): don't worry about it being perfect. (I had started telling Emily to lay the craft sticks on evenly because that's how I prefer it, but remembered that this is actually Emily's project and I am assisting her.)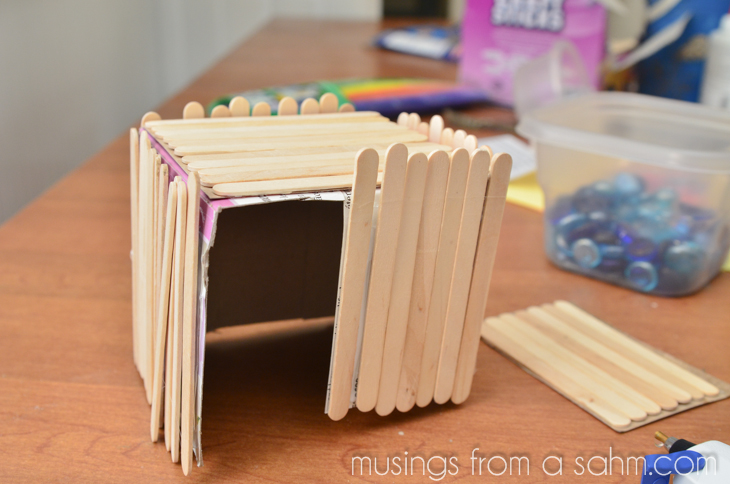 It was Emily's idea to add buttons on the house for decoration. She said Tinkerbell and her friends would like it. (I think she's right!)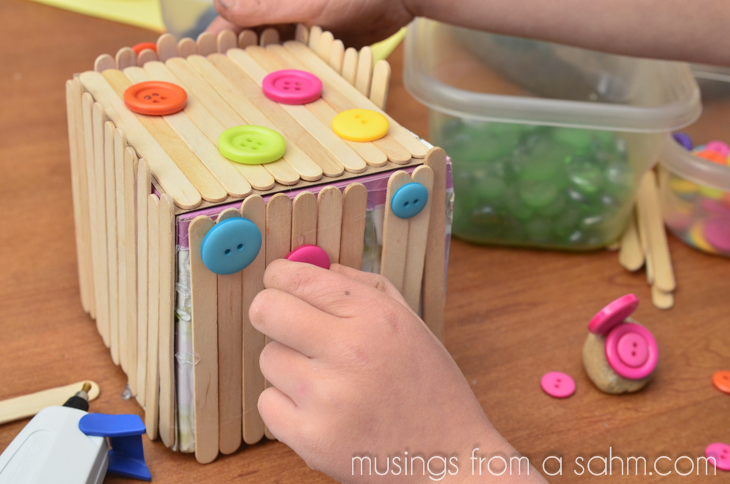 While we let the craft stick-tissue box house dry, we made a sign.
For the sign, I simply wrote "Fairies Welcome" on a piece of paper. Then we cut it out, covered it with packing tape (for durability), trimmed the edges, and glued it (hot glue gun) to a stick.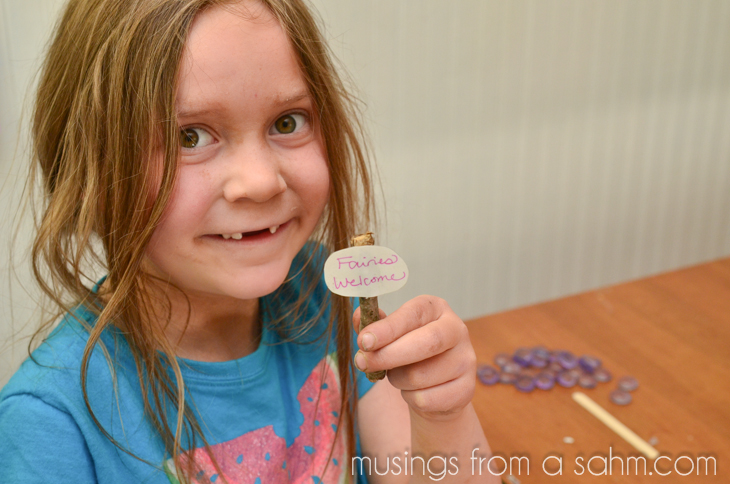 We also made little button chairs. This was my favorite part.
Emily found a couple somewhat-flat stones and I glued a large button on. Then I attached a second button to the back. I wasn't sure how well this would hold up, but it was quite solid, thanks to the hot glue gun. Lastly, Emily insisted on putting a second smaller button into the big button.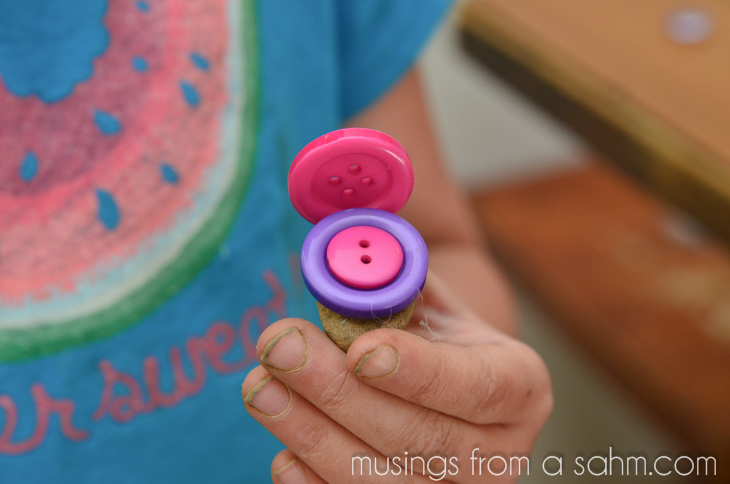 Nathan, of course, commented that the fairy chairs look a lot like a toilet. Um…we'll just ignore that fact, shall we?
Next, we put the craft stick house into the dirt and began adding the little accessories to our little fairy house craft.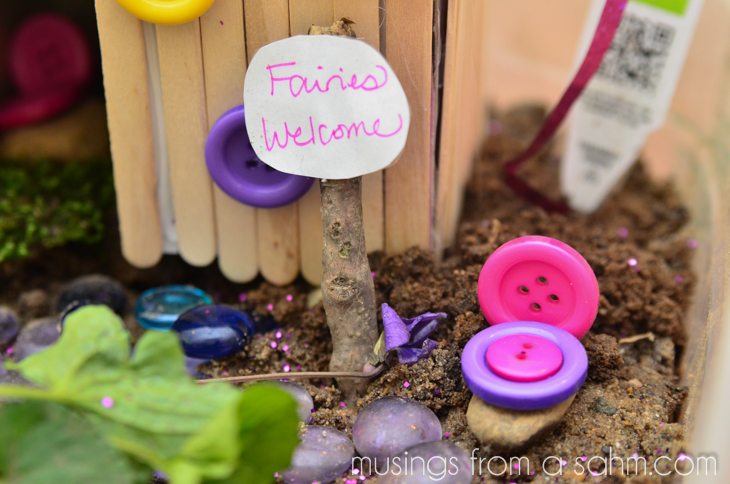 We added moss to the front and inside the house so the fairies would have a soft, comfortable carpet.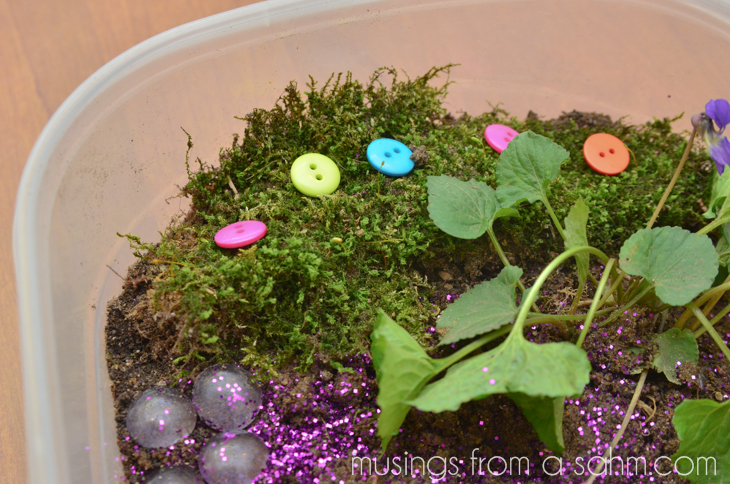 We even transplanted a violet from the yard. With a little water, it's still alive and doing well!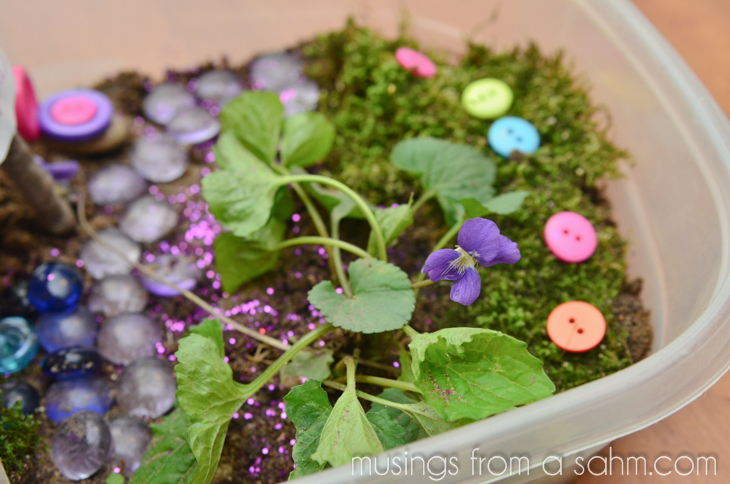 Emily took a flower label and taped on a piece of ribbon. She said this is the fairies flag so they can tell how fast the wind is blowing.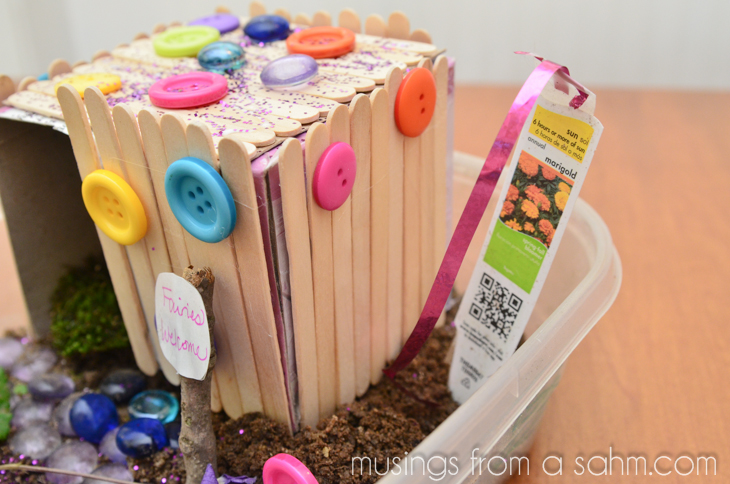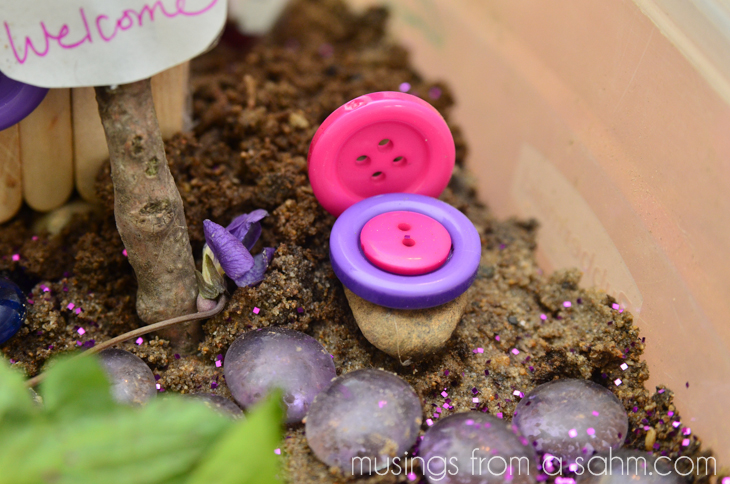 Lastly, Emily sprinkled lots of pixie dust (glitter) around the Fairy House so the fairies would feel at home.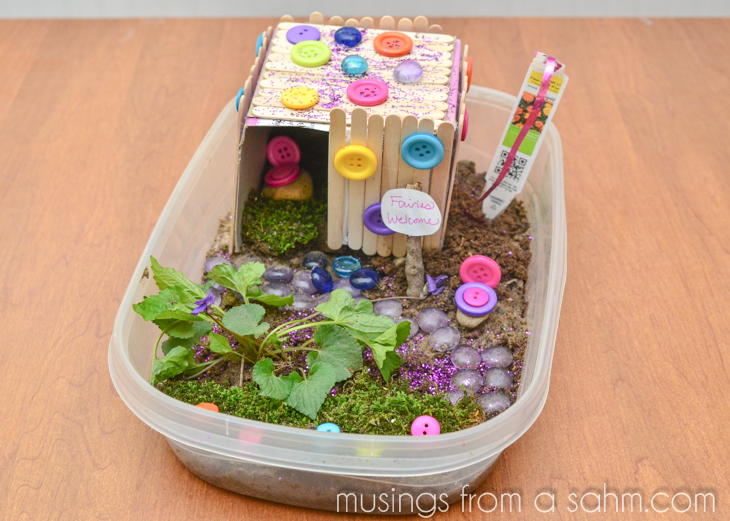 Making a Fairy House craft is such a fun easy activity for kids!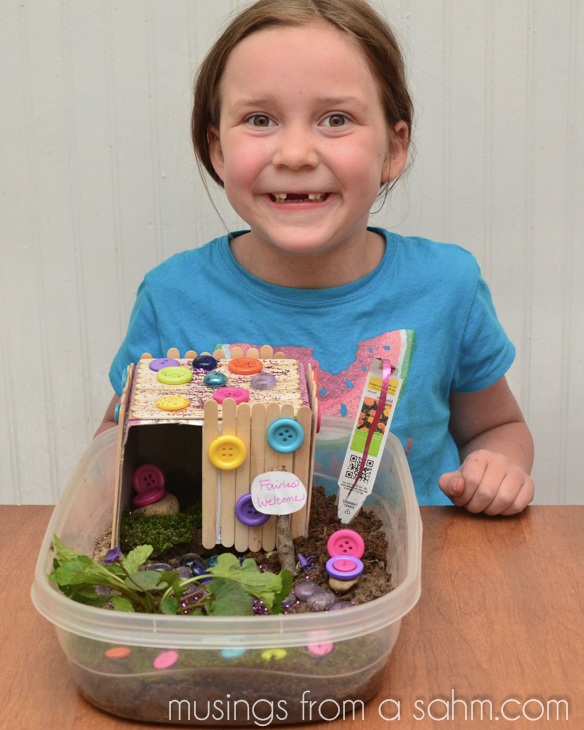 As you can see, it's a great way for kids to let their imaginations run wild and do a fun project with Mom. And you'll be surprised at how much fun you'll have helping them craft their house too!

How will your child's Fairy House turn out?