One of my favorite yearly traditions is to make a batch of this yummy white chocolate popcorn with my family around the holidays. The addition of M&Ms and pretzels adds that perfect sweet and salty combo that takes it to the next level.
There never seems to be enough time to do everything around the holidays. I can't give you extra time, but I can give you a quick-and-easy holiday snack recipe the whole family will love.
Yup, it's white chocolate popcorn.
Sweet and Salty Snack
I know popcorn doesn't always sound exactly exciting, but this isn't just any old popcorn. First, these tender kernels are mixed together with salty pretzels and m&ms.
Then, the entire mixture is drizzled with a homemade white chocolate sauce (it's super easy to make, too!). With all the flavors combined, you've got the perfect sweet-and-salty snack that both kids and adults give two thumbs up.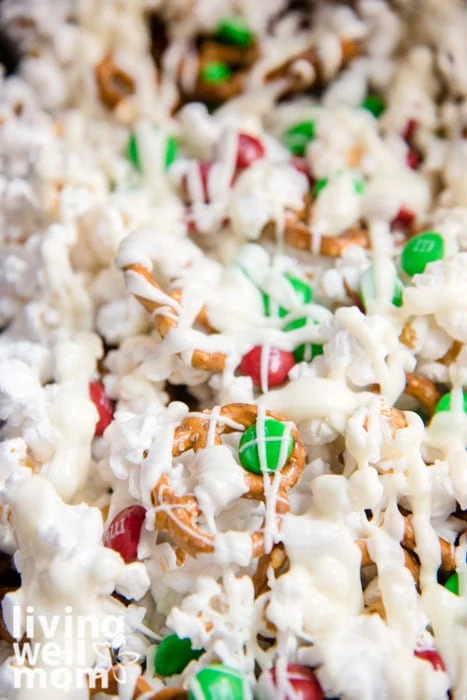 Family-Friendly Movie Night
You can totally make this quick white chocolate popcorn just for fun, or to take to a party or event. But, I like to do something even more fun with this recipe—we turn it into a family event!
We make this white chocolate popcorn together as a family. Truly, it takes like 5 minutes of hands-on time, but when you are trying to keep multiple children focused, that's about the max time you can take!
Then, we watch a fun movie together. We make this popcorn a lot around the holiday season, so we typically end up watching a Christmas movie of some kind. Honestly, it doesn't get any cozier than lounging around in our PJs enjoying this yummy snack and spending time together!
Decorate Cups for the White Chocolate Popcorn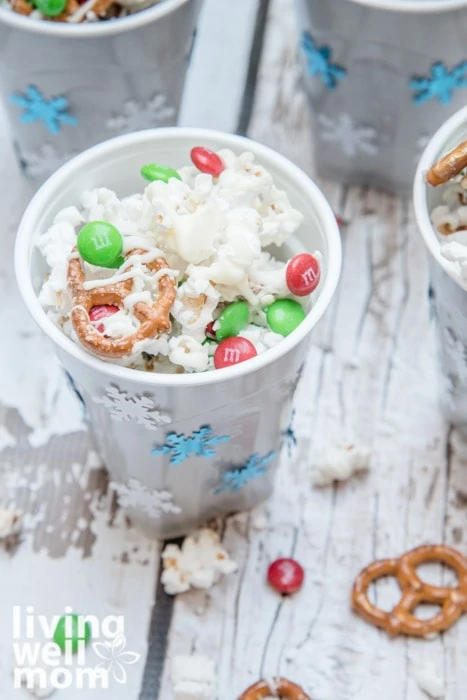 For a fun twist, you can even decorate holiday snack cups to serve your white chocolate popcorn inside of. Some years we do this, some years I forget. But, we keep the "decor" super simple.
As an example, you could glue colorful snowflakes
using silver glitter glue
to your cups. Or, put festive stickers
on the cups. Plus, you can keep it in-theme with whatever movie you are watching too if you really want to step your game up. Kids will love decorating their little cup!
Even better? Not only are these decorated holiday snack cups cute, but they'll help cut down on mess by keeping kids' snacks contained. Win-win.
How to Make White Chocolate Popcorn
This sweet and salty treat will take about 5 minutes of hands-on time. It looks fancy and tastes awesome, too!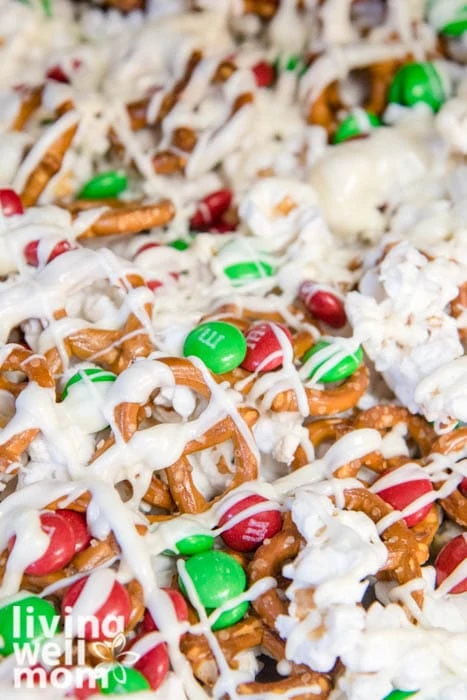 White Chocolate Popcorn Recipe Ingredients:
How to Make Popcorn with White Chocolate, Step by Step:
Line your cookie sheet lined with waxed or parchment paper.
Spread the popcorn over the cookie sheet.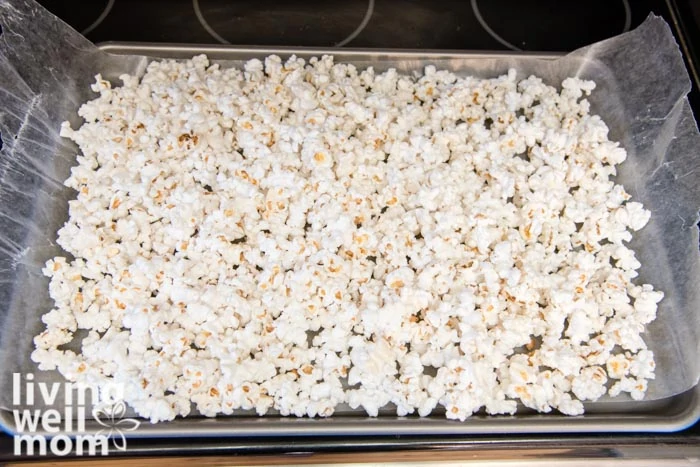 Then, add the pretzels on top of the popcorn.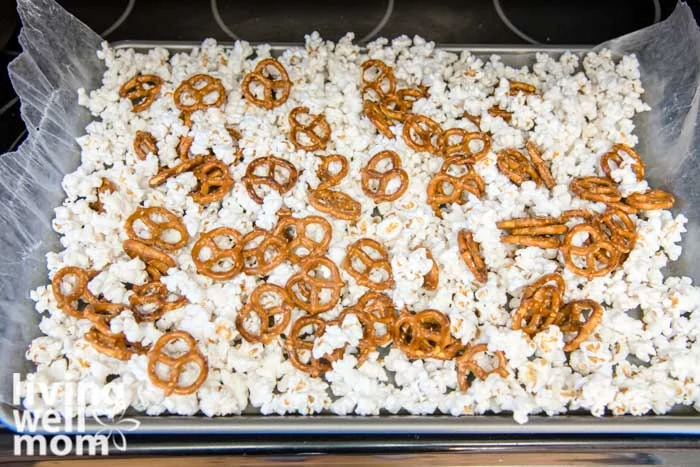 Next, sprinkle the M&Ms over the popcorn.
Next, melt the white chocolate with the shortening in a saucepan over low heat (or your microwave – make sure you stop and stir every 20-30 seconds).
Then, drizzle about half of the white chocolate mixture over the popcorn: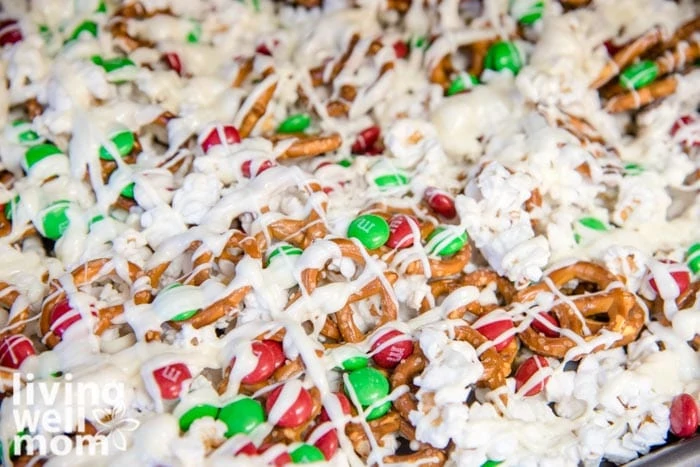 Lastly, stir the entire popcorn mix gently with a large spoon. Drizzle the remaining chocolate over the popcorn and stir again.
Your popcorn is ready! Eat and enjoy!
When to Eat the Popcorn
So, you have two options when it comes to enjoying this popcorn recipe. I've tried both and there are some pros and cons for each!
Let it sit for about 30-45 minutes to dry before eating. This is the less-messy way to do it, but involves a little bit of patience from everyone.
Dig in right away. This is certainly messier – think of all that gooey chocolate over your children's hands/face/your furniture, etc. However, it's also slightly tastier when it's warm and fresh.
You really can't go wrong with this sweet-and-salty treat! Just make sure to keep plenty of napkins on hand. 😉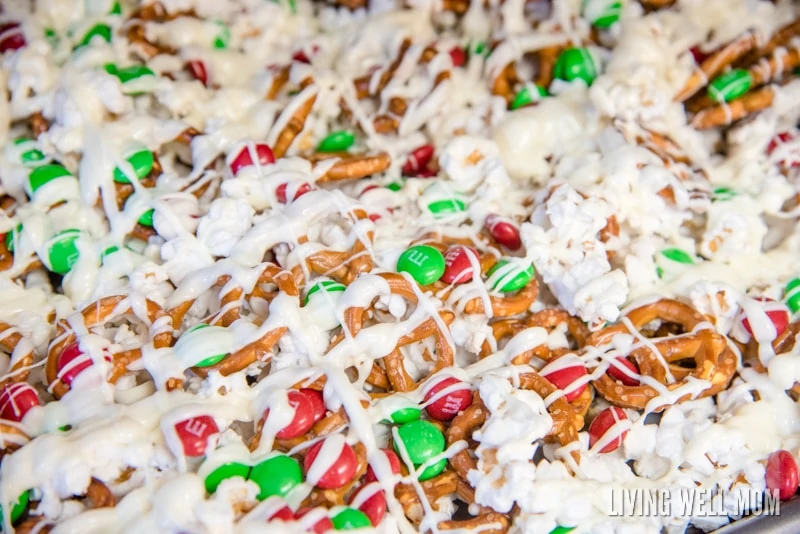 Other Add-Ins to Try
I'll be honest with you, it's hard to imagine anything working better than this recipe as-is. However, you can also try a couple of different add-ins and see what you like best! A few ideas include:
Swapping out the M&Ms for peanut butter Reese's pieces (or peanut butter M&Ms)
Adding a drizzle of caramel along with the white chocolate
Make it festive with a dash of sprinkles mixed in
Add in crushed peppermints for a seasonal twist
But, if I were you, I'd try the original first. It's perfectly balanced and has been a crowd-pleaser for years!
More Easy Holiday Treats:
Print
White Chocolate Popcorn
With white chocolate and pretzels, this popcorn is the perfect sweet-and-salty snack!
5 cups

popped popcorn*

1

–

2

cups mini pretzels

1 cup

M&Ms

12 oz

white chocolate chips

1 tablespoon

shortening or coconut oil
Instructions
Cover a cookie sheet with waxed or parchment paper and spread the popcorn.
Drop the pretzels evenly over the popcorn.
Sprinkle the M&Ms next.
Microwave the white chocolate chips and shortening in a bowl for about 1 minute. Stir, then microwave in 20 second intervals, stirring well each time, until the chocolate is completely melted. Or melt on low heat over the stove, stirring regularly.
Drizzle half the chocolate over the popcorn mixture.
Gently stir the popcorn a bit, spread again, and drizzle the remaining white chocolate.
Serve immediately for a deliciously warm snack. Or let it sit out for about an hour to dry. (It's less messy when the chocolate cools.)
Notes
*Note: plain popcorn works better than buttery popcorn for this recipe.
Just pin it below to find the white chocolate popcorn recipe later!