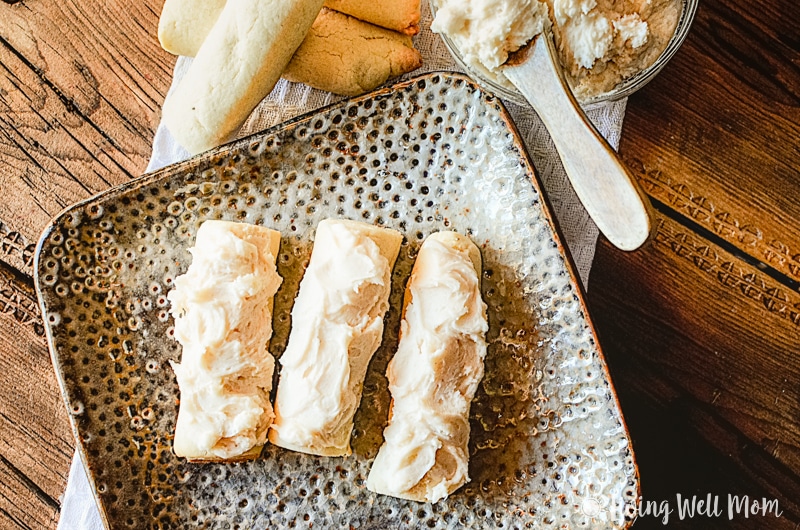 When I first discovered this cookie recipe a couple years ago, I knew it would become a favorite. With rum extract and nutmeg, Eggnog Log cookies are full of holiday flavor. They're pretty much the definition of a Christmas cookie in my book.
Eggnog Log Cookies take a little time to make, but they aren't hard and are absolutely worth it. I just made a big batch and we are loving them! I frequently get recipe requests when I share them with friends so I knew I wanted to share this recipe with you all too.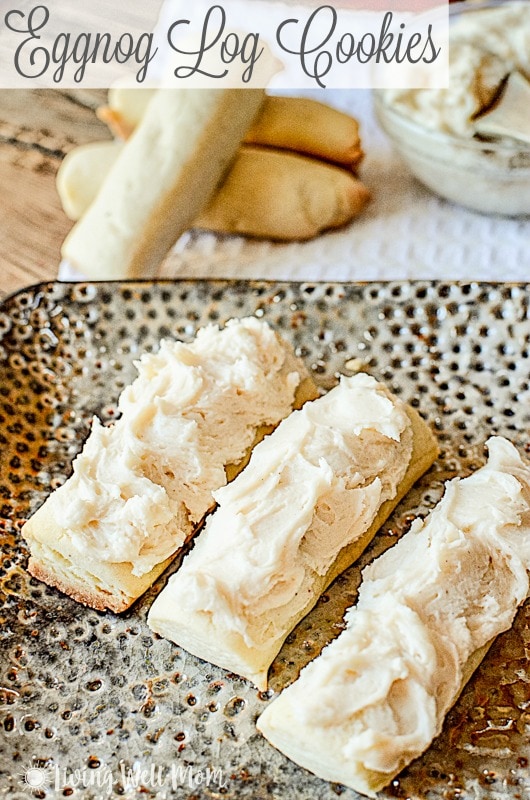 Eggnog Log Cookies
What you'll need for the cookies: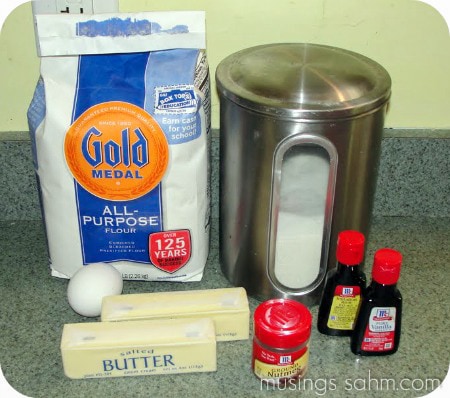 We need 1 cup (2 sticks) of softened butter to start with. If you didn't have time to leave it out on the counter for an hour or so, you can soften it in the microwave.
Cream the butter. Beat until it's nice and creamy.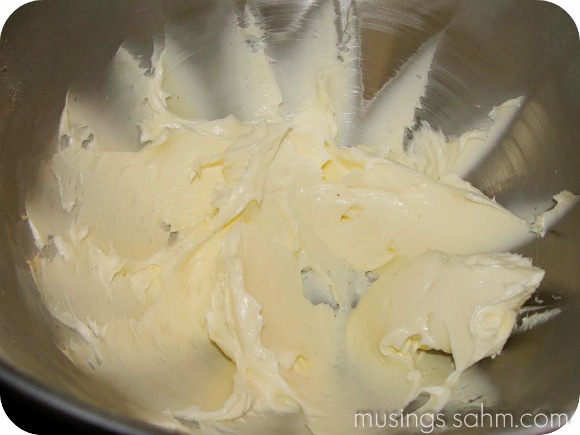 Now add 3/4 cup of sugar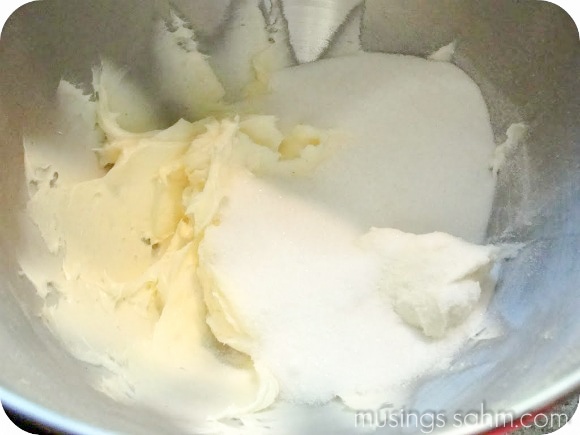 and mix until it's light and fluffy. Not too much though…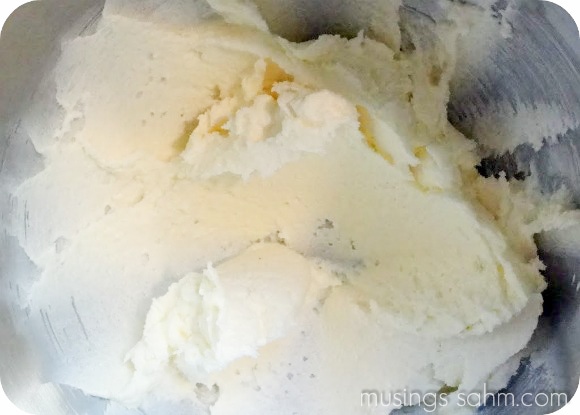 Add 1 egg, 1 1/2 teaspoons of nutmeg, and 2 teaspoons of vanilla*, and 3/4-1 teaspoon of rum extract.
*Don't use imitation vanilla, use the real stuff. This cookie is all about the spices and flavoring and real vanilla makes a big difference. And I use the full 1 teaspoon of rum extract because as I just said, this cookie is all about the flavor. I tried 1/2 teaspoon last year and it wasn't nearly as good. But that's up to you.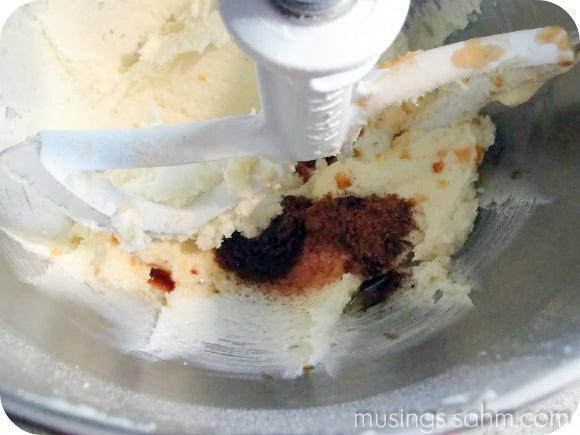 Mix it thoroughly. And enjoy that wonderful spice-smell!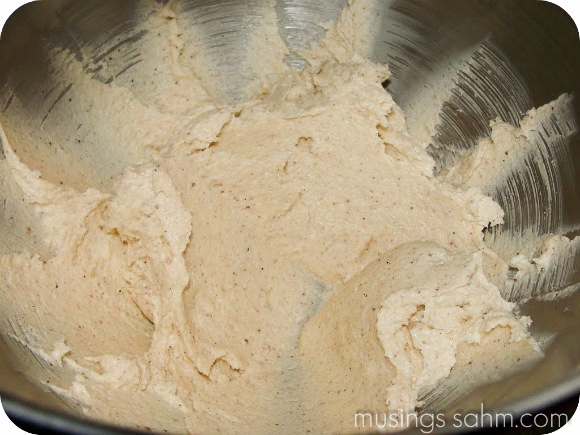 Add 3 cups of flour to the mixture, gradually.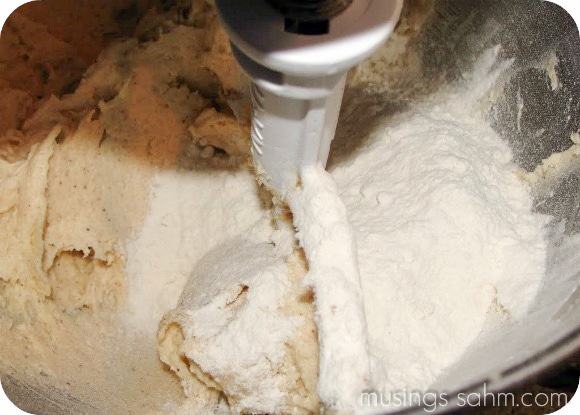 It will be thick. Really thick. Now is when you're extra thankful you have that heavy duty mixer. I've made these the last couple years before my Kitchen Aid and my poor handmixer just couldn't handle it so I had to stir by hand. But even so, these Eggnog Log Cookies are worth it.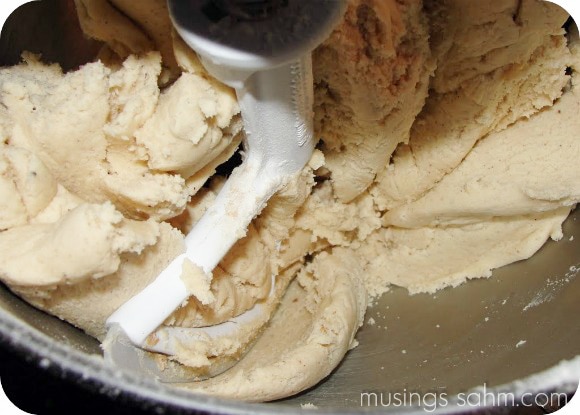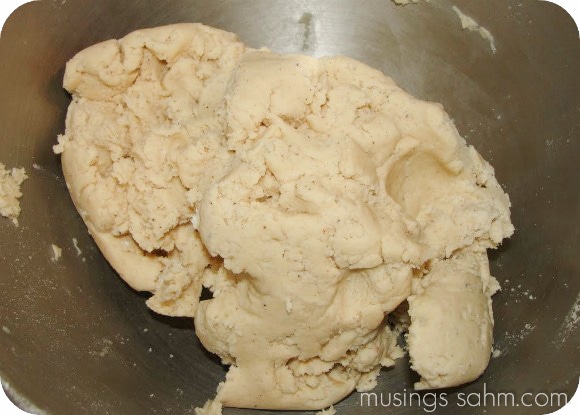 Now cover the cookie dough and put it in the fridge for about an hour. This will make it easier to work with.
You can refrigerate it for longer if you need to. I ended up busy with the kids and left it in overnight. If that happens, just pull the dough out and leave it on the counter to soften for about an hour or so.
When you are ready to bake, heat the oven to 350°.
I started with a ball of dough about this size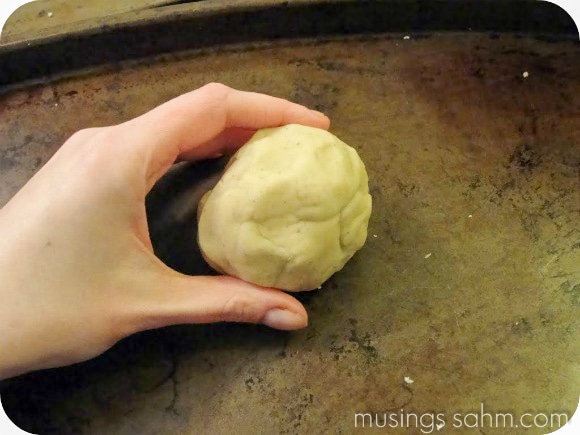 You might need to squish it around to make it more pliable.
Note: The recipe says to roll out the dough on a "lightly floured surface" but I did it on a cookie sheet and didn't need the flour.
Then shape the dough into 1/2-1″ diameter rolls, like this: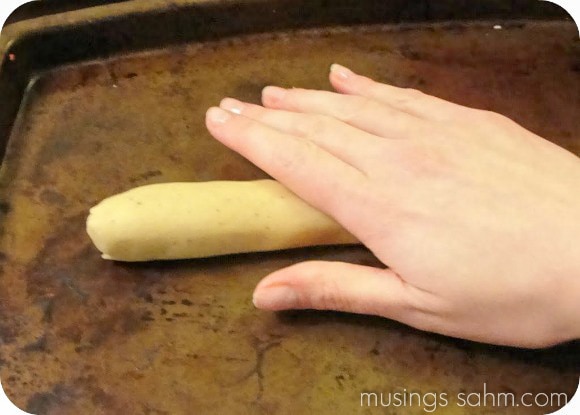 This is about the size we want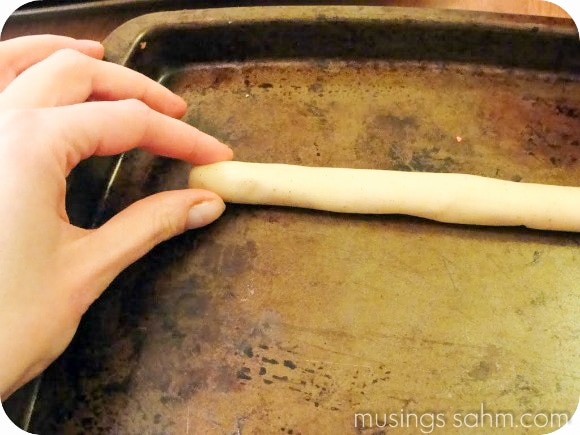 Cut into 3″ long pieces. The easiest way to do it? Just measure with your finger! Each piece should be about one finger-length.
See?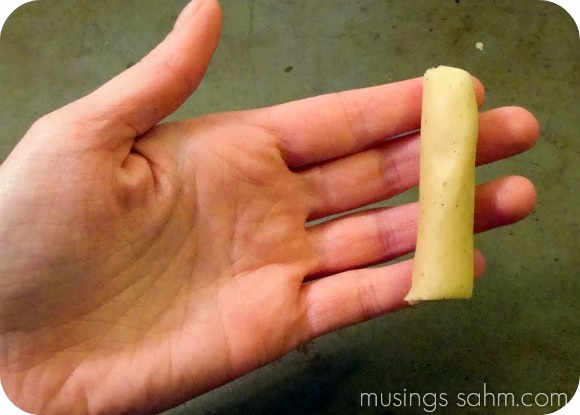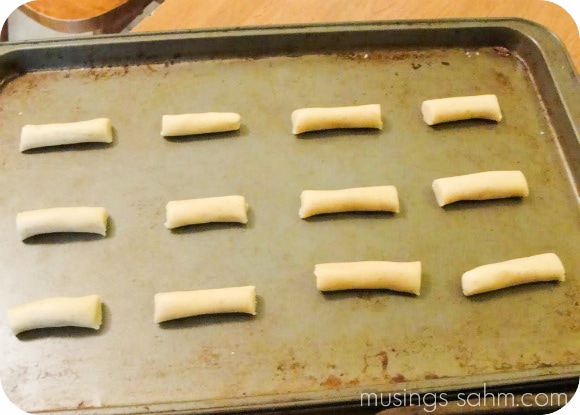 Bake for 13-15 minutes. I found that 14 minutes was perfect for me.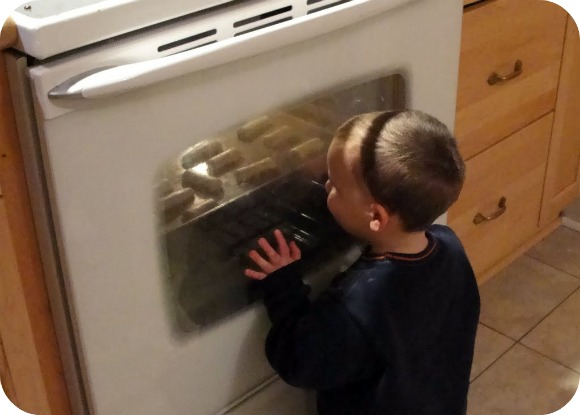 They should be just lightly browned at the edges.
Cool completely on wire racks.
For the frosting, you'll need:
1/4 cup butter, softened
3 cups confectioners' sugar, divided
1 tsp vanilla extract
1/2-1 tsp rum extract
2 TB whipping cream
ground nutmeg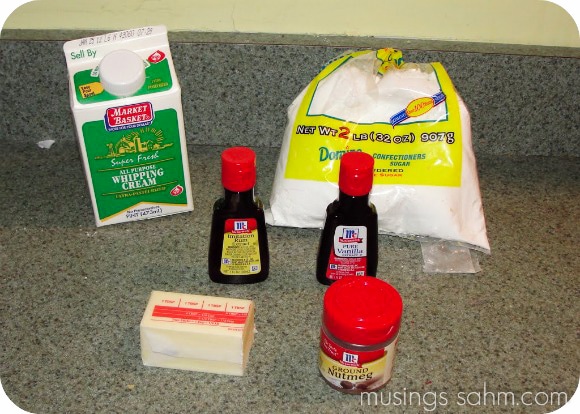 I don't have any pictures for making the frosting, but it's easy enough:
Cream 1/4 cup of softened butter until light and fluffy. Add 2 cups of confectioners' sugar, 1 tsp vanilla, and 1 tsp rum extract; mix well.
Beat in 2 Tablespoons of whipping cream* and 1 more cup of confectioners' sugar.
*Note: The recipe calls for light cream, but I use whipping cream which is perfect. In a pinch, you can use milk, but I think it tastes better with whipping cream.
Frost cookies and sprinkle with a little ground nutmeg.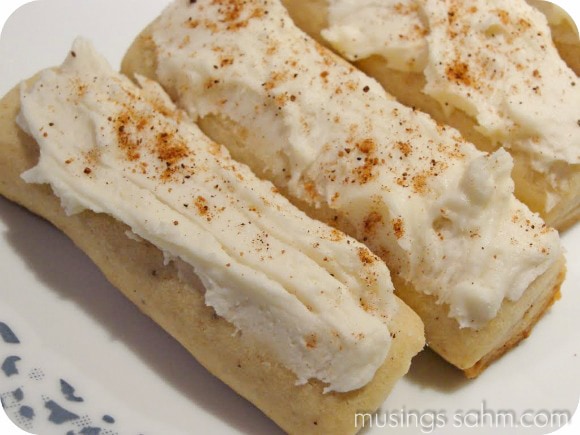 Eggnog Log Cookies taste even better than they look!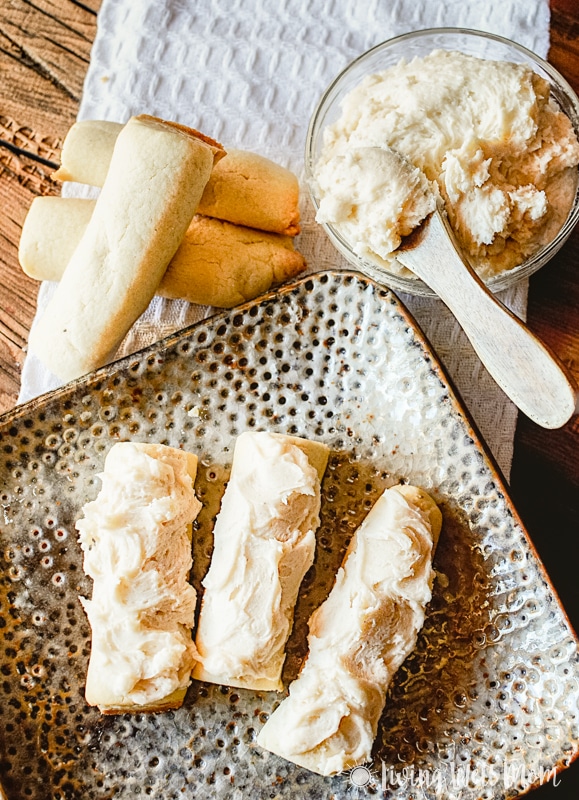 I love that this recipe makes a large batch of cookies because these are a favorite with kids and adults alike!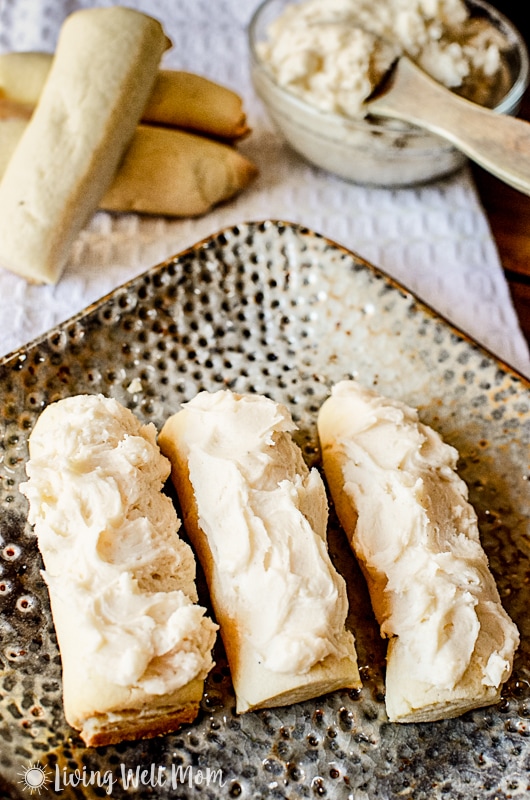 Print
---
Description
With rum extract and nutmeg, these cookies are full of holiday flavor.
---
Scale
Ingredients
1 cup

butter, softened

3/4 cup

sugar

1 1/2 teaspoons

ground nutmeg

1

egg

2 teaspoons

vanilla extract

1/2

to

1

teaspoon rum extract

3 cups

flour
Frosting
1/4 cup

butter or margarine, softened

3 cups

confectioners' sugar, divided

1 teaspoon

vanilla extract

1/2

–

1

teaspoon rum extract

2 tablespoons

whipping cream (dairy, not cool whip)
ground nutmeg
---
Instructions
In a mixing bowl, cream butter and sugar. Add the nutmeg, egg, and extracts; mix thoroughly. Stir in flour. If necessary, chill dough for easier handling.
On a lightly floured surface, shape dough into 1/2 inch diameter rolls; cut each into 3 inch long pieces. Place 2 inches apart on ungreased baking sheets. Bake at 350° for 15 minutes or until lightly browned. Cool on wire racks.
For frosting, cream butter until lightly browned. Add 2 cups of sugar and extracts; mix well. Beat in cream and remaining sugar. Frost cookies. Sprinkle with nutmeg.
---
Copyright © Living Well Mom. All content and images are copyright protected. Please do not use my images without prior permission. If you would like to republish this recipe, please re-write the recipe in your own words. Alternatively, you may link back to this post for the recipe.