Here's a delicious dairy-free version of your favorite holiday beverage! Eggless vegan eggnog is a cinch to make with ingredients you already have. You can even make an adults-only version by adding a splash of rum!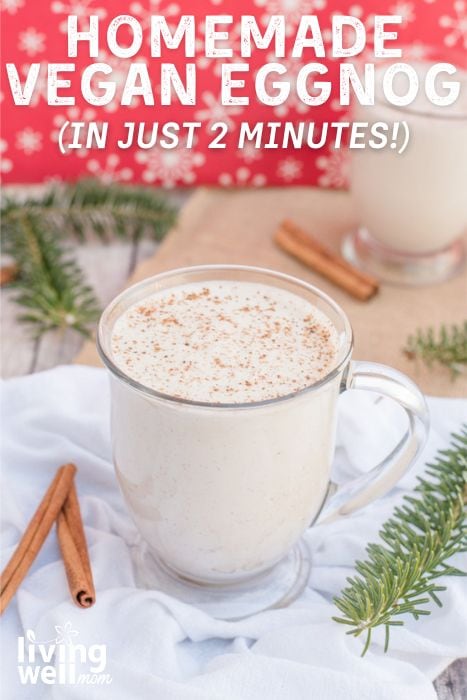 A glass of thick, creamy eggnog is a holiday classic. There are literally commercials about it and shelves filled with cartons of it from November to January.
Unfortunately, if you can't eat eggs or dairy, your options may be pretty limited when it comes to buying eggnog. But that doesn't mean you have to go without your must-have holiday drink!
Last year, I shared my easy recipe for homemade dairy-free nog. It's delicious and turned out to be very popular.
But this year, there's a new twist. I found out that my body hates eggs. Yes, it even hates our delicious free-range fresh eggs from our backyard chickens.
So that original recipe is no longer an option for me – I technically need a vegan eggnog recipe.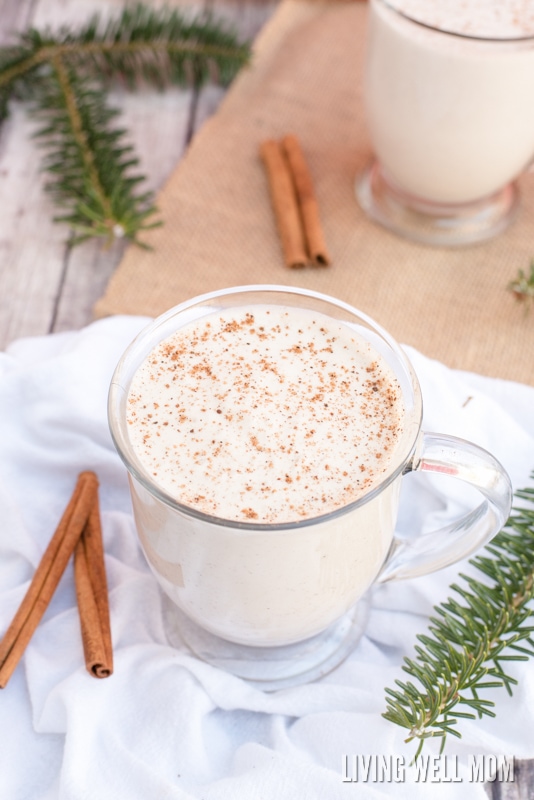 Creating An Eggless Version Of A Classic
I looked for an eggless eggnog recipe, but I couldn't find one with my requirements: a simple recipe without oddball or junk ingredients.
Then I started experimenting with my own recipe for eggless nog. I almost gave up, thinking it couldn't be done because my attempts weren't working. But, I waited a few days, gave it one more try, and found the perfect combination of ingredients.
I was so excited that I shoved a glass of my homemade eggless nog at my husband and asked him to try it. I held my breath as Nate took a sip. He looked confused for a minute.
Then, he took another sip (more of a gulp this time) and asked, "How is this NOT regular eggnog? It tastes amazing! You seriously didn't put any eggs in it?"
Boom! vegan eggless eggnog mission accomplished!
Why This Vegan Eggnog Recipe Is So Perfect
One of the best things about this eggless eggnog recipe is just how simple it is to make. You throw all the ingredients in your blender, blend for 30-60 seconds, and serve. That's it.
In addition to being easy, it:
is vegan (egg-free, dairy-free)
contains no refined sugar (sweetened only with maple syrup)
uses no fancy ingredients
is quick to make
requires no separating eggs, no soaking nuts, etc.
taste delicious with almond, coconut, or cashew milk (your choice!)
is "paleo-friendly"
The one ingredient that's not paleo is the rum extract. If you're strictly paleo, leave it out, and the eggnog will still taste delicious. But if you want a touch more eggnog flavor, throw it in and enjoy!
By the way, if you aren't an eggnog fan (or have someone in your family who isn't), give this homemade hot chocolate mix a try. It's dairy-free and delicious!
Vegan Eggnog Ingredients Needed
Almond Milk, Coconut Milk, or Cashew Milk (your choice!)
Rum Extract – optional (not paleo-friendly)
Real Rum – optional (I'm not much for alcoholic drinks, but on special occasions like Christmas eve, I do enjoy a small splash of rum in my nog.)
Supplies You Might Need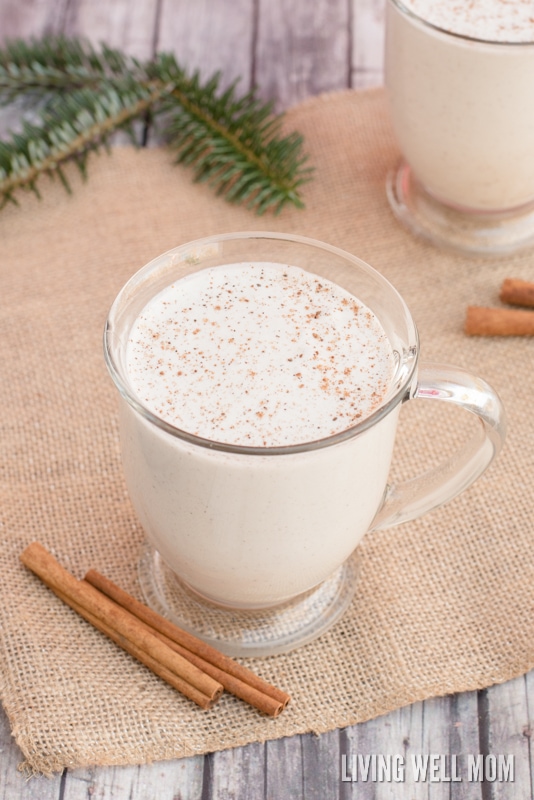 Vegan Eggnog Video Tutorial
How To Make Eggless Eggnog
This easy recipe for homemade vegan nog takes just 2 minutes to make a batch. It's light and creamy, and you can make it with your choice of almond, coconut, or cashew milk.
This tasty eggnog is dairy-free, gluten-free, and eggless. Plus, it's also technically paleo-friendly because it's made without refined sugar or junk ingredients.
The process is crazy easy because there's no cooking involved and no risk of scorched milk.
Gather all the ingredients.
Put everything in a blender.
Blend until combined.
Pour and serve with a dash of spices like cinnamon or nutmeg.
Tips For Making This Easy Vegan Eggnog Recipe
Here are a few points to cover to help ensure it comes out perfectly!
Canned coconut milk provides the richest flavor, but almond milk is also delicious (and my family's favorite). Plus, it's cheaper.
Choose a type of nut milk without added sugar if you want to be strictly paleo. I prefer Silk (or store brand) 30-calorie almond milk.
You could alternatively use honey, agave nectar, or even sugar to add sweetness to this recipe, although I think maple syrup has the best flavor.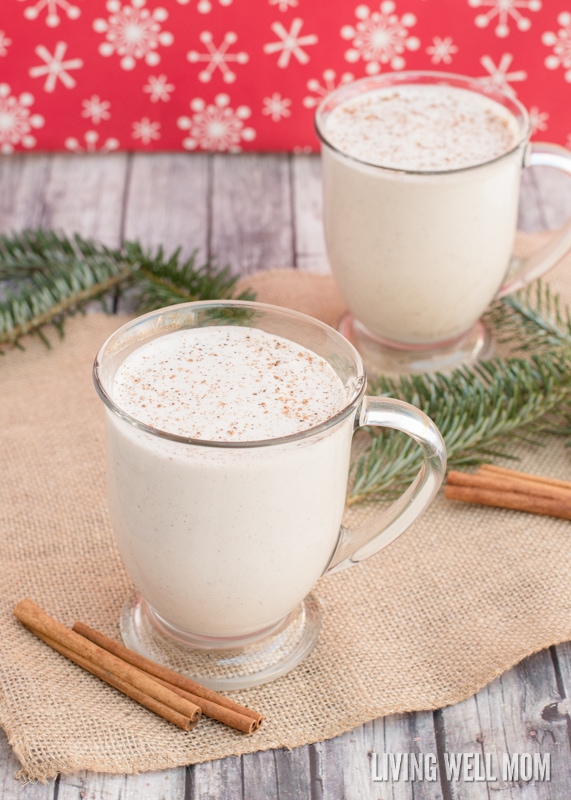 Eggless Vegan Eggnog FAQs
Here are some questions that I frequently see readers ask about making vegan eggnog. If you don't see your question answered below, please leave it in the comments!

Can you buy vegan eggnog?
Yes…sometimes. If you would prefer to buy it rather than making it, Milkadamia has a version made with macadamia nuts you can buy on Amazon. It gets good reviews if you're in a pinch, but I've never tried it, so I can't personally verify how good it is.
Trader Joe's sometimes sells an almond milk nog version around the holidays too. And, of course, you can always try Whole Foods during the holiday season, but I have only seen dairy-free eggnogs there so far.
What does vegan eggnog taste like?
I'm sure each version tastes different from the other, but this recipe is amazing. It's meant to taste very traditional and comes out very similar to traditional eggnog. Plus, it's so creamy that you can't even tell there aren't eggs in it!
What alcohol is usually in eggnog?
Traditionally, rum is the alcohol of choice in eggnog. However, if you don't have any on hand or want to change things up a little, you could also use brandy or bourbon in your vegan eggnog.
I hope you love this allergy-friendly nog this holiday season!
More Delicious Eggnog Recipes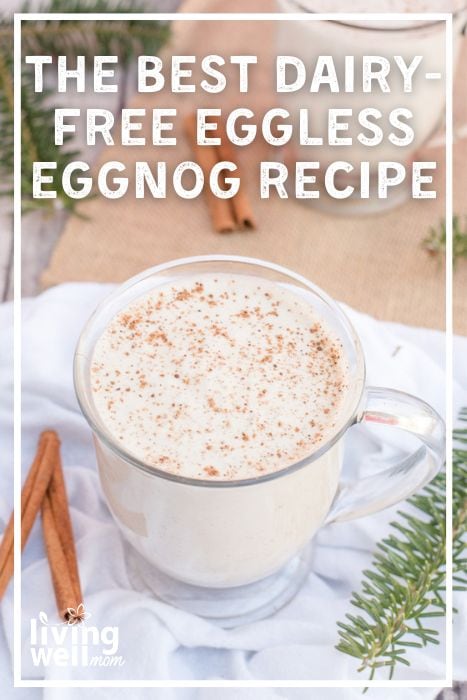 Print
Homemade Eggless Eggnog
In just 2 minutes, you can whip up a batch of this delicious creamy vegan eggnog using almond milk or coconut milk!
Author:
Prep Time:

2 mins

Total Time:

2 mins

Yield:

serves 2

Category:

beverage

Method:

no bake

Cuisine:

American
Serves 2:
Serves 6
9 cups

almond or coconut milk

1/3

–

1/2

cup maple syrup

1 Tbsp

vanilla extract

1.5 tsp

ground nutmeg

3/4 tsp

ground ginger

3/4 tsp

allspice

1.5 tsp

rum extract
Instructions
Put all the ingredients in a blender and blend for 30-60 seconds.
Serve immediately with a dash of ground nutmeg sprinkled on top.
Notes
*For the best most authentic eggnog taste, use the higher amount of maple syrup, but you can use less if you prefer less sweetener.
Store in the refrigerator in a covered container (large mason jars work well) for up to 1 week. Shake to mix the ingredients before serving again.
Keywords: homemade eggnog, vegan, dairy-free, egg-free, holiday beverage, rum