This creamy dairy free hot chocolate mix powder is quick and easy to make. Everyone will love this recipe, whether you are avoiding dairy or not. It's so delicious you won't believe it's vegan!
Did you know it takes just 3 ingredients and less than 5 minutes to make a delicious dairy-free and vegan homemade hot chocolate mix? Plus, this recipe is so creamy and sweet that you can't even tell it's refined sugar-free.
It's the perfect guilt-free treat for chocolate cravings.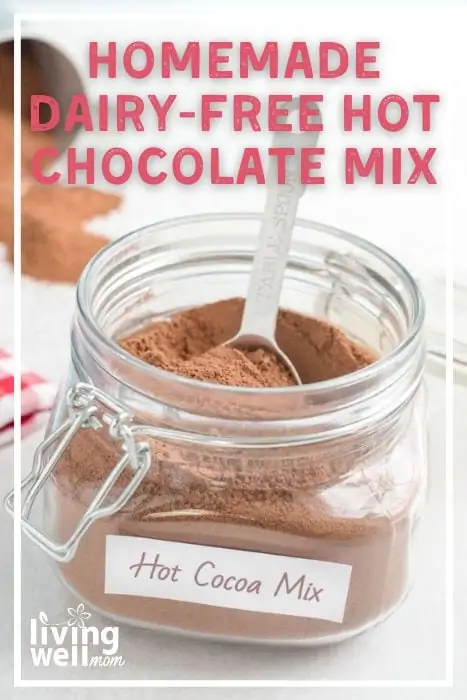 DIY Hot Cocoa Mix
Hot cocoa doesn't have to be complicated and filled with ingredients you can't pronounce, like the ones found in store-bought chocolate packets!
If you avoid dairy or follow a vegan lifestyle, it can be difficult (or expensive) to find hot chocolate you can enjoy. This is because there is dairy in most traditional mixes, as they usually contain some kind of dry milk powder.
However, cocoa powder IS dairy free and vegan by itself.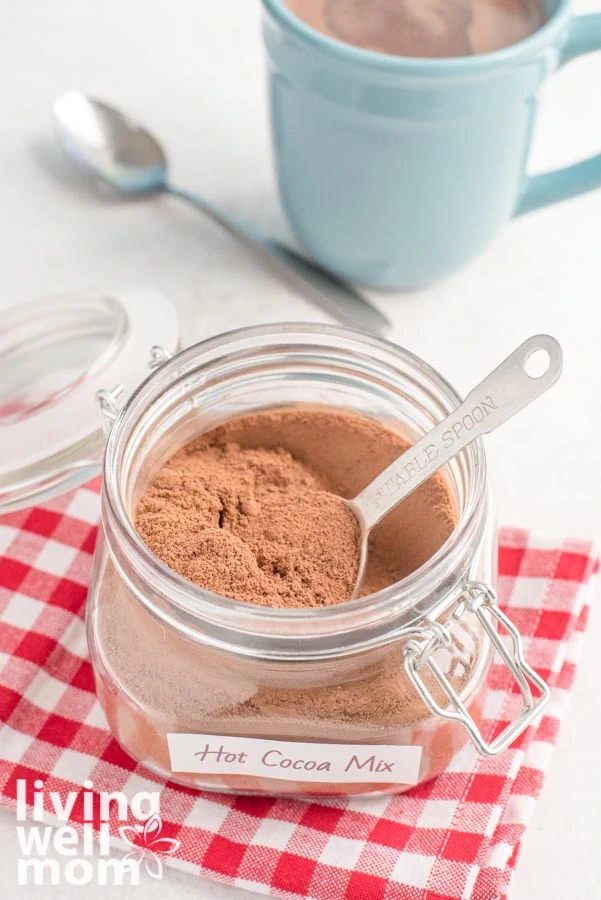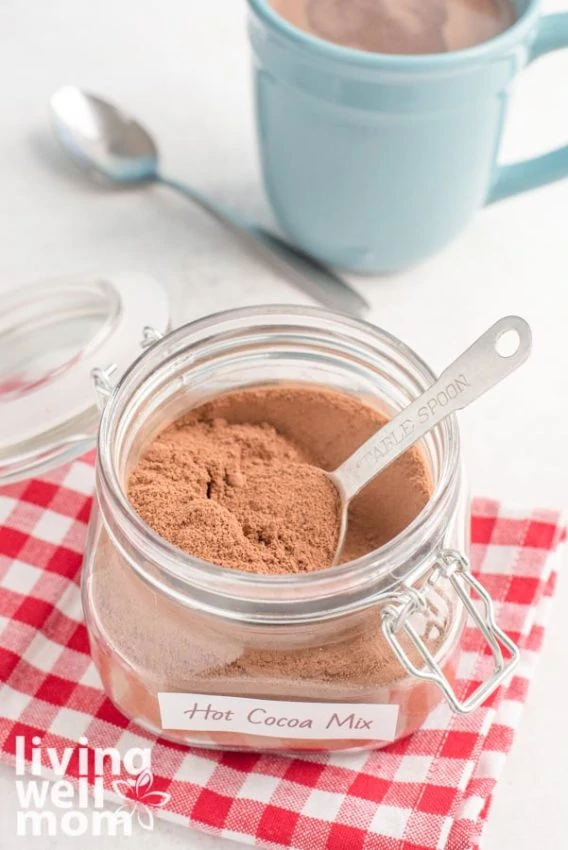 My kids enjoy this homemade hot chocolate mix, and you, as a parent, will too because it's so much better for them than the high fructose corn syrup ingredient in the store-bought kind.
I came up with this dairy-free homemade hot cocoa mix recipe a few years ago when two of my kids needed to go dairy-free.
We already have a delicious healthy hot cocoa recipe for kids that everyone loves, but I knew it wouldn't be practical for my son when he went to an overnight snow camp.
And because you can't go to a snow camp and not have hot cocoa, I started looking for a recipe for a homemade hot cocoa mix I could make for him.
But I ran into a problem; all the recipes had some form of dairy.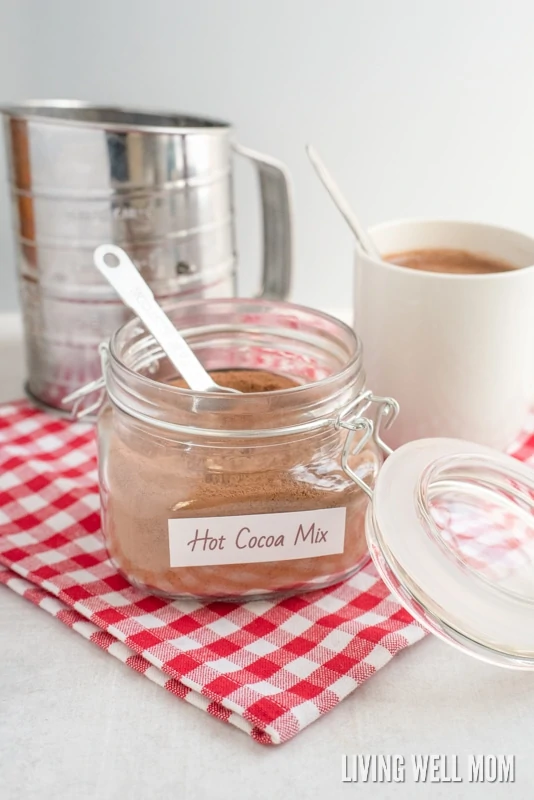 I quickly realized I'd have to come up with my own dairy-free hot cocoa mix recipe.
My son loves cooking and baking with me, so we tested out 8 different versions before settling on this delicious, simple version of homemade hot chocolate mix without the dairy.
The secret ingredient
I discovered coconut milk powder, and it is the secret to making the perfect hot cocoa mix. It adds the creamy goodness you normally get from powdered milk in cocoa mixes but without dairy.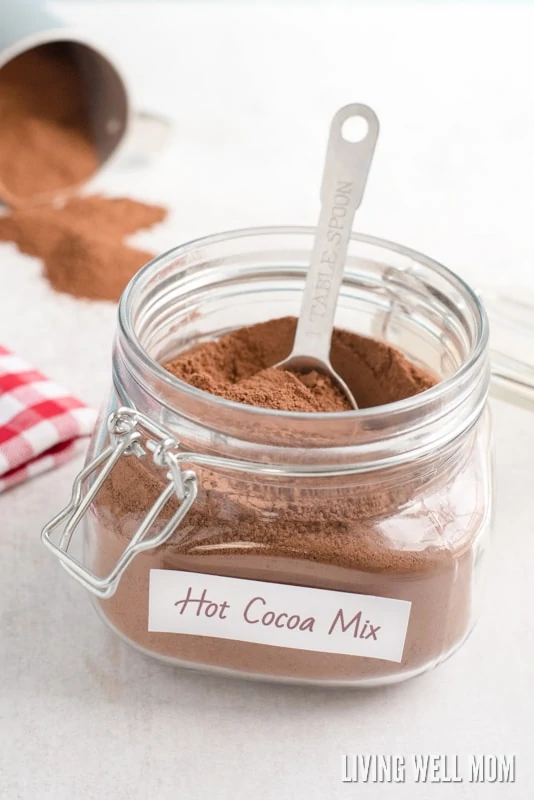 This homemade hot cocoa mix is deliciously creamy and chocolatey by simply mixing it with water.
You don't need to use any coconut milk or almond milk; just add hot water to this cocoa mix, and you're good to go.
This vegan hot chocolate mix is just like the store-bought hot cocoa packets, except without the junk.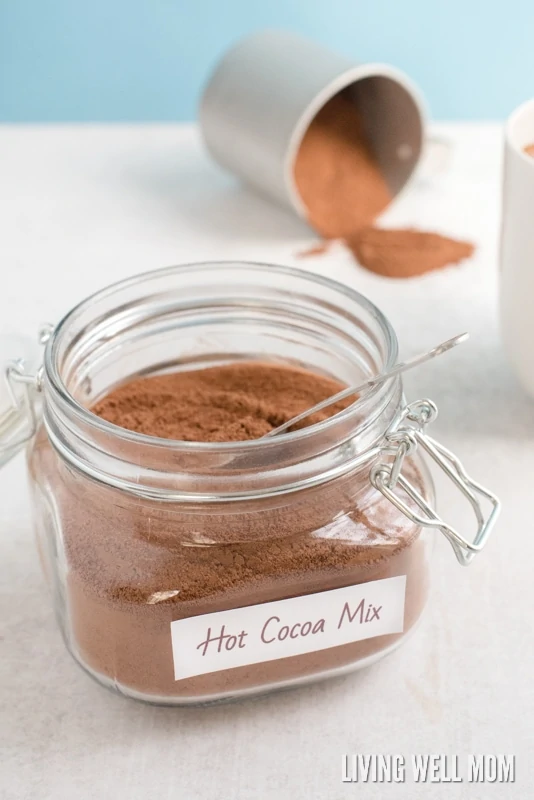 Tips for making vegan hot chocolate mix
The entire recipe for dairy free hot chocolate mix is in the printable recipe card, just a bit further below. First, here are some tips that will give you the tastiest cocoa every single time.
Use a natural sweetener
To make this keto-friendly, try a natural sweetener like this Monkfruit sweetener. You don't even need white or brown sugar – monk fruit sweetener tastes just as sweet.
Make it with dairy-free milk
If you have almond milk or coconut milk, you can heat it up and mix it into your cocoa mix for a richer mug of hot chocolate. But this hot cocoa is absolutely delicious without it.
All four of my kids gave this hot cocoa mix two thumbs up.
And even though I originally created this recipe for my children, my husband (who is not dairy-free or otherwise better-for-you foods) said this hot cocoa was so good, he wouldn't have guessed it was homemade!
This sounds weird – but it is a compliment.
Store in a glass jar or container
For at-home use, you can mix up a batch and store it in a glass-sealed container, like a mason jar
.
Or, for on-the-go purposes, add one or two tablespoons of the hot chocolate mix to plastic snack bags
, seal them, and you're good to go!
Add other flavor enhancers
This 3-ingredient recipe is perfect by itself. You don't need anything else. But if you want to add a little something extra, try one of these simple ideas:
Vanilla extract: This will deepen the flavor profile of the hot cocoa.
Cinnamon: Sprinkle a little bit on top for some spicier flavor.
Marshmallows: A few marshmallows or sprinkles is a fun thing to add to your cocoa too – but they will add more sugar to it.
Chocolate Chips: Use dark chocolate for a deeper flavor.
Whipped Cream: You can buy dairy-free whipped cream or make your own.
Make iced hot cocoa
Add some ice cubes, cocoa mix, and your favorite dairy-free milk to a blender. Now you have what will taste like a milkshake or frappuccino.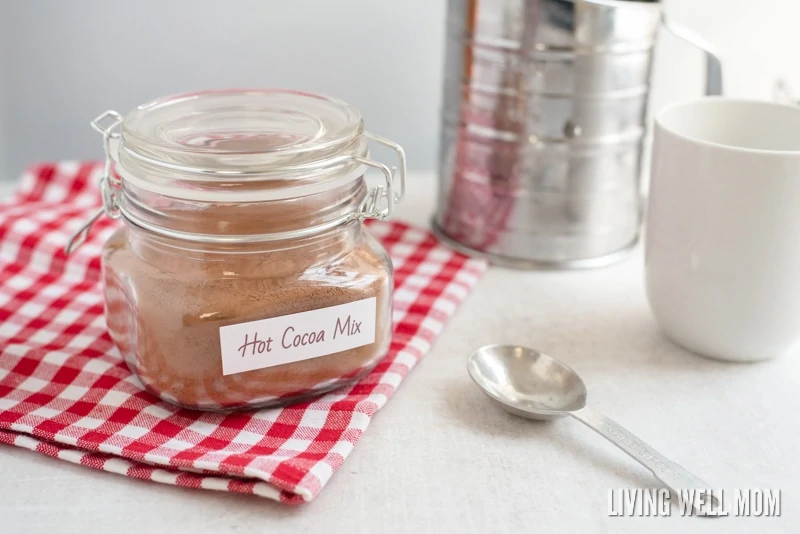 FAQs about hot chocolate mix
Here are some questions people often ask about making dairy-free hot chocolate mix.
Is hot chocolate mix gluten-free?
My recipe is gluten-free. If you ever buy packets or mixes from the store, read the ingredients first to make sure it isn't made with any hidden flour or gluten.
Are hot cocoa packets dairy-free?
Unless it says otherwise, most types of hot cocoa packets contain dried milk powder. Almost all hot chocolate mix that you can buy at the store includes some sort of dairy ingredients in them.
Is Nestle hot chocolate vegan?
No, Nestle hot chocolate is not vegan. It is made with milk ingredients, which is an animal by-product. If you want a vegan hot cocoa recipe, I suggest printing this recipe out and making it at home.
It's really simple and tastes sweet and rich – without any animal products in it at all! It's made with all plant-based ingredients.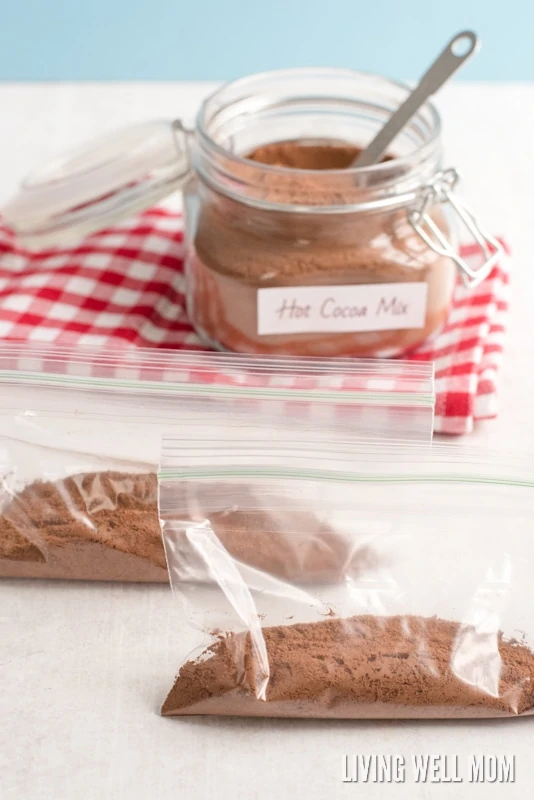 Free hot cocoa mix label
Grab this printable label for your homemade hot chocolate here for FREE.

More better-for-you chocolate recipes: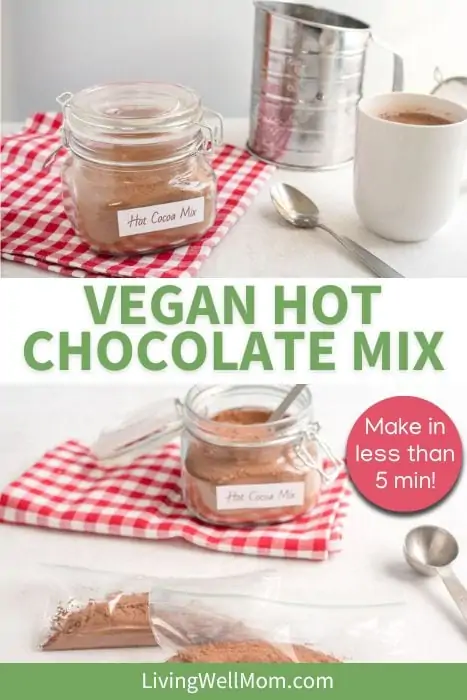 How to make hot cocoa mix from scratch:
Print
Homemade Hot Cocoa Mix (Dairy-Free)
This hot cocoa mix powder in a jar takes just minutes to make and is so creamy and delicious, it's the perfect guilt-free treat for your chocolate cravings
Author:
Prep Time:

2 mins

Total Time:

2 mins

Yield: approx

16

servings

1

x
Category:

beverage

Method:

no cook

Cuisine:

American
Instructions
Sift all three ingredients together and whisk together.
Add 2 about Tablespoons of hot cocoa mix to one cup of water. (You can add more or less cocoa mix if you prefer.) Stir well and enjoy!
Notes
Store the cocoa mix in a sealed container or ziploc baggie for on-the-go use.
Keywords: homemade cocoa mix, hot cocoa powder, dairy-free,