Dieting or eating "healthy" with food restrictions like gluten-free, dairy-free, sugar-free, Paleo, etc. isn't an easy task. There's no magic pill that will instantly knock out cravings, help you lose weight, or get healthy.
But there are some things you can do along the way to help your journey be successful.
I've been on a gluten-free, mostly Paleo diet for over a year now and my health has improved a lot. A few months ago, I took a step farther and cut out sugar completely, including natural sweeteners (and no artificial either!). It wasn't easy, but I did it.
These Craving Buster Chocolate Fat Bombs really helped me along the way.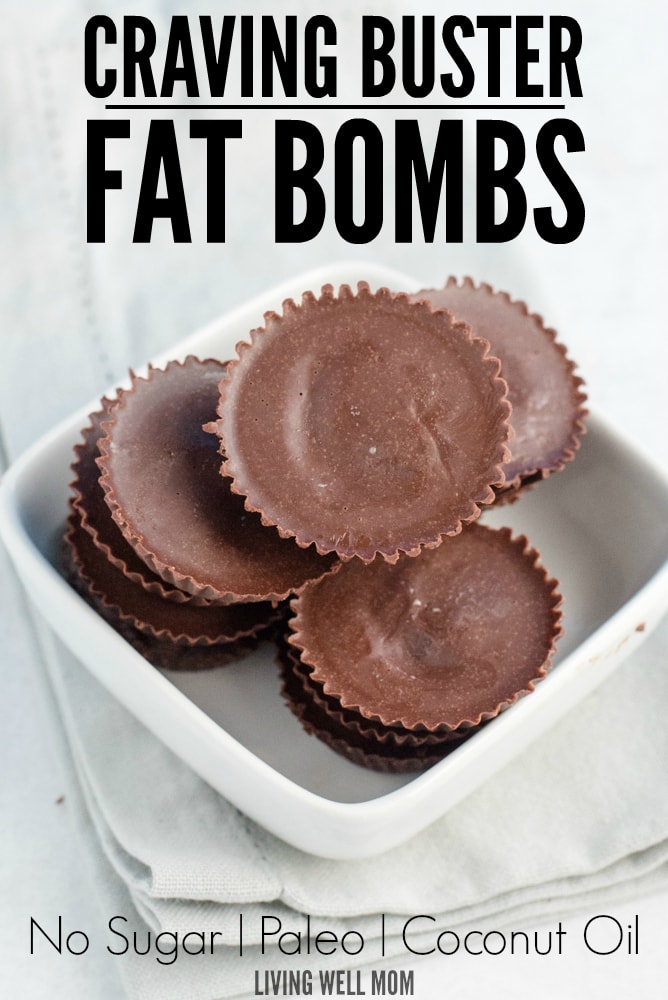 To be honest, I'd never heard of a "fat bomb" before, but when I was trying to think of a good name for this recipe, I discovered the term and that's pretty much what they are.
These Craving Buster Fat Bombs have three simple ingredients: coconut oil, cacao powder, and almond butter.
There's no sugar, not even natural sweetener, and contains less than 1 gram of sugar so these fat bombs are ideal for a no-sugar diet.
That also means if you're expecting a sweet peanut butter cup, you might be disappointed.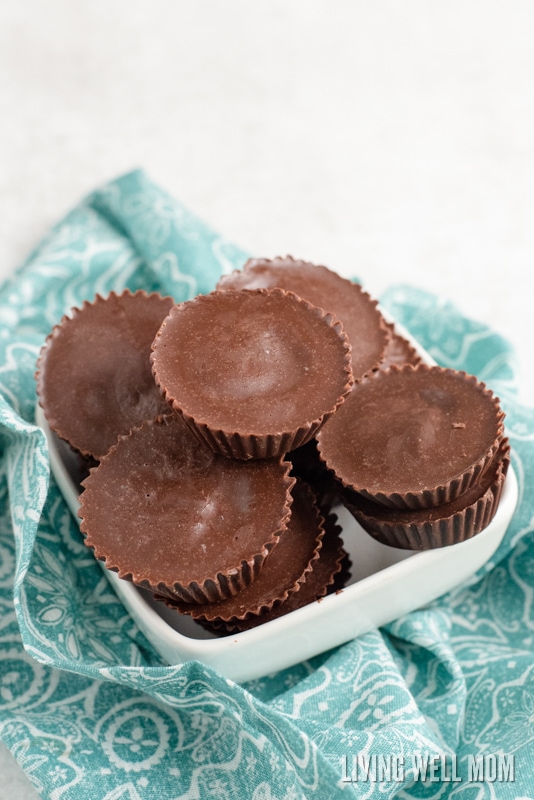 Approach these craving buster fat bombs with the right mindset and they'll taste great, even downright delicious if you're used to a low or no sugar diet!
Besides, these little chocolate fat bombs are so much more than no-sugar chocolate.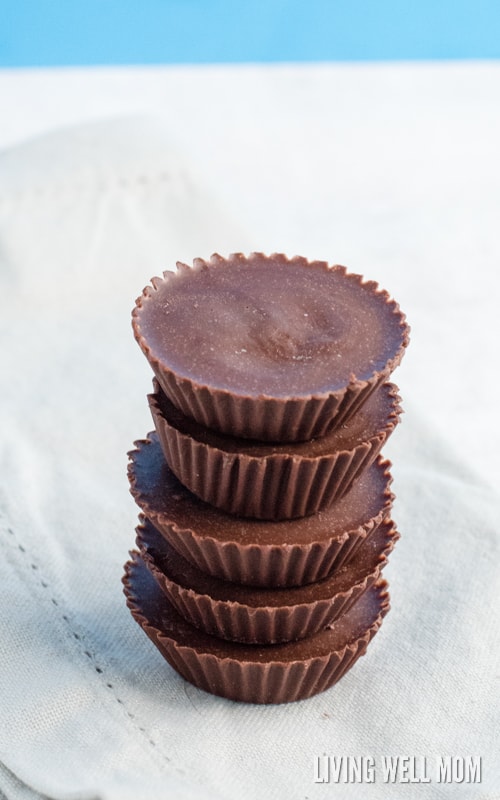 Beyond all those amazing potential benefits, these chocolate fat bombs are very satisfying!
When I quit sugar last fall, I had awful cravings and eating one or two of these yummy bites of chocolate really helped.
One note of caution: these fat bombs do have about 122 calories each (this number will vary depending on the almond butter you choose and how closely you follow the measurements) so watch that you don't eat a half dozen and derail your eating plan!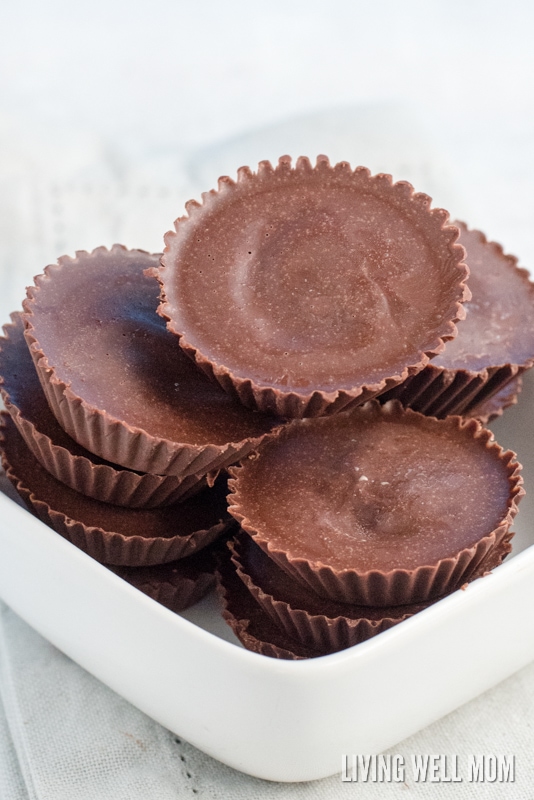 These Craving Buster Fat Bombs are also incredibly quick and easy to make.
Craving Buster Fat Bombs
There are two ways to make this fat bombs recipe:
One – the quickest, I'm-in-a-hurry and want-to-eat-now method:
Stir everything together in a small bowl and eat with a spoon.
Two: the I-can-be-patient method:
Stir everything together, pour into candy molds or small paper muffin cups, and freeze until firm.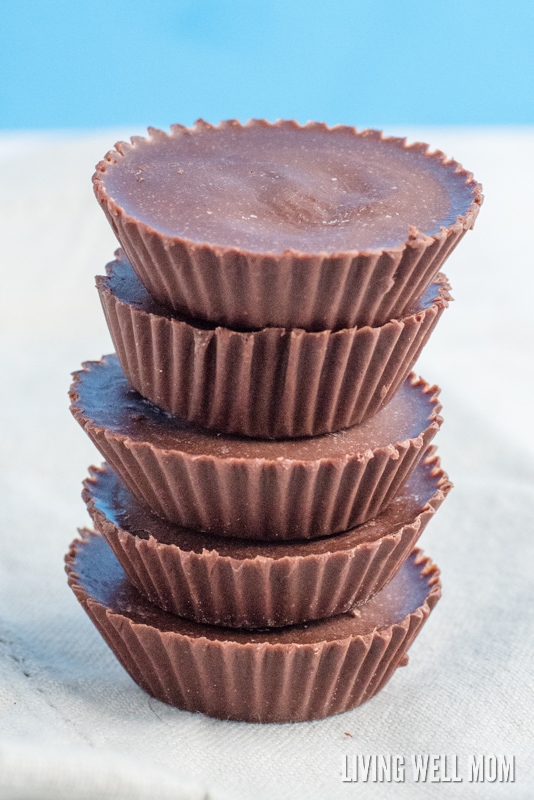 Love peppermint? Click here for the PEPPERMINT version of this Craving-Buster Fat Bombs recipe!
Print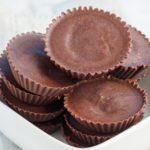 Craving Buster Fat Bombs
Author:

Prep Time:

2 mins

Total Time:

2 mins

Yield:

32 servings
---
Description
Quick and easy, high fat, low carb, this easy "Craving-Buster" Fat Bombs recipe is so tasty! 
---
Ingredients
Single Serving:
Makes 32:
---
Instructions
Single Serving Fast Method:
Melt the coconut oil, stir in the cacao and almond butter, and eat right away.
32 Servings Method:
Melt the coconut oil and whisk in the cacao and almond butter until no lumps remain. Spoon 1 tablespoon of the mixture each into 32 small paper muffin cups.
Refrigerate or freeze until hard.
Store in the refrigerator.
---
Notes
*Be sure to use an almond butter without added sugar. Woodstock Smooth Almond Butter is my preferred brand and the brand I used in the nutritional values.
These fat bombs will melt in warm weather, so keep in the refrigerator.
---
Nutrition
Serving Size:

1 fat bomb

Calories:

122.5

Sugar:

0.5g

Fat:

11.75g

Carbohydrates:

2.25g

Protein:

1.75g