At first glance, chocolate fat bombs may not sound exactly appealing. However, if you haven't tried these before, you'll be pleasantly surprised to know that these low-carb fat bombs will not only help you stay on track in your diet, but it also tastes fantastic.
Dieting or eating "healthy" with food restrictions like gluten-free, dairy-free, sugar-free, Paleo, etc. isn't an easy task. There's no magic pill that will instantly knock out cravings, help you lose weight, or gain real energy.
But there are some things you can do along the way to help your journey be successful…like whip up a batch of these incredible fat bombs!
What is a Fat Bomb?
Fat bombs are low-carb, bite-sized snacks meant to keep you full and satisfied throughout the day. The defining feature of a fat bomb is that it needs to be made mostly with fat—up to 90% in many cases!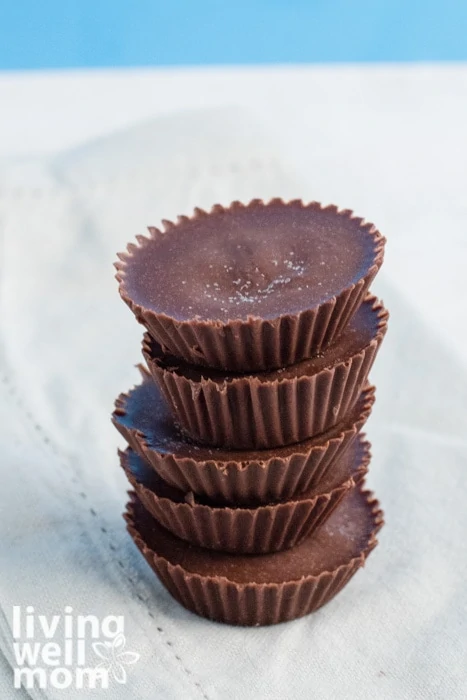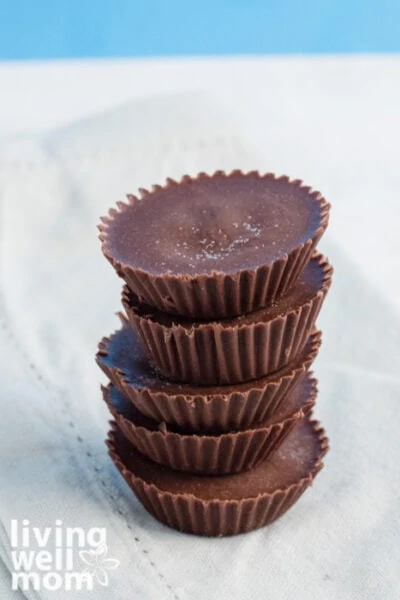 Benefits of Fat
Do you all remember when fat-free everything used to be the rage? These days, of course, scientists have agreed that fat is actually not a bad thing. In fact, fat can be downright healthy, provided it's the right kind (and amount) of fat.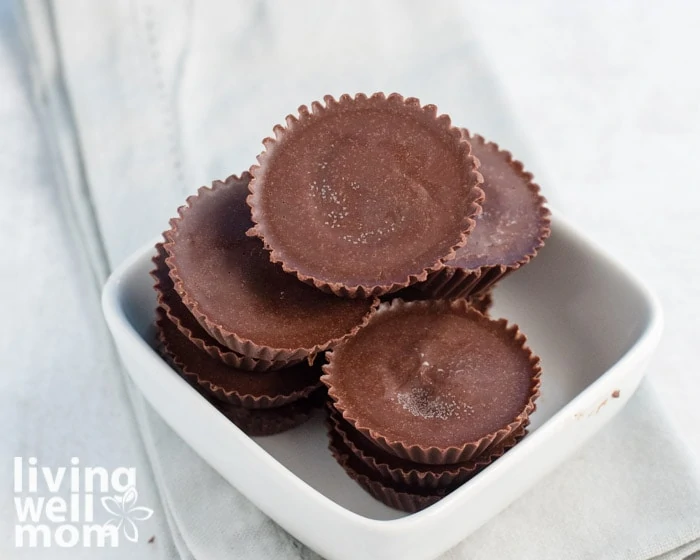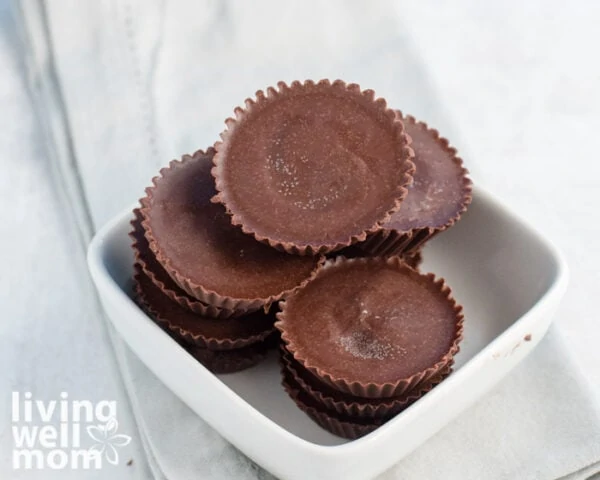 A few of the benefits of consuming fat include:
Better brain function
Reduced heart disease risk
Healthier immune system
Less cravings
These chocolate fat bombs have two different sources of fat: coconut oil and almond butter, so you can reap all the rewards above. Plus, they taste fantastic too!
Diet-Friendly Fat Bombs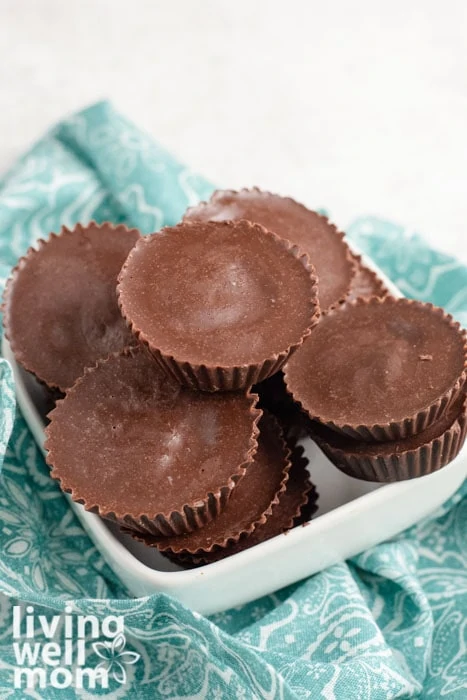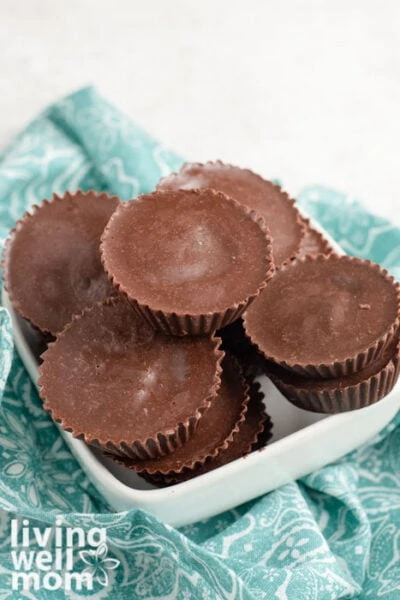 I personally think anyone can enjoy these guilt-free fat bombs. However, if you ascribe to a certain eating style, these will likely work for you as well! These high fat, low carb fat bombs are:
low-carb
whole30
paleo
sugar-free
gluten-free
dairy-free
Quick 3-Ingredient Chocolate Fat Bombs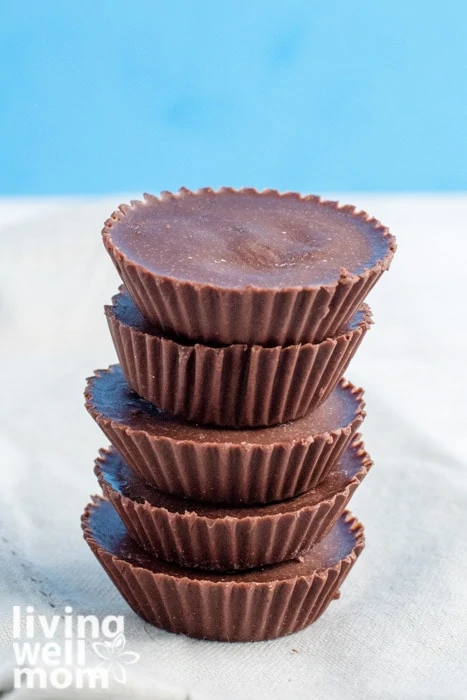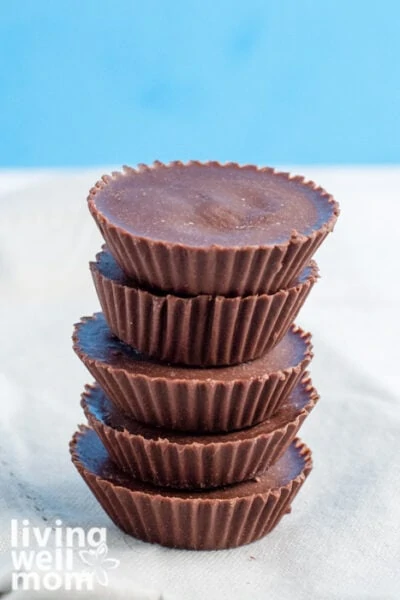 The thing I really love about these fat bombs is they are incredibly easy to make.
This sugar-free chocolate fat bomb recipe takes just 2 minutes to make and with just 3 ingredients, this recipe is a tasty guilt-free treat.
These chocolate fat bombs have three simple ingredients: coconut oil, cacao or cocoa powder, and almond butter.
No Sweeteners Added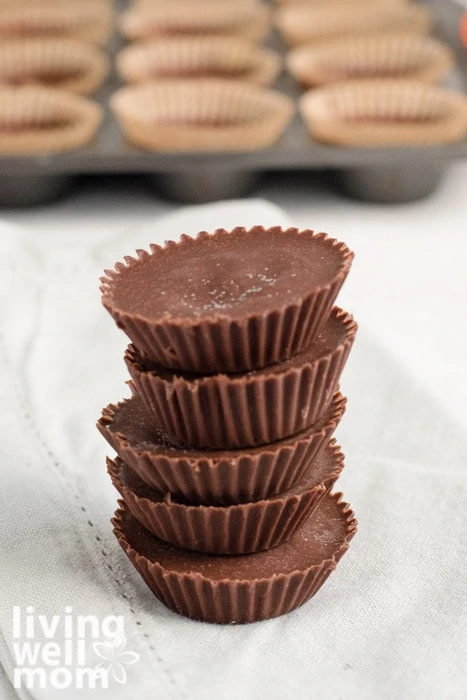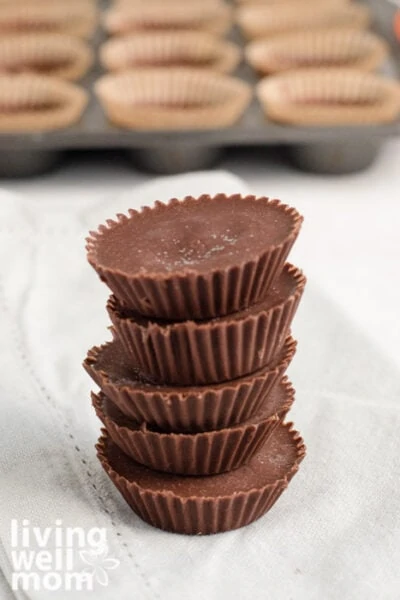 You may notice that there are no sweeteners in this recipe (however, I have a few options for you below if you want to add some). There's no sugar, not even natural sweetener. Each serving contains less than 1 gram of sugar so these fat bombs are ideal for a no-sugar diet.
Also, this means if you're expecting a sweet peanut butter cup, you WILL be disappointed.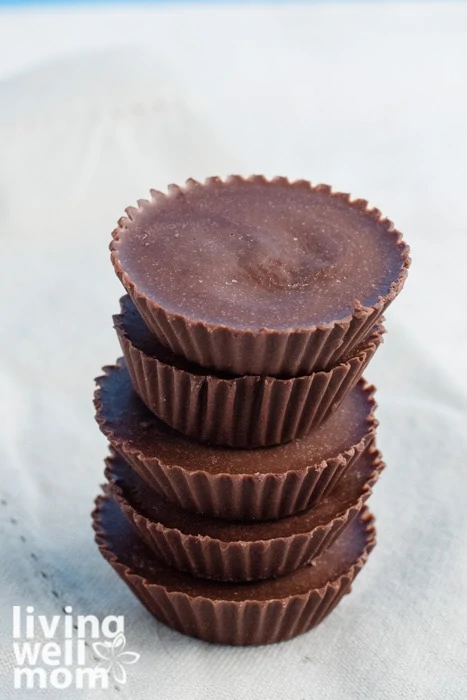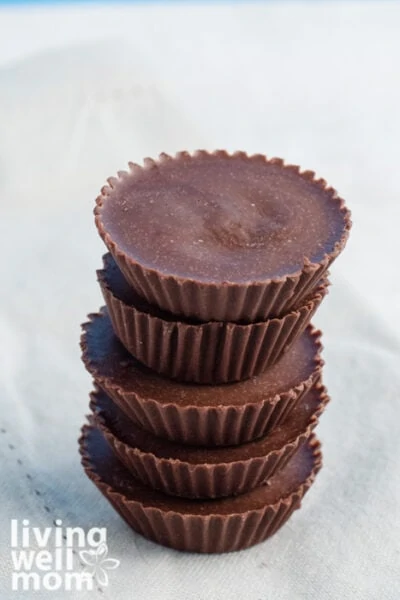 Approach these paleo fat bombs with the right mindset and they'll taste great, even downright delicious if you're used to a low or no sugar diet!
However, if you're not a fan of dark chocolate (these fat bombs are very 'dark chocolate-y') and/or have a sweet tooth, there are a couple of easy tweaks you can make.
Better-for-You Sweetener Options
If you are looking for a fat bomb with a little more sweetness, try one or both of these suggestions:
Option #1 – try this sugar-free, no-yucky ingredients hot cocoa mix – For the Love of Hot Chocolate. This cocoa contains a small amount of stevia and erythritol for natural sweetness and contains organic, fair-trade dark chocolate. It's low-carb and low-calorie.
You can buy the cocoa here: InJoyNow Organics
When I'm not on a sugar-free challenge, I love using this cocoa with tasty results! And it's still perfect for a Paleo fat bomb!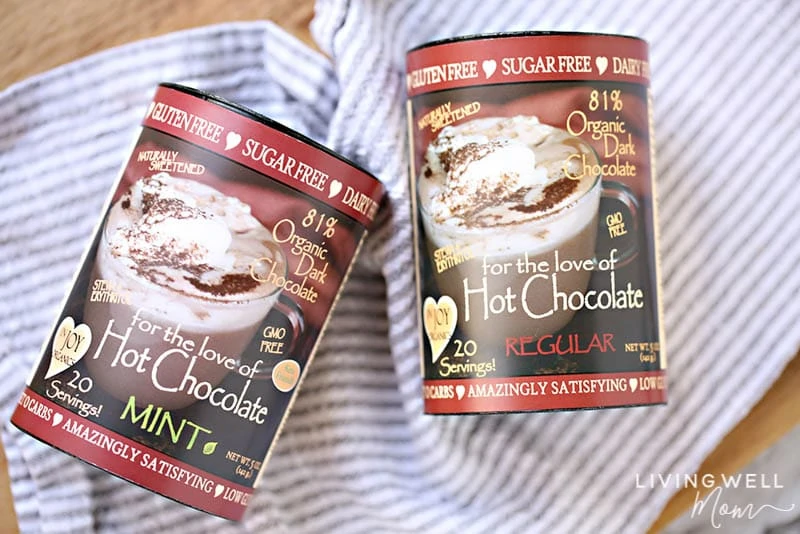 Option #2 – add a few drops of liquid stevia. This vanilla creme is my favorite liquid stevia.
Whether you opt for no sweetener or you want a little sweetness, these chocolate fat bombs are very satisfying!
When I quit sugar last fall, I had awful cravings and eating one or two of these yummy bites of chocolate really helped.
One note of caution: these fat bombs do have around 122 calories each (this number will vary depending on the almond butter you choose and how closely you follow the measurements) so watch that you don't eat a half dozen and derail your eating plan!
How to Make Chocolate Fat Bombs
These Craving Buster Fat Bombs are incredibly quick and easy to make.
There are two ways to make this fat bombs recipe.
One – the fastest, I'm-in-a-hurry and want-to-eat-now method:
Stir everything together in a small bowl and eat with a spoon.
Two: the I-can-be-patient method:
Similarly, with this method, you will stir everything together. Then, pour into candy molds or small paper muffin cups, and freeze until firm.
I prefer this method, so I generally make a big batch ahead of time and keep my freezer stocked. However, it's up to you!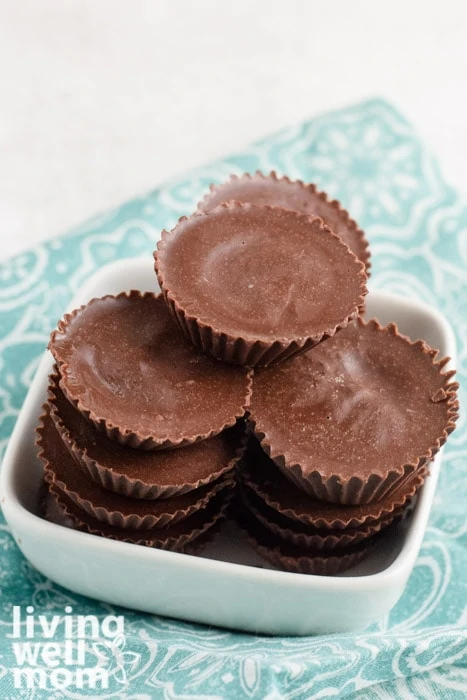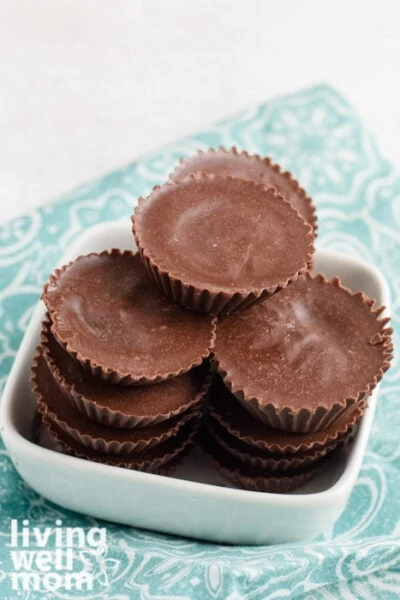 Related Recipes
Love Peppermint? Check out these PEPPERMINT Chocolate Fat Bombs. If you're a cream cheese fan, try strawberry cheesecake fat bombs here.
Not a fan of coconut oil taste? Try these cream cheese Strawberry Cheesecake Fat Bombs – with 4 simple low-carb ingredients, think a guilt-free cheesecake!
You might also enjoy this delicious paleo dole whip recipe. Or this no-refined sugar with low-carb option homemade hot cocoa mix recipe.
Please note that all nutrition calculations are estimated and may vary depending on the brand, quantity, how accurate your measurement is, etc.
Print
3-Ingredient Chocolate Fat Bombs
These quick & easy chocolate fat bombs are a great way to quickly curb cravings. With 3 ingredients, this low-carb recipe is delicious and super satisfying!
Author:
Prep Time:

2 mins

Total Time:

2 mins

Yield:

32

servings

1

x
Category:

snack

Method:

no-bake

Cuisine:

American
Single Serving:
Makes 32:
Instructions
Single Serving Fast Method:
Melt the coconut oil, stir in the cacao and almond butter, and eat right away.
32 Servings Method:
Melt the coconut oil and whisk in the cacao and almond butter until no lumps remain. Spoon 1 tablespoon of the mixture each into 32 small paper muffin cups.
Refrigerate or freeze until hard.
Store in the refrigerator.
Notes
*Be sure to use an almond butter without added sugar. Woodstock Smooth Almond Butter is my preferred brand and the brand I used in the nutritional values.
These fat bombs will melt in warm weather, so keep in the refrigerator.
Keywords: chocolate, almond butter, coconut oil, fat bombs, low-carb snack,
Pin the image below to save it for later.