A delicious blend of green tea and coconut, these matcha green tea energy bites are a perfect way to perk you up any time of the day! Plus, this no-bake energy bites recipe requires less than 5 minutes to make! It's also refined sugar-free, dairy-free, gluten-free, and paleo-friendly.
Dairy-Free Matcha Green Tea Balls
If you love green tea, you're going to love these tasty matcha green tea energy balls.
They're simple to make – requiring just a few minutes to whip up and the result is a delicious blend of coconut and green tea flavor that will give you a gentle boost of energy anytime you need it!
(Note: if you're not a fan of green tea, you probably won't like these…just saying.)
The Perfect Caffeine Boost
I came up with this recipe recently because I just love matcha green tea and wanted a simple snack using this amazing ingredient.
I still enjoy my matcha green tea latte every morning because it's a perfect gentle pick-me-up without the jittery side effects of coffee.
A Healthy Energy Snack
Two-three green tea energy balls are a perfect mid-afternoon snack when I'm starting to drag. Or after dinner. (Just don't eat them too late or you might be lying awake in bed later! At least that's how I am and I'm pretty sensitive to anything with caffeine.)
Best part about it? NO baking required!
How To Make Matcha Green Tea Energy Bites
The entire recipe is at the bottom of this post in a printable recipe card. First, I have a list of the ingredients you need along with some tips that I learned when I made them.
Ingredients
Notes About This Recipe:
I personally prefer less maple syrup, but you may prefer these green tea energy bites with more sweetness, so feel free to add a little more.
Also, decrease the amount of coconut oil, as needed. If you use 3 tbsp maple syrup, try 1/2 tbsp coconut oil, etc.
Supplies Needed
This recipe is incredibly simple to make. All you need is a food processor (I love my inexpensive Hamilton Beach food processor)!
How To Make No-Bake Energy Bites With Matcha Green Tea
Here's how to make your own energy bites in just a few simple steps.
First, put all the ingredients in your food processor.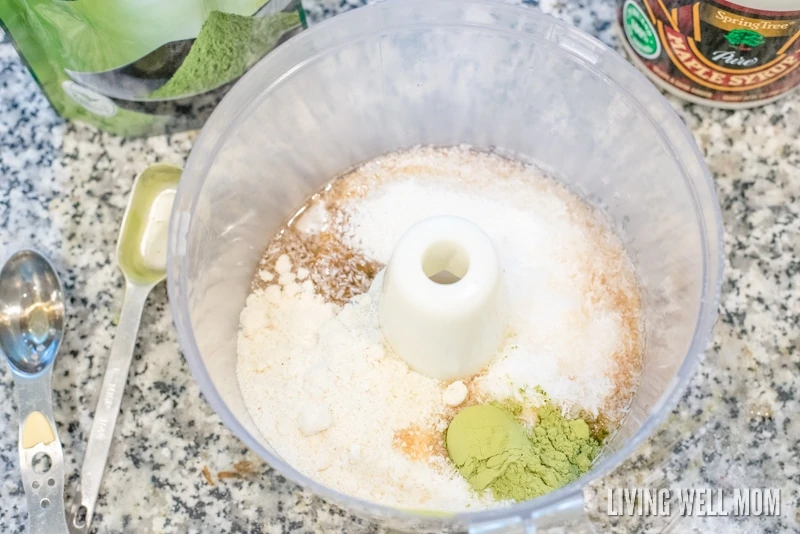 Blend it all together until it is really well combined. Make sure to scrape down the sides of the bowl to make sur eevrything is fully incorparated together.
After the ingresnits are mixed together, use your hands or a spoon to roll 1-inch bite-sized balls.
Then, you're ready to enjoy your matcha green tea energy bites! That's honestly how simple it is.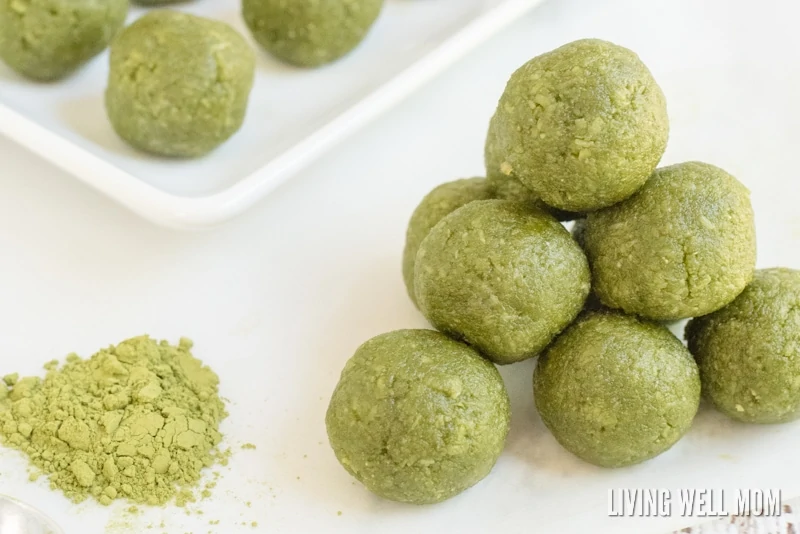 How To Store Matcha Energy Bites
To keep them from becoming soggy, I suggest storing them in an airtight container in the refrigerator. They should last about a week in the fridge.
I do not recommend freezing them. This will make them solid balls of ice. Then, when they thaw, they will have a slightly different texture. It's best to just enjoy them as soon as you make them.

If you know you are not going to be able to finish them all, I recommend only making half of this recipe!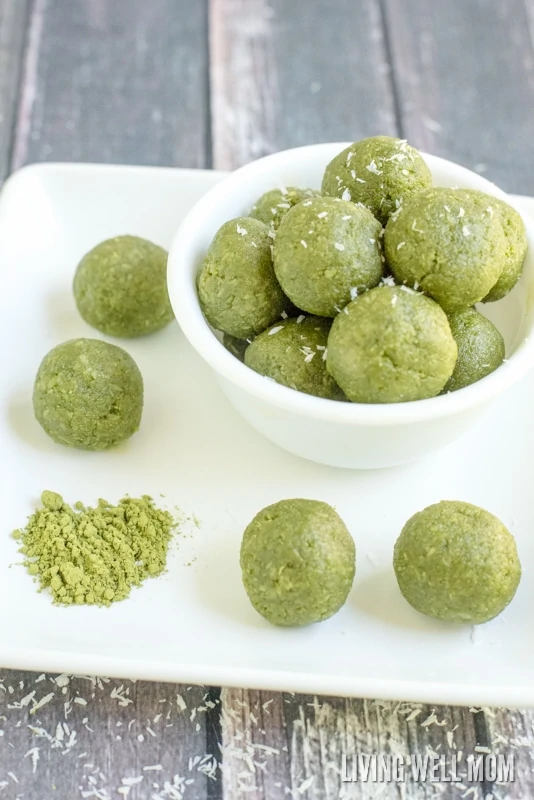 Optional Green Tea Snack Toppings
You can sprinkle coconut flakes on your matcha green tea energy bites as a topping if you want to added a subtable sweet/nutty flavor.
You can also dust them with a little bit of cinnamon for a little kick. Since they are made with maple syrup, you won't want to add too much sugar to them.
How To Make These No-Bake Energy Bites Keto-Friendly
If you are on a low-carb diet, it's really simple to make these compliant. All you have to do is use a liquid sugar-free sweetener instead of maple syrup. If you want to use shredded coconut, make sure it is unsweetened.
These are a wonderful low-carb snack too!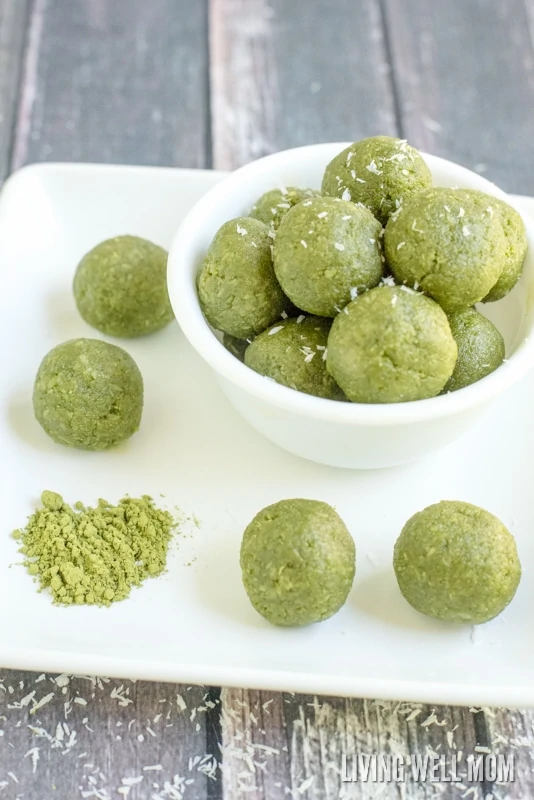 Print
Matcha Green Tea Energy Bites
A delicious blend of green tea and coconut, these Matcha Green Tea Energy Bites are a perfect way to perk you up!
Author:
Prep Time:

2-5 minutes

Total Time:

5 minutes

Yield:

8

–

10

balls

1

x
Instructions
Blend everything together in a food processor.
Shape into 1″ balls and enjoy!
Notes
Store in the refrigerator.
More Paleo-Friendly Recipes
Love Matcha Green Tea? Check out these delicious Paleo-friendly recipes too!
*Pin the image below to save the no-bake energy ball recipe for later!