If you're looking for a low calorie, delicious way to take a (guilt-free) break in your day, try my easy matcha green tea latte! Not only does this 40-calorie treat taste amazing, but it also can provide you with a (likely much-needed) energy boost too.
Healthy Coffee Substitute
When I cut had to quit drinking coffee a few months ago, I wanted something more than just black or green tea each morning. Something fun, warm, and yet still healthy. That's when I discovered matcha green tea and started making a matcha latte each morning.
Oh my goodness. From the first sip, I was hooked! Talk about one of the best lattes ever.
This simple little recipe is a game-changer, my friends. A matcha green tea latte provides natural energy that's not near as overstimulating as caffeine and it's absolutely delicious. It's like heaven in a drink.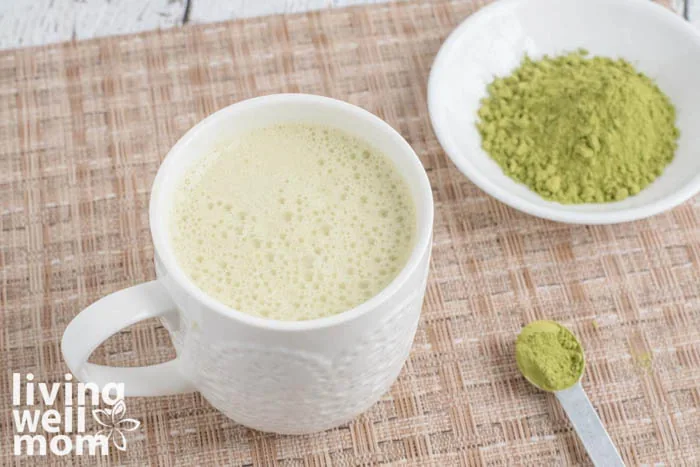 Low Calorie, Sugar-Free Matcha Latte
I've tweaked my recipe over the past couple of months and settled on this simple and amazingly delicious version. I also had some health goals I wanted this latte to hit, and I'm happy to say I nailed it!
This Matcha Green Tea Latte recipe is:
dairy-free
soy-free
refined sugar-free
Even better? This scrumptious matcha green tea latte has just 40 calories per serving! So that means you can drink it pretty much guilt-free. Cheers!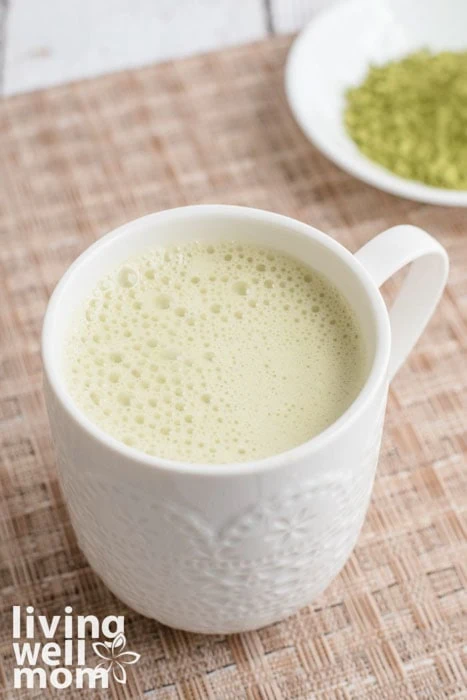 Quick Matcha Green Tea Latte
Another thing: this latte recipe is incredibly simple. You can make it in less than 5 minutes.
I know, I know. I've read how you're supposed to treat matcha green tea carefully and stir it "just so" as to ensure the perfect flavor. Um, no. I don't have that kind of time.
If it isn't quick-and-simple, it's not going to happen. At least at my house! I just want my morning latte and I want it now. Don't you?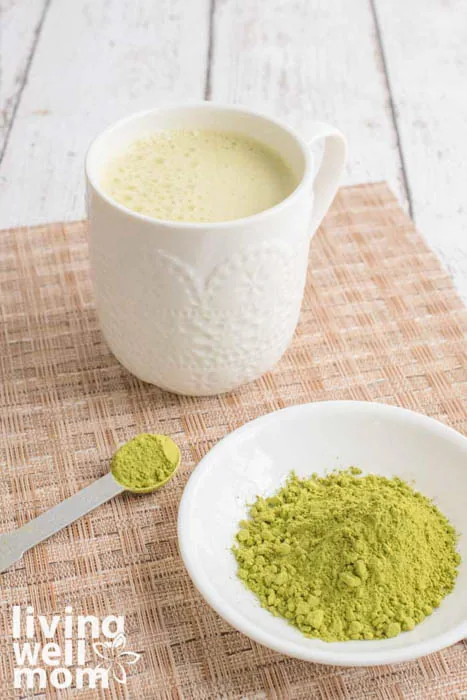 Benefits of Matcha Green Tea
Matcha green tea is like green tea on steroids; one cup of matcha tea is like 10 cups of regular green tea.
And green tea is great because studies have shown drinking green tea can help boost your metabolism and maybe even help with weight loss.
Matcha green tea can also help increase energy levels and not just a quick boost, but sustained energy for hours. Isn't that what every mom needs?
There are a ton more benefits to matcha green tea – you can learn about some of those here and here. It's safe to say that this stuff is awesome for you!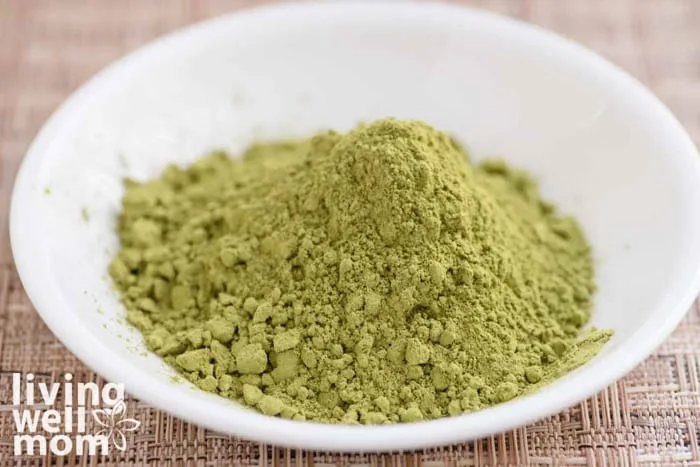 Matcha Green Tea Latte Ingredients
Matcha green tea powder – you may have to do a bit of trial and error to find one that you like, but I definitely recommend organic if possible.
Your favorite dairy-free drink of choice (I prefer almond milk)
Vanilla extract
Stevia drops – this is the stevia I use. One bottle will last a long time – I still have half my bottle of stevia, and I've used it almost daily for 4 months!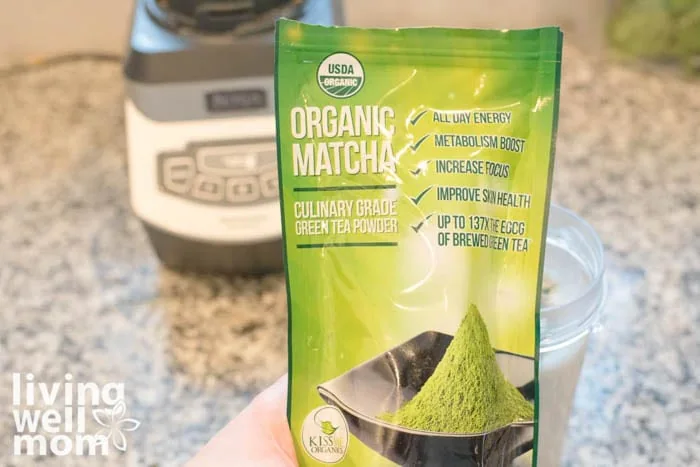 A Note on Sweetener
About the sweetener: you will need something because matcha green tea is very bitter. I never sweeten my drinks, but even I have to have a little sweetener to combat the bitterness.
I've tried different types of unrefined sweeteners in this matcha green tea latte recipe, including maple syrup and honey, but I always come back to the stevia drops.
The stevia seems to pair the best with the matcha green tea, adding a subtle sweetness without taking anything away from the delicious green tea flavor.
That being said, I like using the drops as opposed to powder because it lets you control the amount of sweetness in your drink. Everyone has different preferences, so start with just a few to see if it's sweet enough for you. If not, you can always add more!
How to Make a Matcha Latte
Now that you know why you need to make yourself a matcha green tea latte stat, and what you'll need to make it, here's how to do it!
First, warm 2 cups of almond milk on the stove or in the microwave until it reaches your desired temperature. You don't want it too hot (definitely not boiling.)

I usually heat my almond milk in a saucepan on high for 4 minutes.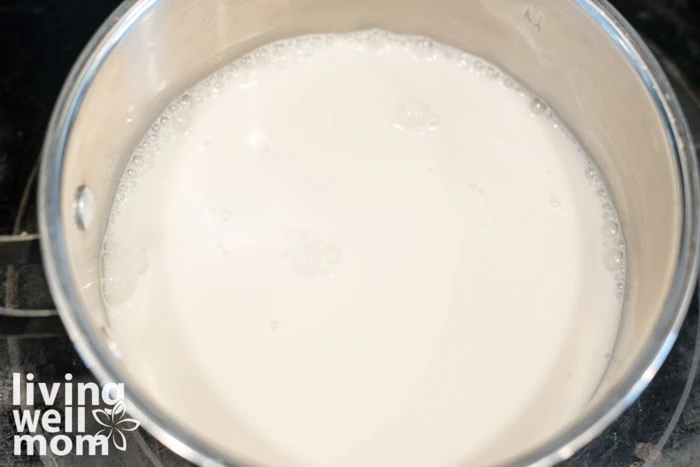 Pour into a blender, preferably one of those single-serving cups. I have a Ninja blender
and love it! (It's not as high-powered as a fancy Vitamix, but it's not nearly as expensive either.)
Note: If you don't have a blender (or it's a pain to use every morning), you can put all the ingredients in a tightly capped Mason jar and shake well.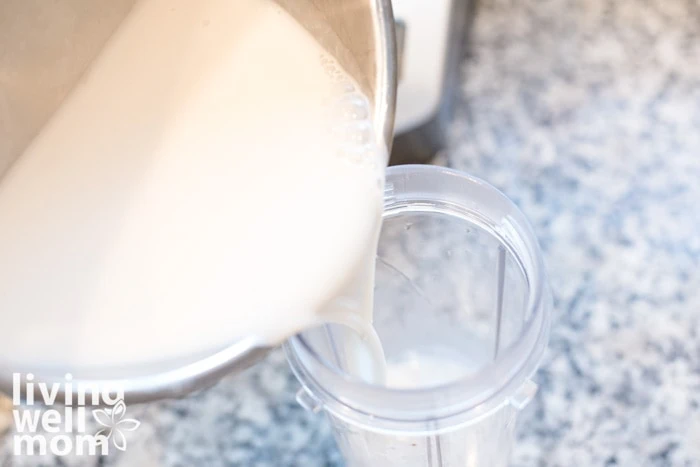 Then add 1/2 teaspoon vanilla extract…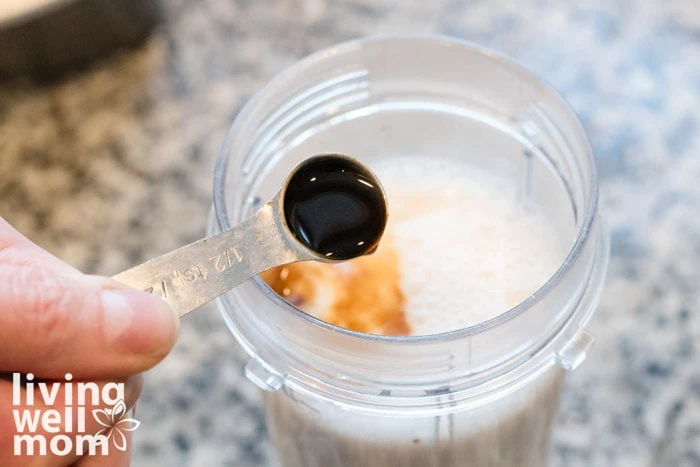 …1/2 to 1 teaspoon matcha green tea powder (I recommend starting with less, then increasing as you determine what quantity works for you).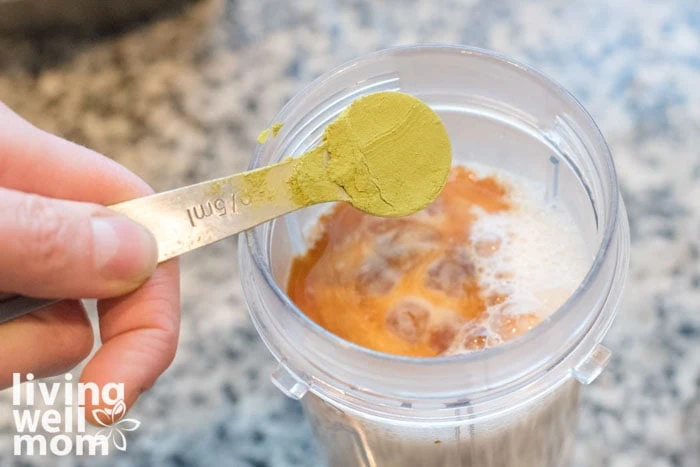 And 3-5 drops of stevia. Remember, you can always go back and add more if needed!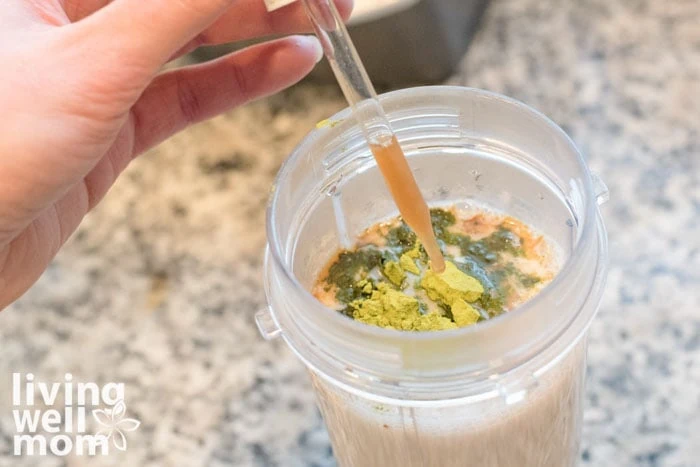 Blend for 3-5 seconds, just enough to get a bit of froth on the top.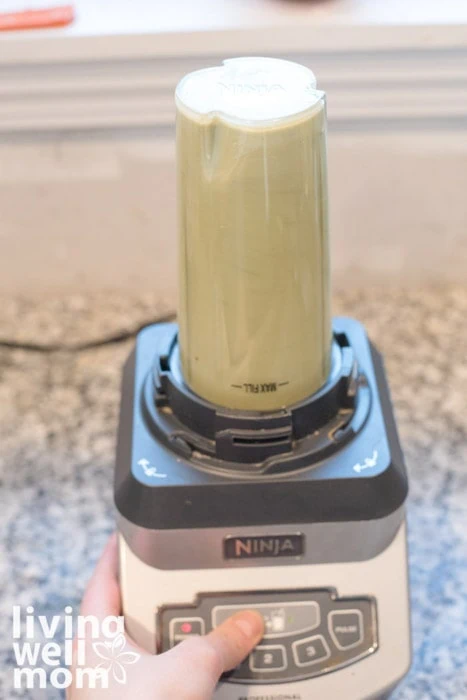 Open the lid slowly as the pressure can cause the hot liquid to splash out.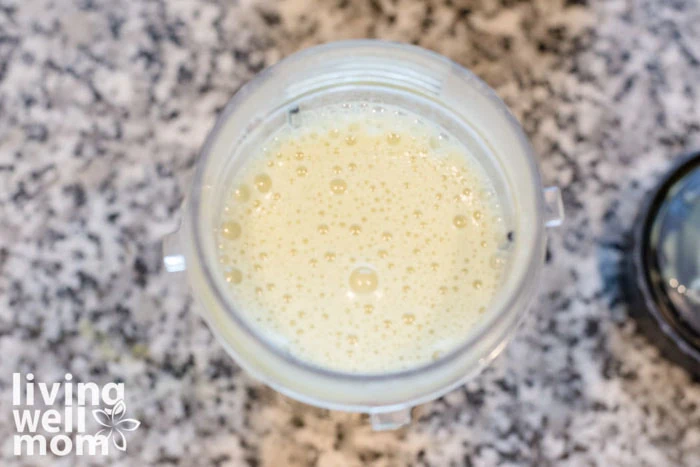 Then pour into a mug and enjoy!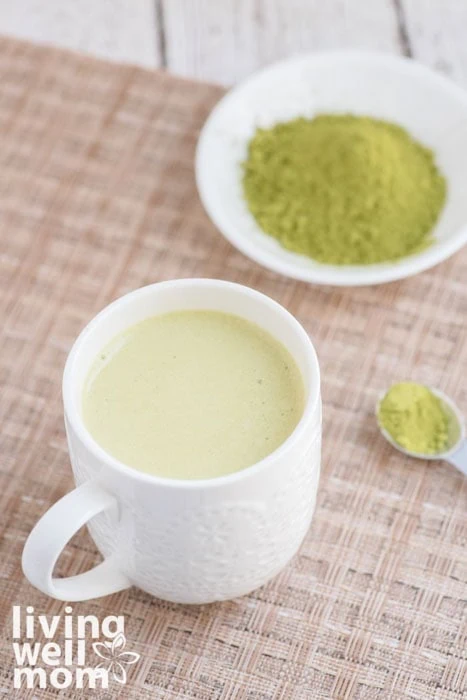 One batch equals two servings, but I readily admit to drinking both servings each morning. I hope you give this matcha latte a try—it really does feel like a treat every morning!
More Delicious Lattes to Enjoy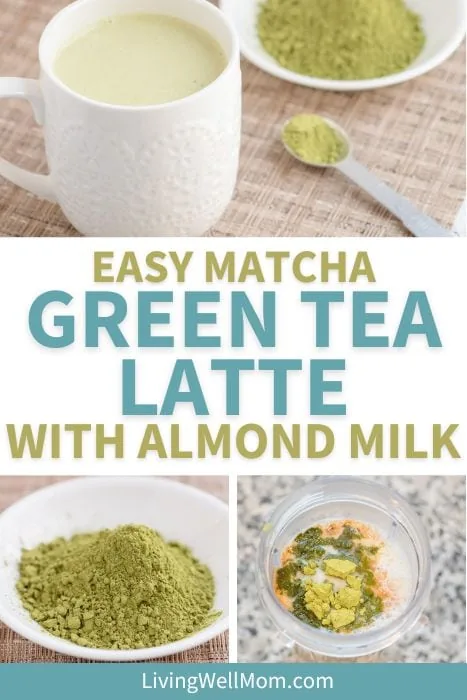 Print
Easy Matcha Green Tea Latte
This 40-calories-per-serving Matcha Green Tea Latte provides long-lasting energy, takes less than 5 minutes to make, and has no dairy, soy, or refined sugar!
Author:
Cook Time:

5 mins

Total Time:

5 mins

Yield:

2

1

x
Instructions
Warm 2 cups of almond milk on the stove or in the microwave until it reaches your desired temperature. You don't want it too hot (definitely not boiling.)
Pour into a blender, preferably a single-serving blender cup.
Add the matcha green tea powder, vanilla extract, and stevia drops.
Blend for 3-5 seconds.
Serve warm.
Pin the image below to save the Match Green Tea Latte recipe for later!