If you're looking for a seriously easy and delicious on-the-go snack, look no further than these chocolate protein balls! They're ultra-satisfying and loved by both kids and adults!
Even better? They are oh-so-easy to make, too! There's no baking involved so this is a great recipe for kids to help with too.
Gluten-Free Treat
We've gone gluten-free (is that how you say it?), and I've been in the kitchen more than ever as I try new recipes.
We found out that Nathan, our twelve-year-old, has a wheat intolerance. Since I'm still dealing with health issues of my own (adrenal fatigue and hypothyroidism), I decided our whole family needed to take the leap into living gluten-free.
I tried the gluten-free diet almost a year ago but went back to regular eating after a few weeks. This time? It's a lifestyle change. I may even need to take it a step farther and go Paleo – depending on my recent blood work results.
Today is day 17 of being gluten-free. And, aside from a somewhat reluctant husband ("I really have to give up pizza?!" "Yes, at least regular pizza.") and the occasional snafu (a kind friend gave my three younger children brownies yesterday without my knowledge), we've been doing pretty well. But, again, it's my oldest one that we have to really watch.
Oh, my husband? He comes home from work a few days ago and says, "I turned down pizza! That's how much I love you!" (It's true, that IS a big deal.) Then later, he says, "I had a cookie at work, though. Does that have gluten?" "Um, yeah, it does, hon." Sigh.
Anyways…
I've tried to show my kids that it's not the end of the world, and we can still enjoy delicious food without wheat. That's why I created this simple Chocolate Protein Ball recipe. It's so good, you won't even realize it's gluten-free.
Plus, this recipe is one of my go-to's in the mornings to help me stop snacking later on in the evenings.
If you want more easy energy ball recipes, check out my Matcha Green Tea No-Bake Energy Balls, Blueberry Energy Bites, and Spiced Almond Butter Balls, too.
Delicious Chocolate Protein Balls
Now I've done it again. I've created a yummy snack – Gluten-Free Chocolate Protein Balls. These tasty little balls are packed with protein. Bonus: because there's no refined sugar, this simple recipe is a great way to have a guilt-free chocolate fix.
With 7 simple ingredients and just 5 minutes of prep, you can enjoy this delicious snack in no time. This chocolate protein balls recipe is one you can enjoy right away after making them – or refrigerate them to let the flavors blend together.
No matter when you choose to enjoy them, these snack balls are a yummy treat! Even the kids will love it! If your children are used to sweeter things, you may want to increase the amount of honey slightly (see the recipe notes section for more info).
My kids weren't a huge fan of my original chocolate protein balls recipe because it wasn't sweet enough for their liking. So I increased the honey and used peanut butter instead of almond butter. They were thrilled.
I still prefer less honey and use unsweetened almond butter for a cleaner, guilt-free snack. That's up to you.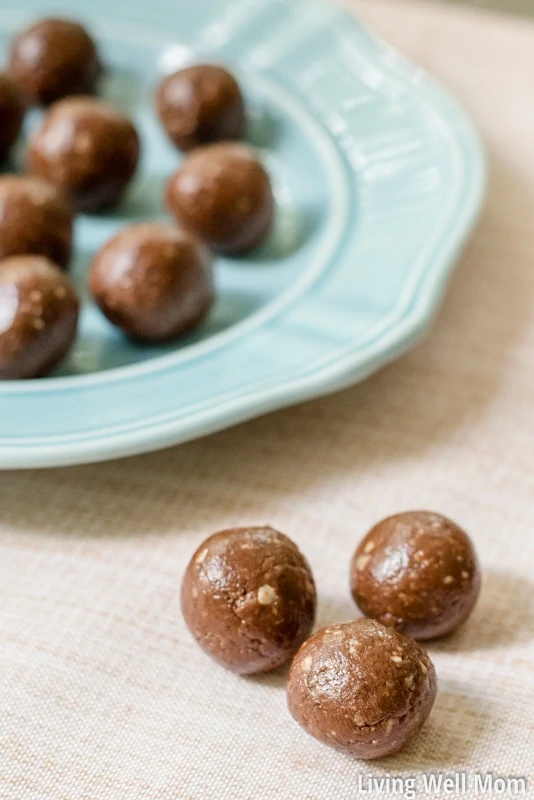 Ingredients Needed For Gluten-Free Protein Balls
Both the ingredients and the process are simple. Together, these ingredients pack a lot of goodness and flavor into a small little protein ball.
Oats – If you want gluten-free bars, make sure you use certified gluten-free oats. Oats are naturally gluten-free but are often cross-contaminated in plants that process wheat. See recipe notes for more info about oats.
Almond Butter – Almond butter will give you a cleaner final product but might not taste as good to kids as peanut butter does. Any nut butter will work here, so use what you and your family prefer.
Flaxseed – Flaxseed is so hearty and imparts a delicious nutty flavor to the recipe.
Honey – If your kids want these protein balls to be a little sweeter, feel free to add a little more honey than I used in my recipe. You can also use less honey if you want them less sweet!
Coconut Oil – This provides more healthy fats, helps blend and hold the recipe together, and gives just a slight coconut flavor.
Vanilla Extract – I love adding vanilla extract to anything I can. No recipe is as tasty without it!
Cacao Powder – We're using just enough to make you feel like you're eating a cheat treat.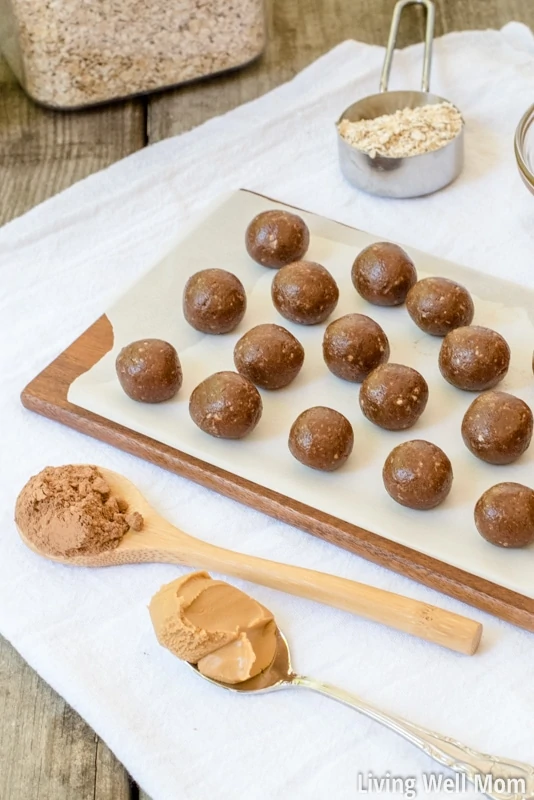 How To Make Chocolate Protein Balls With Cacao Powder
First, put all the ingredients into your food processor (see recipe notes about using a blender).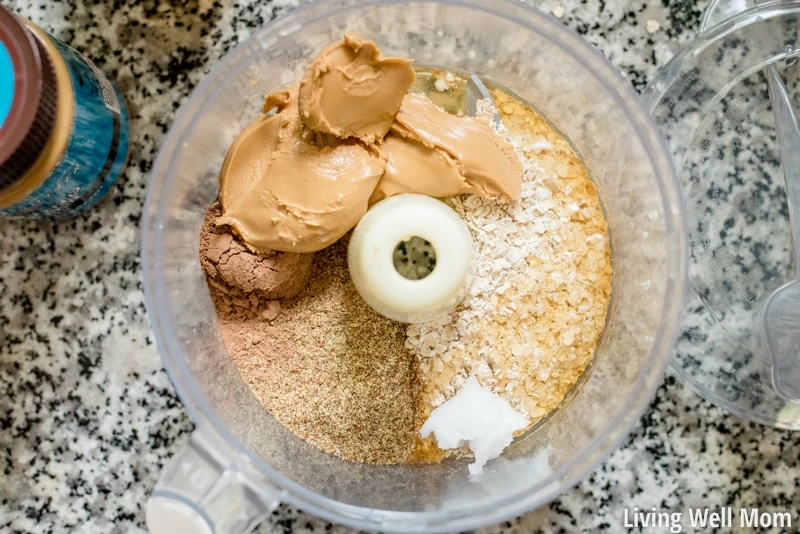 Then, process for a few seconds or so until everything is mixed.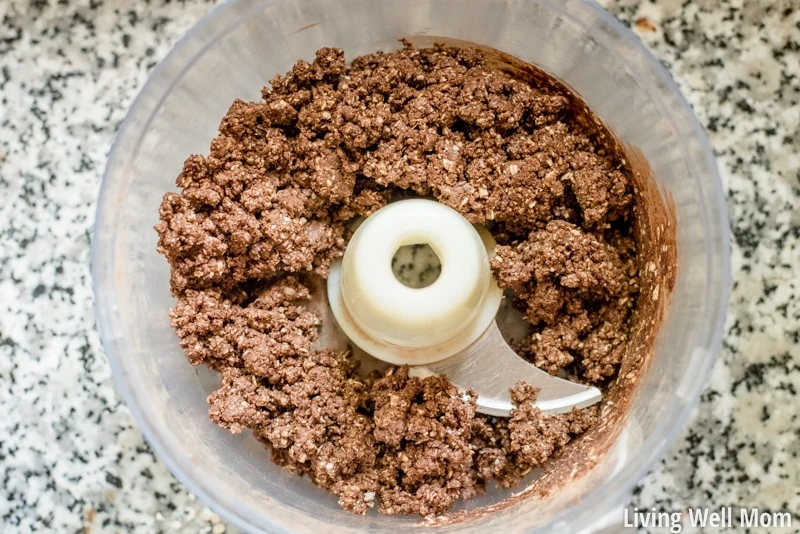 Next, shape the mixture into 1-inch balls. Try to get them as uniform as possible.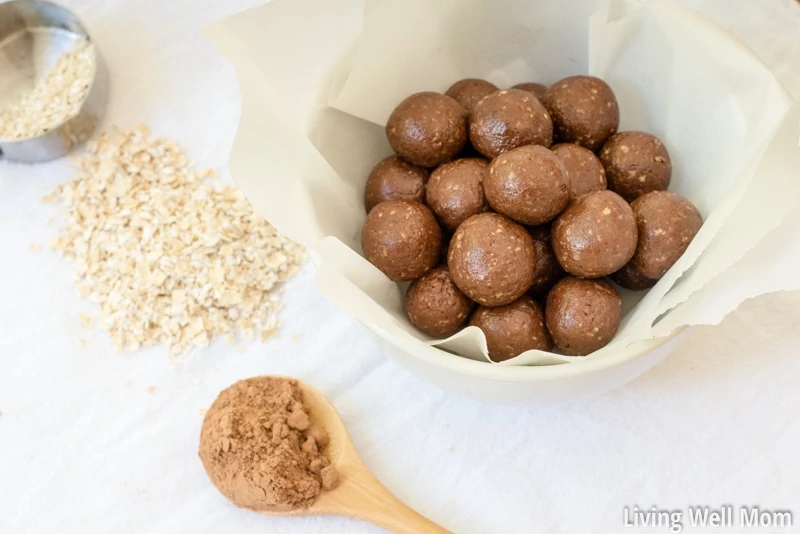 Enjoy right away or store in a sealed container in the refrigerator.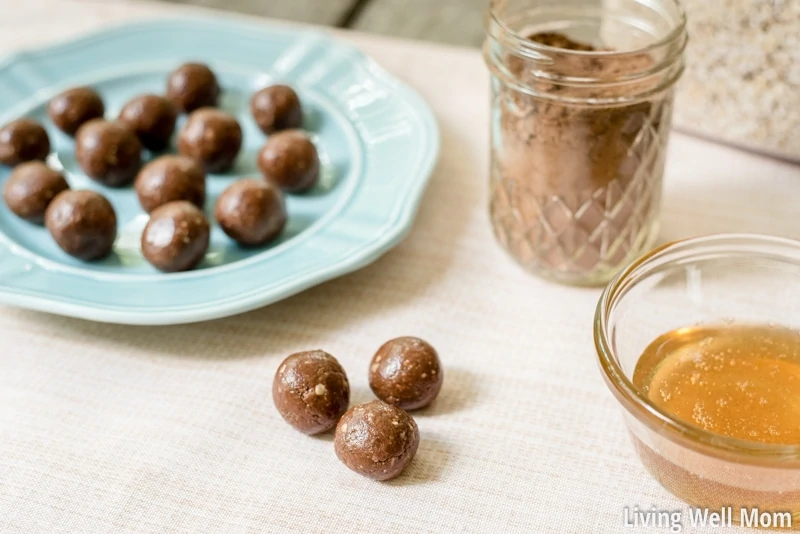 Recipe Notes And Tips
I recommend steel-cut oats for this recipe, though you can use regular oats. Just make sure they are gluten-free if you're avoiding wheat.
On the morning I was taking photos for this post, I discovered my kids had fed the rest of our steel-cut oats to the chickens. So, I had to settle for regular oatmeal. Sigh. Such is life!
Still, it goes to show that this chocolate protein balls recipe works either way.
I recommend using a food processor to make these protein balls, but you can use a regular blender instead. The food processor simply blends everything faster, easier, and more evenly.
These Chocolate Protein Balls will last in an air-tight container in the fridge for up to 2 weeks. If you want to make these ahead of time and keep them for a later date, you can freeze them for up to 3 months.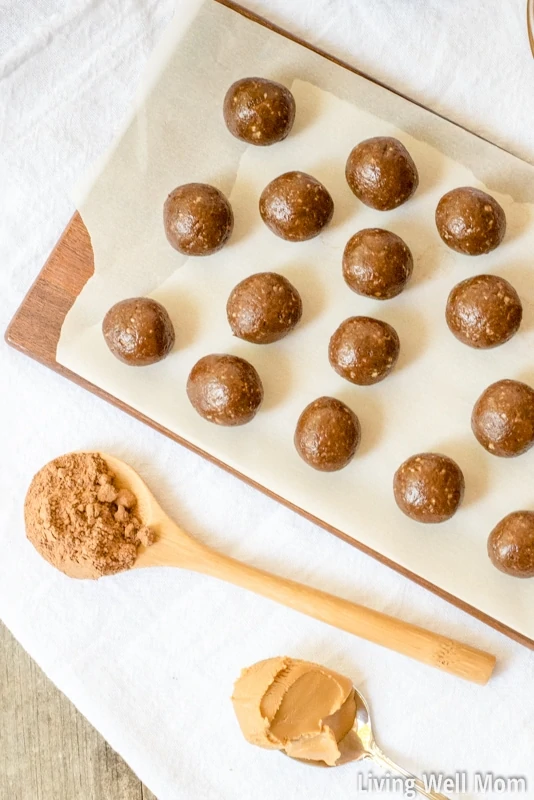 Print
Chocolate Protein Balls
With no refined sugar, this simple chocolate protein balls recipe is a great way to enjoy a guilt-free chocolate fix.
Author:
Prep Time:

5 mins

Total Time:

5 mins

Yield:

2

4

1

x
Instructions
Add the ingredients into a food processor or mixing bowl. Process or mix until combined.
Roll into 1-inch balls.
Enjoy right away or store in the refrigerator.
Notes
*For kid-approved chocolate snack balls, use peanut butter and add 1 or 2 tablespoons more honey.
More Snacks You'll Love
Pin the image below to save the recipe for later!